Puno, Peru is the capitol city of the Puno region that sits at the edge of Lake Titicaca – which is the highest navigable lake in the world. There are many things to do in Puno that a visit to this border city should be on everyone's Itinerary through Peru.
The people of Puno like to party and since Puno sits at an elevation of 12,556 feet, I feel like half the reason they drink is to stay warm. We came to Puno from Cusco at the end of May and it was significantly colder in Puno than Cusco and I even hiked the Salkantay Trek.
Whether you're spending a few days or just passing through to head to Bolivia, these are the top ten things to do in Puno, Peru.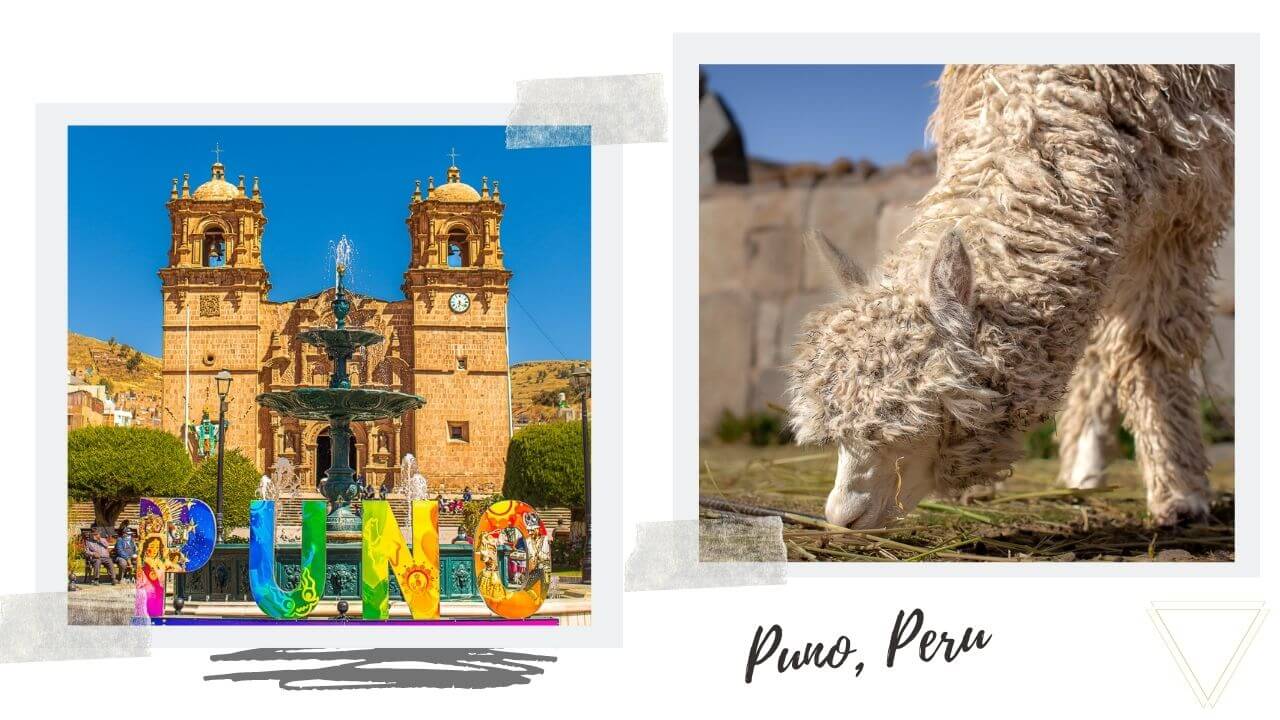 For full transparency, I have sprinkled some affiliate links in this post.  As an Amazon Associate I earn from qualifying purchases that gives me a small commission at no extra cost to you if you decided to make a purchase.  As always, I would never recommend a product or service that I didn't truely believe in.  All proceeds go to keep Jess traveling and coffee ☕️.  I thank you in advance.
If you want to see what Puno's main square looks like, learn about Puno's way of life, see me petting some llamas and visit Sillustani, check out this Puno travel vlog we filmed on our first day exploring Puno.
10 Epic Things to do in Puno, Peru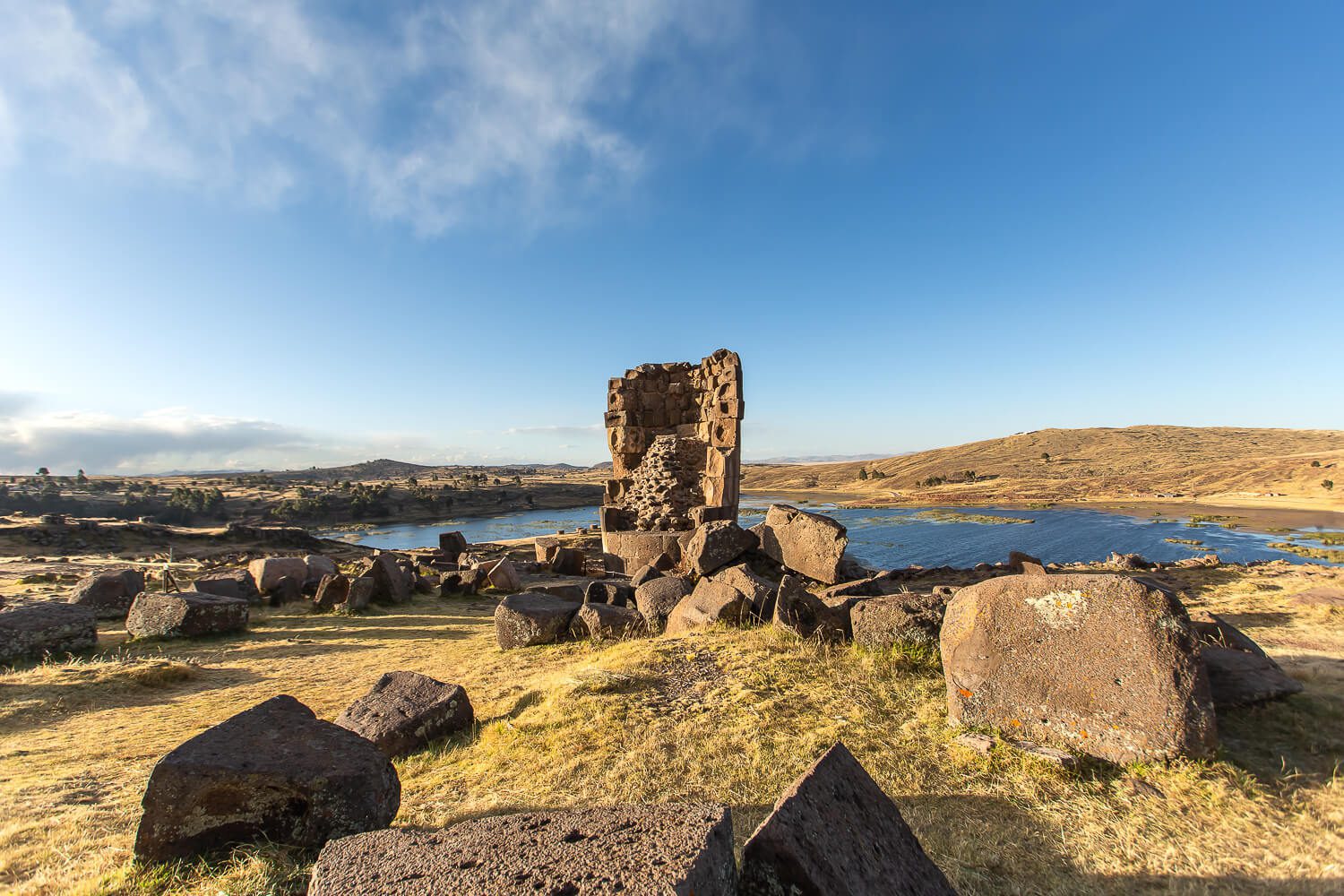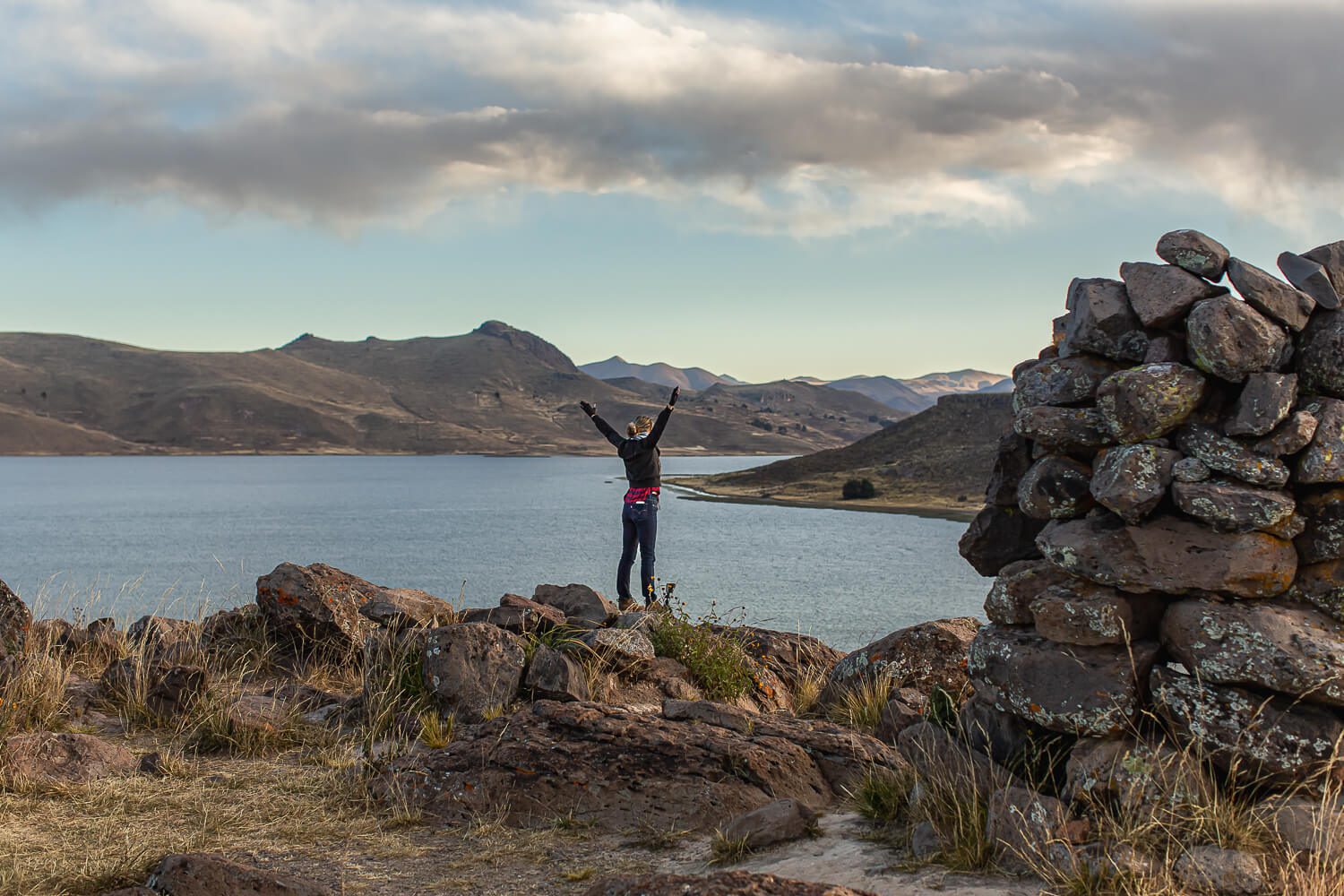 Sillustani is a pre-Inca cemetery on the shores of Lake Umayo near Puno, Peru. When you arrive to the site, you'll see that it is a peninsula surrounded by water.
The tower like structures atop the plateau are pre-Inca tombs. History books say they were only built to bury noble people but there are no tombs discovered for normal people so thinking that this site was just for the priests and officials is false.
There are 30 pre-Inca and Incan tombs called chullpas. The chullpas are circular buildings because it represents the symbol of eternal life. Since the tombs range in various sizes from 2 meters to 12 meters, they believe that the tomb height and size represent social status.
You can tell which ones are pre-Inca and Incan based on the intricacy. The pre-Incan tombs are built more loosely and the Incan tombs are taller and more fused together. All of the tombs face East – a belief that each day the sun was reborn by Mother Earth.
I could go on about this beautiful ancient bury site but I'll spare you the history lesson. This is definitely one of the best things to do in Puno. Try to book a tour to Sillustani in the afternoon so you can catch sunset atop the peninsula which offers phenomenal, panoramic views.
Another site composed of chullpas is Cutimbo. The chullpas come in both square and circular shapes unlike Sillustani which are all circular.
Cutimbo is a dramatic site that sits on a table-topped volcanic hill surrounded by plains. The position atop a volcanic hill makes this site very remote. This is both extremely enticing and more dangerous to visit independently.
I thrive off of visiting places independently but have read several places that Cutimbo can be a dangerous place for independent travelers, especially solo female travelers. People are known to hide behind rocks at the top of the trail. This thing to do in Puno is probably best visited on a tour.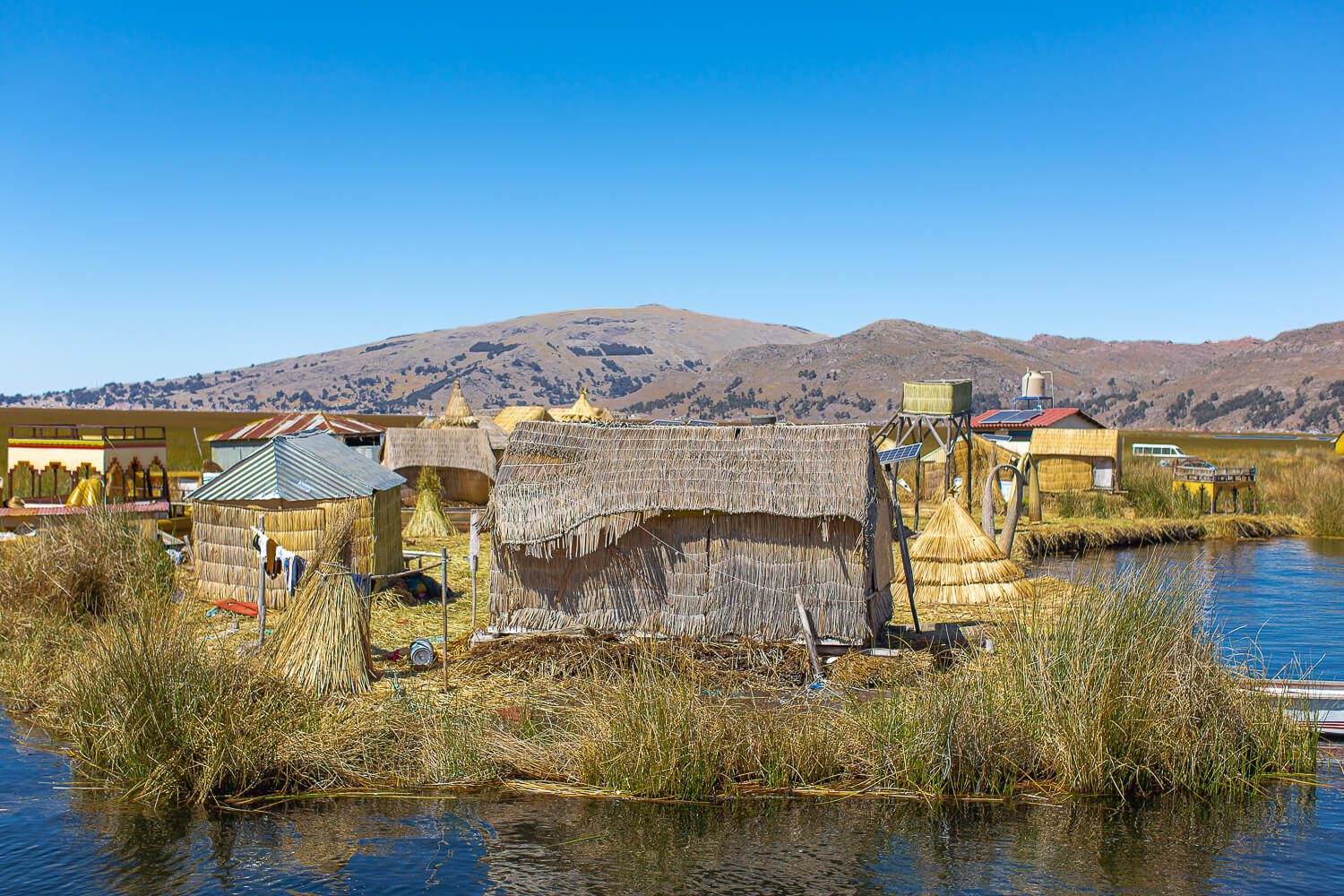 I'm sure you've seen the pictures of the floating reed islands of Lake Titicaca. These are the Uros Islands and one of the most popular things to do in Puno.
There are about 100 tiny islands that are all artificially made out of totora reeds. Not only are the islands themselves made out of these reeds, but so are the houses, boats and furniture. Each island even has its own president. It's pretty fascinating and hard to imagine what daily life is like on the islands.
You can visit these islands on your own, a ferry runs daily from the port in Puno to the Uros Islands or you can experience the Uros floating islands on a tour. The Uros Islands can easily be paired with a visit to the island of Taquile and/or the island of Amantani if you are short on time when traveling through Peru.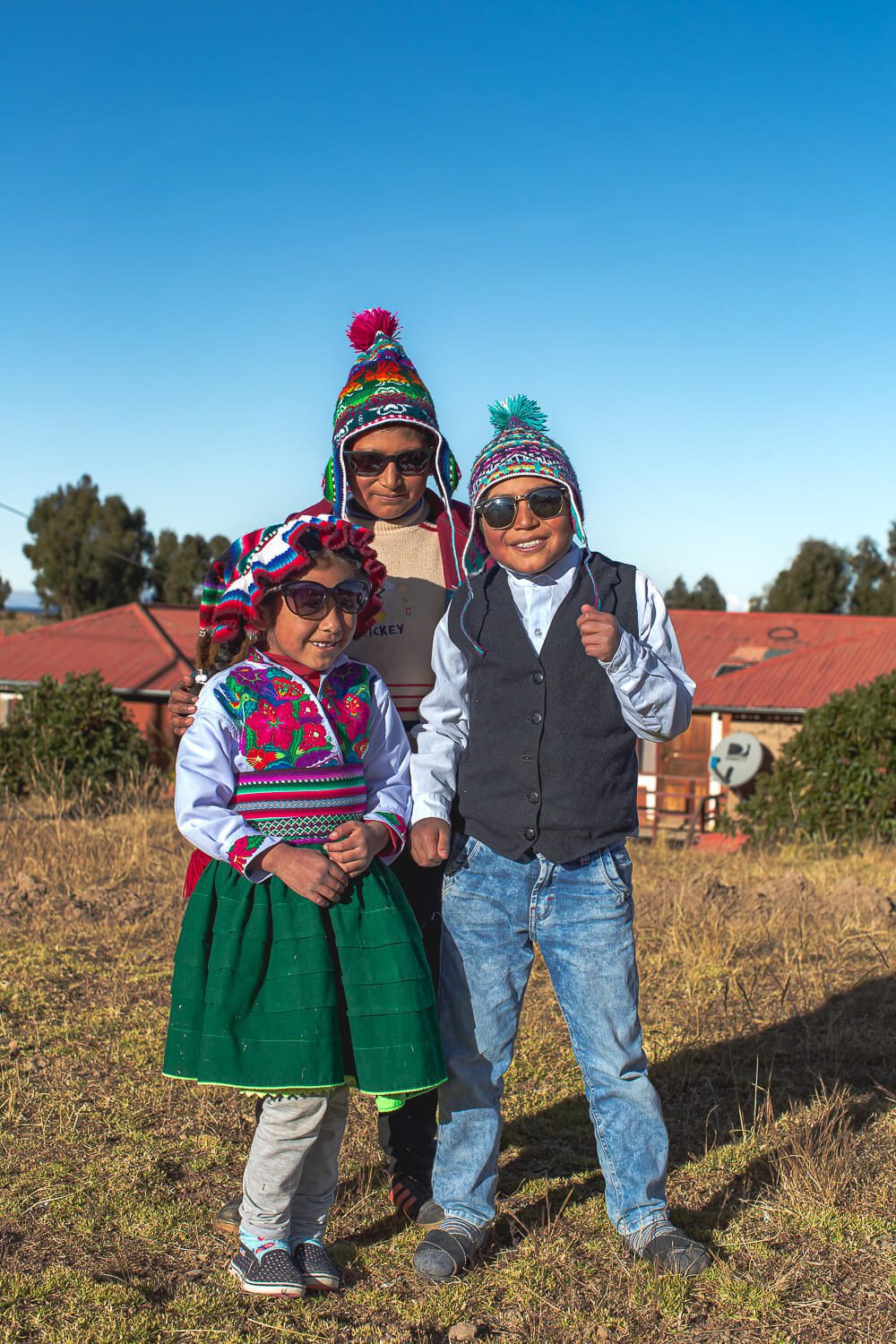 Homestay on Amantani Island
If you are looking for an authentic experience in Peru then I urge you to go for a homestay on the island of Amantani. This was one of the best experiences I had during my two months of traveling through Peru.
Located on the Peruvian side of Lake Titicaca, Amantani Island is about a 4 hour ferry ride from Puno. There are 10 communities that live on the island, roughly 3,000 people. Islanders speak Quechua, but their culture is more heavily influenced by the Aymara.
There are dozens and dozens of tour operators in Puno offering Lake Titicaca homestays. Unfortunately a lot of them have a bad reputation of not paying the local families and basically just dropping you off and saying, 'see ya tomorrow morning.'
If you are interested in a homestay book with Always Travel. They offer smaller guided groups and practice ethical & responsible travel. We paid money directly to the families the morning after our stay.
I won't go into to much detail but if you're interested, You can read my full experience of an authentic Lake Titicaca Homestay here. Better yet, watch our Amantani Island Homestay vlog.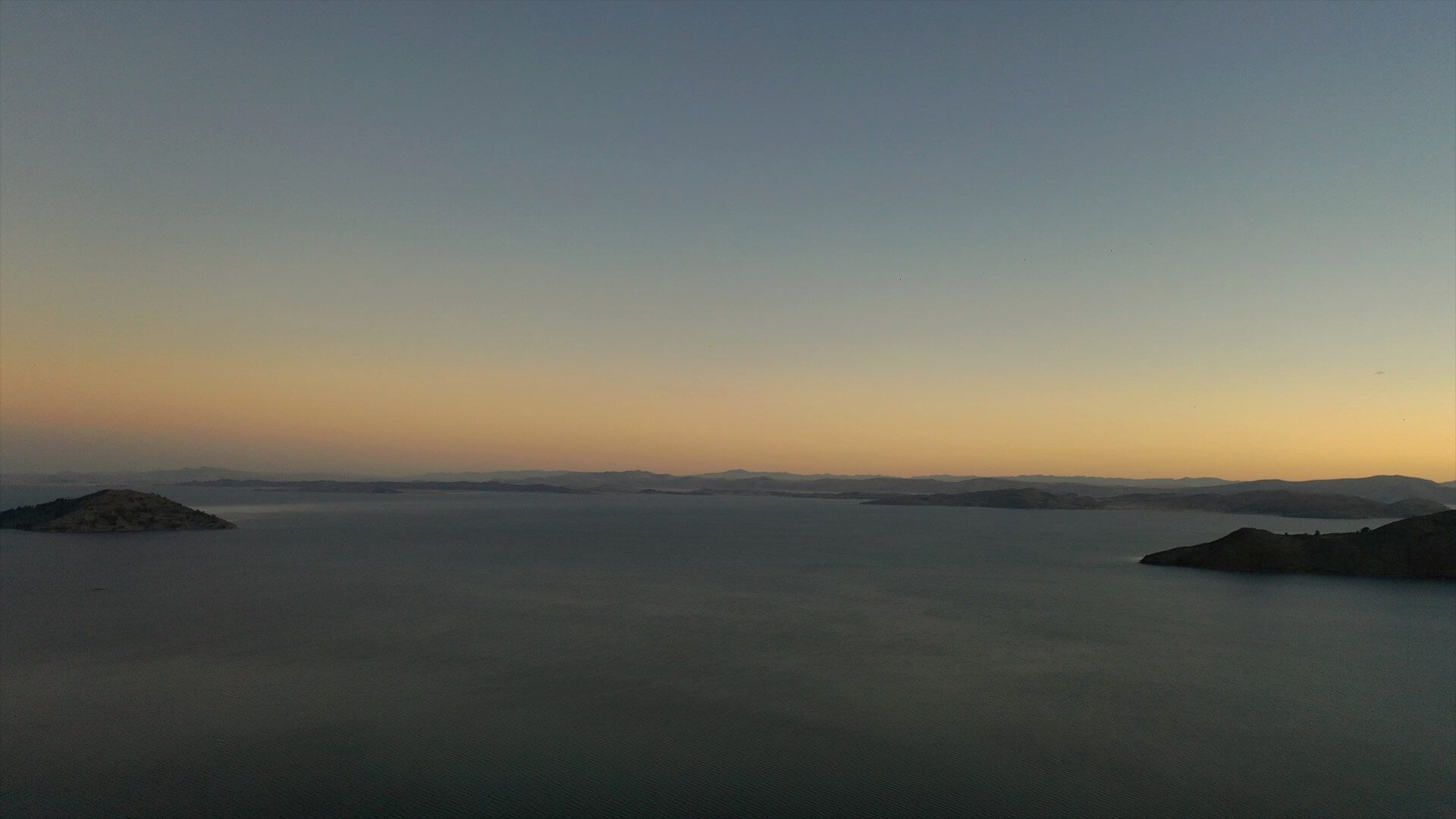 Hike up to Pachamama & Pachatata
If you've read any of my Peru travel guides, you'll know that hiking is always on the itinerary. Amantani Island was no exception. Put on your boots and tighten your laces to make the hour trek up to Pachamama & Pachatata, the highest peaks on Amantani Island.
Both are temples, Pachamama representing Mother Earth and Pachatata paying tribute to Father Earth. Make sure to enjoy this thing to do in Puno at sunset for incredible views.
Travel Tip: Don't attempt this thing to do in Puno without acclimatizing first. Plan on spending a few days in Arequipa or Cusco first or take it easy the first couple days in town.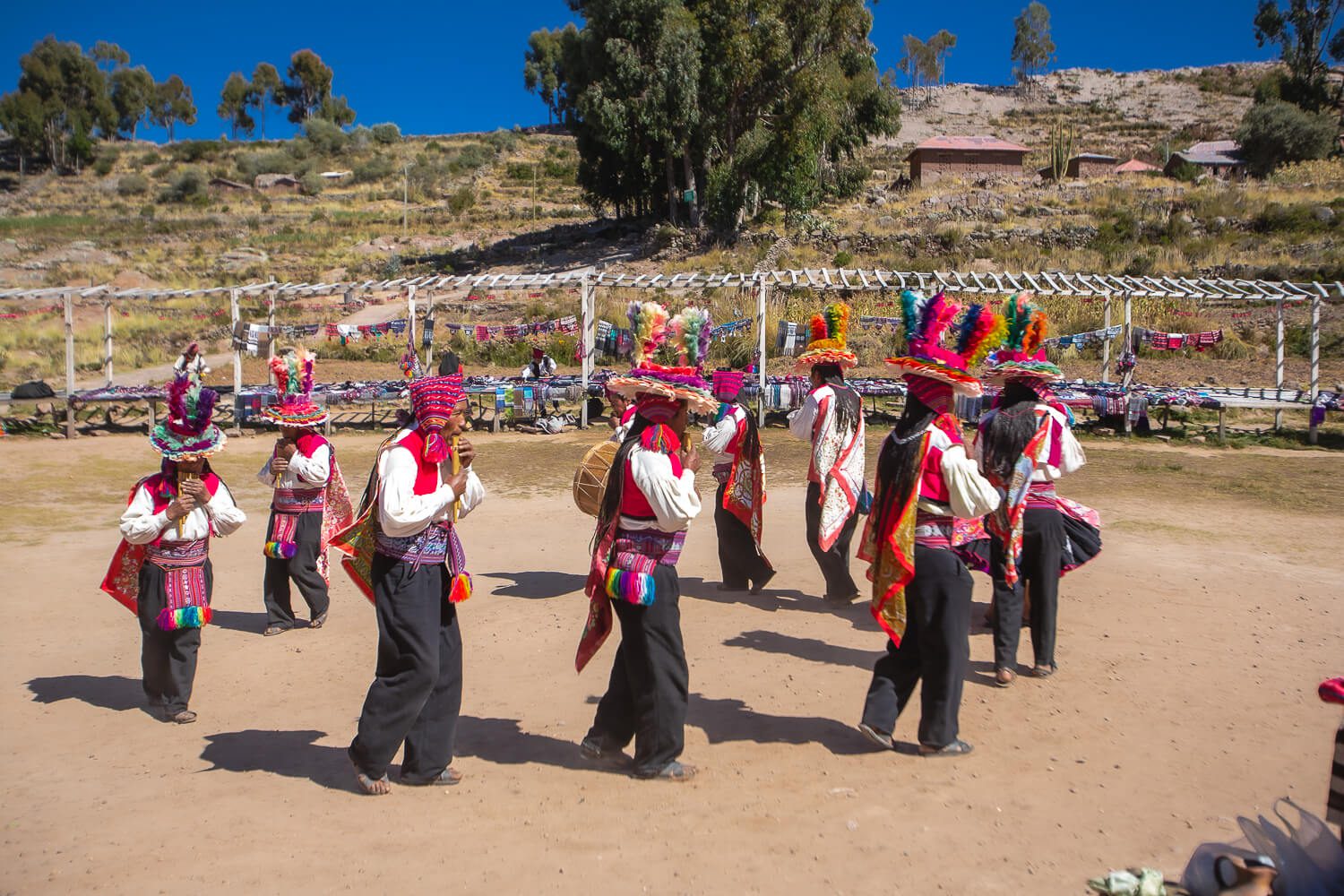 Taquile island is the smaller island next to Amantani. This is best visited on an organized day trip but if you have more time it's possible to visit independently. The island consists of 6 communities totaling about 2500 people. As with Amantani, the islanders also speak Quechua.
You won't find much on this island but simple life as they don't accept private businesses like hotels and such. They don't even have many animals – no llamas, alpacas, horses, not even cats or dogs. And forget cars or motorcycles, Taquile is truly simple life uninterrupted from modernization.
Everyone on the island is either a farmer or a weaver, where it is the mens job to weave. As with Amantani, a popular way to experience the island is by staying with a family to get a small glimpse into the local way of life. You can check out the full travel vlog on the island of Taquile here.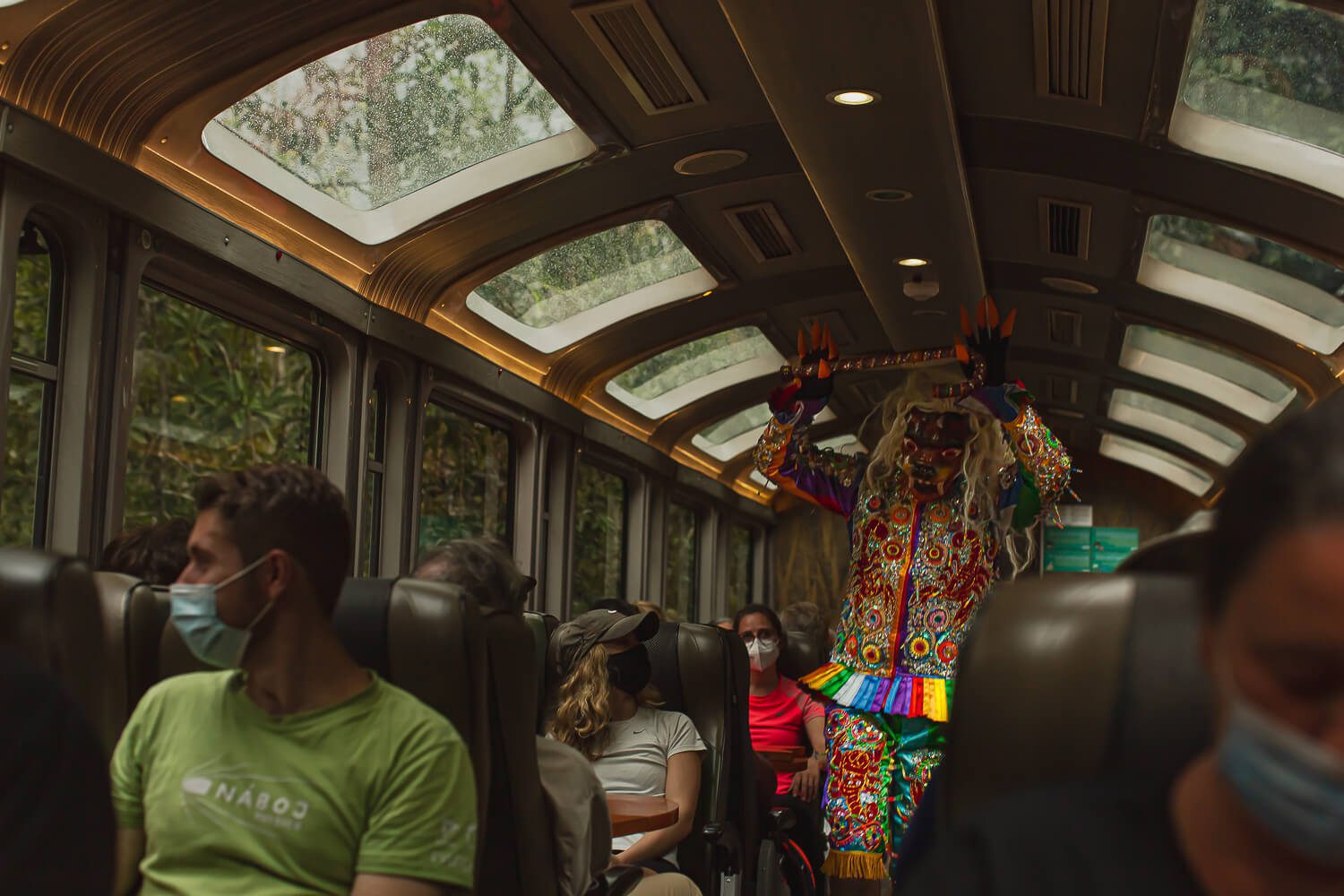 Take the Train from Cusco to Puno
If you love to travel in style then you'll love the Peru Rail train that takes you from Cusco to Puno. This exclusive train ride travels through gorgeous landscapes including rivers and beautiful mountain peaks.
The entire journey lasts 10-11 hours where you can enjoy the views from the observation car, sip a pisco sour from the bar car or a gourmet meal from the dining car. Warm up with tea as you watch Andean artists perform live by showing you typical dances and music of Puno and Cusco. There's no better way to get from Cusco to Puno.
Peruvians in the Lake Titicaca Basin of the Andes are mostly vegetarians and only eat meat on special occasions such as weddings. Quinoa being the main source of protein in the Puno area. One of my favorite things to do in Puno was to enjoy a warm bowl of quinoa soup.
Each restaurant has their own unique ingredient and all of the soups will taste a little different. We traveled to Puno in the shoulder season of May and Puno was cold! Much colder than Cusco. Eating quinoa soup will not only taste good but warm you up as well.
Travel Tip: Eat at Mojsa – one of the best restaurants in Puno.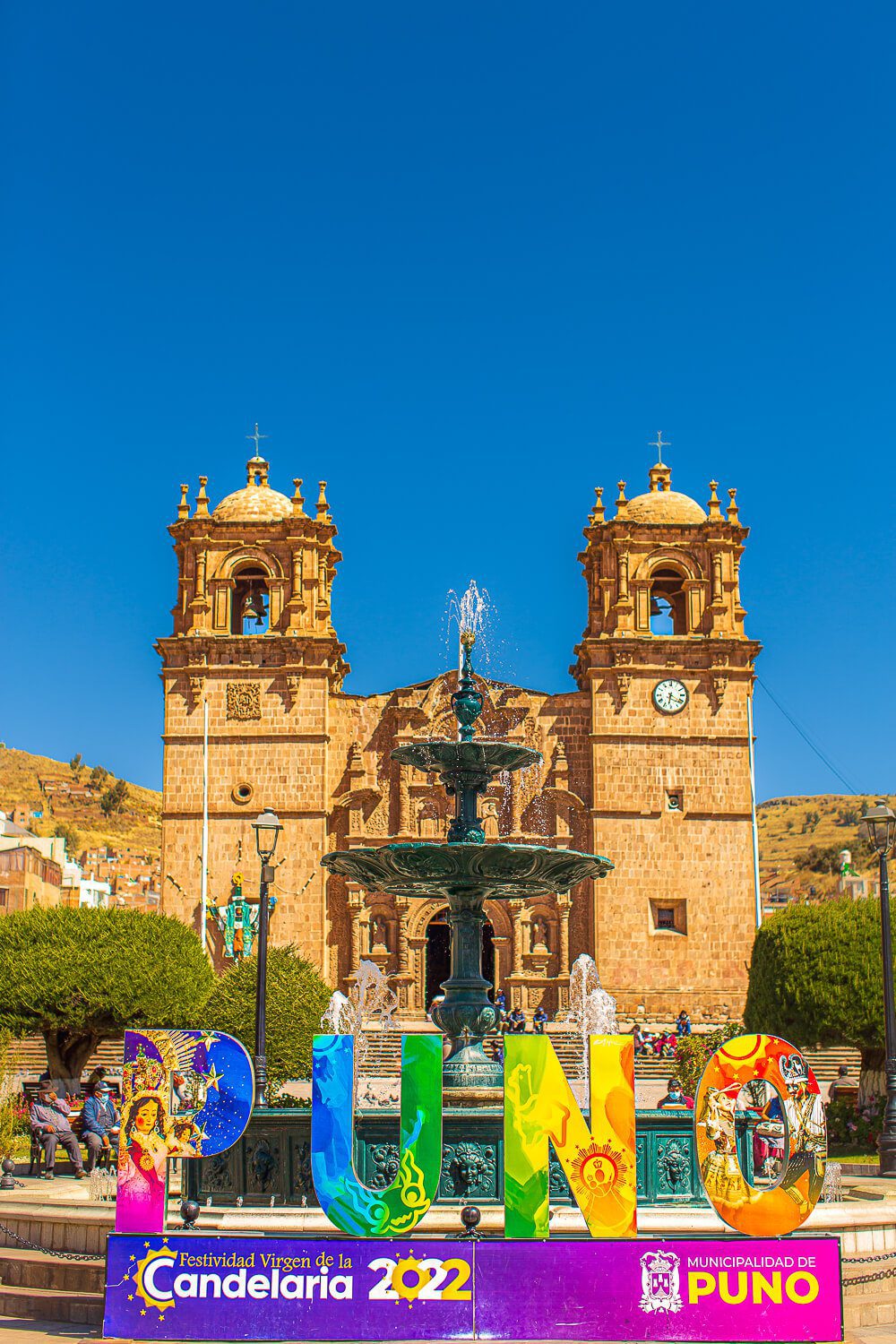 Explore the City Center and Main Plaza
The main plaza is a bustling area and one of the major tourist spots in Puno. Most hotels are located close to the main square which makes it easy and convenient to wander around. At the square you can visit several important monuments and buildings such as the cathedral, the Balcony of the Count de Lemos and museums.
This is a great place to relax and people watch. I personally loved sitting on the stairs leading up to the cathedral. Children were playing and kept running through the flock of pigeons that were chomping on bird seed.
The Main Street through the city center of Cusco which runs past the main plaza is full of places to eat, clothing shops and tour operators. You can easily spend a few hours wondering around the area and eating fresh wood oven fired pizza from one of the many restaurants.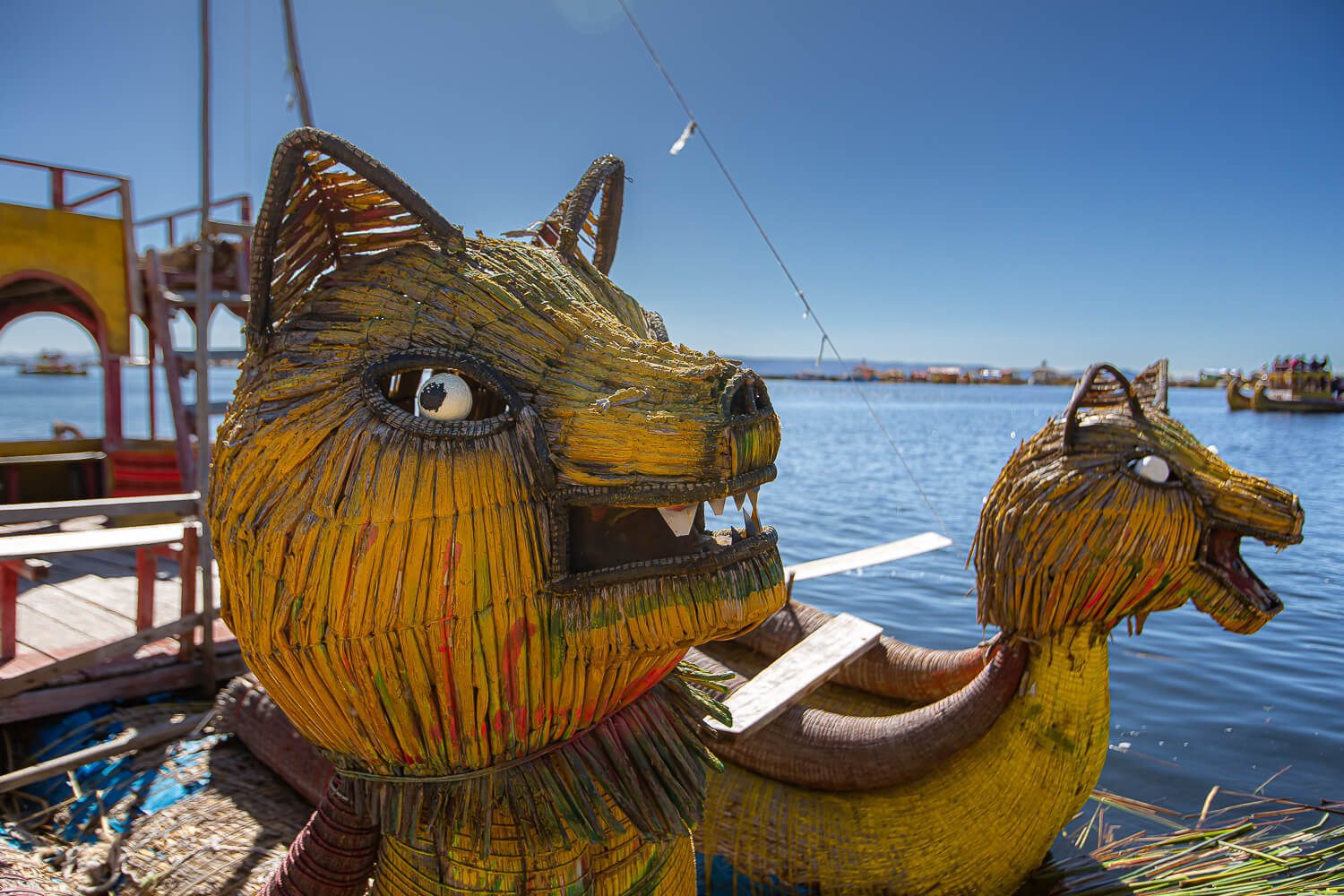 Kayak around Lake Titicaca
If you are looking for a little adventure in nature, then take a kayaking tour on Lake Titicaca. On this tour, you'll get to know local Aymara and Quechua culture and experience their unique way of living.
As well as, learn about the totora reeds that the Uros Islands are made out of as you paddle through the area. Tours are paired with lunch and a homestay if you're really feeling adventurous.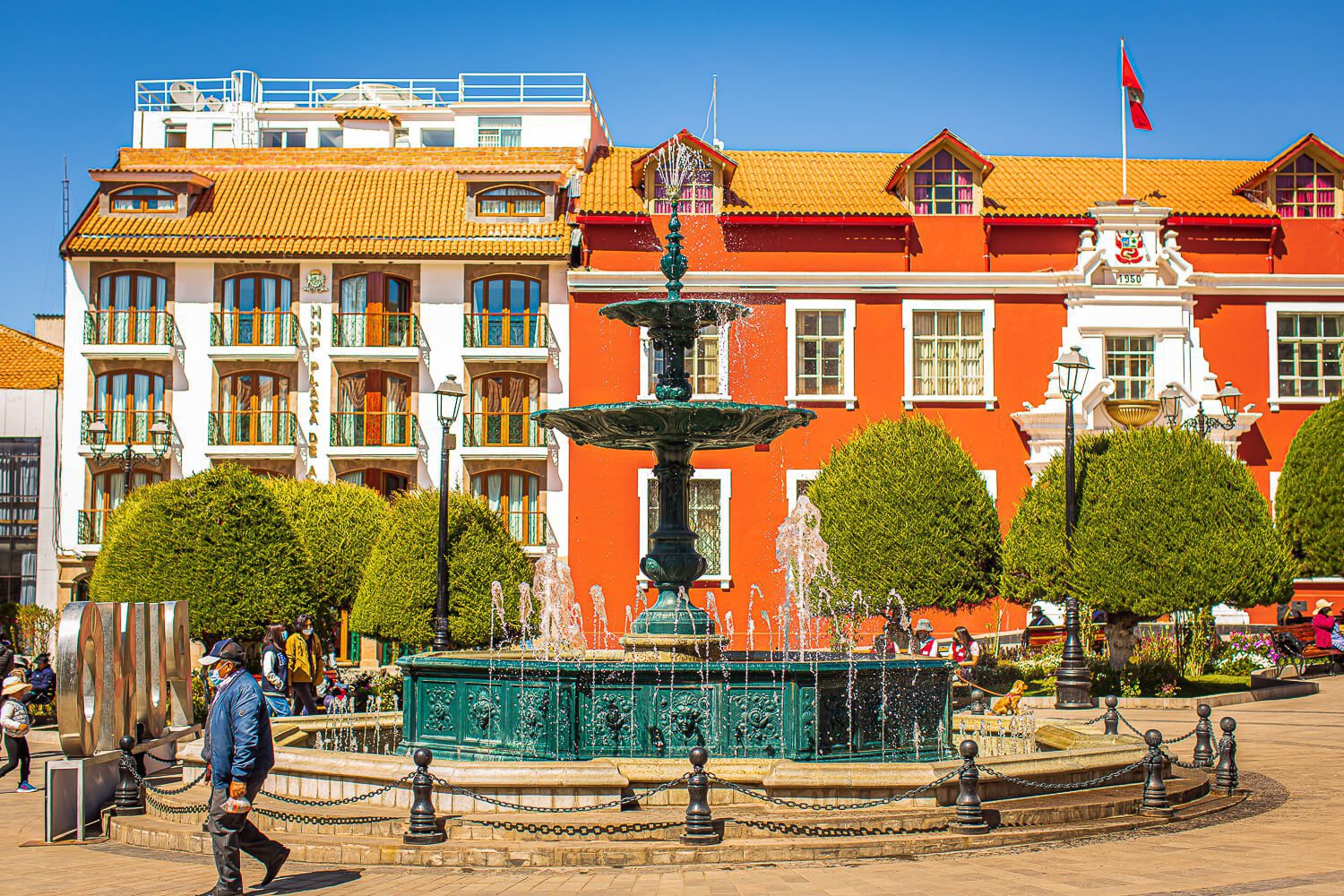 Where to Stay in Puno, Peru
There are lots of options when choosing where to stay in Puno and all are pretty easy on the budget. We stayed at the Pukara House and it was around $20 a night.
It had everything we could want. Free breakfast, a hot shower, so so wifi and a heater. Having a heater in the room was a game changer and super necessary. It was so cold in Puno and most places don't have heat so be forewarned.
Here are some other great places to stay in Puno.
Casa Panqarani – Charming bed and breakfast about a 10 minute walk away from the main square.

Mosoq Inn – Modern hotel equipped with 15 rooms and comfortable beds.

Casa Andina Premium Puno – If you want to style out, this Puno hotel is on the outskirts of town offers panoramic views of the lake or mountains. There's even a boardwalk onto the lake with a floating reed platform at the end of it.
There are four main ways to get to Puno, by air, by bus, by train or by car. If you are traveling from Cusco to Puno check out this detailed post and a travel vlog of our experience.
Air: The nearest airport is in Juilaca which is about an hour away. If you are flying into Puno check with your hotel as most can book you a shuttle for around 20 soles.
Bus: The terminal terrestrial is the main bus station that the long-distance buses will embark and enter from. Buses leave from Cusco and Arequipa on a regular basis. We've tried several bus companies in Peru, some better than other.
We had sleeper seats on Transzela on the way to Puno from Cusco and it only cost 40 soles per person. Cruz del Sur is one of the biggest bus companies that have luxurious sleeper seats. This also makes ticket prices a bit more expensive so if you are traveling on a budget, your best bet is to book one in person at the station.
Train: As mentioned as one of the epic things to do in Puno, the Andean Explorer is the fanciest way to get to Puno from Cusco.
Car: If budget is not an issue you can hire a private car to get to Puno. It will cost anywhere from $200 and up.
Peru Travel Guides
📍Plan your Trip: The Ultimate Guide to Peru

🗺 How long to travel Peru? 2 Week Itinerary through Peru

☔️ Best Time to Visit: The best time to visit Peru is in the shoulder months of dry season – March-May or October-September.

💰 Average Daily Budget: Peru Budget Guide

⛺️ Peru accommodation Guides

🪂 Highlights

Machu Picchu
Sacred Valley
Lima's Food Scene
Trekking Cordillera Blanca

🧳 What to Pack: What to Pack for Peru

🎥 Watch our Peru Series on YouTube

📧 Get on my Email list to see what I'm up to and all the best travel content!
Thanks for reading and if you have any favorite things to do in Puno, let your fellow travelers know in the comments below ↓
Enjoy this Post?!?! Pin in for Later ↓