Shkodër or Shkodra is one of the oldest cities in Europe nestled in the northwest part of the country and usually the jump off point to travelers to hiking in the Albanian Alps. Known for its fascinating history and natural landscapes, there are plenty of things to do in Shkoder that spending a day or two in the city will only enhance your travels in Albania.
The city is known as the "City of Bicycles and Rain" in Albania, and is home to numerous historical sites, including the Rozafa Castle which dates back to the Illyrian period. In addition to its historical and cultural attractions, Shkoder is a gateway to Albania's stunning natural beauty.
Is Shkoder worth visiting? Nearby Lake Shkoder, the largest lake in the Balkans, is a haven for nature enthusiasts, offering opportunities for boating, fishing and birdwatching. Shkoder offers a perfect blend of history, nature and culture that is worth a stop on your Albania itinerary if time allows.
In this article, I'll go over what to do in Shkoder, list the best day trips from Shkoder and at the end of this post I'll also include some practical information that will aid you in your trip to this charming city. Including where to stay, how to get there, best time to go, onward travel and any useful tips to know before you go.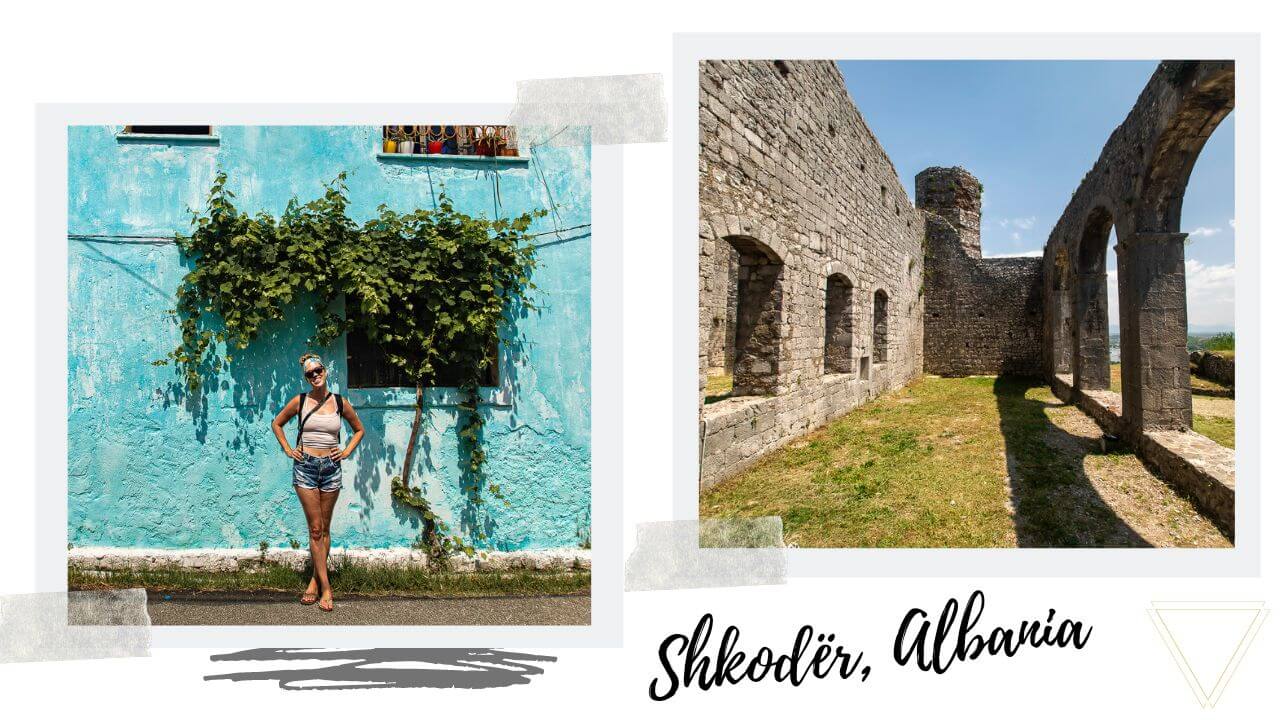 For full transparency, I have sprinkled some affiliate links in this post.  As an Amazon Associate I earn from qualifying purchases that gives me a small commission at no extra cost to you if you decided to make a purchase.  As always, I would never recommend a product or service that I didn't truely believe in.  All proceeds go to keep Jess traveling and coffee ☕️.  I thank you in advance.
Below I have a listed the best things to do in Shkoder for easy viewing. If you'd like more information on a certain activity, click on the blue links below for a detailed post or vlog of that specific thing to do in Shkoder.
Rozafa Castle
Stroll down Sheshi or Kole Idromeno Street
Witness the Beauty of Ebu Bekr Mosque
Explore the town via bike
Venice Art Mask Factory
Venture to Mesi Bridge
Marubi National Photography Museum
Day Trips from Shkoder Quick List
Would you rather see what visiting Shkoder is like? Shkoder was one of our last stops on our month long Albania travels.
Best Things to do in Shkoder, Albania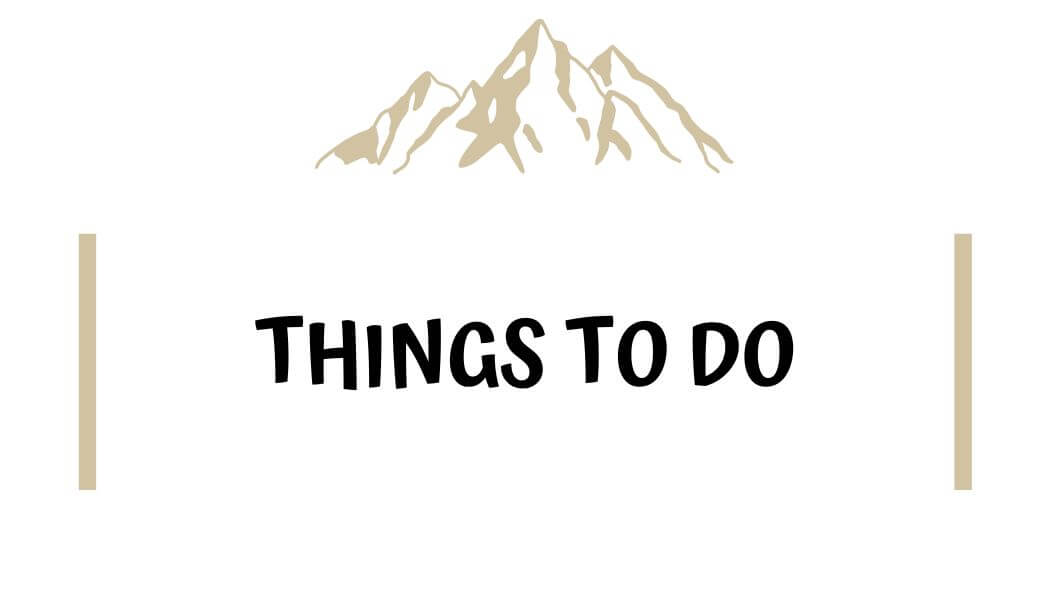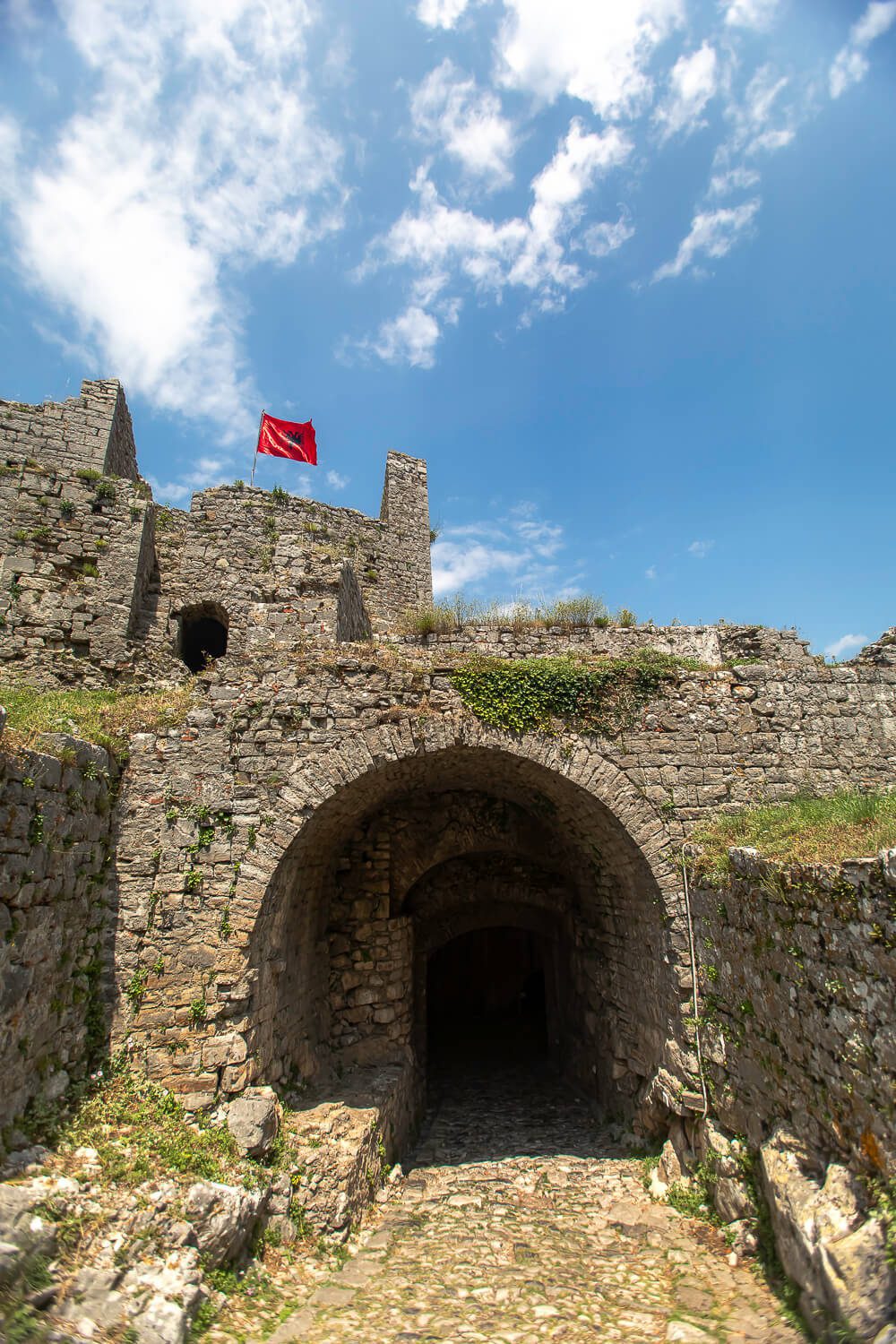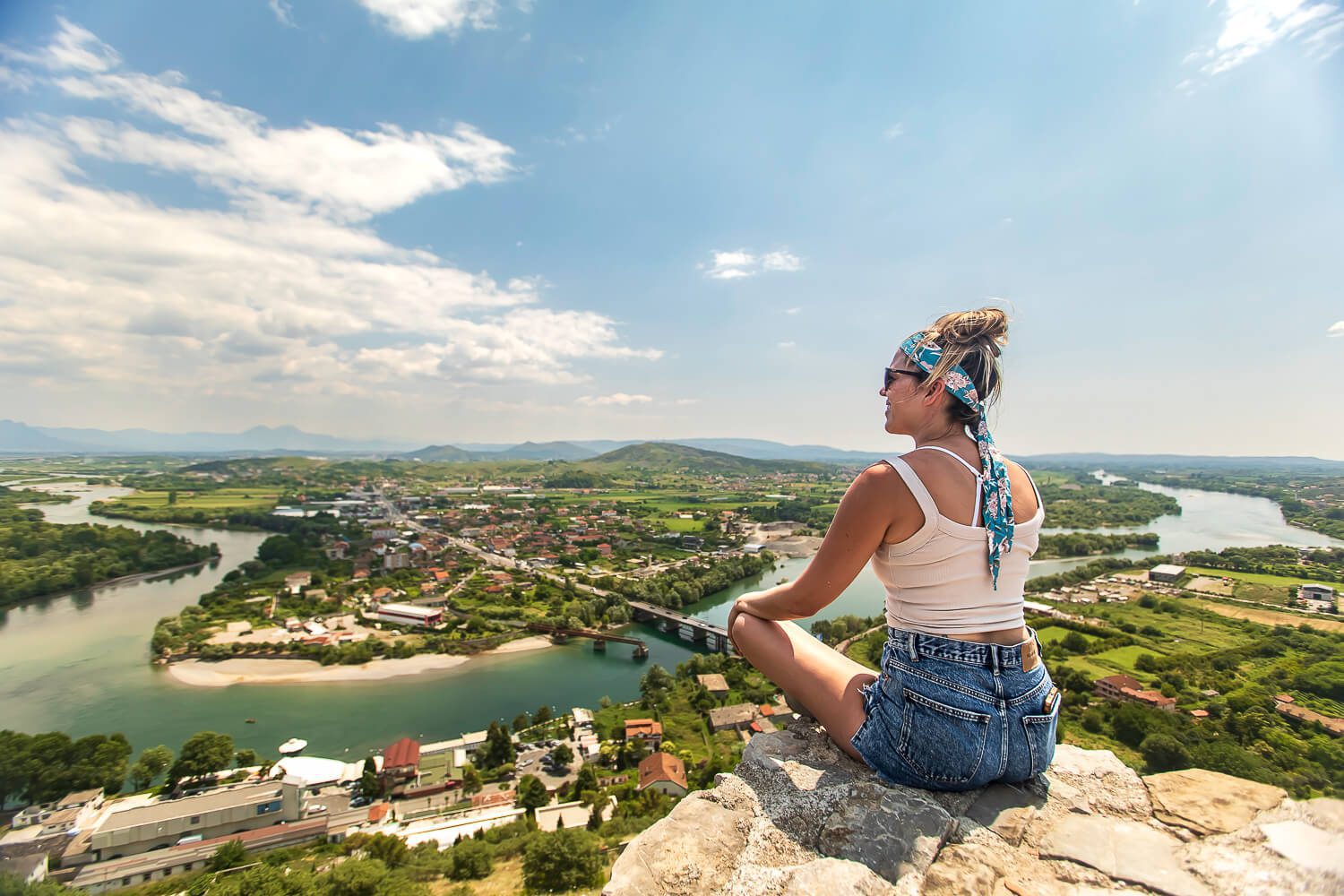 Rozafa Castle one of the most popular places to visit in Shkoder. The medieval fortress is located about 10 minutes outside the city if you're driving. The castle offers stunning panoramic views of the surrounding landscapes, including the nearby Lake Shkodra and the Albanian Alps.
Legend has it that the castle was built by three brothers, who worked during the day but found their work destroyed by night. A wise old man told them that in order for the castle to stand, they needed to sacrifice one of their wives. The brothers agreed and choose to sacrifice Rozafa, the wife of the youngest brother. Rozafa willingly sacrificed herself and was turned into stone, becoming the foundation of the castle.
Today, you can explore the castle's ruins, which include towers, walls and underground tunnels. The castle also houses a museum that showcases artifacts and exhibits detailing the history of the fortress and surrounding area. It costs 400 Lek to enter the castle.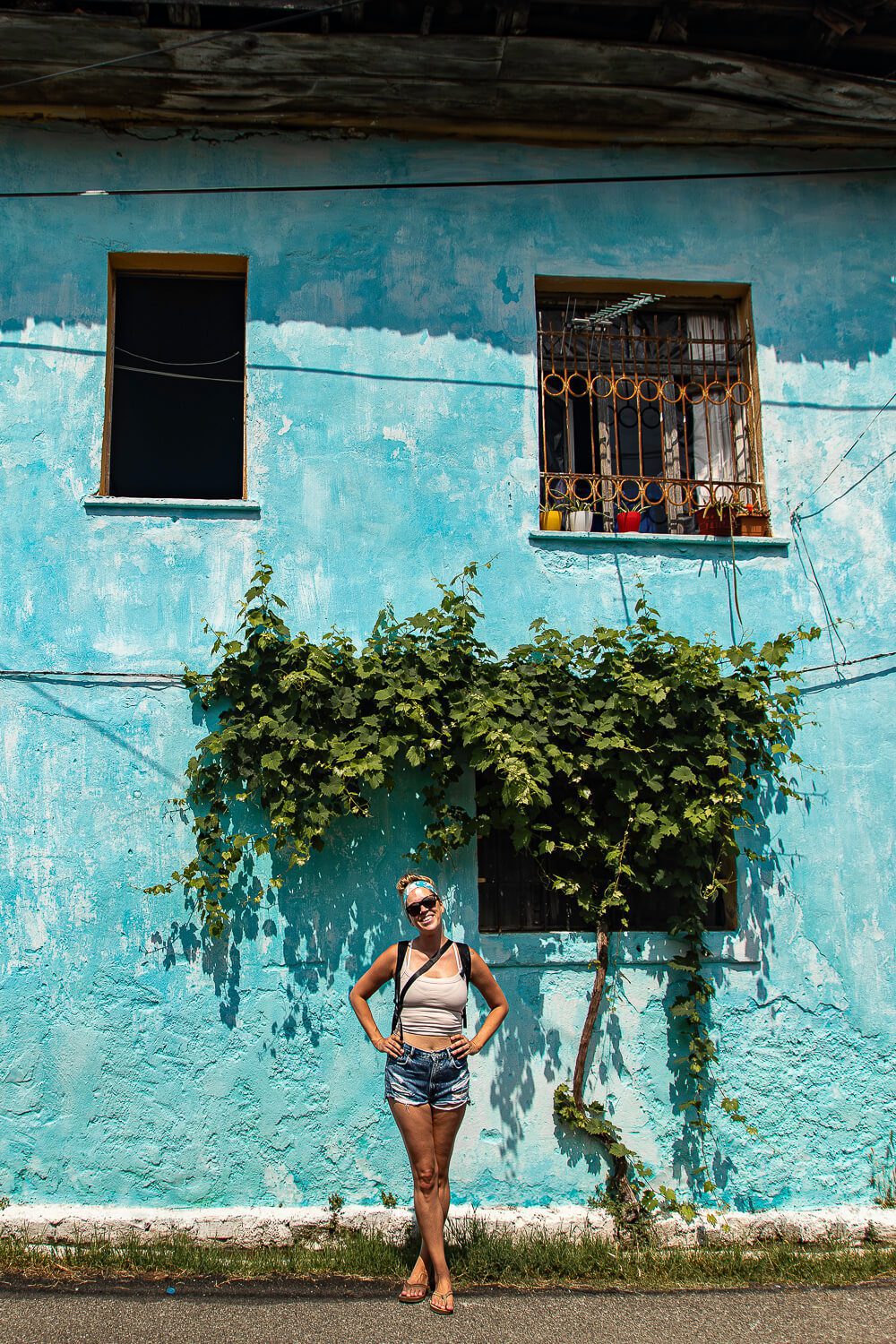 Stroll Down Sheshi or Kole Idromeno Street
You can't miss Sheshi or Kole Idromeno Street when you are exploring Shkodër. This charming pedestrian-friendly street is lined with lively cafes, boutique shops and charming buildings that showcase the architectural beauty of the city.
As you wander along, you can admire elegant buildings with colorful facades and intricate details that date back to the Ottoman and Venetian eras. You can also explore the wonderful blend of modern and traditional Albanian cuisine at various restaurants and cafes along the street.
In addition to its culinary offerings, Kole Idromeno Street is a great place for shopping. Various boutique shops offer unique local handcrafts. You can find everything from handmade jewelry to locally made souvenirs that make for perfects gifts or mementos from your visit to Shkoder.
Many hotels in Shkoder are located on this street and it's about a 8 minute walk from the "bus station". I put bus station in quotes because technically there isn't a bus station in town but an area that buses pick up and drop people off at. I'll go more into detail about that at the end of the post.
🍜 Travel Tip: Eat at Sofra Restaurant, which serves tasty Albanian cuisine and cheap, local wine.
Shkodra Lake or Skadar Lake in Montenegro is a huge lake that is shared with Albania and Montenegro, with the majority of the lake being part of Montenegro. If you have ample time and are looking for something fun to do outdoors, opt for a kayak.
Lake Shkoder is nestled between the majestic Albanian Alps and the picturesque countryside, creating a dramatic backdrop for your kayaking adventure. You can glide through calm waters, discovering hidden coves and peaceful bays that are inaccessible by other means.
The closest place to kayak is actually from the Montenegros side near the small lakeside town of Virpazar. So grab your paddle, hop into a kayak and get ready to get wet.
Witness the Beauty of Ebu Bekr Mosque
The Ebu Bekr Mosque is one of the most beautiful Shkoder attractions. The very photogenic mosque dominates Shkoder's city centre. Located on Kole Idromeno Street, you can't miss checking out the beautiful architecture. The inside isn't as stunning as the outside but you can enter after hours when prayer is not being held.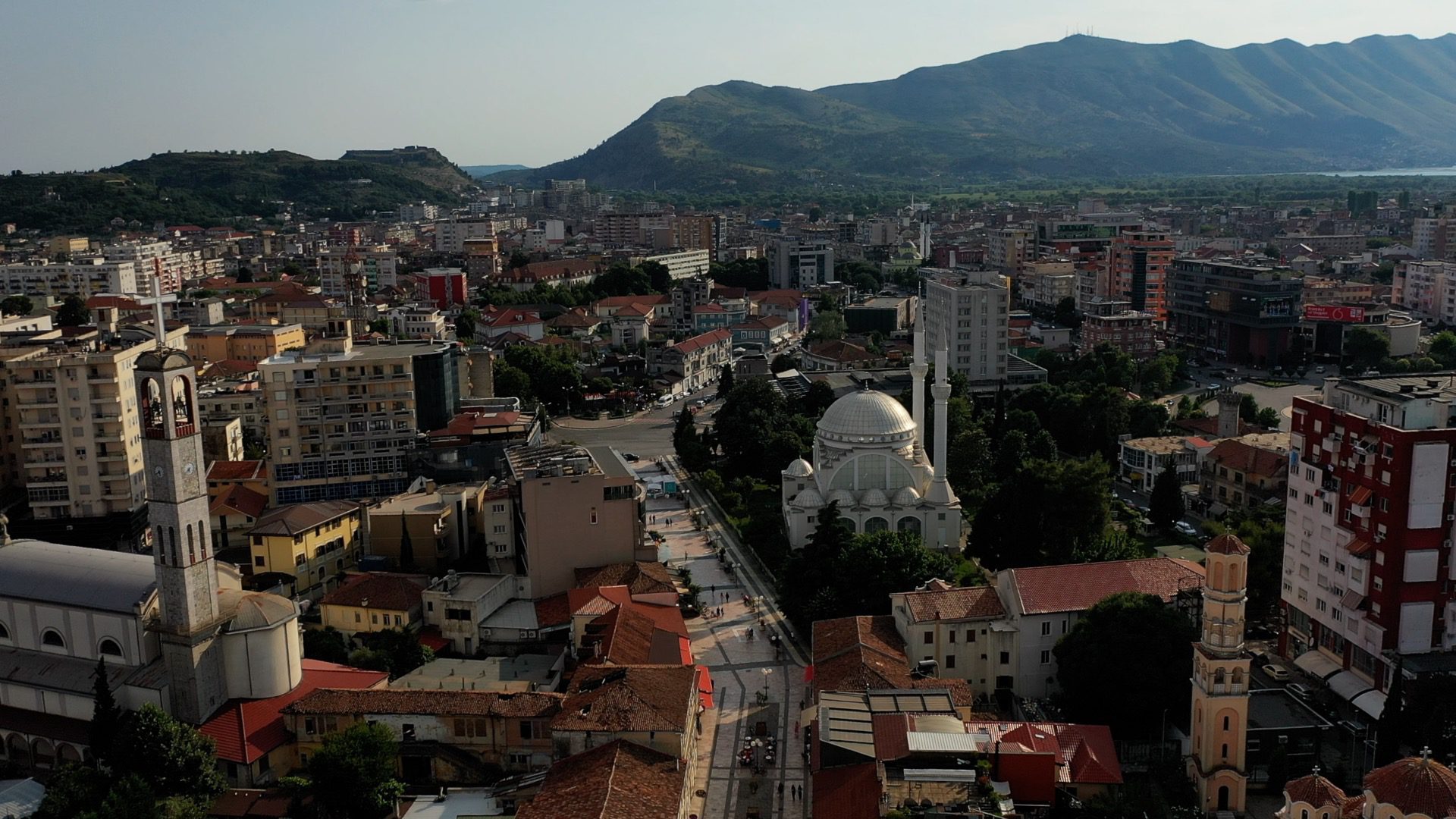 Explore the Town on Two Wheels
Another great thing to do in Shkoder is to explore the town on two wheels, it is nicknamed the 'City of Bicycles and Rain' after all. Shkoder is easy to explore on a bike because it's as flat as a pancake.
As you pedal through the streets of Shkodër, the flat terrain and well-maintained cycling paths, makes this activity quite peaceful. You can also cycle along the Buna River as well as explore the scenic parks and squares that dot the outskirts of the city.
If you have an extra day in Shkoder to spare, check out the Venice Art Mask Factory. The show room is filled with beautiful hand-made masks which you would find in the Venetian market. Masks are priced anywhere from 20 € to 2000 €.
Located about 5 kilometers northeast of Shkoder is the Mesi Bridge. Dating back to the late 18th century. this Ottoman style bridge is worth a visit if you have a car and some time. I didn't personal visit this bridge as it was similar to the infamous bridge in Mostar which I had the pleasure to experience.
Marubi National Photography Museum
If it's raining, one of the best things to do in Shkoder is visit the Marubi National Photography Museum. This is a one-of-a-kind Albanian photographic museum which features works of the Marubi Dynasty – Albania's first family of photographers.
The museum includes the first photo ever taken in Albania which is wild to think about. If you love history and want to gain a fascinating glimpse into early Albania and the rise and fall of communism, don't miss out on this museum in Shkoder.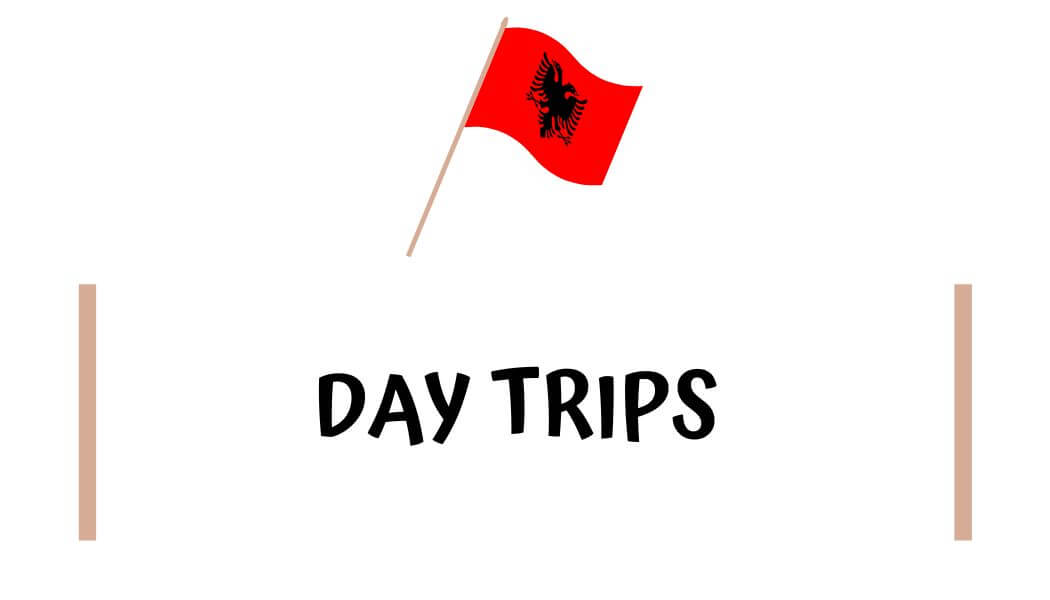 I couldn't make a best things to do in Shkoder post without including some epic day trips. With that being said, if you have ample time to explore Albania, I recommend that you don't visit the activities I listed below on day trips but as overnight and onward stays.
Joe and I spent 6 days trekking through the Accursed Mountains in Albania and it was the highlight of our month long travels through Albania. We also spent 3 weeks exploring Montenegro and let's just say that tiny country really packs in the sights and activities.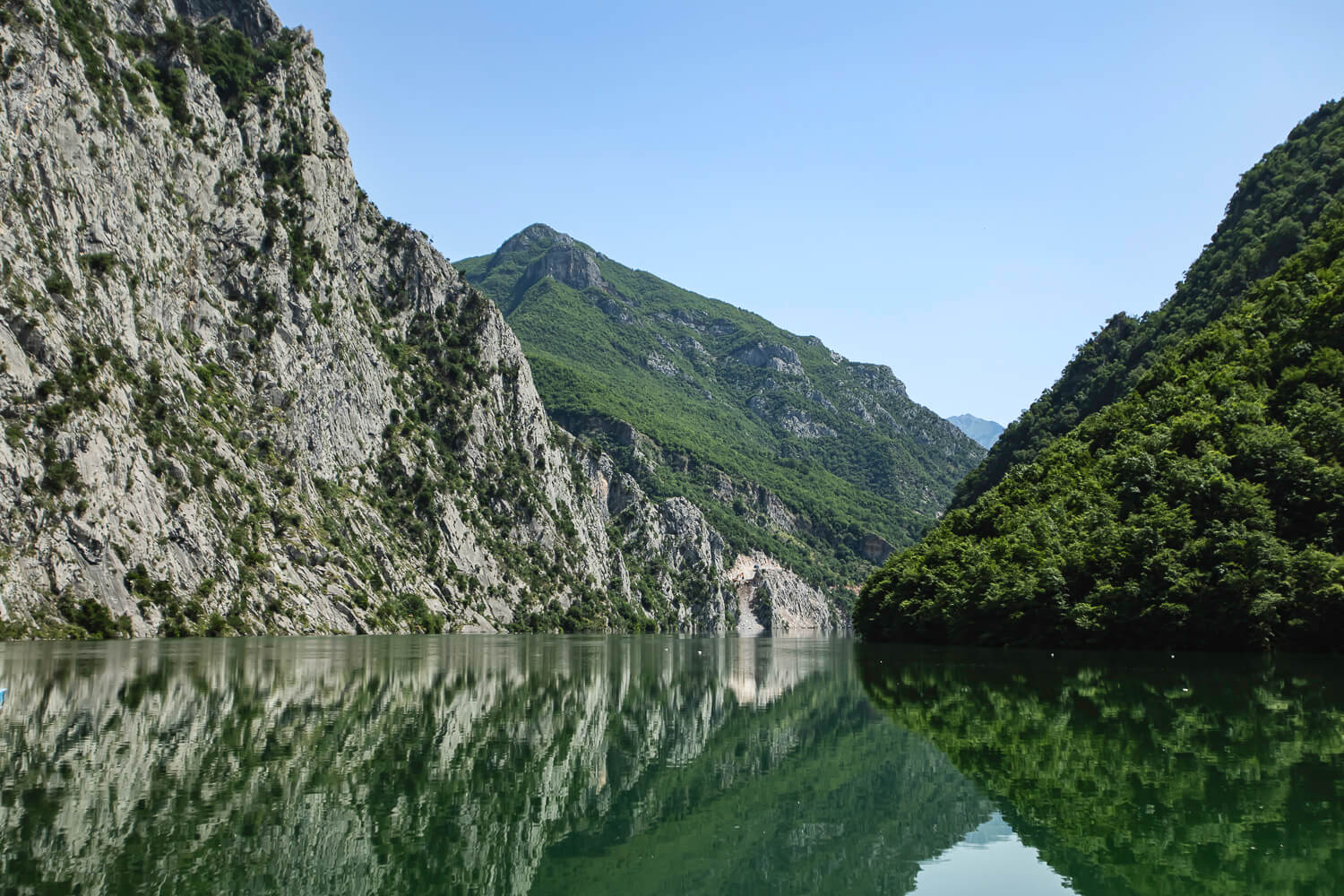 Nestled in the Albanian Alps, this hidden gem will mesmerize you with its pristine beauty. Lake Koman is about 2 and a half hours away from Shkoder and an awesome day trip. It's an even better day trip from Shkoder if you are en route to Valbona National Park.
The scenic lake is actually a reservoir formed by a hydroelectric plant and stretches for approximately 30 kilometers, surrounded by towering mountains and lush greenery. The waters of Lake Koman are a sight to behold, reflecting the natural splendor of the surrounding landscapes.
There are a few different ways you can enjoy Lake Koman – on a tour or you can book a roundtrip ferry ticket. I experienced the Lake Komani Ferry en route to Valbona Valley National Park. The car ferry that I took was extremely crowded. I had to climb in between 2 cars just to key space on the railing.
I'll say this, if you're on a budget book a roundtrip ferry, if you want to have more of an experience, book a tour. The untouched wilderness make Lake Koman an ideal destination for nature lover and adventure seekers, who are rewarded with epic views and a fun day on the water.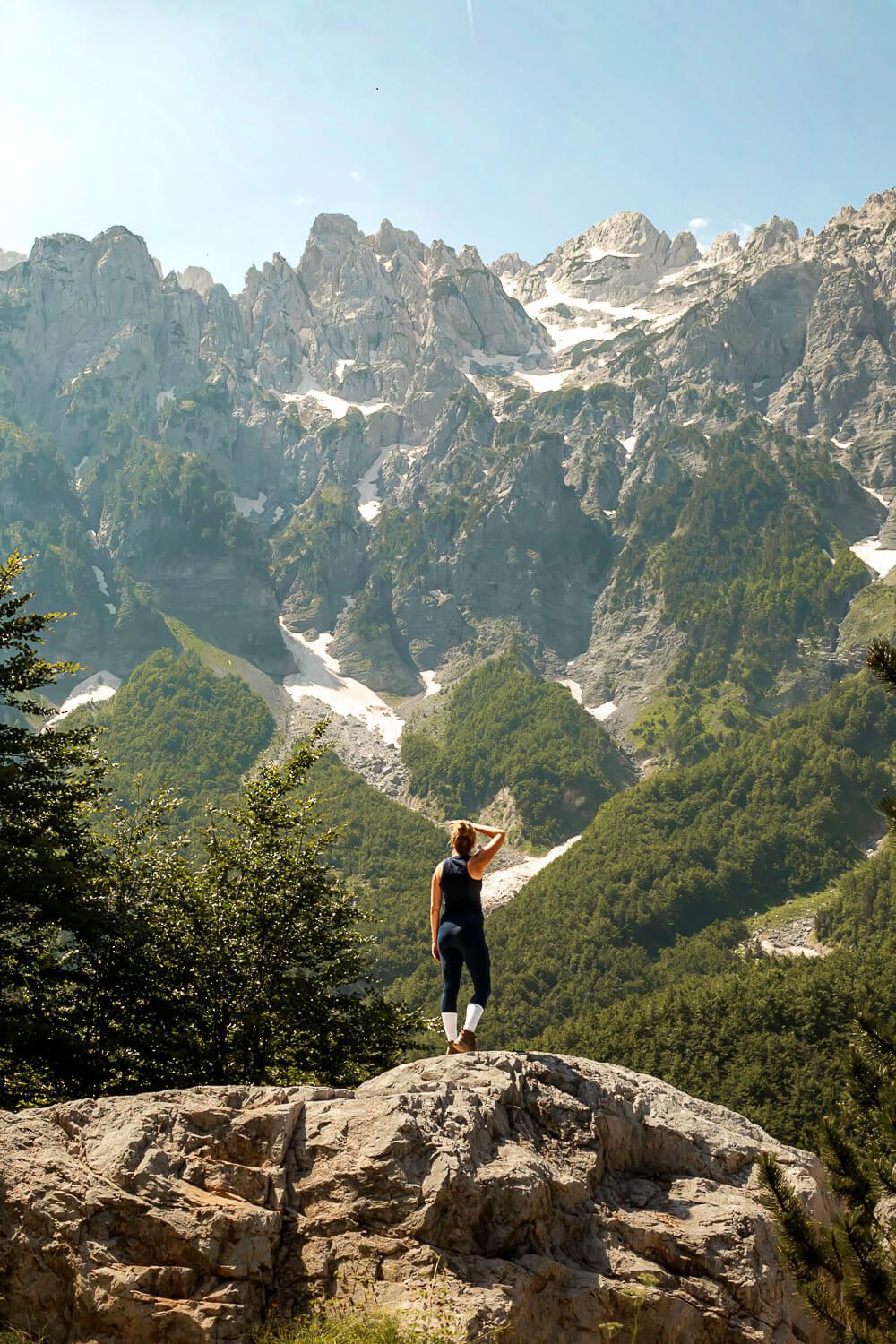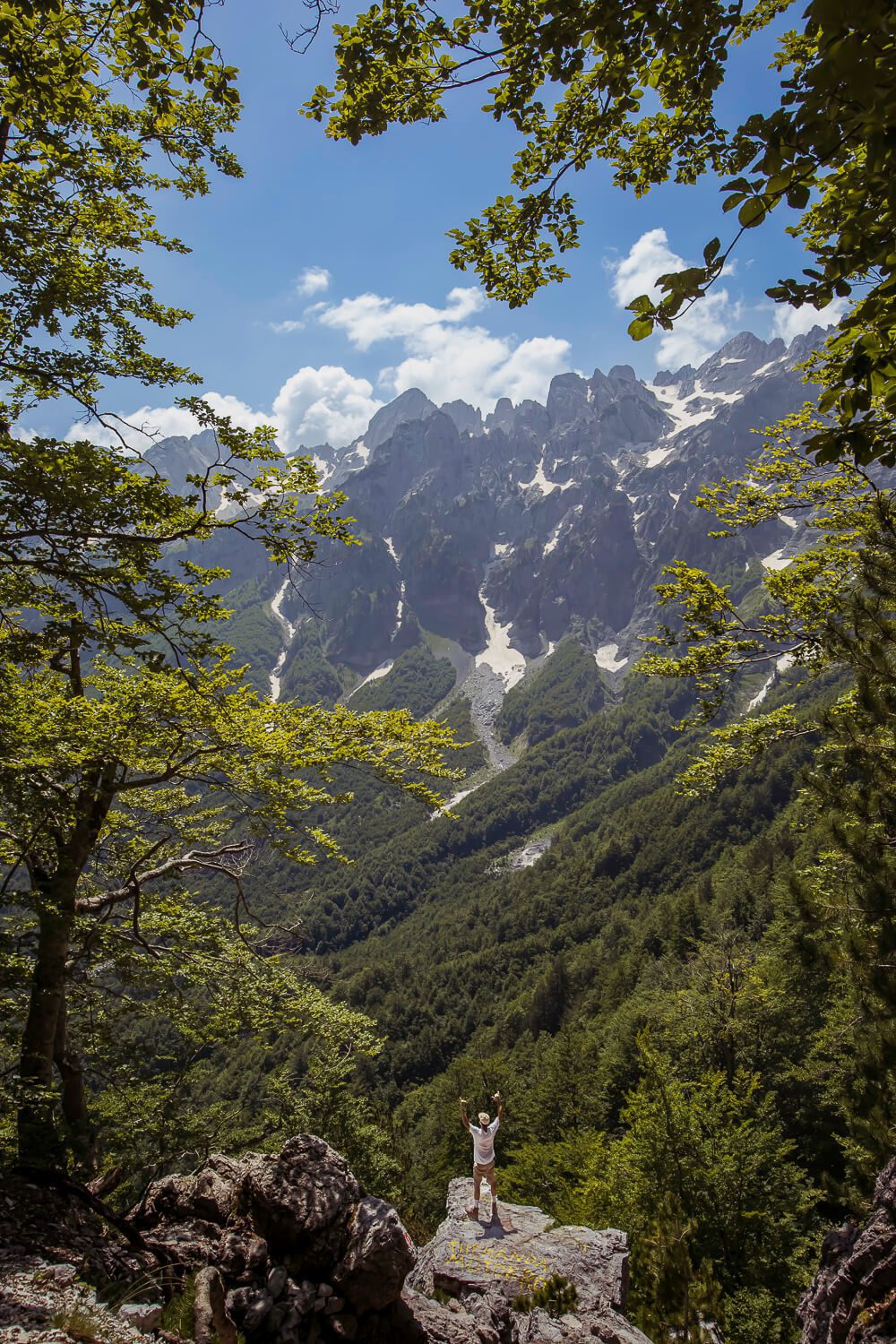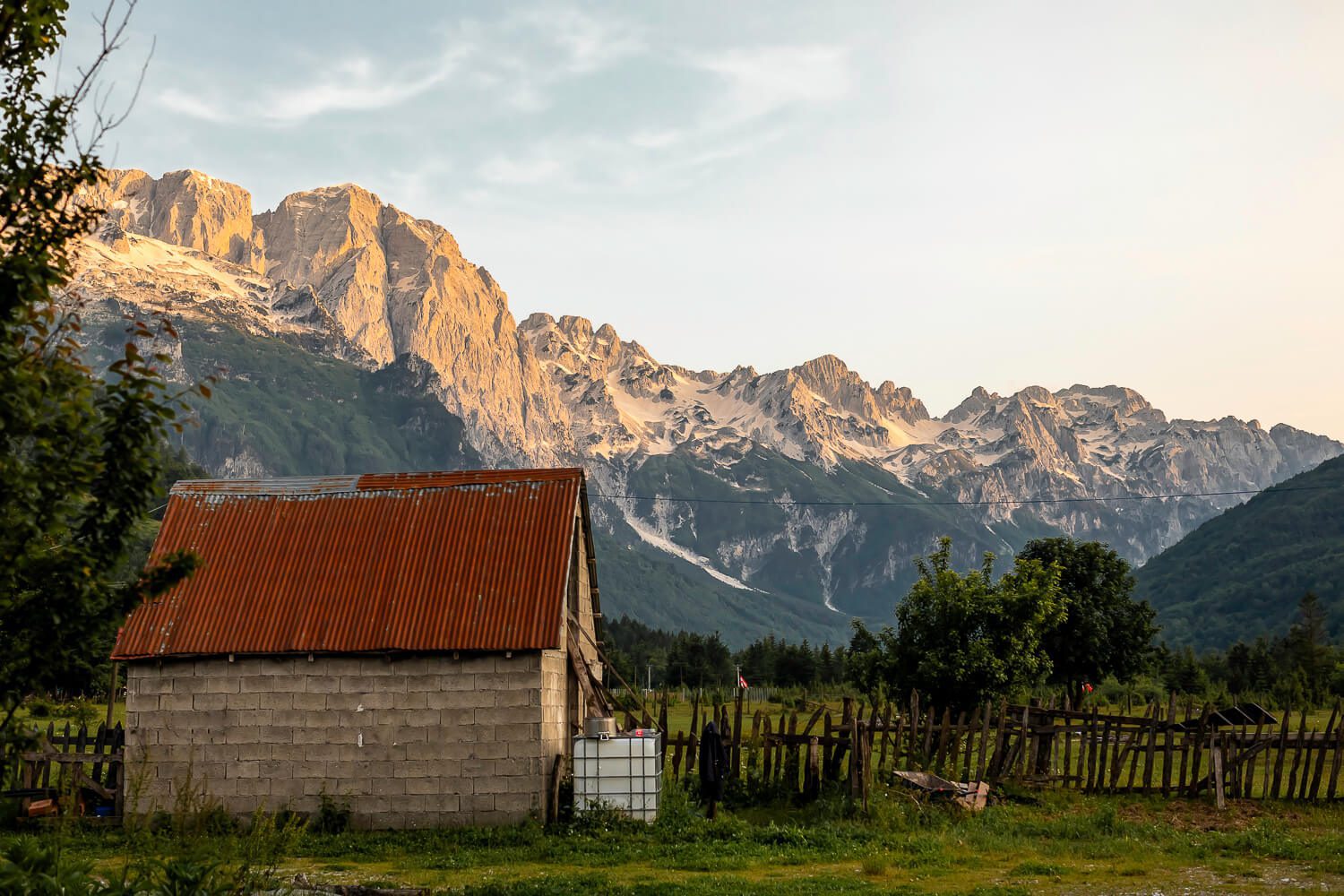 Hiking in the Accursed Mountains
Shkoder is the gateway town to hiking the Accursed Mountains aka the Albanian Alps. I spent 6 days hiking through the Albanian Alps, exploring Valbona National Park, Theth National Park and completing the Valbona Theth Trek. ← It was a highlight of my time spent in Albania.
There are tons of hiking trails to enjoy, here are some of the most popular.
Maja Rosit (Valbona National Park)
Jezerca Lakes and Peak (Valbona National Park)
Thatë peak (Valbona National Park)
Kolata peak (Valbona National Park)
Blue Eye of the North (Theth National Park)
Maja Arapit (Theth)
Grunas Waterfall & Canyon (Thethi National Park)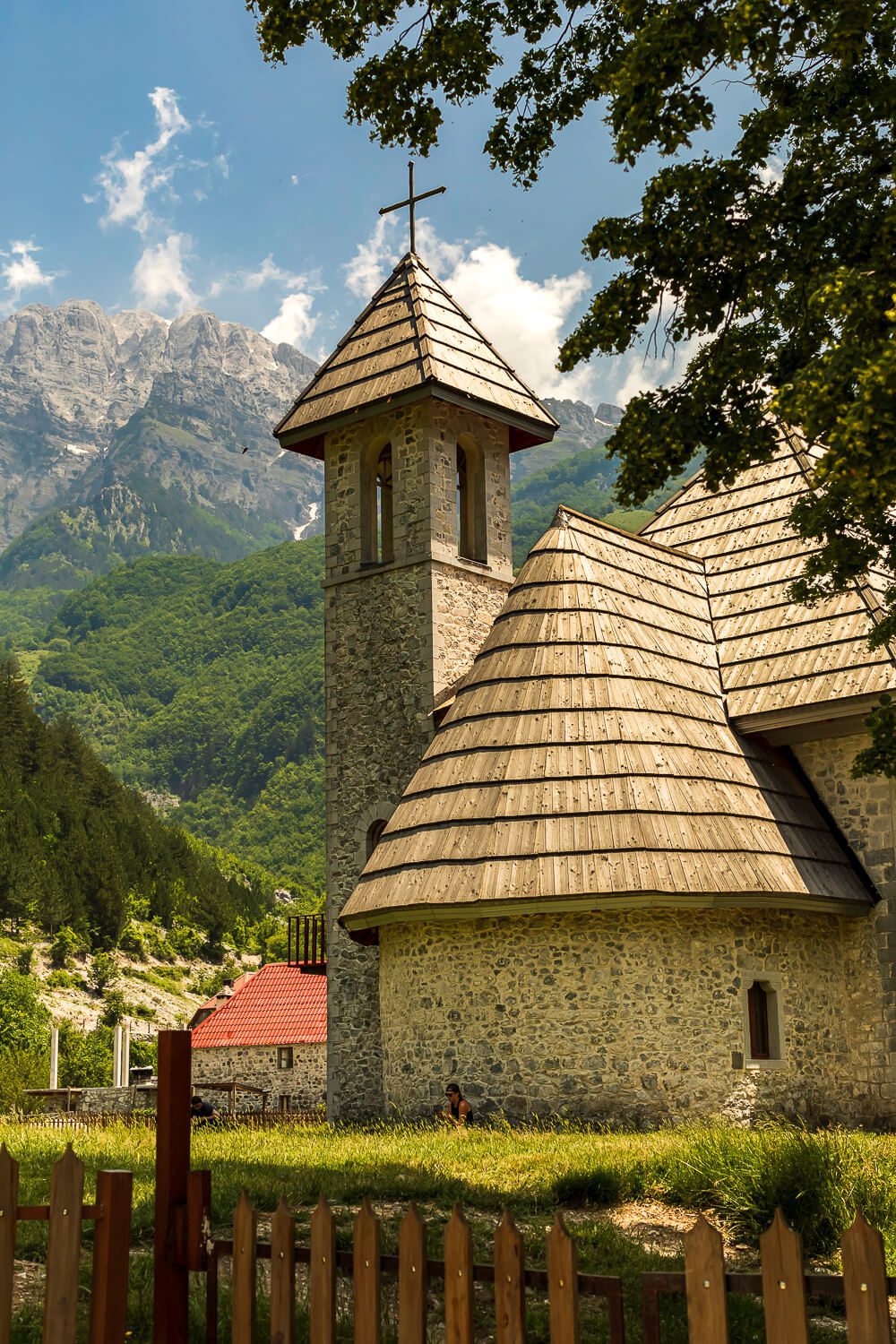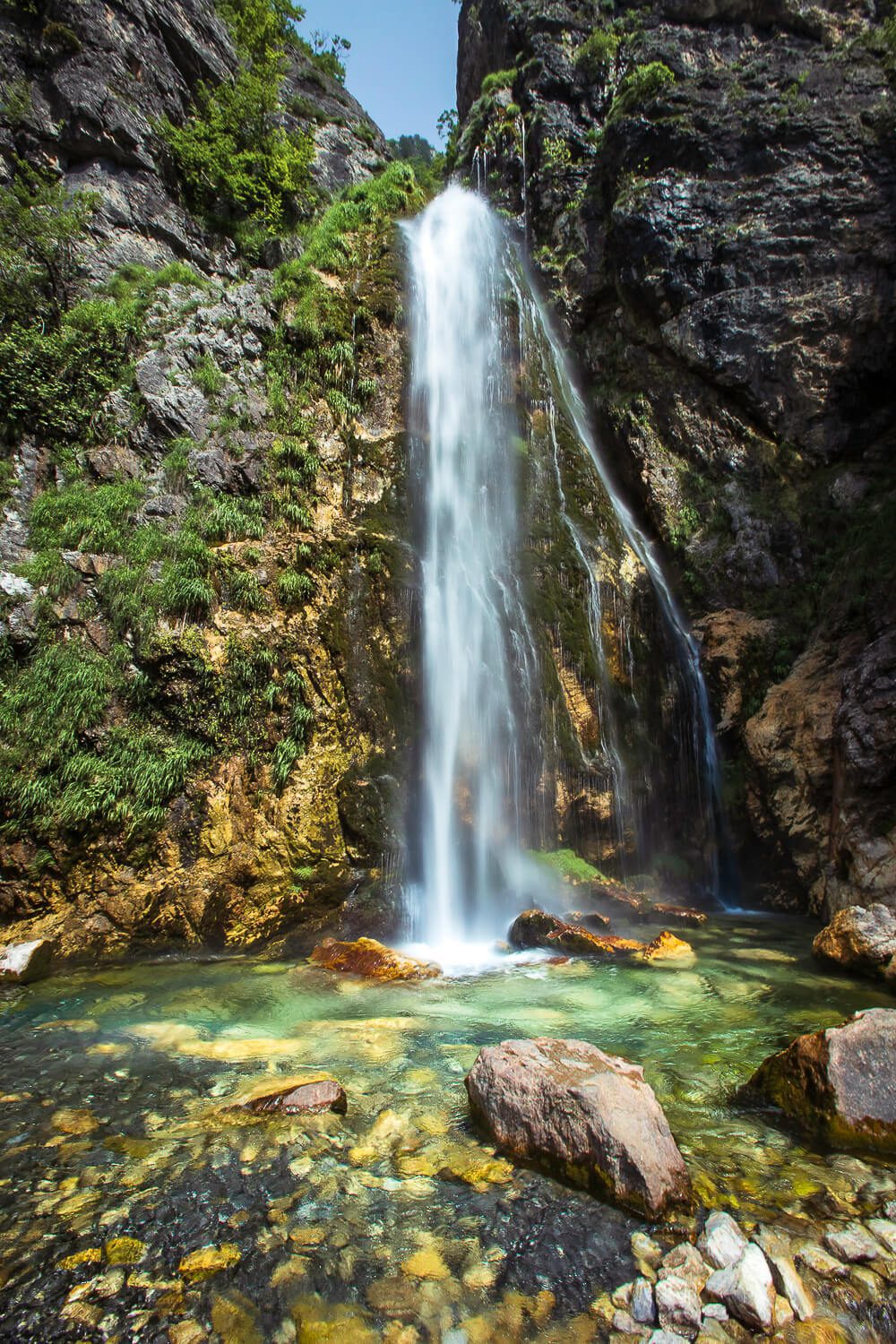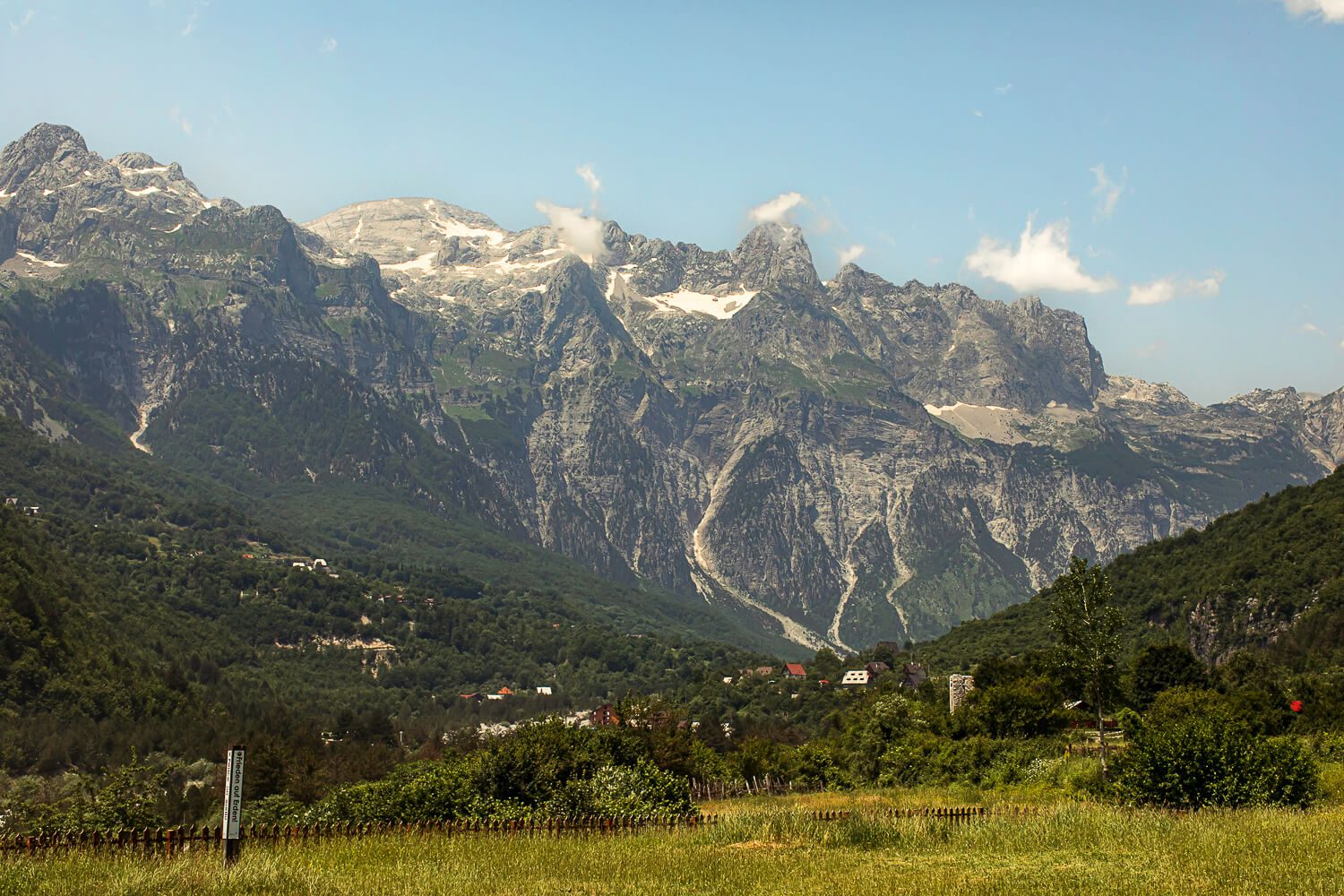 Located about 2 hours away from Shkoder, Theth is a remote village completely surrounded by towering mountains. This sleepy village is a top destination in Albania due to its untouched natural beauty.
This haven for outdoor enthusiasts offers a plethora of activities such as hiking, trekking and camping. Explore natural wonders, including the iconic Blue Eye Waterfall and Grunas Waterfall.
The village itself is a picturesque scene, with traditional stone houses and a charming church (Thethi Church). For more details on all there is to do in Theth, check out the article below.
From Shkoder, Montenegro is an easy day trip, especially if you have your own vehicle. Ulcinj, Montenegro is about an hours drive from Shkoder. Ulcinj is a unique destination as a majority of the population is Albanian. Ulcinj is known for its sandy beaches, so prepare for crowds during the peak summer months of July and August.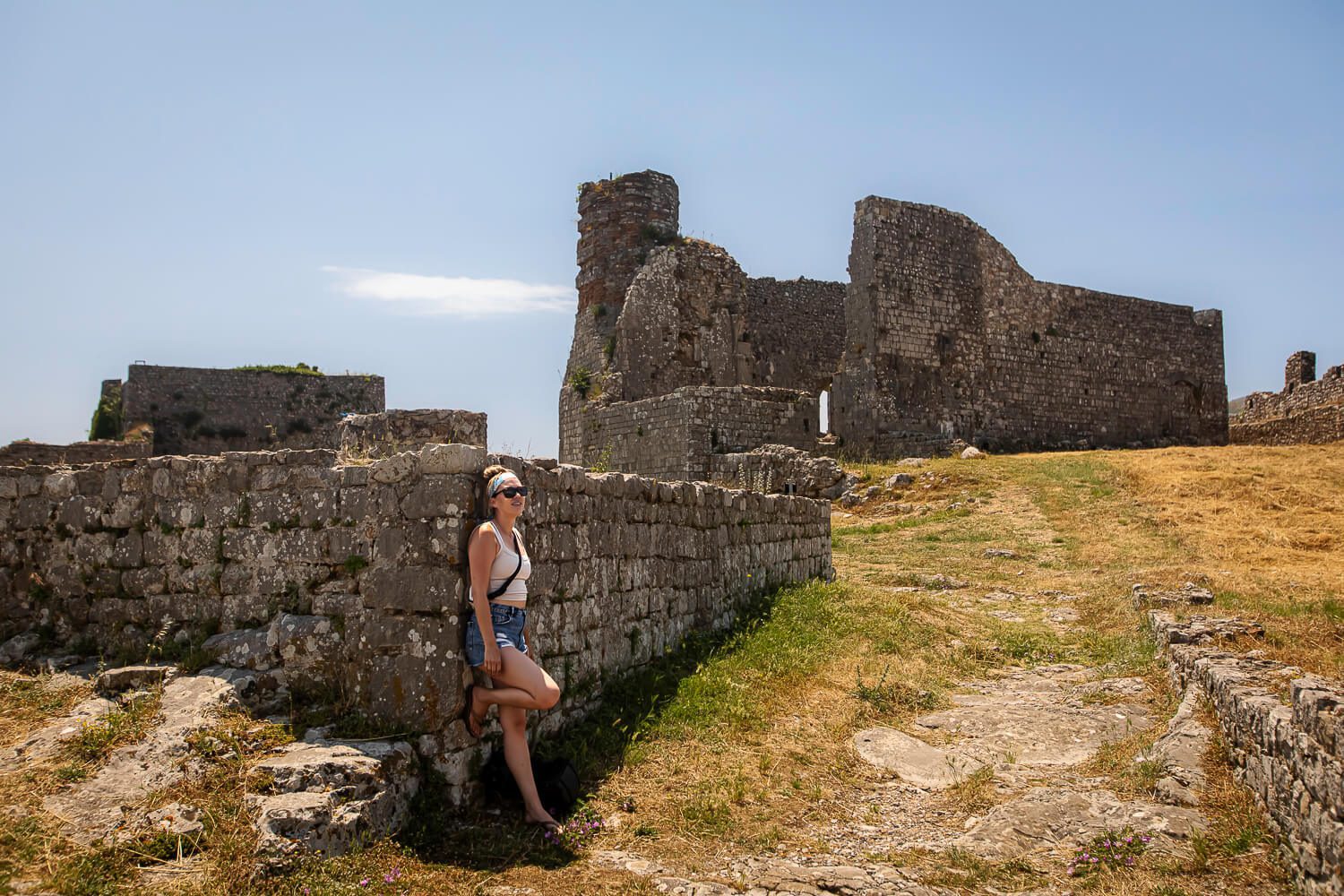 There are plenty of places to stay in Shkoder that will accommodate every type of traveler and on every type of budget. These are the top hotels in Shkoder.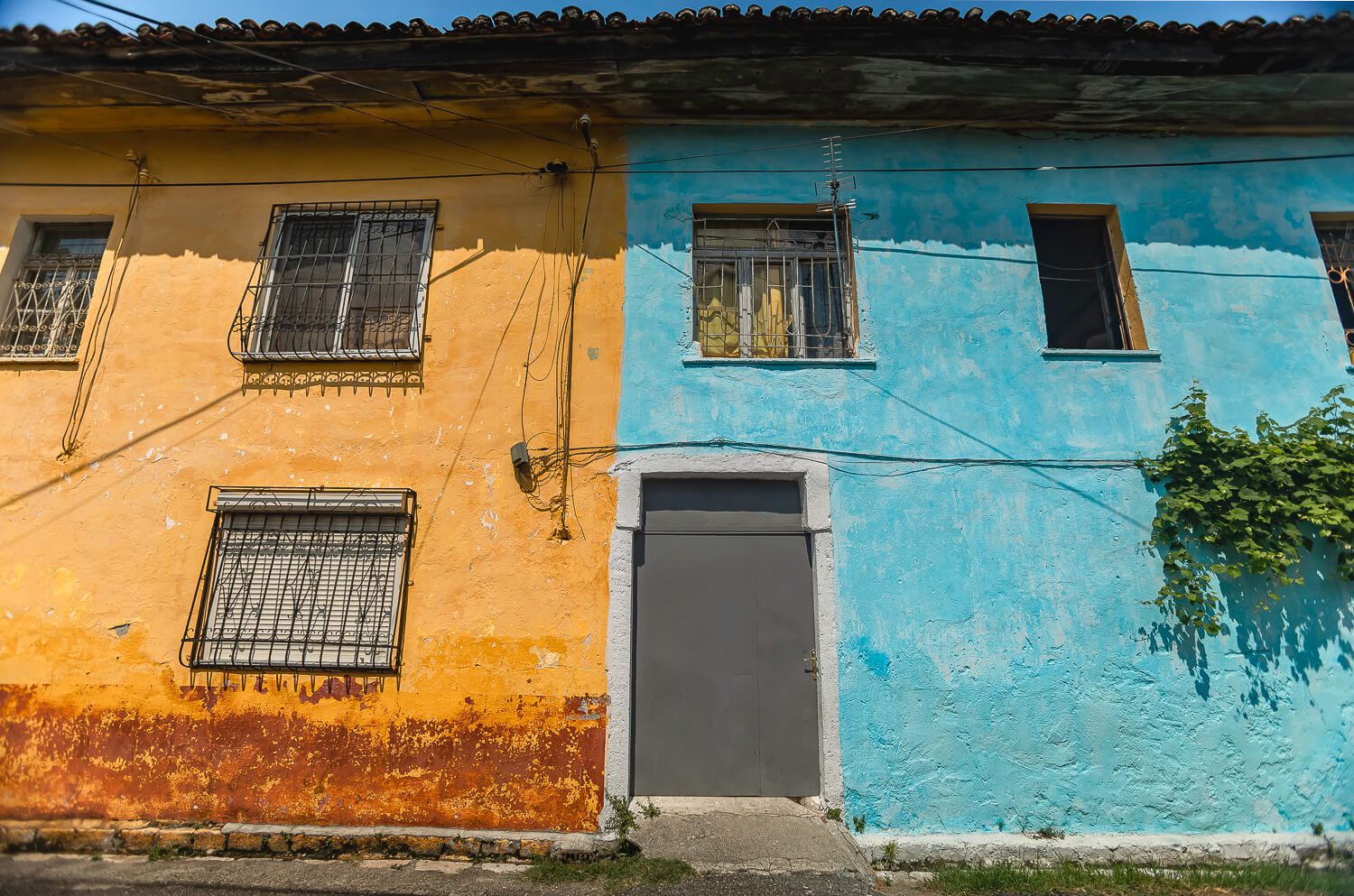 If you are short on time or just prefer to go on guided tour of Shkoder, you can book a tour from Tirana. All tours listed below are reasonably priced, have good reviews and the guides speak English.
Shkoder is easily accessed from Tirana. The most convenient and commonly used method is by bus. Buses operate regularly from Tirana's central bus station. It takes about two hours to get to Shkoder from Tirana. Tickets cost 400 Lek.
There technically isn't a bus station in Shkoder. Most bus services leave from around Sheshi Demokracia in the center of town which is about a 10 minute walk from the Kole Idromeno pedestrian street.
Getting there will be easy as buses will just drop you off, when you're leaving head to the same area and look for the destination in the bus windows. The reception at your hotel will also be able to point you in the right direction.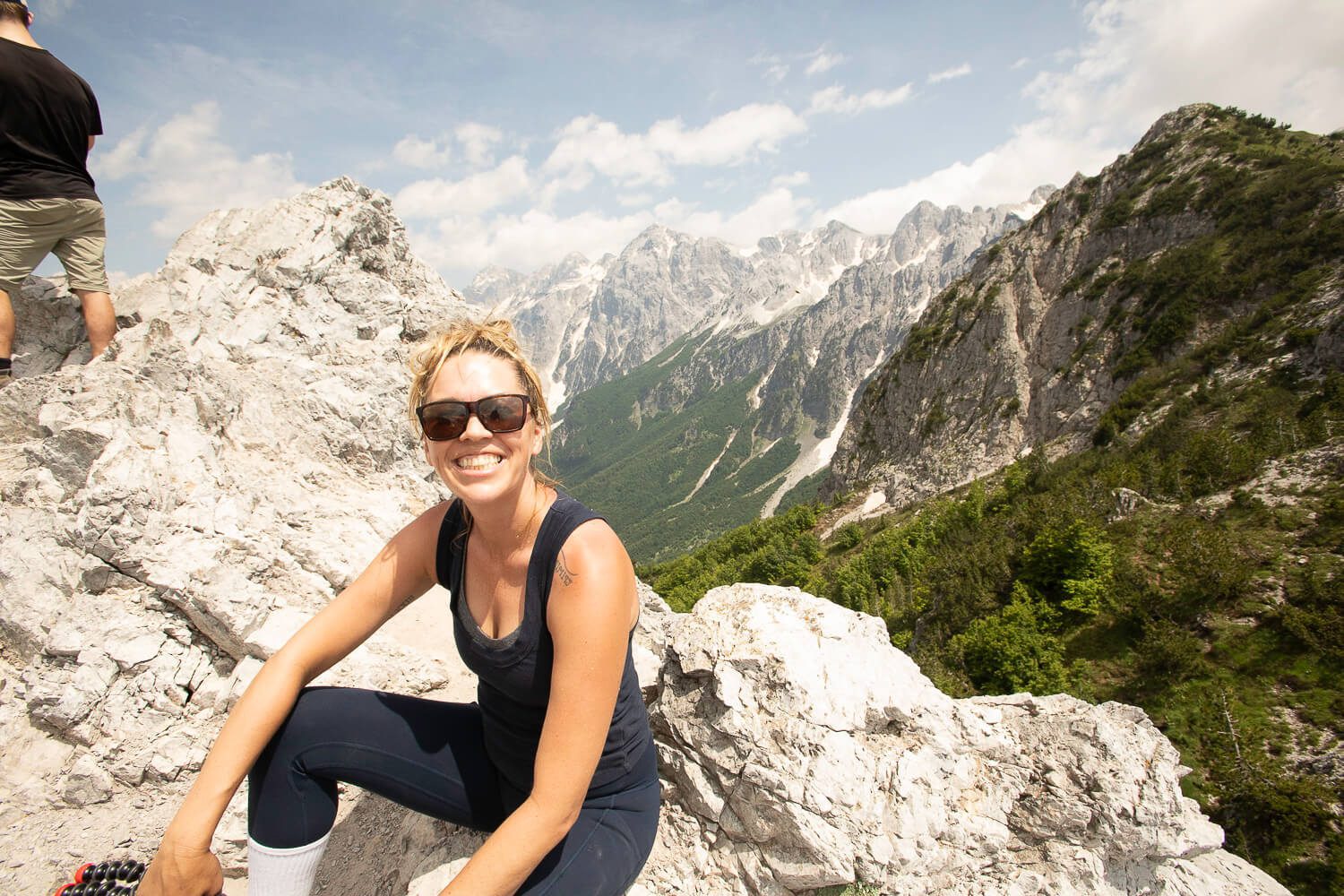 Best Time to Visit Shkoder
The best time to visit Shkoder is during dry/hiking season which runs May to October. July and August are the peak months, which mean higher crowds and hotter days.
Shoulder season May – June or September – October are the best months to visit Shkoder. During these months, you can still enjoy pleasant whether and avoid the crowds.
Albania Travel Tips
📍Plan your Trip:

🗺 How long to travel Albania?  3-6 Day Albanian Alps Hiking Itinerary

🛂 Visas: Up to 90 Days on arrival for most countries.

☔️ Best Time to Visit:  Peak season = July & August.  May, June, September & October = Less crowds & costs.

💰 Average Daily Budget: Expect to pay 50 USD's a day for basic accommodations, sit down meals at a cafe and entrance fees.

⛺️ Albania accommodation Guides:

🪂 Highlights

Tirana's Coffee Culture
The Albanian Riviera
Valbona Valley National Park
Peak of the Balkans for the experienced Trekker

🧳 What to Pack: What to Pack for Albania

🎥 Watch our Albania Series on YouTube

Get on my Email list to see what I'm up to and all the best travel content!
Those are the best things to do in Shkoder. If you found this article useful or have anything to add let your fellow travelers know in the comments below.
Enjoy this Post?!?! Pin in for Later ↓