Theth is a tiny village in northern Albania completely surrounded by towering mountains.
Most people experience Theth in route to or from hiking the Theth to Valbona Trek or on a
day trip from Shkodër
but there are a handful of things to do in Theth that sticking around this sleepy village is worth a day or two on your Albanian Itinerary.
Theth, Albania has a population of 370 people and it can hardly be classified as a town, it doesn't even have an ATM machine. But once you visit this secluded village tucked away in the mountains, you'll quickly see why travelers make the journey with some (like myself) choosing to stay many nights.
Is Theth worth visiting? In this article I'll go over the best things to do in Theth, give you accommodation recommendations, let you know the best time to go to Theth and give you any tips you may need to know before visiting to ensure the best time possible.
For full transparency, I have sprinkled some affiliate links in this post.  As an Amazon Associate I earn from qualifying purchases that gives me a small commission at no extra cost to you if you decided to make a purchase.  As always, I would never recommend a product or service that I didn't truely believe in.  All proceeds go to keep Jess traveling and coffee ☕️.  I thank you in advance.
Below I have a listed the best things to do in Theth for easy viewing. If you'd like more information on a certain activity, click on the blue links below for a detailed post or vlog of that specific thing to do in Theth.
Theth Church
Theth Waterfall (Grunas Waterfall)
Blue Eye
Take a Dip in the River
Experience a Local Homestay
Peak of the Balkans
Would you rather see what visiting Theth is like? We filmed a few vlogs during the time we spent in Theth which you can check out above.
Best Things to do in Theth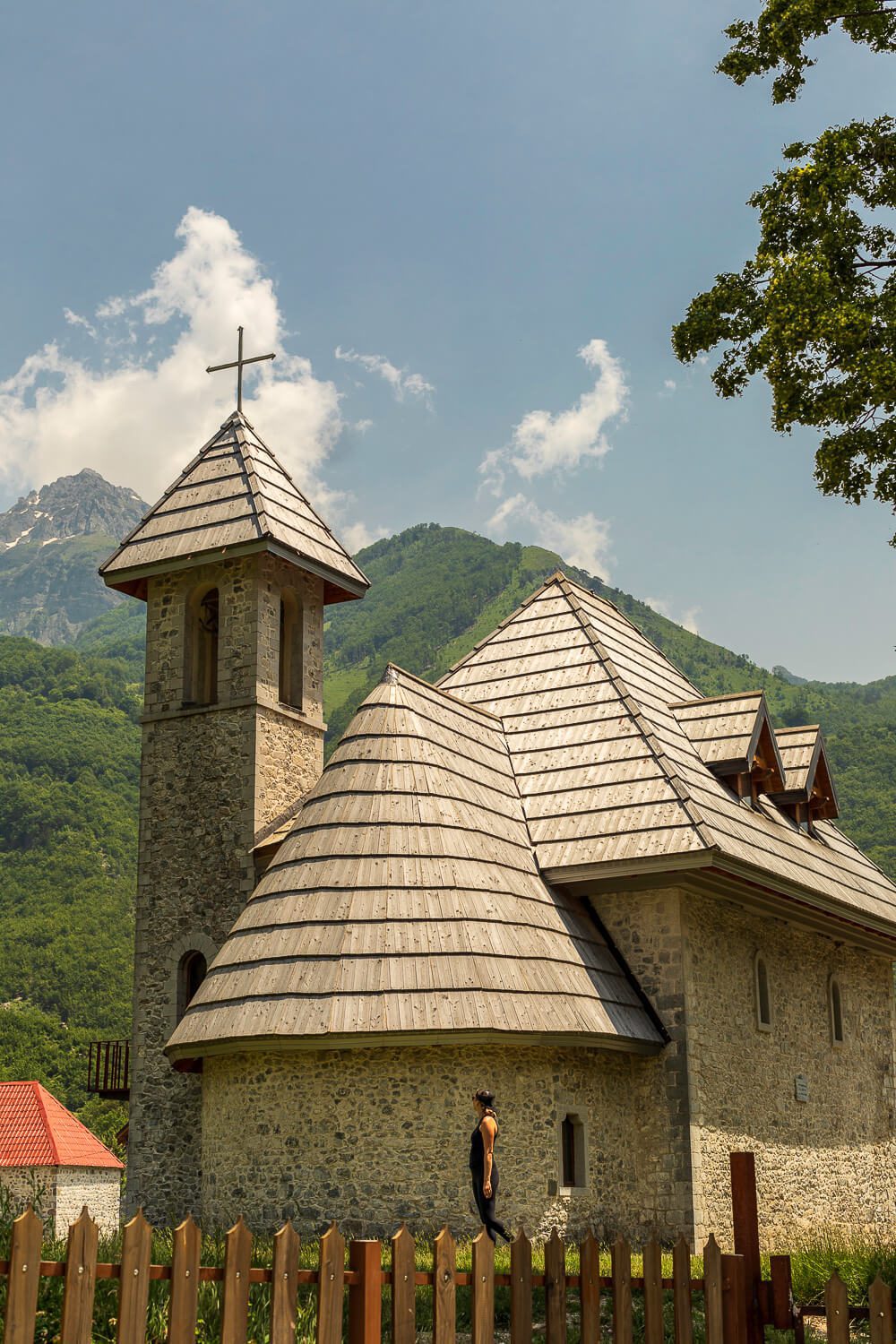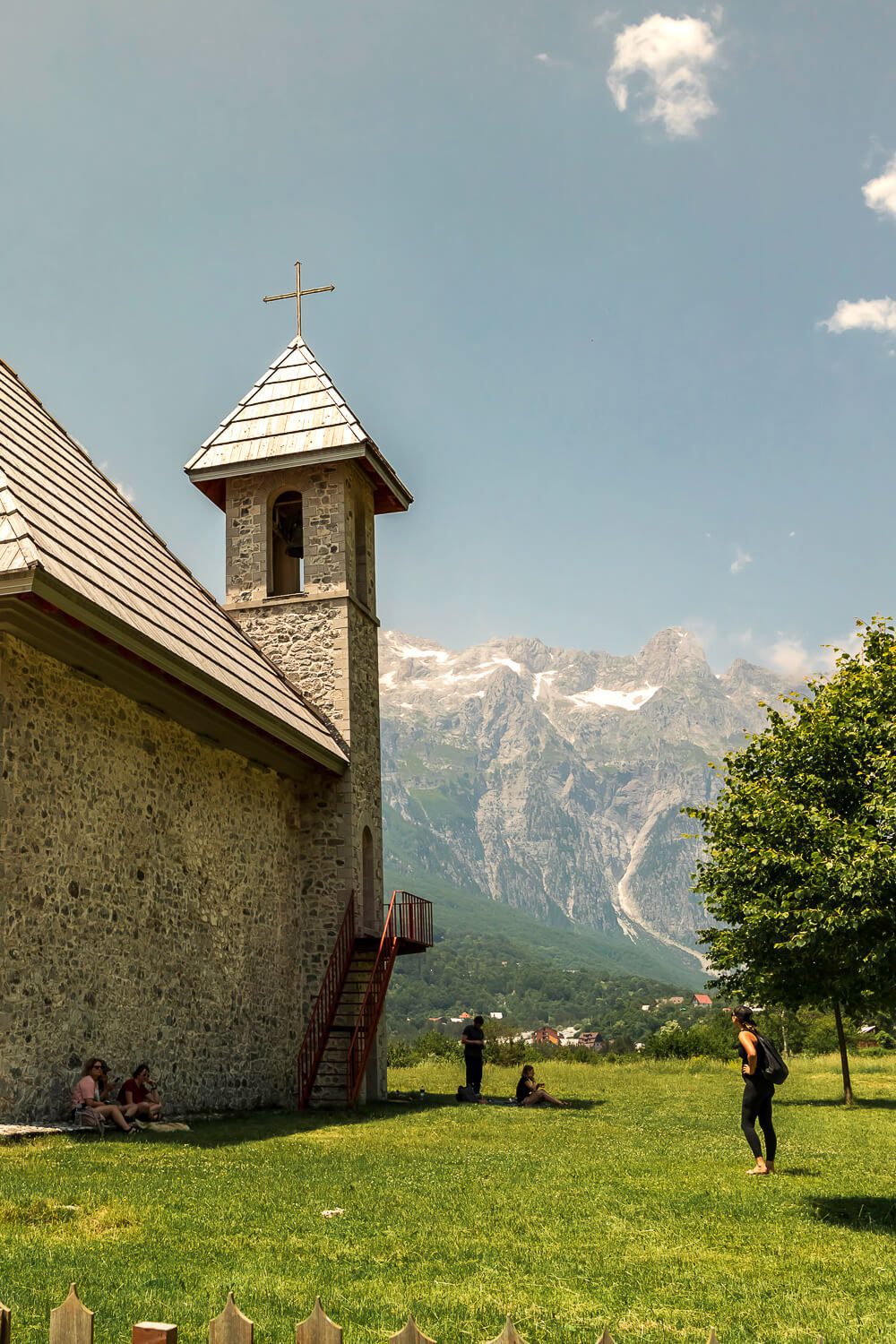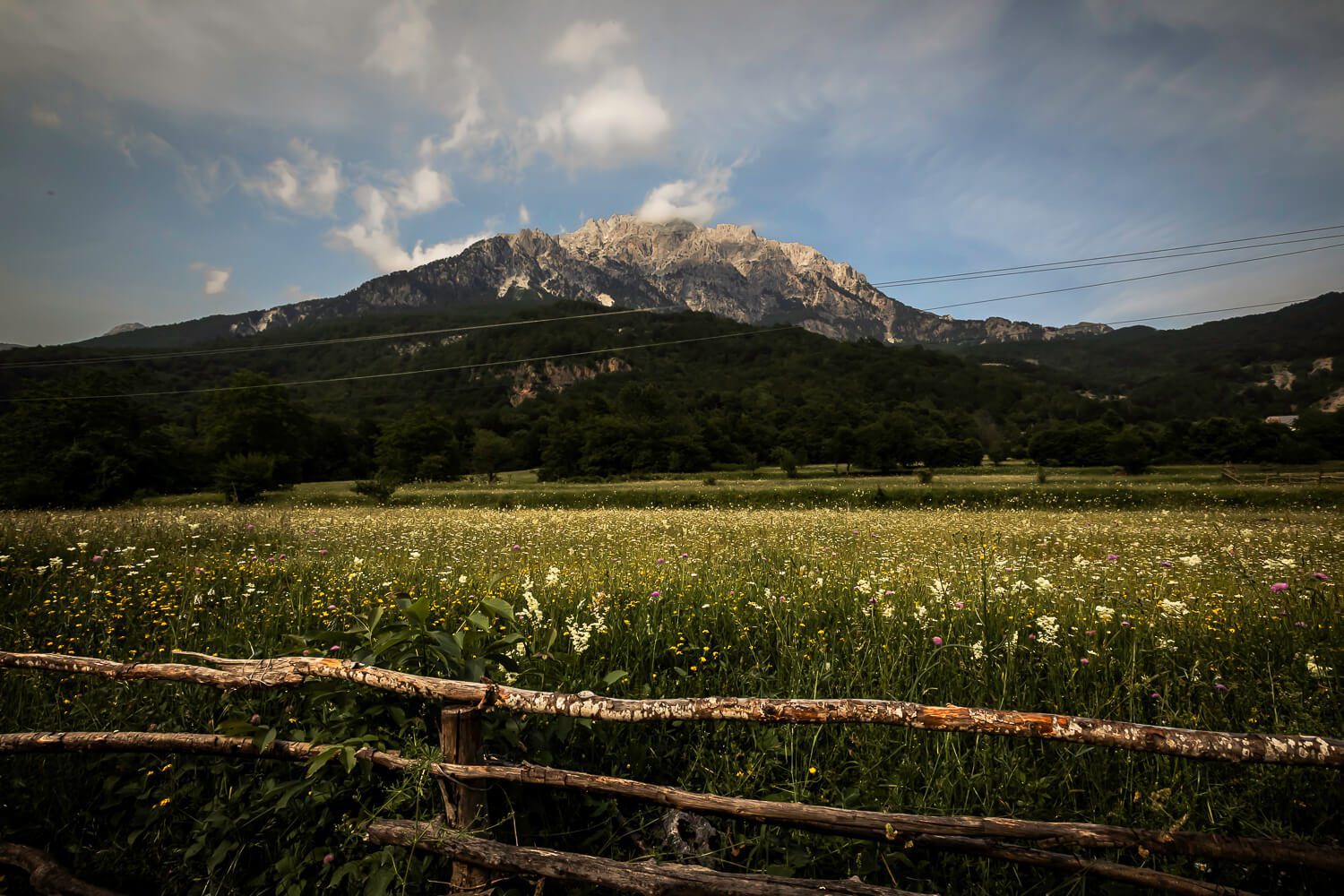 Theth Church is the most popular thing to do in Theth. Being located in such a remote location, Theth Church is a hidden gem amidst the breathtaking Albanian Alps. A visit to this charming church is like stepping back in time, as it dates back to the 19th century and still retains its traditional architectural charm.
The church of Theth is easy to find in the center of town. As you approach the church, you'll be greeted by its iconic stone walls and wooden roof, which blend perfectly with the natural surroundings.
I'm sure you've seen the Theth Church on Instagram as its one of the most photographed places in Albania. This is a great place to read a book in the shade in a peaceful setting.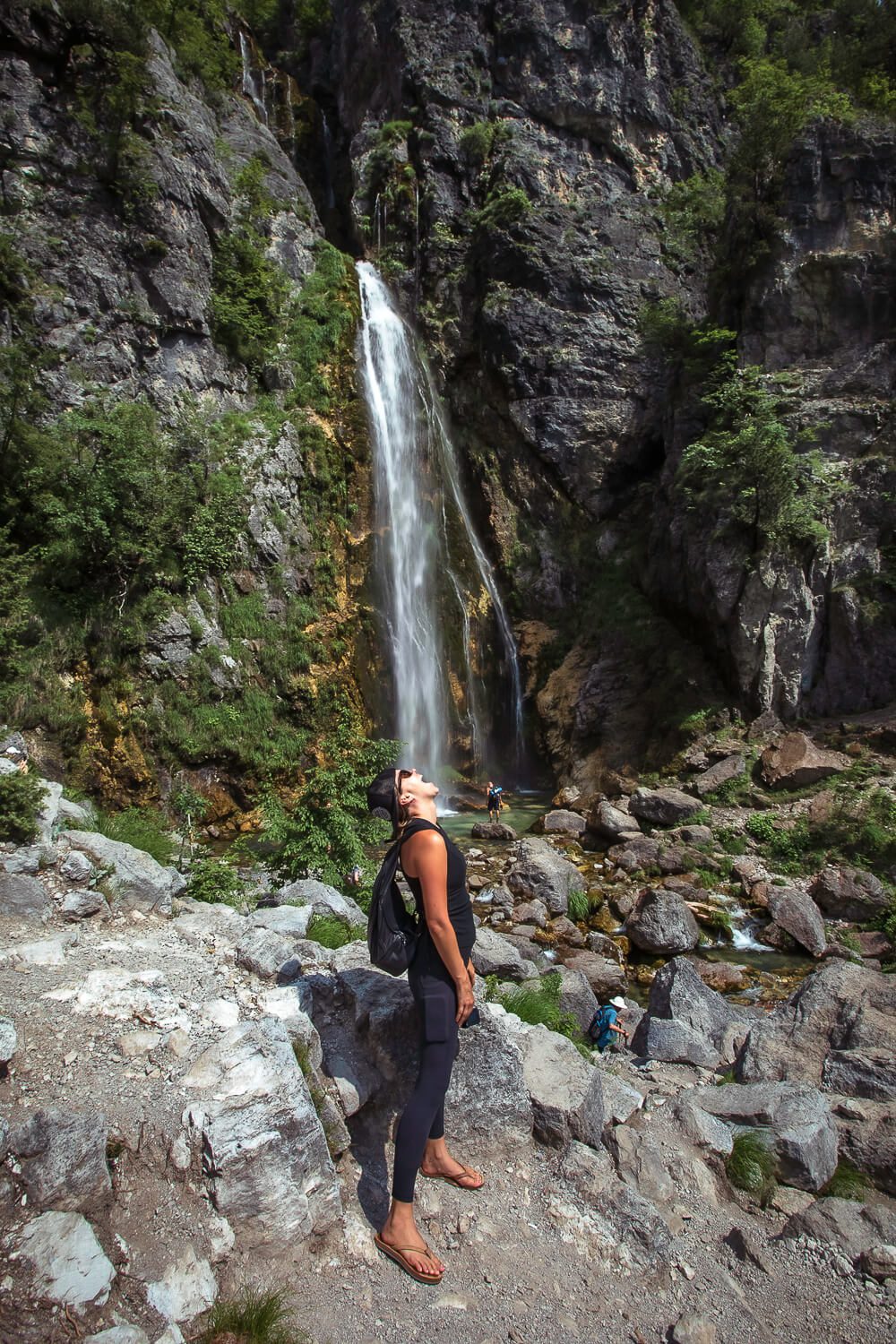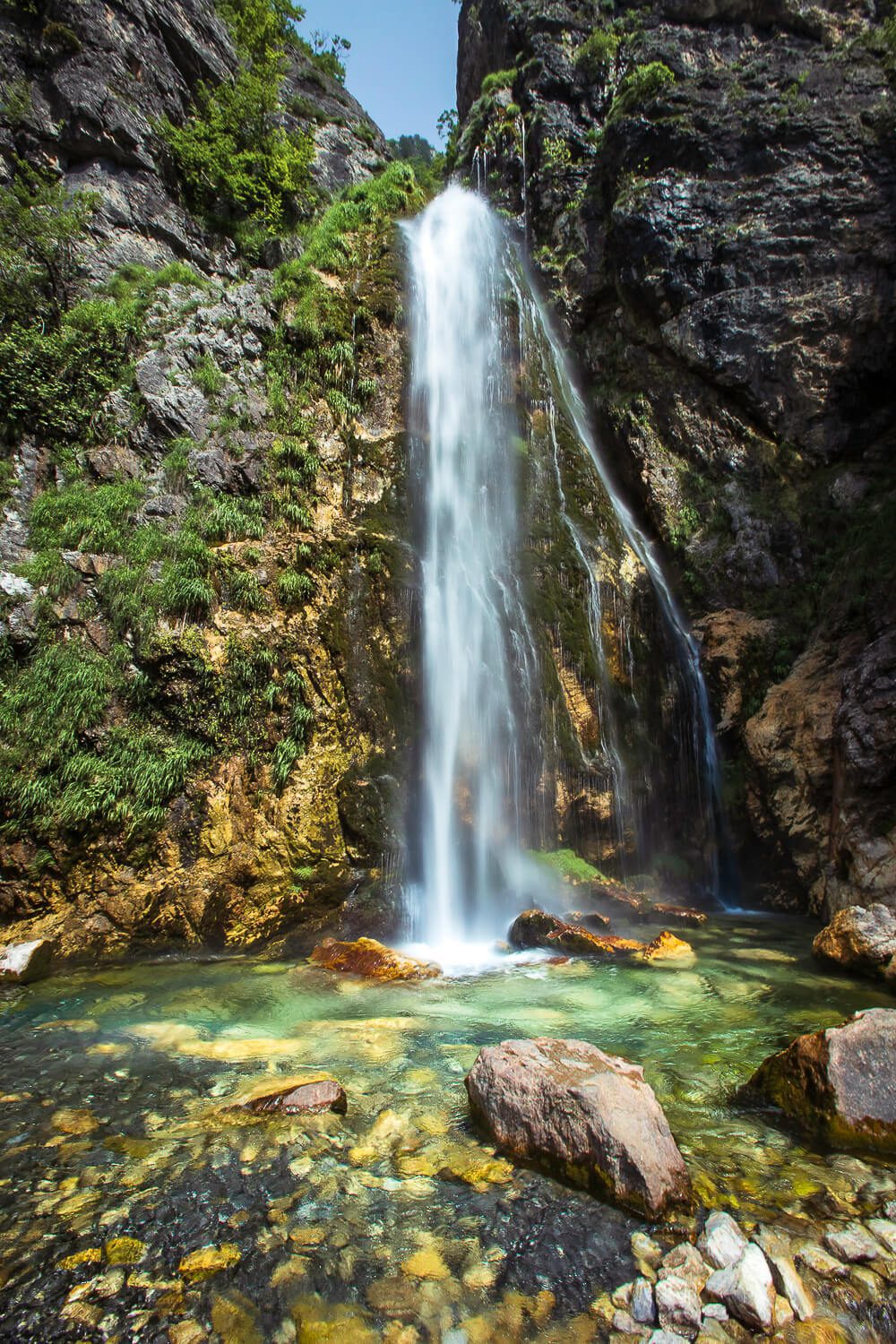 One of the most beautiful places in Theth is the Grunas waterfall (Thethi Waterfall). Tucked away in the Albanian Alps, reaching the waterfall requires a 45 minute hike from mini market Jezerca. To get here, just follow the river and well marked signs.
The Grunas waterfall has several different levels. Keep climbing to the top to reach the picturesque, 100 foot cascading waterfall. It is possible to swim in the pool that forms beneath the falls but prepare for it to be very cold.
There are plenty of rocks to hang out on in between cold plunges. The sheer beauty and power of the waterfall is awe-inspiring, making it a perfect spot for photographers, nature lovers and those seeking untouched wilderness.
Another waterfall in Theth that requires you to hike to is the Blue Eye. A gorgeous waterfall tucked deep inside the Albanian Alps. Blue Eye gets its name from the vibrant blue water that surrounds the falls.
To get to Theth Blue Eye, start on the same trail you would take to go to Grunas Waterfall. At 35 minutes in, you'll see a few signs, one direction pointing to Theth waterfall and the other pointing towards Blue Eye.
From there just follow the trail for another 3 hours until you reach Blue Eye. This is the second most popular hike in Theth after the Valbona to Theth Trek. Hiking to Blue Eye will take up most of the day.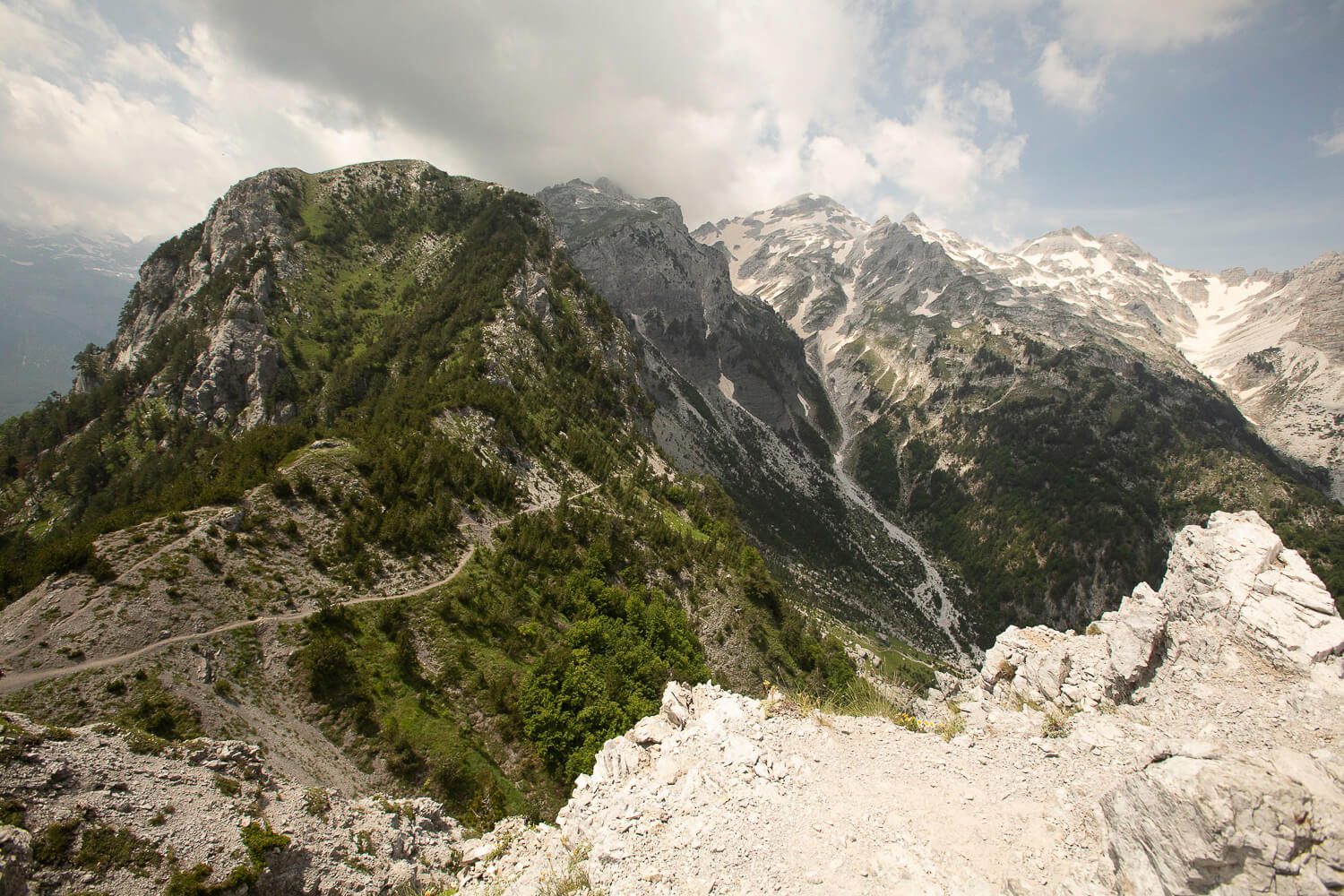 Trek the Theth Valbona Pass
Trekking the Valbona to Theth Trek is a highlight in Albania and one of the best things to do in Theth. This adventure through the Albanian Alps is known for its pristine natural beauty, untouched landscapes and rugged mountain peaks.
The Valbona to Theth trek covers a distance of up to 10 miles and can be completed in a day, although many hikers like myself choose to take their time and spend a few days exploring each area – Valbona & Theth. Valbona Pass peaks at 5,760 feet.
The trail starts (or ends) in Valbona Valley and takes you up and over Valbona Pass. The trail passes through rocky terrain, dense forests and peaceful meadows before finally arriving in Theth or Valbona. This was my favorite experience during my month long travels through Albania.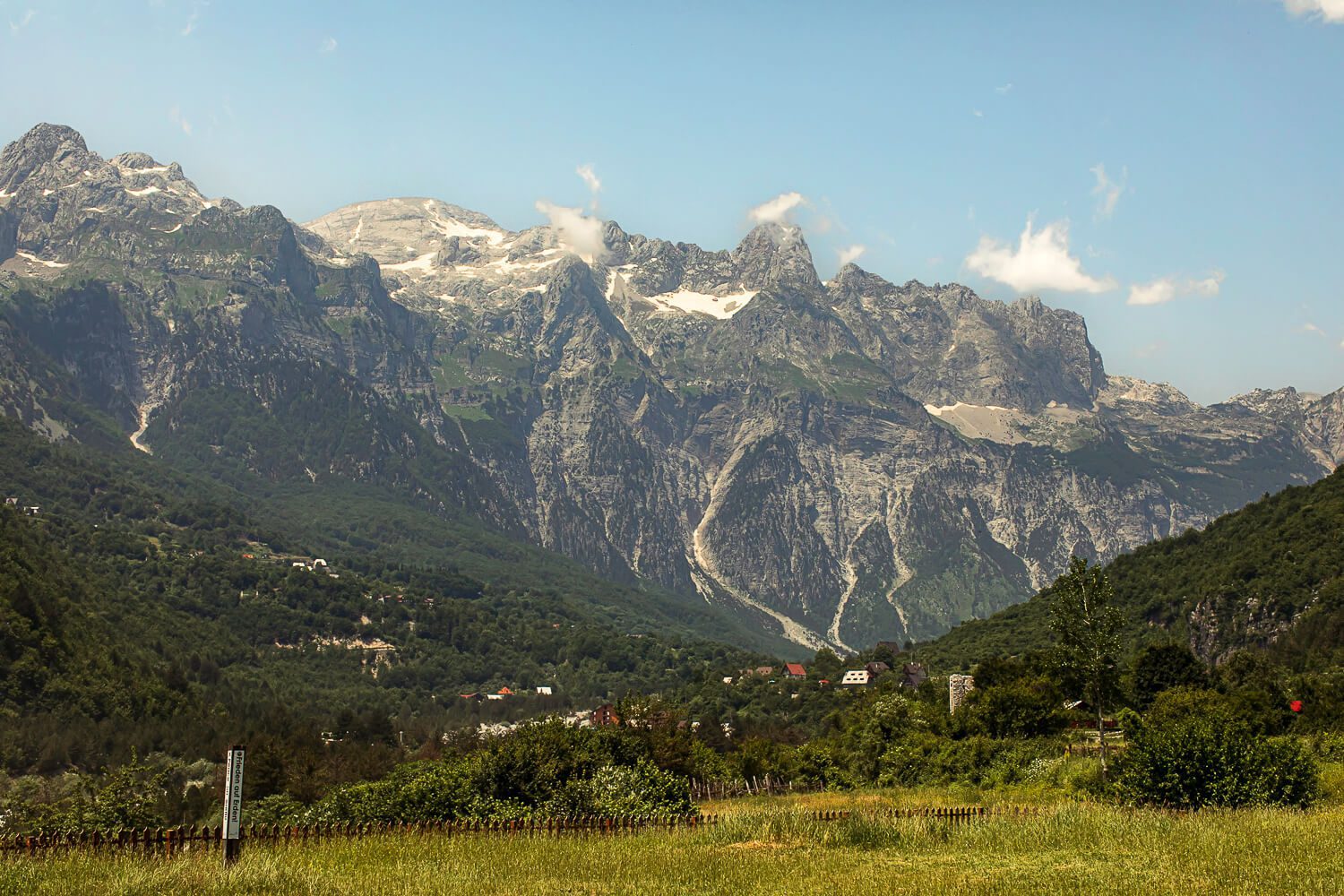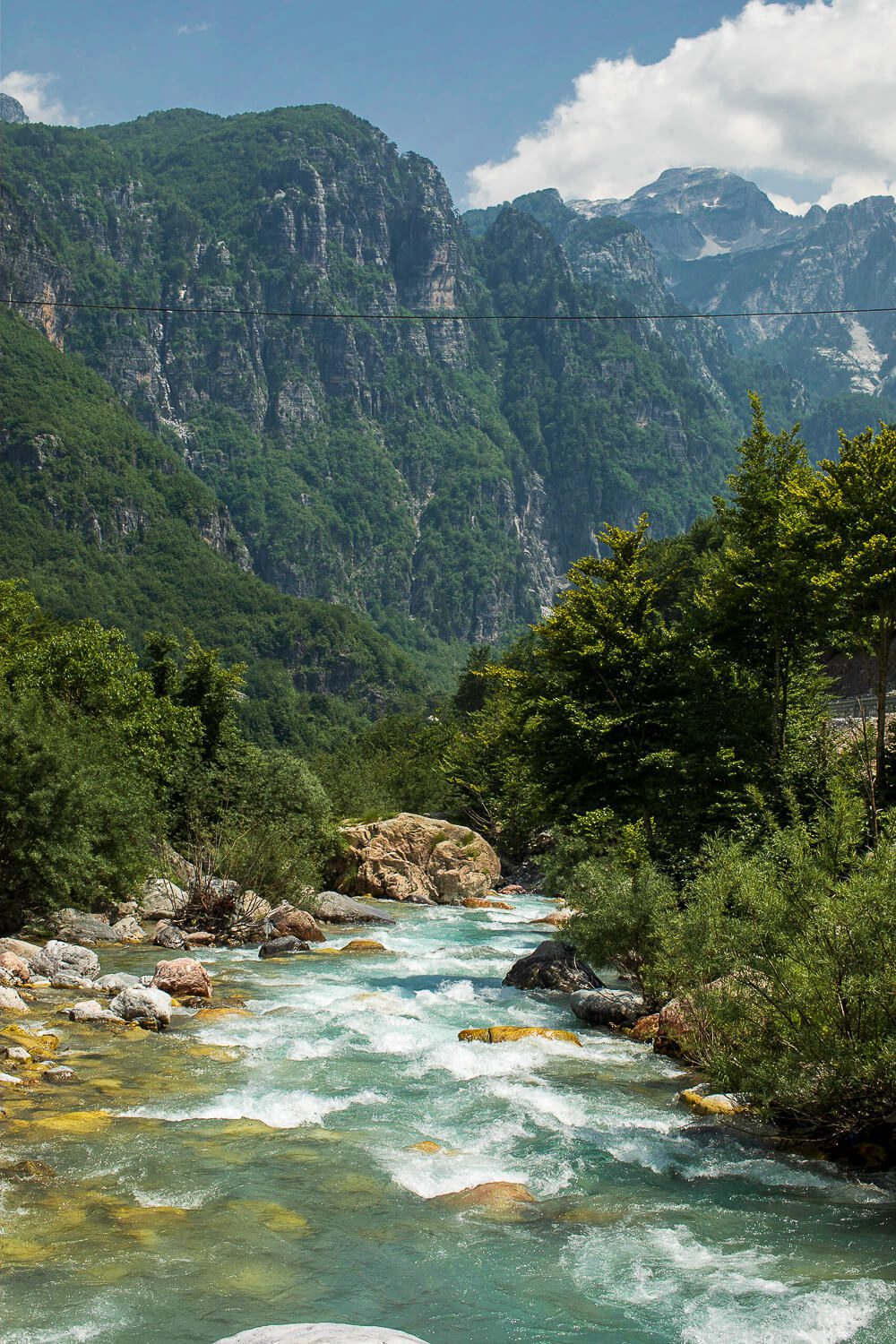 Surrounded by towering peaks, the river offers a refreshing respite from the summer heat. There is a nice calm place to take a dip in the river at the beginning of the trail that takes you to both Grunas and Blue Eye Waterfalls. The river is cold but nothing feels better after a long day of trekking.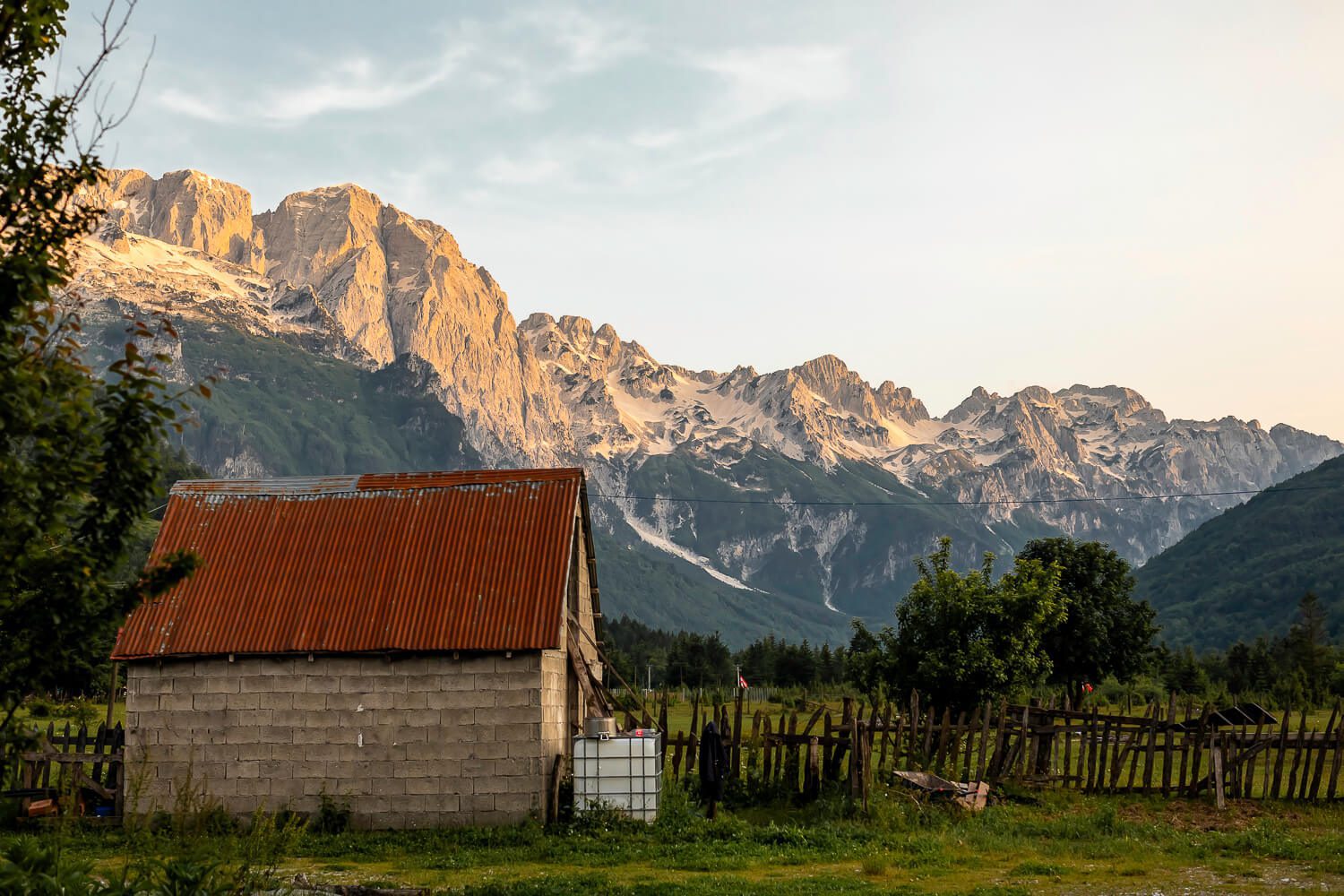 Experience Local Life at a Homestay
Most of the accommodations in Theth are homestays. Not only do homestays offer a unique opportunity to immerse yourself in the local culture but the hospitality of the Albanian people.
Your cozy and authentic accommodation will get better with the food. Breakfast is included in the price of many homestays and dinner can be arranged for 10-12€. Who doesn't enjoy a home cooked meal after a long, tiresome day?
We stayed at Bujtina Kometa which had lovely hosts, delicious meals and clean rooms. The only downside was that this homestay was located about 40 minutes outside of Theth town itself. And the last thing you want to do is walk into town for a bite to eat only to have to turn around and walk another 40 minutes back up to your homestay.
If you're an experienced hiker, the Peak of the Balkans is a 125 mile trail that takes you through remote and untouched regions of Albania, Kosovo and Montenegro. The trail takes 10-12 days to complete and you can make your own route. There are several towns along the route where you can choose to stay. Be ready for a challenge, long days, rocky terrain and outstanding sights.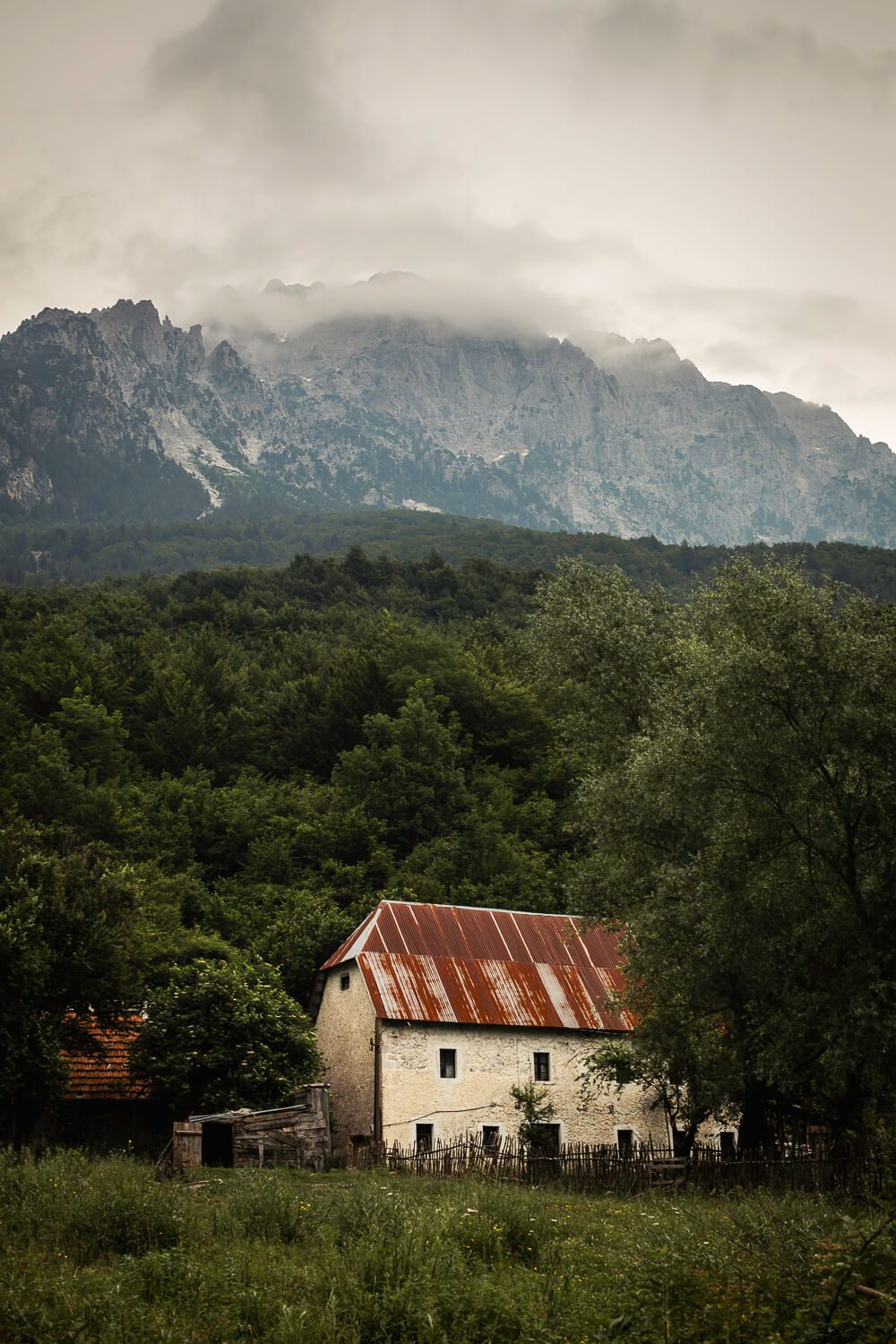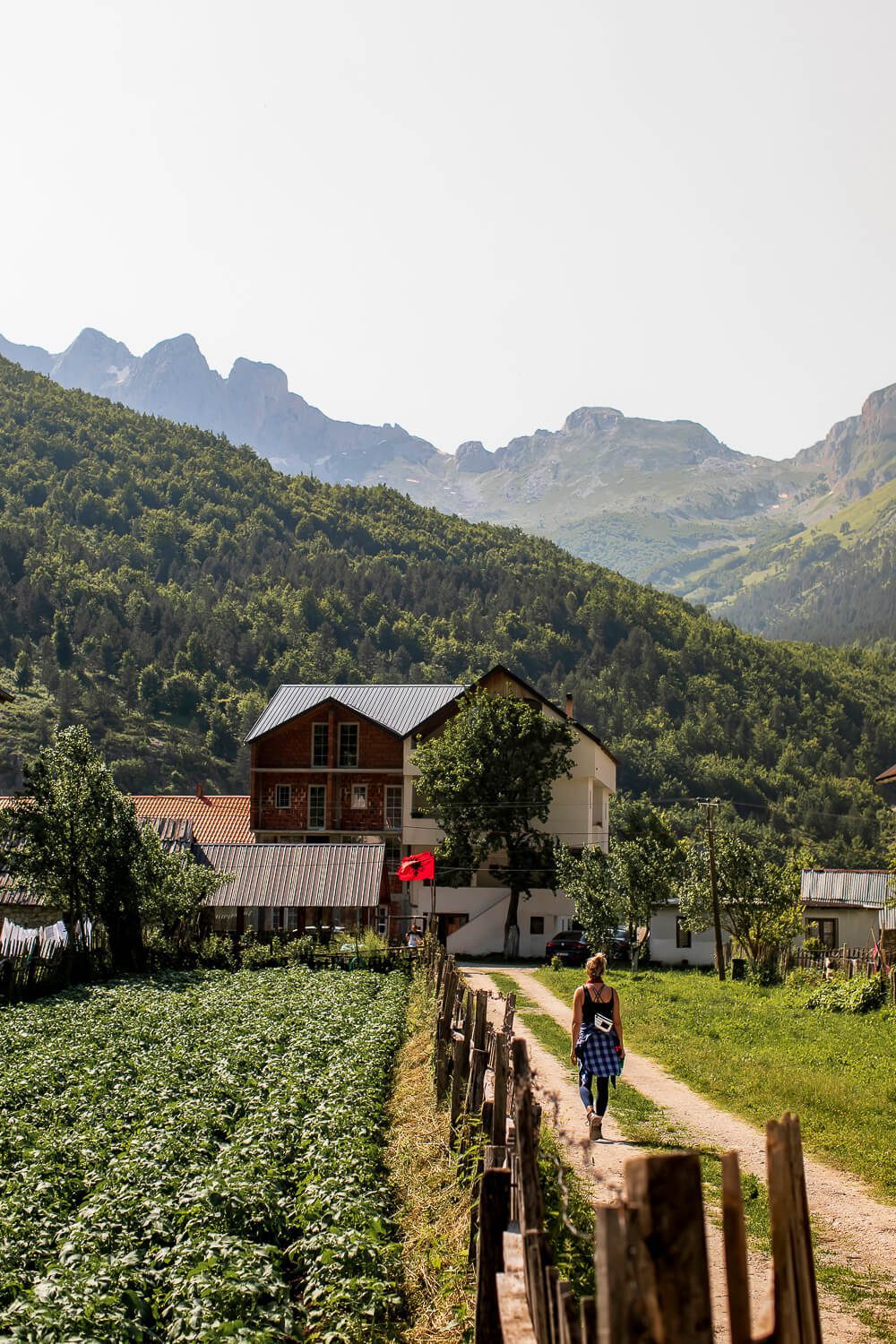 Theth are plenty of accommodation in Theth, that finding a homestay won't be a problem. Book accommodations in advance in peak season (July & August). Pay in cash at the property. Below are the best places to stay in Theth.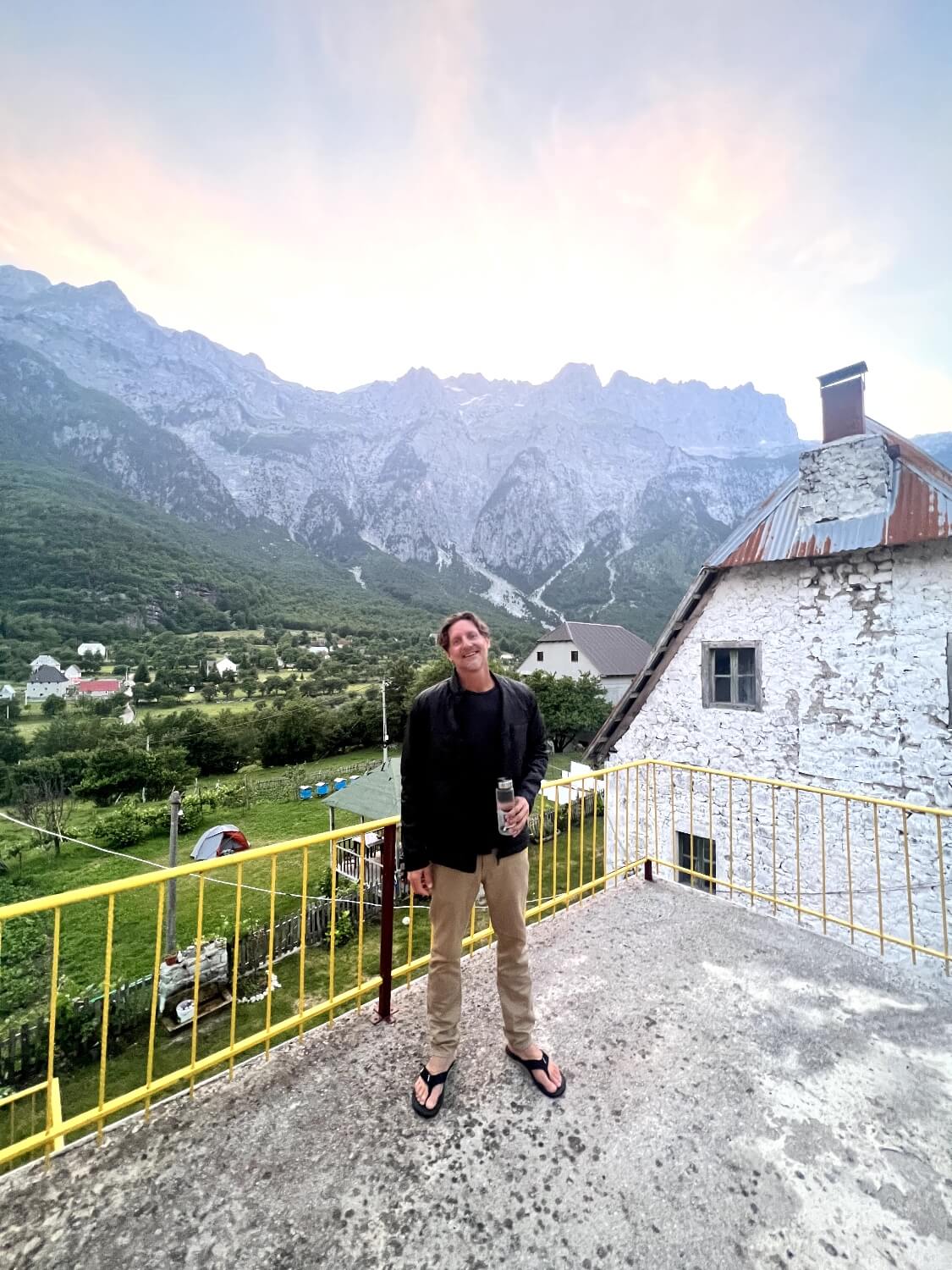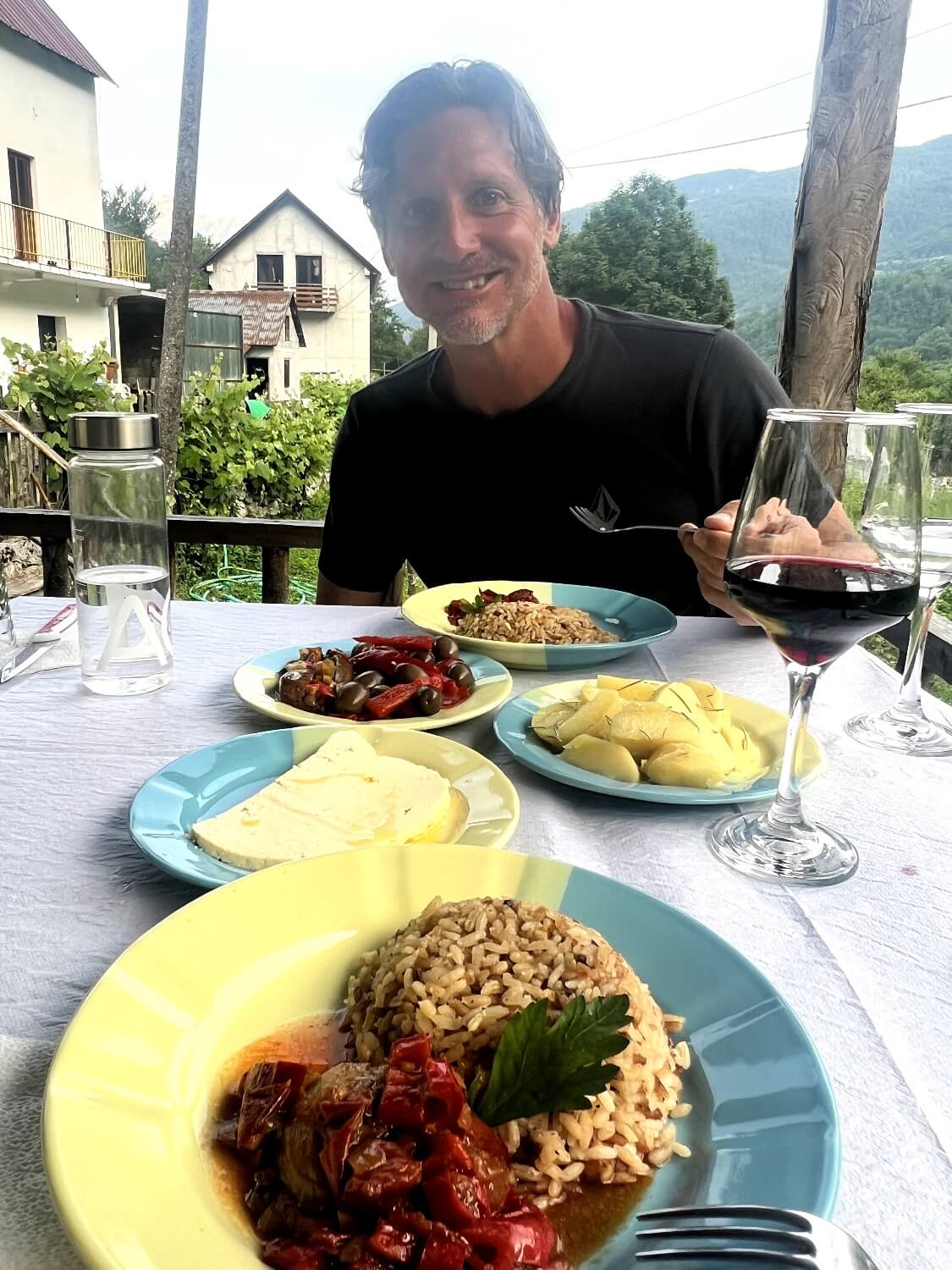 If you are short on time or just prefer to go on guided tour of Shkoder, you can book a tour from Tirana. All tours listed below are reasonably priced, have good reviews and the guides speak English.
How to Get to Theth, Albania
There are 3 different ways to get to Theth – by car, minivan or on an organized tour.
By Car: Renting a car in Albania is one of the easiest ways to get around. The country is pretty small, it takes only 9 hours to drive from North Albania to Montenegro in Southern Albania. Renting a car is affordable and road are for the most part maintained.
Minivan: Since the new road has been built, it takes about 2 hours to drive from Theth back to Shkodër. Minivans will drop you off in front of the only "grocery store" in Theth (mini market Jezerca). It cost 1200 Lek (12€) pp. You can pay in Lek or Euros.
Organized Tour: If you are short on time, you can book an organized tour with a night in Theth. Here are some Tours of Theth that have great reviews.
Tips for Visiting Theth, Albania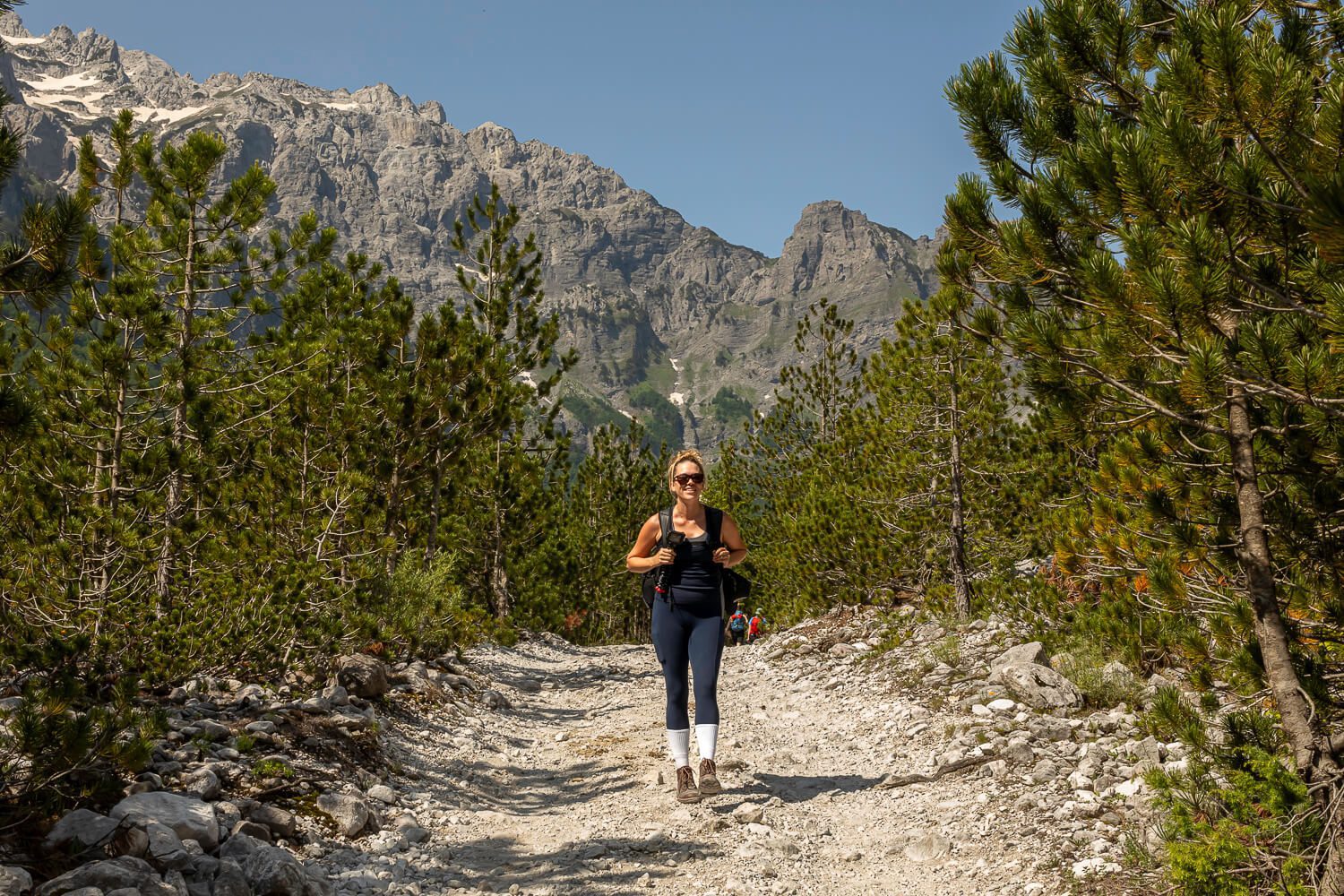 I traveled to Theth in the summer so I can't speak for the rest of the seasons but
prepare to be annoyed by a ton of flies.
Look, I understand that flies have a purpose and serve a crucial part in the ecosystem but man these flies were so annoying!
So many flies annoyingly buzzing around and by the end of our 6 days in the mountains, I was so ready to be away from them.
The best time to visit Theth, Albania is during dry/hiking season which runs May to October. July and August are the peak months, which mean higher crowds and hotter days. For obvious reasons, it is not possible to hike during the winter months.
My advice is to travel to Theth during the shoulder season May – June or September – October. There will be less crowds and the weather won't be as brutal as peak season. I hiked Valbona Thethi mid June and had amazing weather.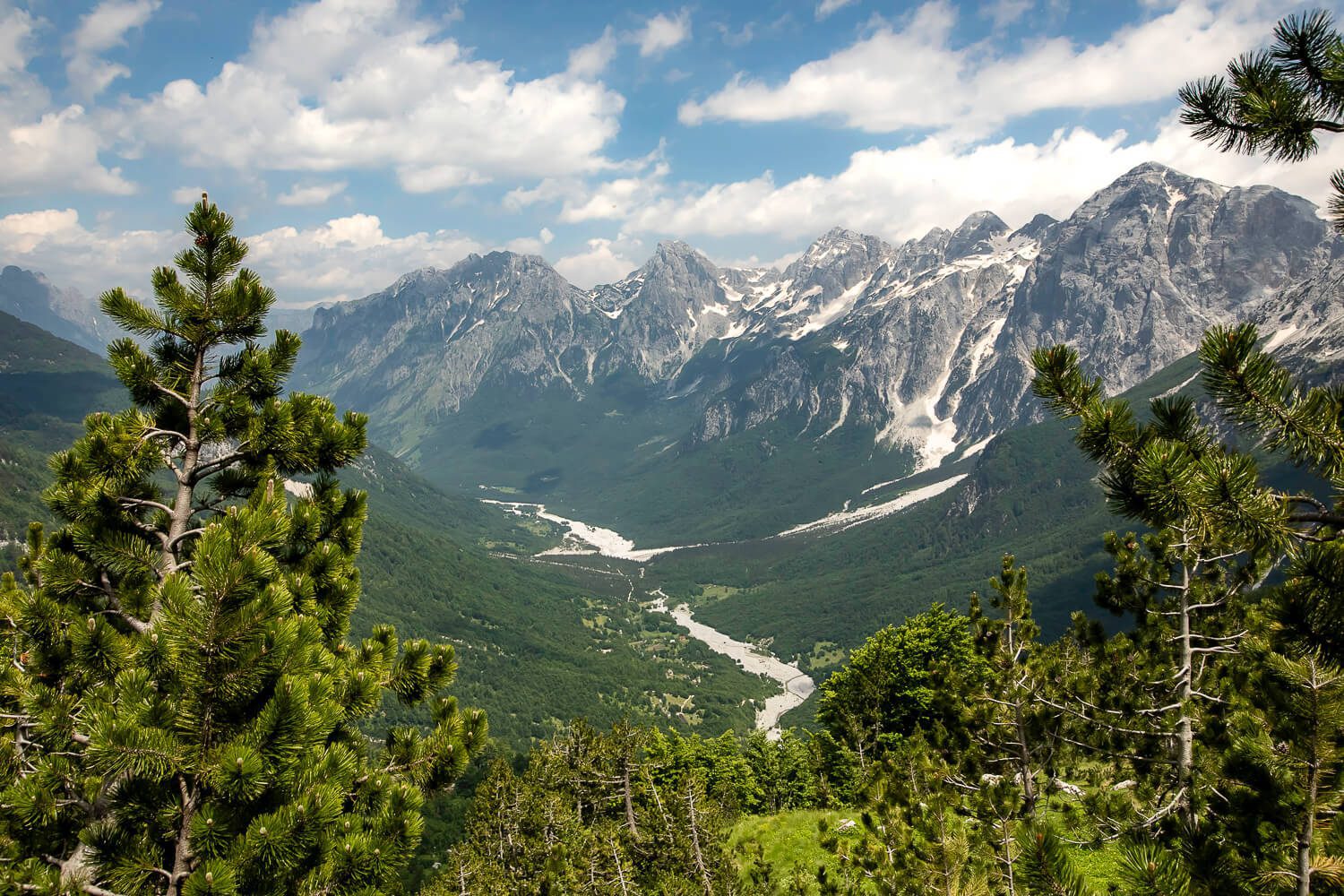 Theth doesn't have any ATM machines so you'll want to make sure you bring ample cash to pay for your food, lodging and transportation. All of the attractions in Theth are free so you'll only have to worry about lodging and food.
Expect to pay anywhere from $35-80 a night for a room. Most of the lodging options will be a homestay. I personally love staying with local families. It's a wonderful way to converse with locals and who doesn't love a home cooked meal.
Breakfast is usually included in the price of the room and most homestays will cook you dinner for about 10-12 Euro. Plus a few bucks on snacks.
If you're visiting Theth via way of Valbona, it cost 1200 Lek for a minivan from Theth to Shkoder. For 2 nights in Theth, let's assume that you spend $50 on housing a night, 15 on food and 12 for transportation. You'll want to bring at least 160 € for one person or 230 € for two people.
💡 Travel Tip: If you're in a real pickle, the mini market Jezerca in Theth can give you cash back if you charge your bank card for something in the store.
Theth is a remote village in the mountains, this means that hiking will be involved on your visit to Theth. Make sure you wear sturdy hiking boots and have warm weather gear. It gets cold in the mountains, especially at night. Don't leave home without these items.
Hiking Pants
Flannel or Warm Fleece depending on what month you're visiting Theth.
Warm Socks
Gloves
Swim Suit
Ample Cash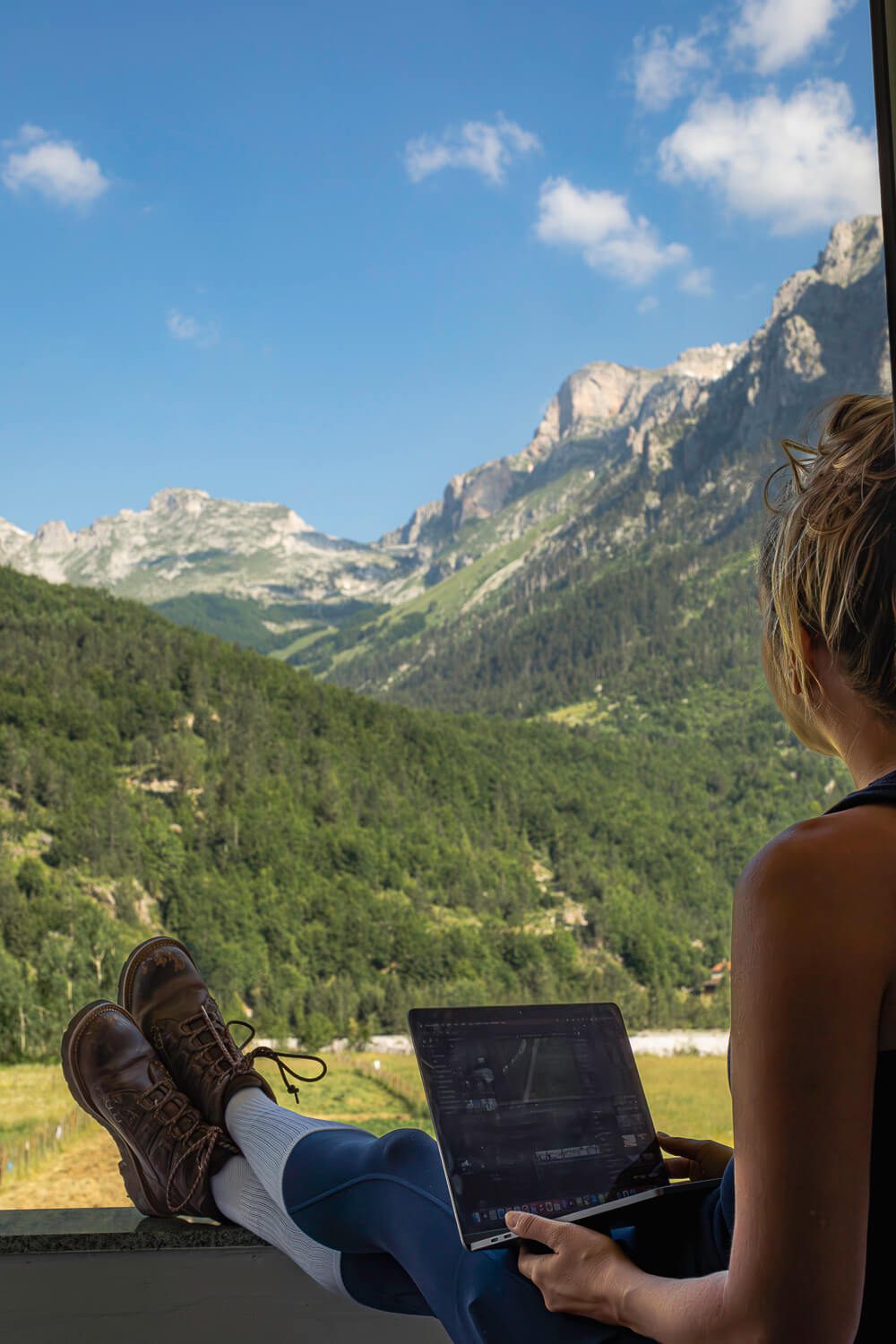 Theth Travel Guide Tips Recap
No ATM's in Theth.
Bring Ample Cash.
Pack Light if you are trekking to or from Valbona.
Book accommodation in Theth, not outside of town.
Book accommodations in advance if traveling during peak season – July & August.
The Theth to Valbona Trek is so worth it!
Albania Travel Tips
📍Plan your Trip:

🗺 How long to travel Albania?  3-6 Day Albanian Alps Hiking Itinerary

🛂 Visas: Up to 90 Days on arrival for most countries.

☔️ Best Time to Visit:  Peak season = July & August.  May, June, September & October = Less crowds & costs.

💰 Average Daily Budget: Expect to pay 50 USD's a day for basic accommodations, sit down meals at a cafe and entrance fees.

⛺️ Albania accommodation Guides:

🪂 Highlights

Tirana's Coffee Culture
The Albanian Riviera
Valbona Valley National Park
Peak of the Balkans for the experienced Trekker

🧳 What to Pack: What to Pack for Albania

🎥 Watch our Albania Series on YouTube

Get on my Email list to see what I'm up to and all the best travel content!
If you found this Theth, Albania Travel Guide useful, let me know in the comments below ↓
Enjoy this Post?!?! Pin in for Later ↓