Cusco, Peru is a city perched in the Andes filled with colonial architecture, cobblestone streets, cute cafes, must eat restaurants and hand made shops. As one of the most popular destinations in Peru, there are a few things to know before traveling to Cusco.
Cusco or often spelled Cuzco was once capital of the Inca Empire and is acknowledged as the historic capital of Peru. Known as the gateway to Machu Picchu, there is plenty to do in Cusco that you could spend weeks in this Andean city and not get bored.
In fact, I immediately became infatuated with this UNESCO city and Cusco quickly became one of my favorite places I've ever had the opportunity to spend an extended amount of time in. So if you are traveling to Peru, chances are Cusco is on your Peruvian itinerary. Here are 17 useful things to know before you visit Cusco.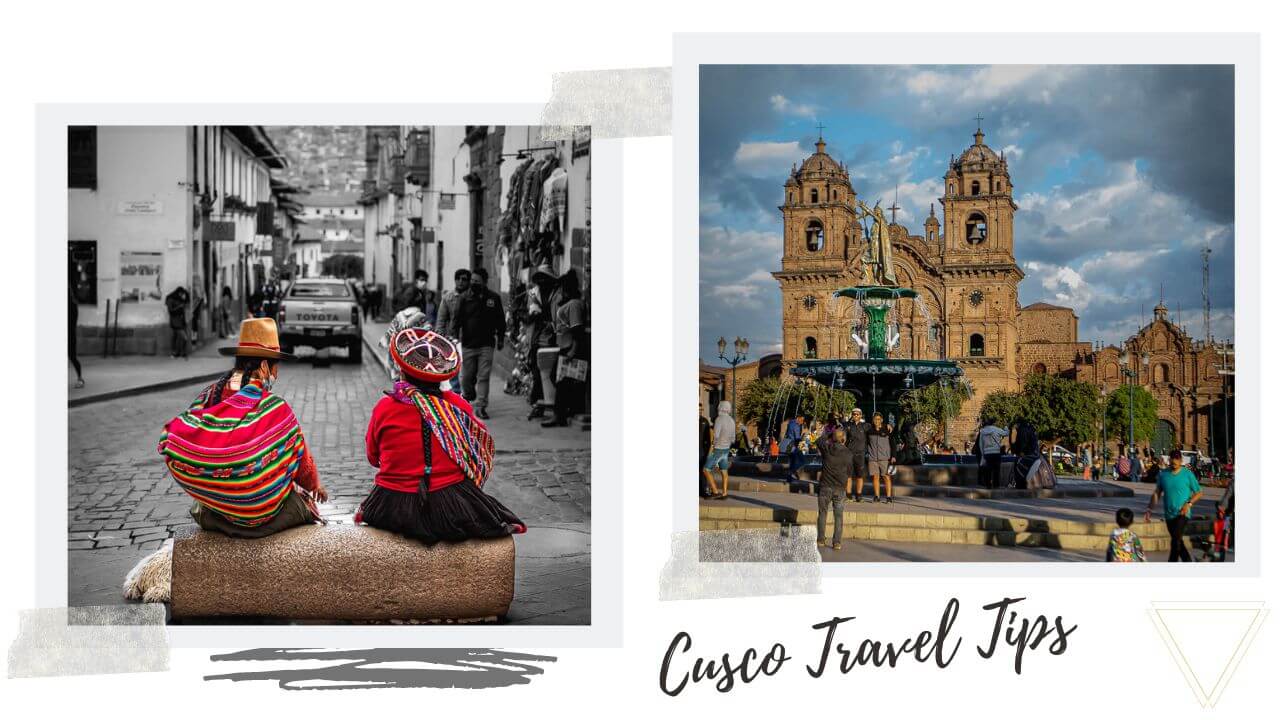 For full transparency, I have sprinkled some affiliate links in this post.  As an Amazon Associate I earn from qualifying purchases that gives me a small commission at no extra cost to you if you decided to make a purchase.  As always, I would never recommend a product or service that I didn't truely believe in.  All proceeds go to keep Jess traveling and coffee ☕️.  I thank you in advance.
17 Things to Know Before Traveling to Cusco, Peru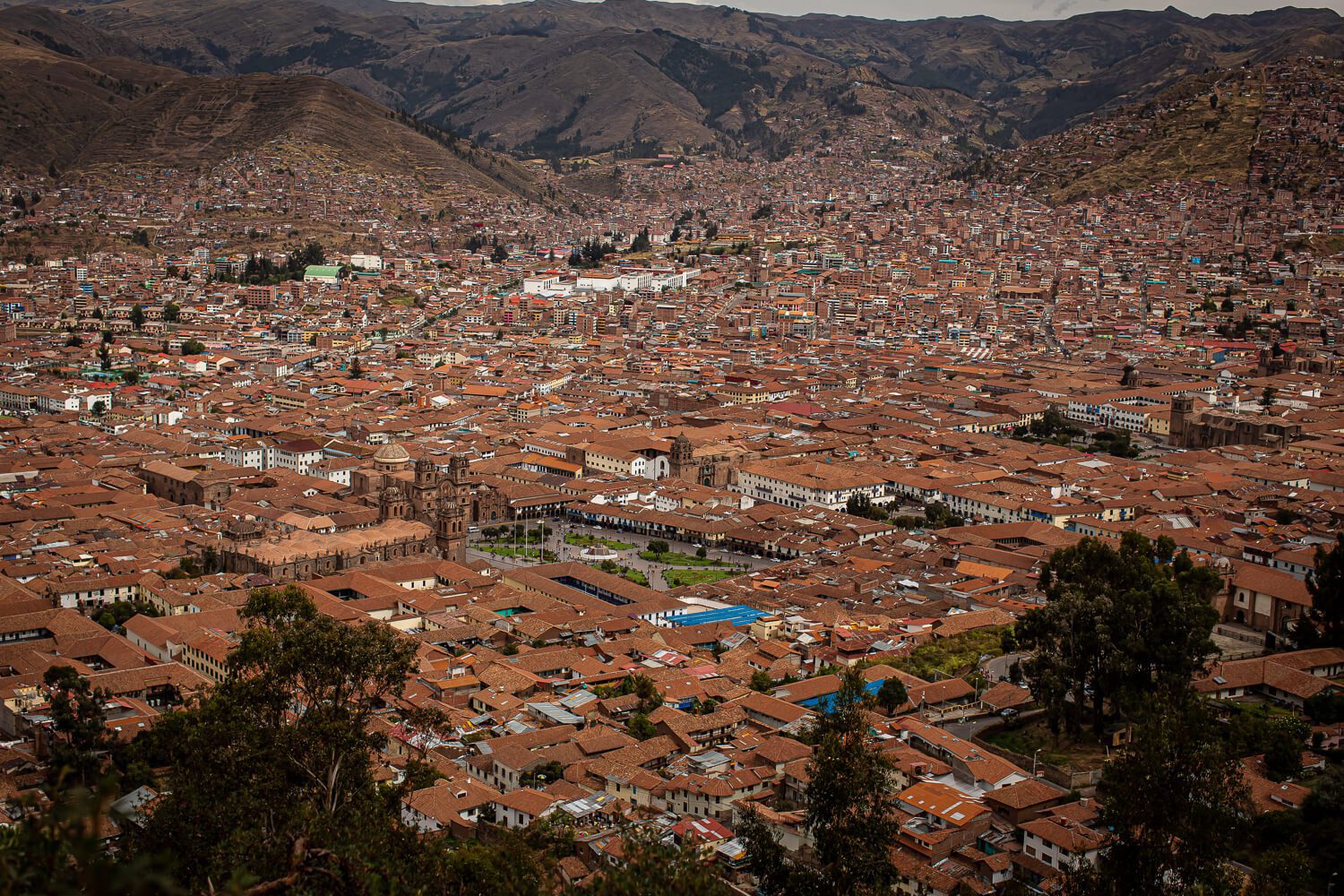 You've probably heard or read several places that you should adjust to the altitude in Cusco before you take off on the classic Inca Trail hike, Salkantay Trek or Rainbow Mountain. This is probably the number one thing to know before traveling to Cusco because it's no joke.
I lived in Vail, Colorado for several years which sits at an elevation of 8,000 feet and I never experienced altitude sickness like I did when I first arrived in Cusco. Cusco sits just above 11,000 feet or 3,400 meters for my non-American friends.
This means that on the first day that you arrive in Cusco should be nothing more than acclimatization. You should be drinking lots of water and resting. Even walking up and down Cusco's streets will leave you panting, especially when you have luggage in tow.
Depending on how you travel, I would recommend having your first nights accommodation sorted out. This way when you arrive into town you can head straight to your lodging and give your body the rest that it needs.
Here are some tips to help prevent/tend to altitude sickness.
Coca leaves are a traditional way to relieve altitude sickness by chewing it or making tea with it. Coca leaves can be bought at any local supermarket and are available in most restaurants.
Sorojchpills are pills you can buy at the local pharmacy that help with altitude sickness.
Muna – is an herb that can be found in the mountains. You can pick it, rub it in your hands and inhale it. Or put it in tea and drink it. It's also a digestive.
Allow 24-36 hours of acclimatization before setting off on a hike.
Ascend gradually.
Drink plenty of water.
Avoid booze and cigarettes.
2. Dogs! Lots and Lots of Dogs
As you wonder around Cusco you'll encounter tons of stray dogs. Lots of dogs and all types of different breeds. Big dogs, small dogs, fluffy dogs, dogs that have seen better days and even cute puppies.
It's not uncommon to see stray dogs as you explore this South American country but Cusco has more stray dogs than the average city in Peru. The last official estimate was over 14,00 stray dogs in the city.
It's easy to tell what dogs are 'taken' as they usually have outfits on. Lots of stray dogs mean lots of poop. The city does a pretty good job at cleaning up the feces but either way you'll want to watch your step.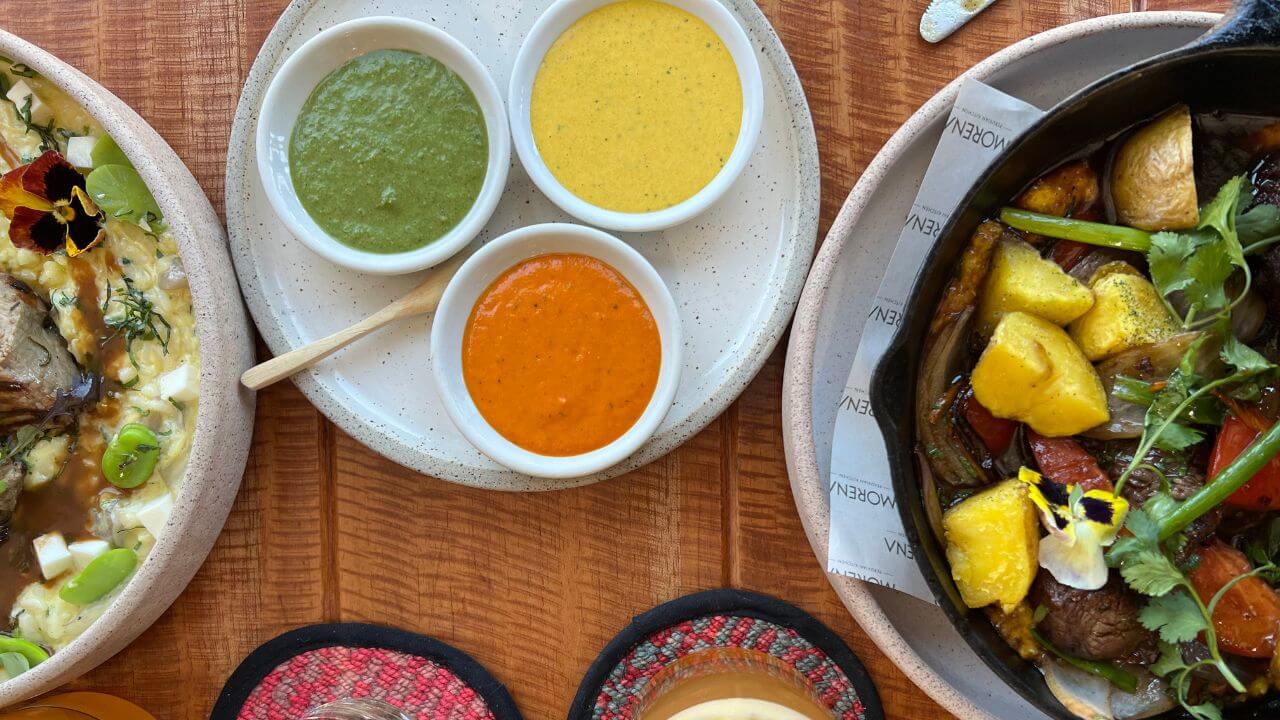 3. Food is Amazing & There are Lots of Vegetarian Options
Ahh the food. I could go on and on how amazing the food is but you'll figure that out quickly once you travel to Cusco. There are a plethora of tasty restaurants in Cusco and the best part is how healthy the options are.
If you are a vegan or vegetarian, you're in luck because lots of restaurants are organic and have lots of vegan and vegetarian options. A few of my favorite Cusco restaurants are Green Point, Kusykay, Morena and Organika.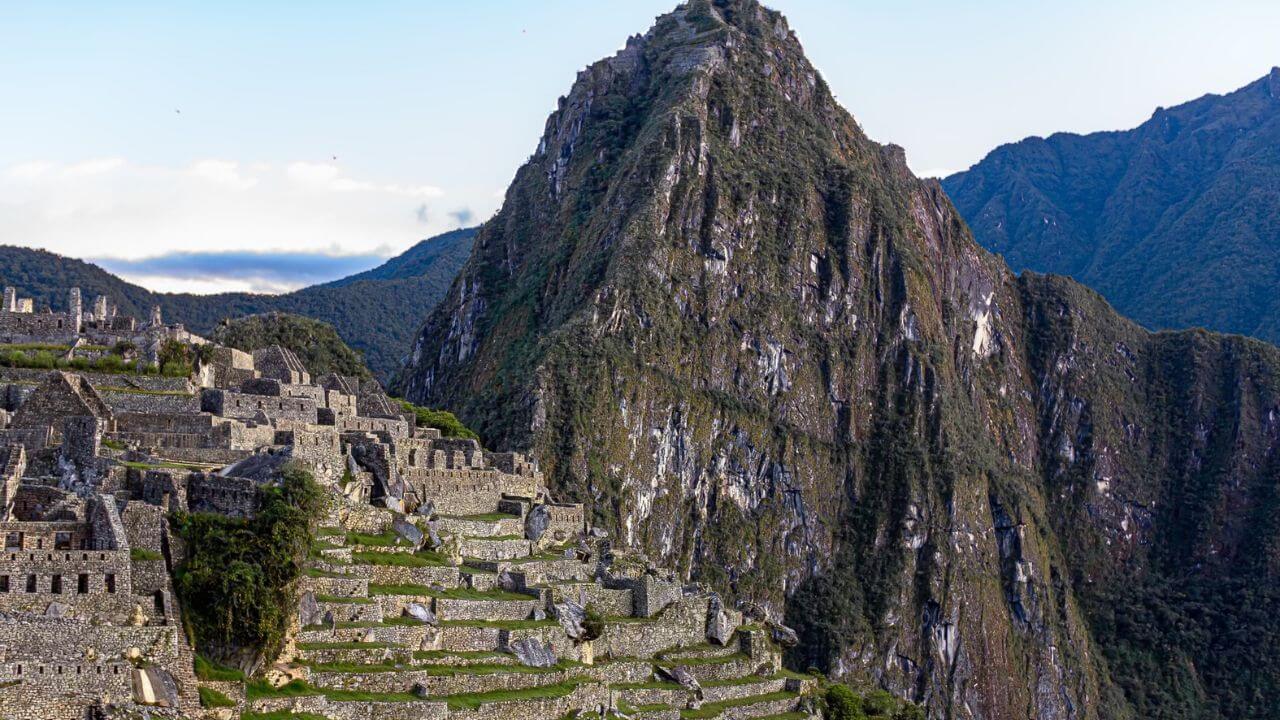 4. There's More to Traveling to Cusco than Machu Picchu
Of course the main reason that people all over the world flock to Cusco is to experience Machu Picchu. Don't get me wrong, Machu Picchu is a stunning place, but there is much more to Cusco than this ancient wonder of the world.
Cusco is full of history, tasty cafes, massage parlors and hand craft shops that you'll want to spend at least a few days here to get to know the city. There are so many things to do in Cusco that you won't be disappointed. I spent three weeks in Cusco, stayed in multiple places around the city and loved every area.
5. Book Your Tickets to Machu Picchu in Advance
Now that we're on the subject of Machu Picchu, book your tickets to the Inca citadel far in advance. Tickets to Machu Picchu sell out quickly so secure tickets 2, 3 sometimes 6 months in advance, especially if you are traveling to Cusco during peak season.
They only let 2,500 people visit Machu Picchu each day and 500 of those permits go towards trekkers of the Inca Trail (300 of which go to porters and guides).
If you plan on hiking up Huayna Picchu, these tickets need to be booked farther in advance then entry tickets to Machu Picchu. Huayna Picchu was totally worth the extra cost. Plus you can check off another epic hike in Peru.
Since we're on the subject, book your transportation out of Aguas Calientes in advance too, Trains out of Aguas Calientes sell out quicker than trains coming.
Travel Tip: You need to show your physical passport to enter Machu Picchu and to purchase bus tickets to get to the top of the mountain.
6. Maps.Me is the Best App
Maps.Me is an amazing app that allows you to download maps offline and is an essential app if you plan on doing treks near Cusco like the Salkantay Trek. It shows every trail, displays hotels, campsites and anything you might need to know.
It even shows where all the collectivos (shared minivans) pick up & drop off stations are which is what you'll be riding in when doing day trips from Cusco. This app is truly essential for home and travel. Its amazing how detailed it is and its world wide! And the best part is, its FREE!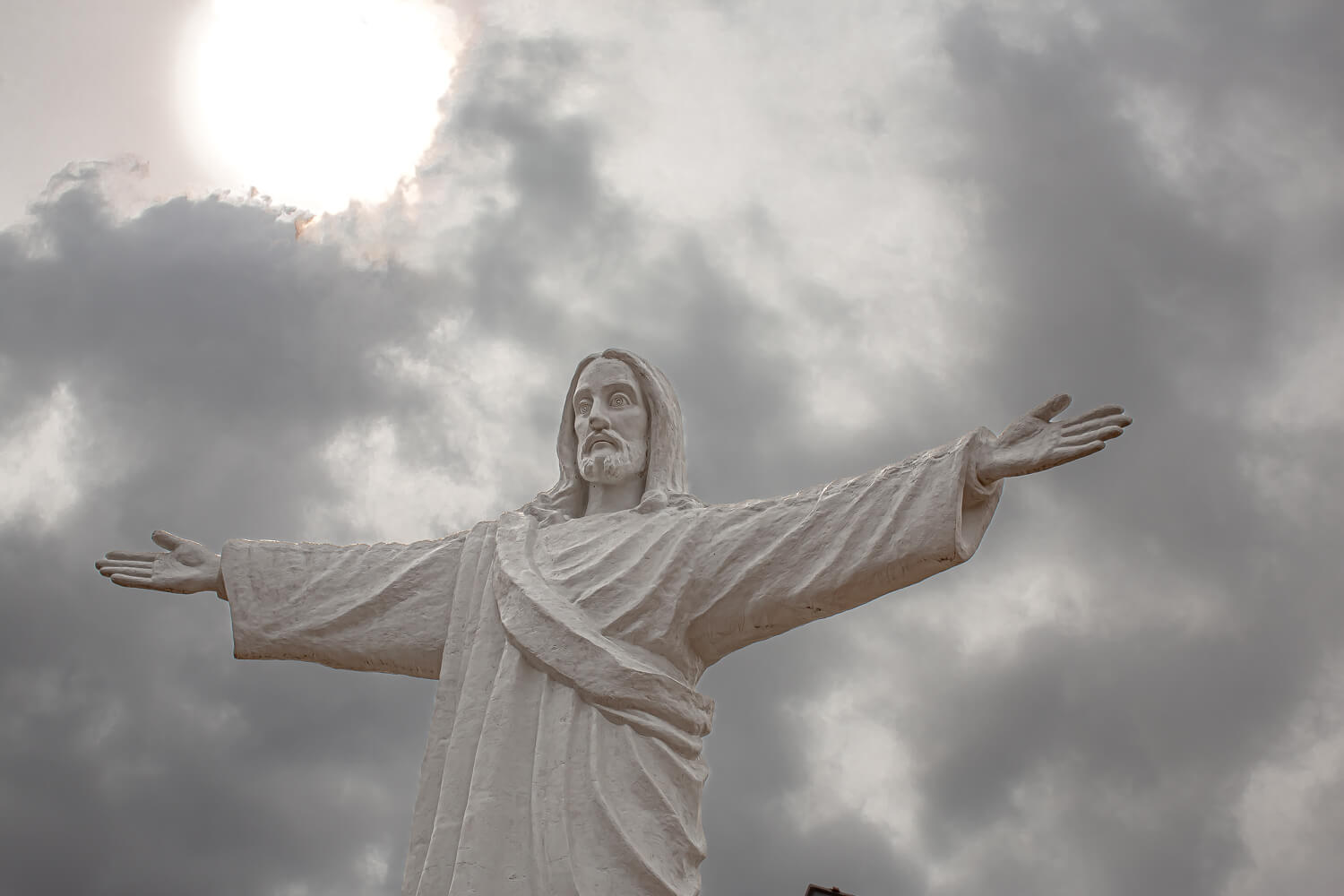 7. Fly from Lima to Cusco
If you are in Lima and your next destination is the cultural capital of Peru, do yourself a favor and opt to fly to Cusco. The bus journey traveling from Lima to Cusco is incredibly long and you'll be exhausted when you get there. I unfortunately had to learn this Cusco travel tip the hard way.
Flights from Lima to Cusco costs around $50 (not including baggage) and take about an hour and a half. The bus from Lima to Cusco takes anywhere from 24-30 hours! And that's without stops, which let's be real…never happens.
If you are short on time and only traveling to Peru for a couple weeks or less, flying to Cusco should be a no brainer. I slow traveled through Peru for several months so time wasn't an issue for me, I was trying to keep costs down.
But after the hellacious bus ride from Lima to Cusco the long way around the Andes, I 1,000% would fly the next time I'm pondering the dilemma of bus or plane. Learn from my mistake, take it to the skies.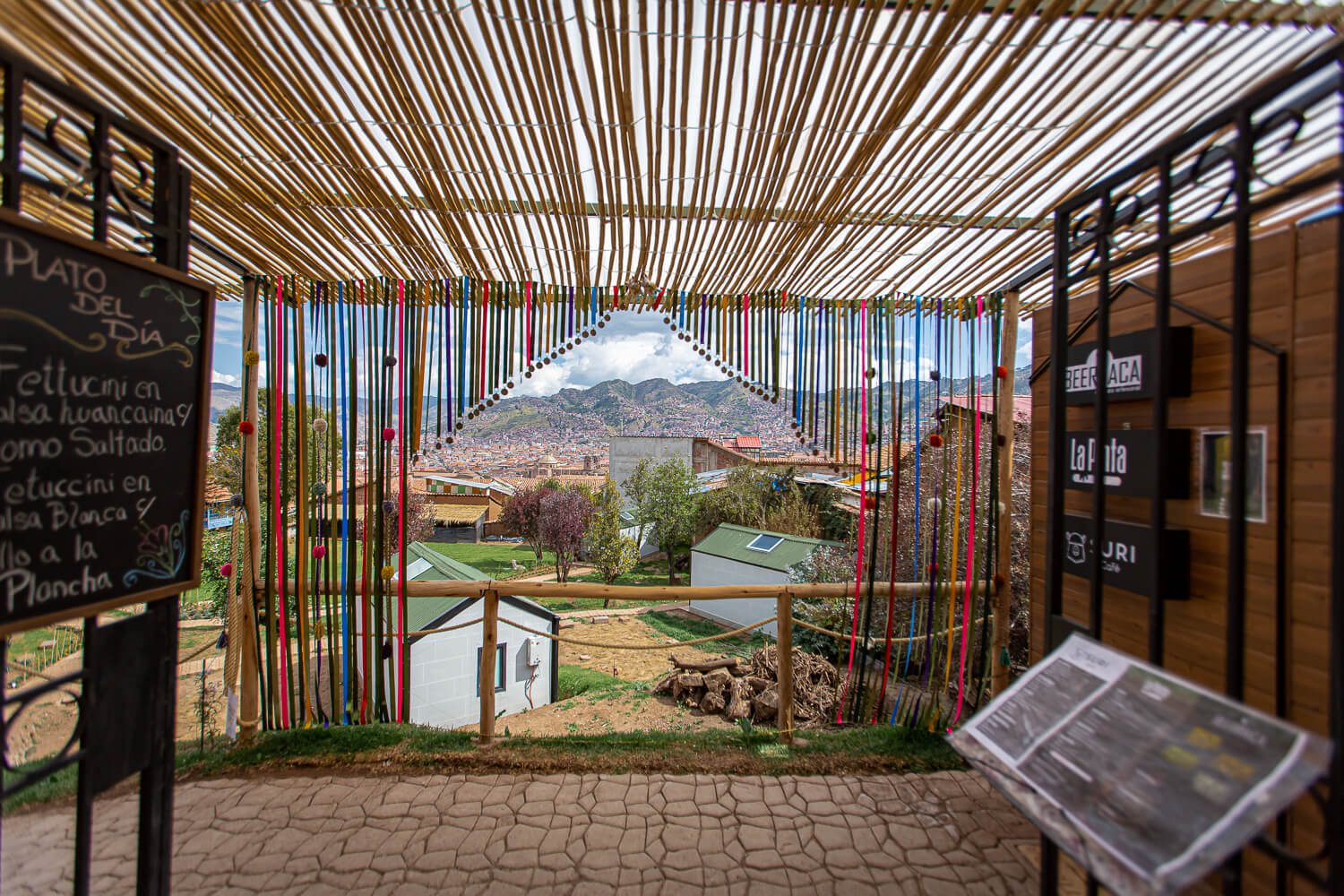 8. Tap Water is Not Safe to Drink
The tap water throughout Peru is not safe to drink. This goes for most if not all of South America. You must first treat or boil the tap water before consumption.
An easy solution is to bring a water purifying water bottle such as the life straw or use water purification tablets. This makes it very convenient to always have drinkable water on hand and will be a life saver if you plan on doing some long treks such as the Inca Trail or the Salkantay Trek.
This will also help trim your expenses. Having to buy bottled water on a daily basis can add up and isn't the most cost effective route especially if you are traveling on a budget.
No one wants to get sick on a trip. I have however brushed my teeth the entire 2 months in Peru with the tap water and never had a problem.
9. The Best Time to Travel to Cusco
Dry season lasts from March through October, this means warmer weather at night and blue bird skies during the day. The best time to visit Cusco is in the shoulder months of dry season – March-May or October-September.
Traveling to Cusco during dry season also means busy season, especially June to August. But if you time it right, you can travel during the off peak months which allows you have the best of both worlds – great weather and thinner crowds.
I spent 2 months traveling around Peru during the shoulder months of April and May. I couldn't of asked for a better time. It never rained, it was never that crowded.
Plus I was able to book accommodations and transportation the day before with ease and for a cheaper price than if I traveled to Cusco during the busy season.
Rainy season is November through April with January and February being the wettest. Don't forget to pack your rain gear.
Haggling is a weird thing. I know it makes lots of people feel a bit uncomfortable at first, I know it did with me. But the reality is, you'll get ripped off if you don't haggle and prices are marked as such for haggling to occur. A good place to practice is in the San Pedro Market.
I met a fellow traveler who went on a free walking tour and learned to tell the difference between hand made alpaca or something made in a 'factory' with synthetic material. Doing something like this will make the act of haggling much easier.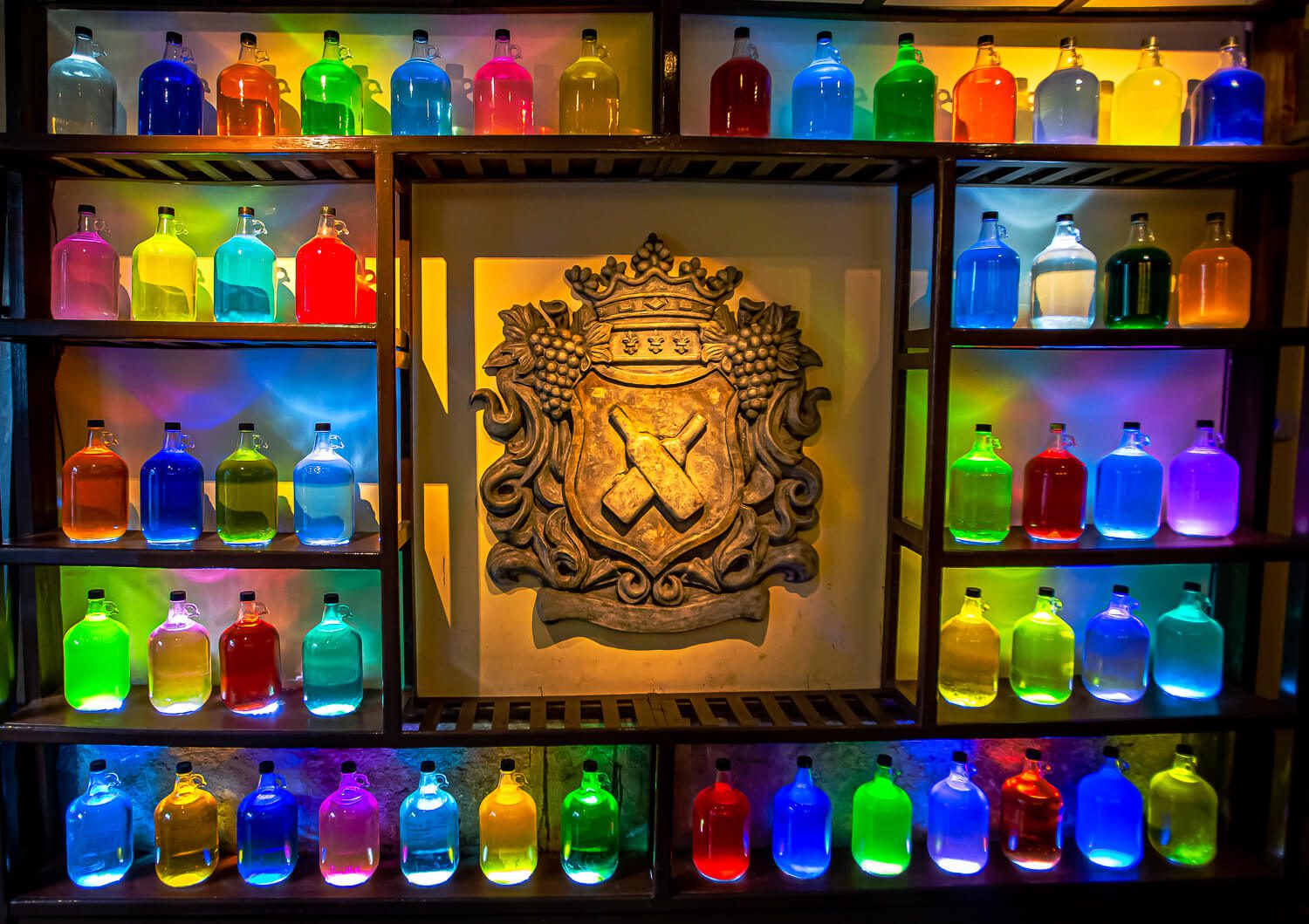 11. It's More Expensive in Cusco than the rest of Peru
Cusco is one of the most popular destinations in Peru. Popularity usually entails a price increase and it holds true for Cusco. This doesn't mean you can't find good deals and prices if you are on a backpacker budget. Food in supermarkets are cheap, so cooking meals in and staying a bit farther outside of the city will help save a few bucks.
12. Water Takes Longer to Boil
The boiling point of water is lower at higher altitudes due to the decreased atmospheric pressure. In other words if you are boiling or simmering something, it will take longer to cook as you'll be cooking at a lower temperature. Therefore allot more time to make that cup of coffee or pasta.
13. Know your Basics in Spanish
We as Americans are a bit spoiled, everywhere in the world someone always speaks a little English. I've heard it before traveling to Peru, but for some reason I was still surprised to learn that a lot of people don't speak English in Cusco.
I don't know maybe because of how saturated with tourists it was but it was still a bit of a surprise. Now, I'm not at all saying that I think people should speak English by any means – I most definitely should be speaking Spanish. I am just stating that it was surprising.
That being said, knowing some basics in Spanish will go along way. Plus it's respectful, which is the only way you should travel.
Here are a few key phrases that come in handy:
Hola = Hello
Ciao = Goodbye
Por favor = Please
Gracias = Thank you
Lo siento = Sorry
Sí = Yes
No = No
Yo hablo un poco Espanol = I speak a little Spanish
Cuanto = How much
La cuenta – The check
Buenos días = Good morning
Buenas tardes = Good afternoon
Buenas noches = Good night
¿Dónde? = Where?
Mucho gusto = Nice to meet you
¿Cómo estás? = How are you?
Estoy bien – It's good, I'm well, It's fine
¿Qué hora es? = What time is it?
¿Cómo se dice…? = How do you say…
Estoy perdido/a = I am lost
Yo no comprendo = I do not understand
Por favor, habla más despacio = Please speak slower
Muy bueno = very good
Cash is the preferred way of paying for things in Peru. Even most hostels and budget hotels will allow you to book a reservation online but you'll have to pay cash when you arrive.
Contrary to many blogs I read in preparation for my trip to Peru, credit cards were accepted at many restaurants, hotels and even some stores. If paying with a credit card, there is usually a 4% charge added to your bill. Even though that may not seem like a lot, that small surcharge adds up.
Soles are the currency of Peru and roughly 4 soles = 1 USD. Soles is obviously the main form of payment but I had the option of paying with USD's several places throughout Cusco and Peru general.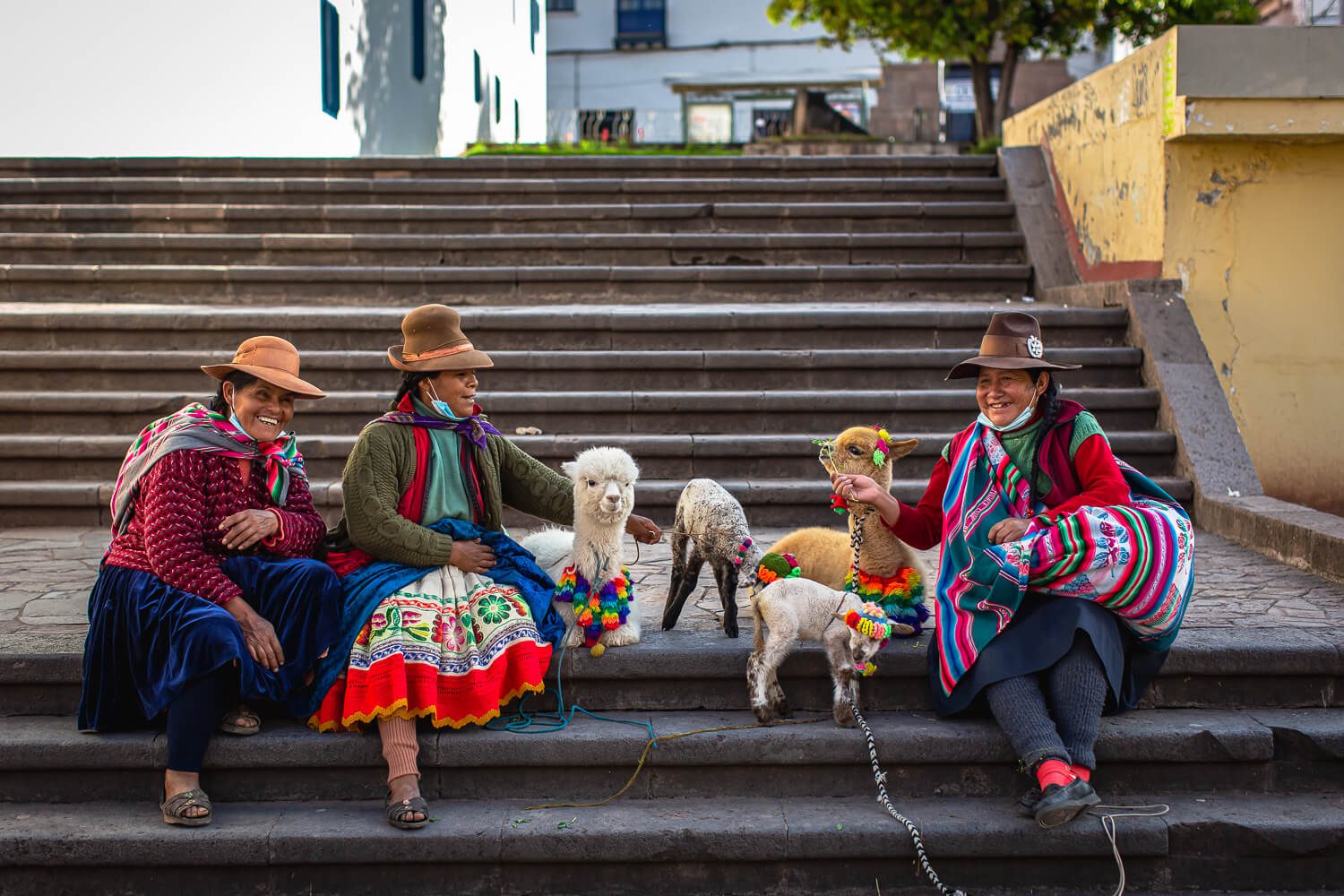 15. Alpacas are Everywhere
One of the coolest things about traveling to Cusco is all the alpacas (babies included) that you'll see as you roam the city. Just remember, there's no free lunch.
If you want a picture with a baby alpaca it will cost ya. Even if you just want to take a picture of the women dressed in traditional Quechuan attire with the alpacas and not even be in the photo, it will cost a few soles.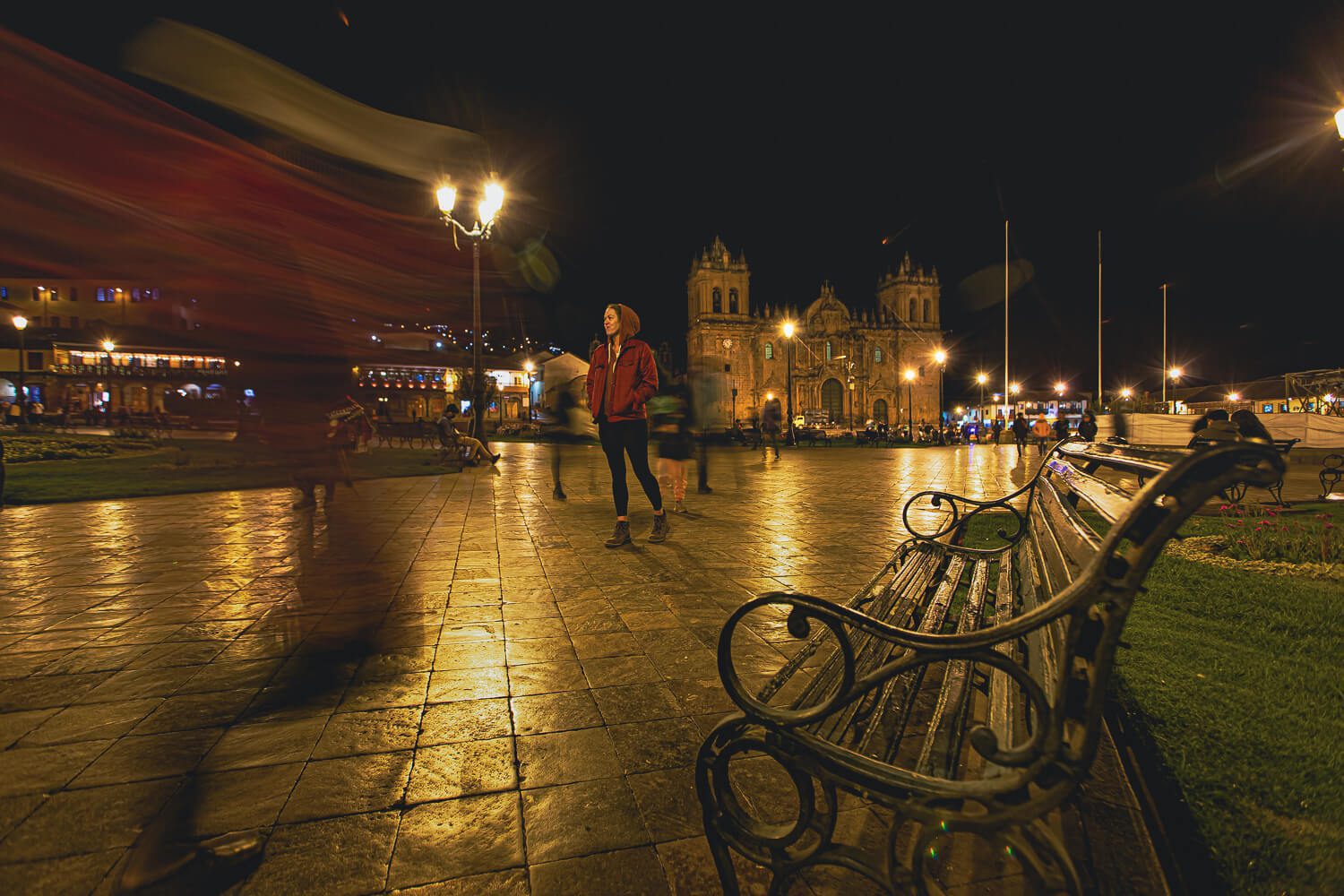 Cusco is a safe city but that doesn't mean you shouldn't take precautions and stay observant. Like any big city, keep your belongings close to your person, be careful at night time and be stay in lit areas especially if you are traveling alone and are a women.
As far as large cities in South America, I felt extremely safe in Cusco. Joe and I make pretty good targets too as we always have multiple cameras on us at all times as we vlog and photograph everything. I never had an uneasy feeling.
Okay so you may not need to know what maracuya is before you travel to Cusco but I'm going to let you in on the secret. Maracuya, commonly known as passion fruit or as we call it in
Hawaii
, lilikoi, is absolutely what you need to order when you get your first pisco sour.
A maracuya sour will rock your world. Head over to Republica Del Pisco to have one of the best maracuya sours of your life. That is all.
Peru Travel Guides
📍Plan your Trip:

🗺 How long to travel Peru?  2 Week Peru Itinerary

☔️ Best Time to Visit:  Shoulder months of dry season – March-May or October-September.

💰 Average Daily Budget: $40 - 50 a day for basic accommodations and sit down meals.

⛺️ Peru accommodation Guides

🪂 Highlights

Machu Picchu
Sacred Valley
Trekking Cordillera Blanca
Arequipa

🧳 What to Pack: Salkantay Trek Packing List

🎥 Watch our Peru Series on YouTube

📧 Get on my Email list to see what I'm up to and all the best travel content!
Lastly, if there's anything I missed that you think would be beneficial to future people traveling to Cusco, let me know in the comments below. I try to keep my guides as up-to-date as possible, so share your experiences and any useful information that could help out your fellow wide eyed wonderers.
If you are planning your trip to Peru, I spent 2 months traveling around this beautiful country so check out my Peru travel page for more travel inspiration.
If you loved traveling to Cusco as much as I did let me know down below ↓
Enjoy this Post?!?! Pin in for Later ↓