🇹🇷 CAPITAL | ANKARA
💷 CURRENCY | LIRA – 19 = 1 USD
🙊 LANGUAGE | TURKISH
Welcome to the Ultimate Turkey Travel Guide. Turkey is a country full of history, natural wonders and history. A true melting pot and a giant paradox.
Turkey is located in the Middle East and Southeast Europe. It is bordered by eight countries and is known for its diverse culture and rich history, as well as its bustling cities and beautiful landscapes.
A trip to Turkey can't be complete without experiencing the chaos of Istanbul, being amazed by the beautiful landscapes of Cappadocia or visiting the ancient ruins of Ephesus.
Turkish cuisine is renowned for its delicious dishes such as the traditional kebab or the tasty pastry baklava. With its stunning beaches, grand mountains and vast valleys, Turkey is a popular destination for travelers from all over the world. This is your Turkey travel guide to help you plan an amazing trip.
🚢 Istanbul
Istanbul is the most popular and largest city in Turkey. Know for its stunning architecture, vibrant culture and delicious cuisine. The city has a mix of Eastern and Western influences making it a unique and fascinating destination and a must visit on this Turkey travel guide. Highlights include the Hagia Sophia, Grand Bazaar and Blue Mosque.
🧕🏼 Ankara
Ankara is the capital of Turkey and the second largest city in the country and is known for its numerous parks, gardens and historic monuments such as the Antikabir Museum. The city is a major transportation hun with its airport, train station and numerous highways connecting it to the rest of the country and beyond.
🪂 Cappadocia
Cappadocia is known for its unique landscapes featuring 'fairy chimneys'. The region is home to some of the most fascinating underground cities in the world and is an adventure waiting to happen. Visit Cappadocia for hiking, hot air balloon rides and discovering ancient cultures.
🏺 Pamukkale
Pamukkale is a small town that is home to one of Turkey's most beautiful natural wonders – the Cotton Castle. Pamukkale is also home to the ancient of Hierapolis. You can explore Hierapolis and the Cotton Castle in one day.
🕊 Izmir
Izmir is a coastal city and the gateway to one of Turkey's most popular attractions Ephesus. Notable attractions in Izmir include the ancient Agora of Smyrna, the Kadifekale Castle, the clock tower at Konak Square and the Kemeralti Bazaar.
🏛 Ephesus
Ephesus is an ancient city renowned for its art and architecture including the Temple of Artemis which is one of the seven wonders of the ancient world. Today the city is well-preserved and one of the most popular tourist attractions in Turkey.
Top 5 things to do in Turkey ↓
More Things to do in Turkey
Explore Istanbul – Istanbul is crazy, chaotic and full of life. There are so many things to do in Istanbul that you could spend a week and not see it all. Highlights include Hagia Sophia, Blue Mosque, Grand Bazaar, Spice Bazaar and the Basilica Cistern.
Turkish Cuisine – Kebabs, doners, olives and pide.
Hot Air Balloon Ride over Cappadocia – This is a bucket list thing to do in Turkey. It's like floating on a cloud. Don't miss out on this experience.
Discover the Ancient City of Ephesus – This is one of the most popular things to do in Turkey. Most iconic ruins are the enormous amphitheater and the Library of Celsus.
Cappadocia is a region in Turkey that is known for its unworldly landscapes and unique rock formations. This area is home to many fancy "cave hotels" and lots of hiking opportunities. Highlights include Goreme Open-Air Musuem, Uchisar Castle,

Underground

City

of

Der

ink

uy

u and Love Valley.

Lake Van – Turkey's largest lake.
Experience a Hammam. A traditional Turkish Bath is a wet and dry sauna experience that combines relaxation and cleansing. A must on this Turkey travel guide.
Pamukkale Cotton Castle is one of Turkey's most beautiful natural wonders and is best experienced in combination with the ancient city of Hierapolis.
Drink çay with locals. Çay or Turkish Tea is a sign of hospitality and the answer is always yes if a local invites you for some çay.
The capital city of Ankara – known for its outdoor parks, museums and a focal point for onward travel throughout the country.
İshak Paşa Sarayı – a palace strategically placed on the Silk Road near the border of Armenia, that is an impressive example of Ottoman architecture.
Monastery of Sumela – a monastery built into a side of a cliff.
Roman Theatre at Aspendos – Anatolia's largest and best preserved theatres.
Go climbing in Kaçkar Dağları – Turkey's premier trekking venue. Think alpine lakes, craggy mountaintops and wildflowers.
The Acropolis of Pergamon – well preserved ruins and one of the best day trips from Izmir.
Soak up the sun on Turkey's Mediterranean coast. Turkey's coastline rivals Greece.
Go Paragliding in Ölüdeniz – coastline, ocean views and one the best things to do in Turkey for an adrenalin rush.
Most US and European passport holders need a visa to enter Turkey. The process is pretty straight forward and can be completed online. Give yourself a week or so before you arrive in Turkey to get your visa. If you wait to the last minute, you'll have to pay more money to have it expedited. You can apply for a Turkey visa here.
The best time to travel to Turkey is in the spring and autumn months when the weather is mild and pleasant. During this time, the sun is out and the temperatures are warm, but not too hot, making it ideal for sightseeing and exploring the country.
Additionally, the summer months can get quite hot, so if you are looking to enjoy the beaches and the Mediterranean climate, summer is the way to go.
How Long to Travel Turkey?
In a perfect world, more time to travel around Turkey the better but I know most people can't just take a month to explore. 2 weeks in Turkey will allow you to see the major highlights. For example, 5 days in Istanbul, 5 days in Cappadocia, 4 days in Izmir.
Also, make sure you fly from place to place to save on time. Joe and I traveled around Turkey for a month and didn't even come close to experiencing it all.
The okay sign 👌 is offensive and means f* you
People greet each other with kissing twice on the cheek.
Tea is a sign of hospitality.
Remove your shoes before entering a home.
You will probably need a visa before you can enter the country.
Turkey does not have lay down seats for overnight buses which make for a miserable trip.
Flights within Turkey are cheap and efficient.
You have to pay a few Turkish Liras to use public bathrooms.
Renting a car is cheap and roads are well maintained and easy to drive on.
Women must wear hijab's on their heads when entering mosques as well having arms and legs covered.
Budget – it's extremely reasonable and cheap to travel Turkey.
Professional cabs always have meters running in the rear view mirror.
Uber is available in Istanbul, Ankara and Izmir only.
There's more to turkey than Istanbul and Cappadocia.
Google Translate: Translate English to Turkish.

BiTaksi: The Uber of Turkey.

City Mapper Istanbul: An app to help you navigate public transportation in Istanbul.

Whatsapp: Talk/text to friends and family anytime you are connected to the internet for free.

Metro Turizm: Bus company in Turkey that offers a handy app that translates into English and displays all routes, time schedules and allows you to buy tickets online.

Yemeksepeti: Food delivery app similar to Uber eats.

Trail Wallet: Easy to keep track on your expenses if you are traveling Turkey on a budget.
Hi, we're Jess (& Joe). We hope you're enjoying our free travel guides and tips. If so please consider buying us a coffee ☕️. We appreciate your support!
💲 Turkey Travel Guide Costs
Turkey is a very budget friendly country to travel. You can spend $50 a day in Turkey, living comfortably and not denying yourself any comforts or pleasures. This includes a decent hotel (if splitting the cost of the room), renting a car (again at split cost) and activities.
It is possible to get by on $20 a day traveling Turkey and this entails eating street food doner kebabs, walking to and from tourist attractions and a bed in a dorm hostel.
ATM's are available countrywide in most cities and towns. They are usually grouped together in the center of town.
Dorms – $10-30 USD
A Basic Room with Private Bath – $30
Budget Luxury Hotel – $60
Higher End Hotels – $100 and up
Cup of Çay – 0.10 -0.25 cents
Doner Kebab – 30 TL about $1.50
Turkish Ice Cream – $2.50
Sit Down Restaurant with Drinks and Tip – $15-20
Bottle of Local Wine in Sirince – $15
12 Hour Overnight Bus Ride from Cappadocia to Pamukkale – $25-35
4 Hour Bus from Ankara to Cappadocia – $12
Rental Car – $25 a day
Domestic Flight – $30-50 with Carryon Luggage
1 Hour Cab Ride from Istanbul Airport – 1,000 TL
🛖 Where to Stay in Turkey
A bed in a dorm will cost 12-30 USD's. It's more expensive in Istanbul and Cappadocia doesn't have cheap hostel options. You can get basic, budget accommodation for $30-35 a night for 2 people.
A slightly higher budget allows you luxury that would cost a fortune in the United States. A budget cave hotel will cost around $100 compared to a luxurious cave hotel upwards of $300 a night.
⭐️ Worth the Splurge: Sultan Cave Suites – Cappadocia, Turkey
Below are city specific Turkey Travel Guides for accommodations to help plan your trip.
Turkey Travel Accommodation Guides:
Enjoy this Post?!?! Pin in for Later ↓
Arriving in Turkey, make sure you have a visa, 6 months or more validity in your passport on arrival and a return ticket out of the country.
By Plane: Turkey has many international flights to and from most cities in Europe and the Middle East. Turkish Airlines, PIA, Singapore Airlines, Uzbekistan Airways, Avianca, jetBlue and Air New Zealand all offer non-stop flights to Turkey.
Istanbul has 2 airports, one on the Asian side and the other on the European side. The airport codes are Sabiha Gokcen International Airport (SAW), and Istanbul International Airport (IST).
Jetradar, Skyscanner and Kayak are sites that are flexible and give you the cheapest rates. Turkish Airlines andPegasus amongst others offer many flights daily operating to other parts of the country.
Booking with one of the search engines above ensures getting shown the latest and cheapest prices. Just don't expect much frills on some of these budget airlines and luggage will cost extra.
By Bus: If you're traveling slow throughout Turkey or Europe, it's likely that you'll be taking a long bus journey at some point or another. Overnight buses are uncomfortable as they don't have buses with lay down seats. It saves a lot of time, energy and comfortability to fly.
By Train: Turkey has a nice train network that covers a large part of the country, and connect all the major cities. It is also possible to enter Turkey via the train if for example you are coming from Sofia, Bulgaria or Bucharest, Romania which has routes to Istanbul.
By Boat: Turkey has a lot of coast line so it is definitely possible to get to Turkey by boat. Izmir is a big cruise ship port and the easiest way to travel between Greece and Turkey is on a ferry from a Greek island to the mainland of Turkey.
🚌 Transportation around Turkey
Transferring between towns is plentiful and straight forward. Download the apps Bookaway, 12Go Website and Rome2Rio to help navigate the best route. They are very helpful to check bus, boat, and train schedules ahead of time.
Getting around in Turkey is pretty straightforward but always an adventure.
By Bus: This will be the easiest way to travel around Turkey. Buses are frequent within the country. Bus rides are never the most glamorous way to travel but usually the cheapest.
Taking the bus isn't just for tourists, most Turkish people travel via bus. Roads are well maintained in most parts of the country. Always plan a few extra hours on bus travel days as buses are never fully on schedule.
For shorter distances, Turkish buses are quite nice, comfortable and convenient. You can check out these vlogs to see what bus journeys in Turkey look like.
Ankara to Cappadocia Bus for $12

The Rough Journey on an Overnight Bus from Cappadocia to Pamukkale
By Plane: Domestic flights within the country are frequent and plentiful. New budget airlines pop up every year but the most established airlines are Turkish Airlines and Pegasus Airlines.
By Train: TCDD (Turkish Republic State Railways) operates passenger trains all over the country. The train is a comfortable way to travel between cities like Istanbul, Ankara and Izmir.
🧳 What to pack for Turkey
Packing in my opinion is always the hardest part before going on a trip. What you pack will depend on what you are traveling to Turkey for and how long you plan on going.
If you plan on doing some trekking, make sure you bring a warm jacket, waterproof hiking pants , rain gear and proper hiking boots.
Turkey has a beautiful coast line and on the coast in the summer you'll have warm weather so a bathing suit, shorts and flip flops will come in handy.
Cappadocia is cold in the morning and evenings if you are traveling to Turkey in the fall. Long pants, a warm jacket and scarf that will cover your head (if you're a female) always comes in handy but its cheaper to buy a scarf or hijab in Turkey. Don't leave home without theses Turkey travel guide essentials.
Shorts
Jeans
2 Pairs of Leggings
7 shirts/Tanks
Underwear
Socks
Sweatshirt (for travel days)
Swimsuit
Flannels
Beanie
Toothbrush & Toothpaste
Hair Brush
Hair Ties & Bobby Pins
Feminie Products
Deodorant
Razor
Band aids
Hand Sanitizer
Safety is an important factor in planning any trip, especially when it is international. Here are some Turkey travel guide safety tips.
I felt very safe the entire time I traveled Turkey and I would travel to Turkey as a solo female traveler.
Some of the safest places ironically are the more touristed areas like Istanbul, Cappadocia, Bodrum, and Izmir.
Pickpocketing and thievery will be your biggest concern. As always use your wits and common sense and basic precautions.
Pharmacies or Eczanes can be found in all major towns and cities.
You can find the US Embassy in Ankara.
Travel insurance is very important. There is nothing worse than being in need of medical care in a foreign country without insurance! Protect yourself! This is your best investment.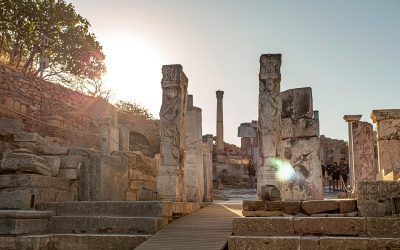 There are a plethora of remarkable places to visit in Turkey that cater to diverse interests,...
read more