Uchisar Castle is a stunning rock formation located in the town of Uchisar in the region of Cappadocia, Turkey. There are several different castles to visit in the region, not only is this the biggest castle in Cappadocia but it's also the most popular.
You can climb the castle for epic views of the valley and the Uchisar Castle viewpoint is one of the best places to catch sunset in Cappadocia. In fact, the Uchisar Castle is the tallest point in the region. I spent a month traveling around Turkey with my partner Joe exploring Uchisar Castle was one of my favorite moments.
In this article, I'll go over any details you'll need to know before visiting, give you my unbiased review, touch on other things to do in Cappadocia, let you know where to stay in Uchisar and how to get around the region of Cappadocia.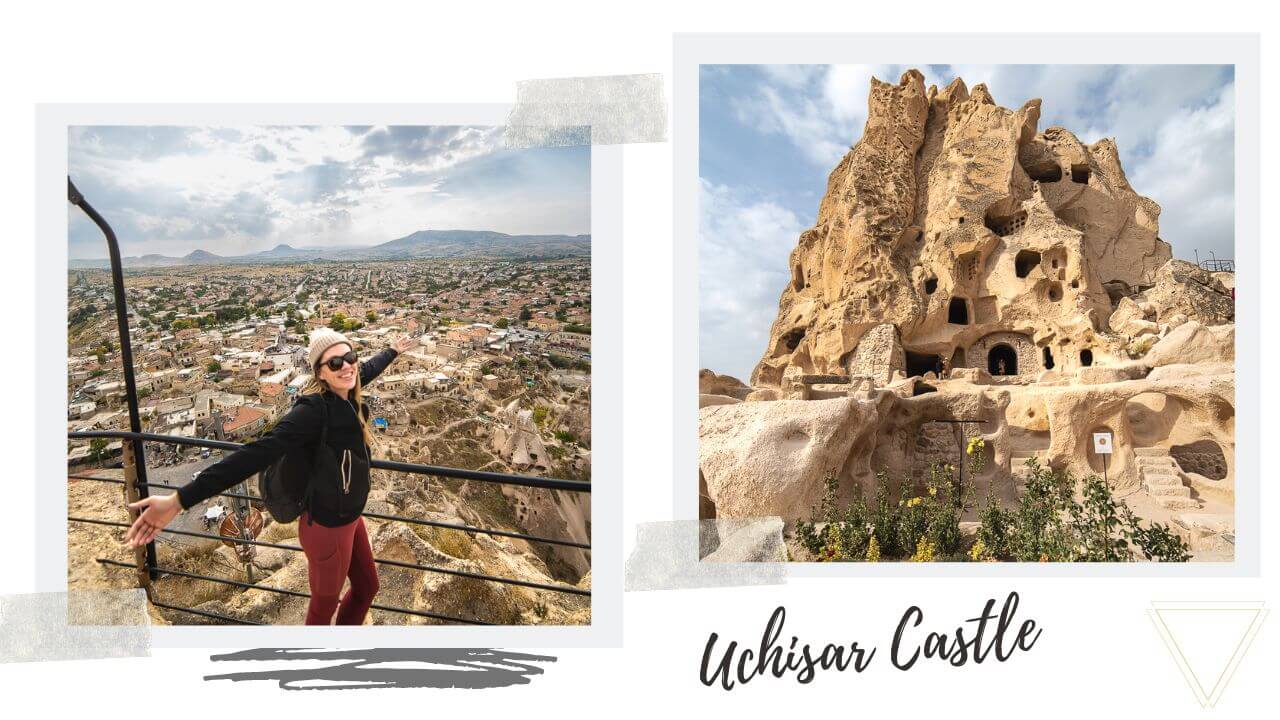 For full transparency, I have sprinkled some affiliate links in this post.  As an Amazon Associate I earn from qualifying purchases that gives me a small commission at no extra cost to you if you decided to make a purchase.  As always, I would never recommend a product or service that I didn't truely believe in.  All proceeds go to keep Jess traveling and coffee ☕️.  I thank you in advance.
The Uchisar Castle is a short 10-15 drive from the main town in Cappadocia – Goreme. It's an amazing sight to see even from a distance. It was erected in a strategic position perfect to see far into the valley allowing it to protect the area from invaders.
Today, it's one of the most popular tourist attractions in the region, noted for its breathtaking views and its unique architecture. At the castle you can explore its underground tunnels, climb the steep staircases to the top and enjoy panoramic views of the surrounding area.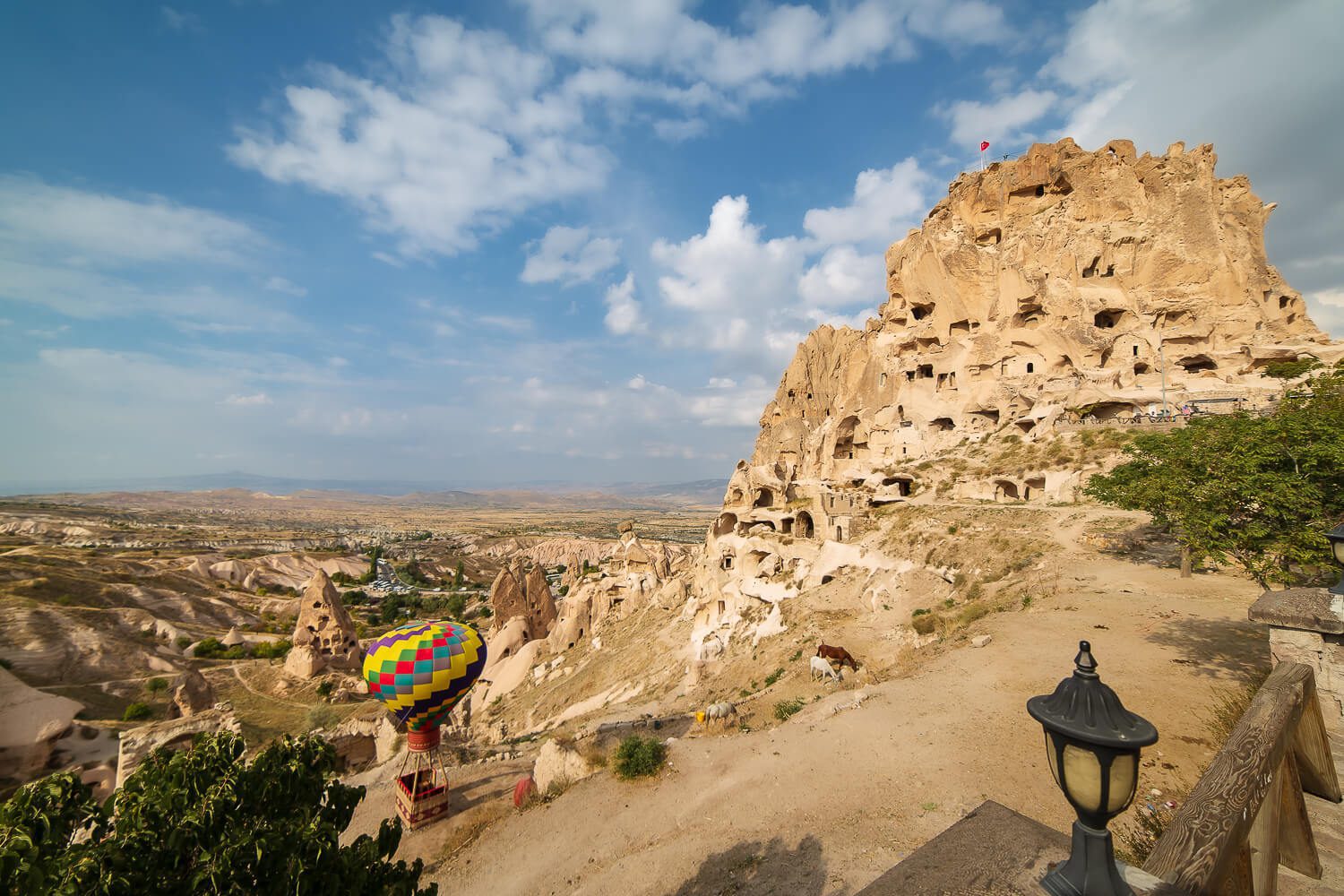 Uchisar Castle Entrance Fee
The Uchisar Castle entrance fee is 50 Turkish Lira to climb to the top and its open 7 days a week from 5am to 9pm. If you visit the castle on a tour you won't have to worry about parking but if you were like us and visit independently, there are several places to park in town. It should cost 10 TL to park.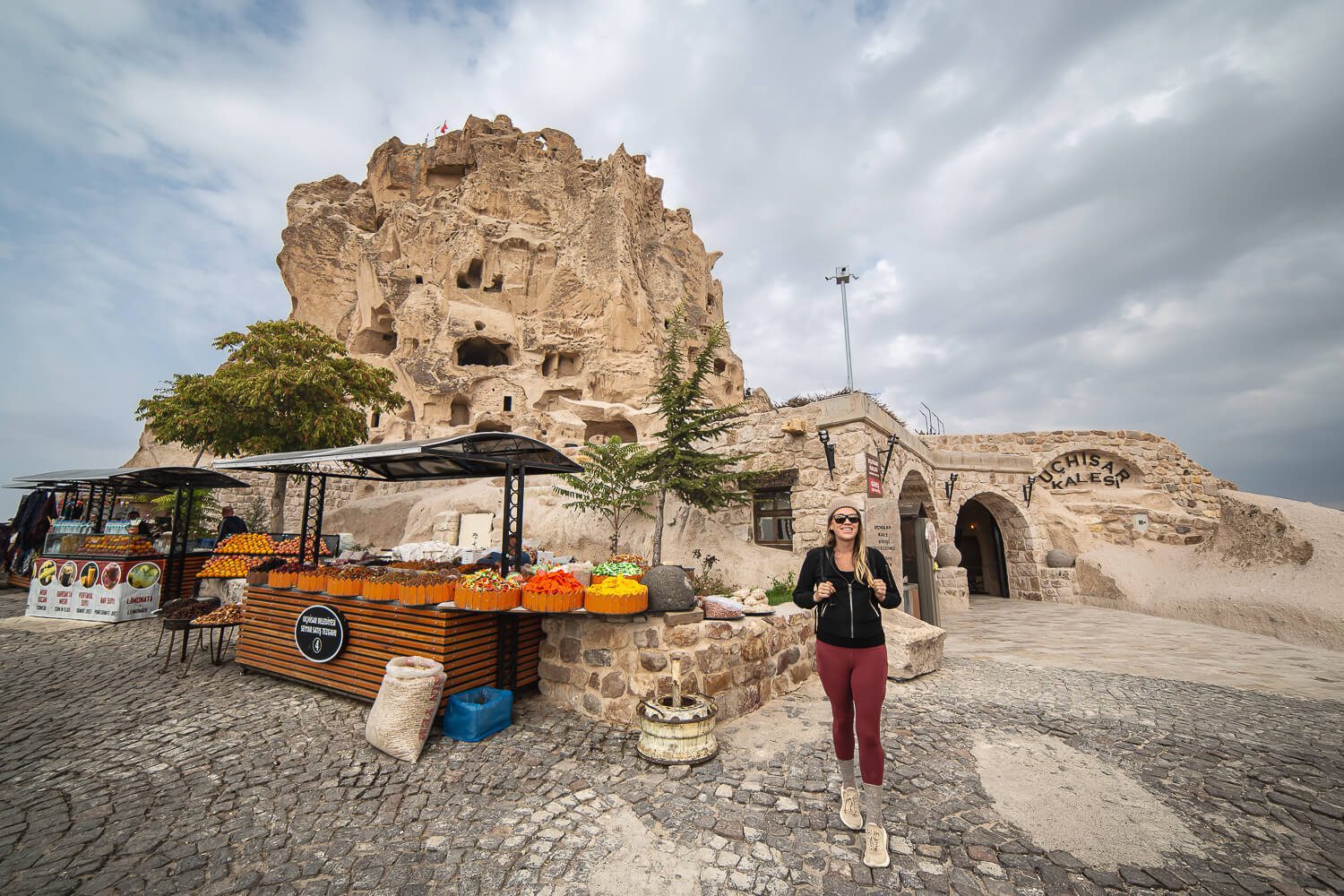 Tours that Include Uchisar Castle
If you are short on time or just prefer to go on guided tours, you can book a tour that stops at the Uchisar Castle as well as other Cappadocia attractions. All tours listed below are reasonably priced, have good reviews and the guides speak English.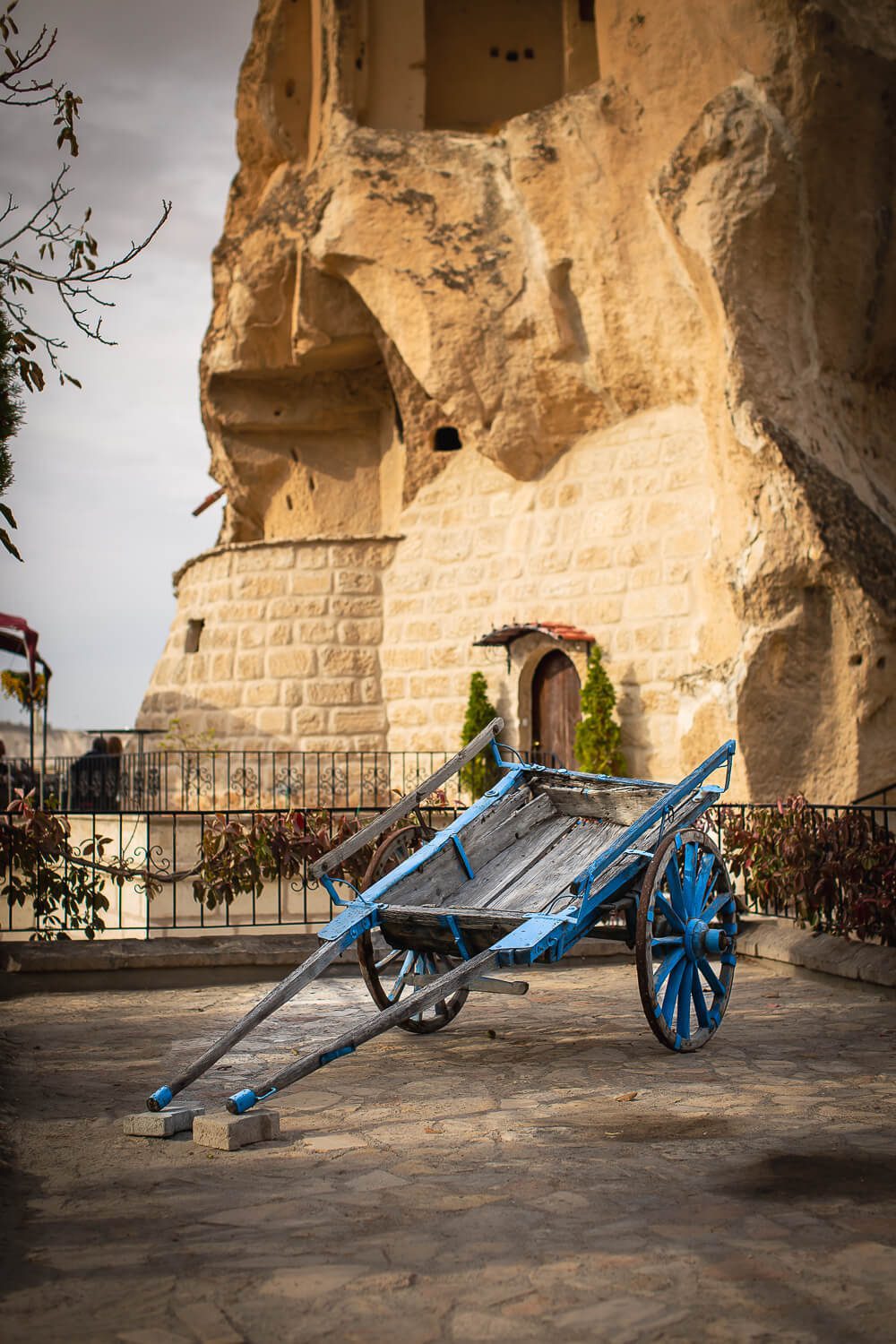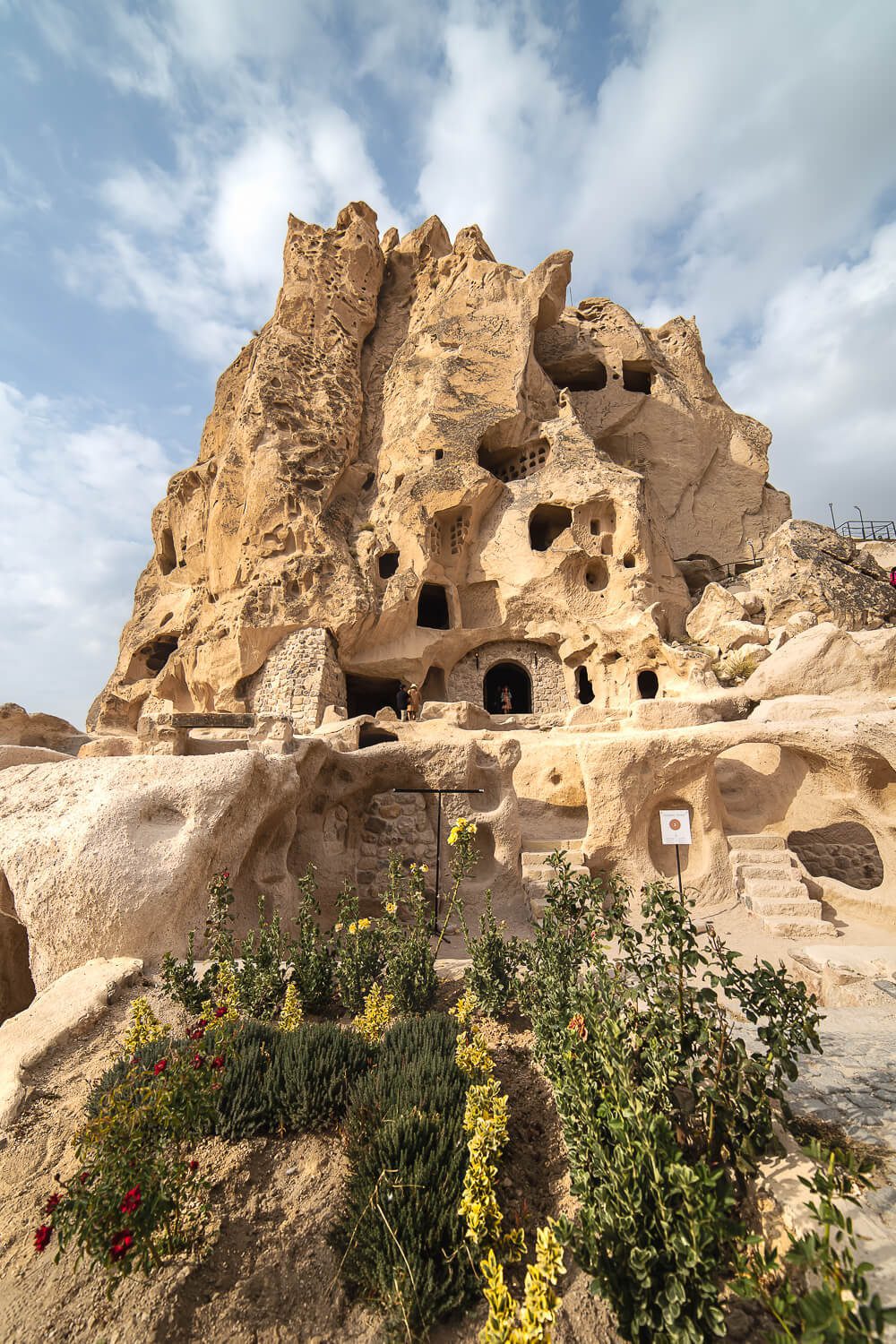 My Review of the Uchisar Castle in Cappadocia, Turkey
Joe and I arrived at Uchisar Castle on our second day in Cappadocia around sunset. We already had an amazing day and the Uchisar Castle was icing on the cake.
The castle is located in the back of Uchisar village and you'll walk about 10 minutes past cute shops and restaurants to get to the castle. The town itself was pretty posh filled with high end resorts and fancy rooftop terraces. We stopped and had a tea at Karlık Cave Suites to soak in the views before we climbed the Uchisar rock castle.
After tea we made our way to the castle. There was a few vendors out front selling fresh fruits, juices and even frothy pistachio coffee. In case you're wondering, yes it was very delicious.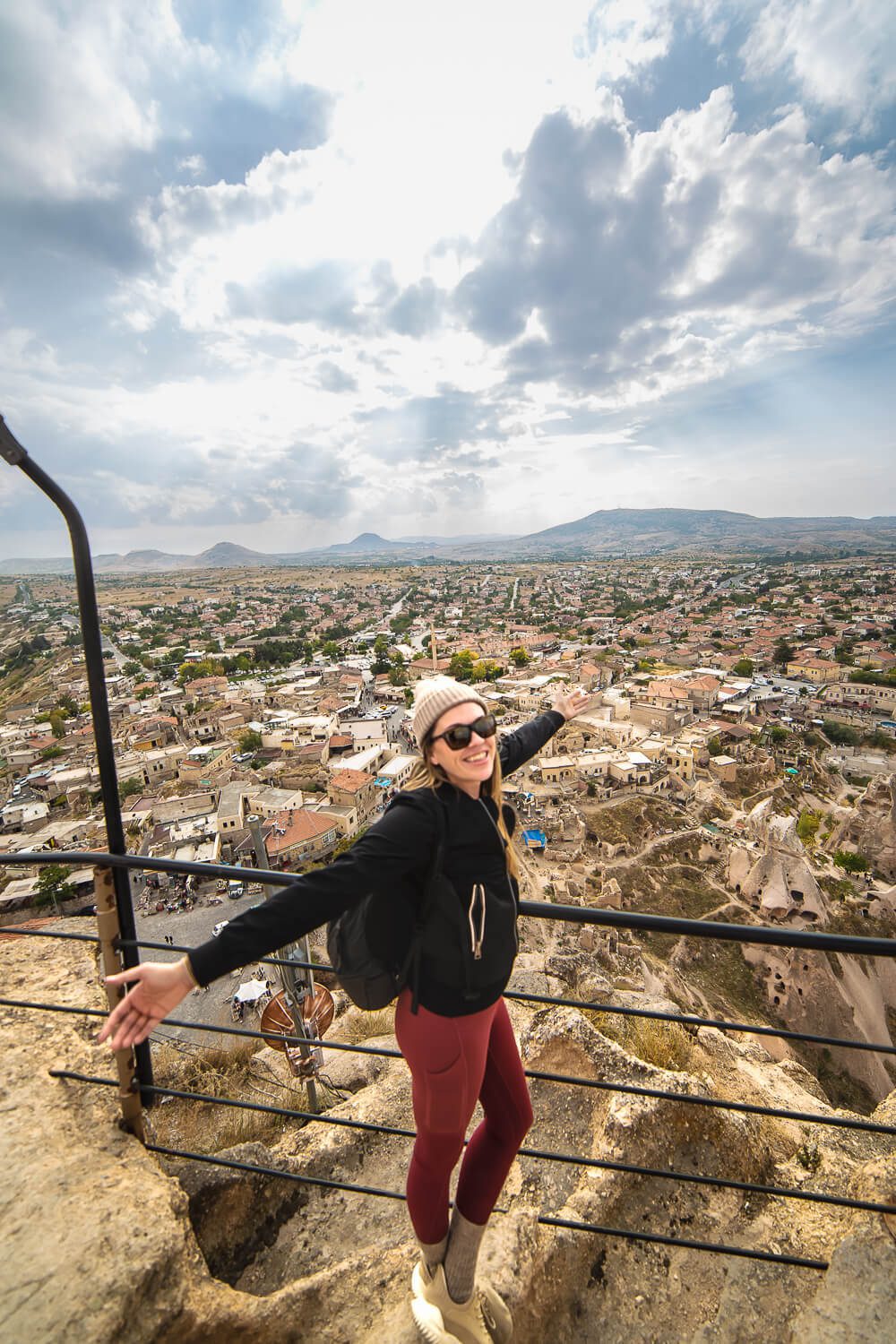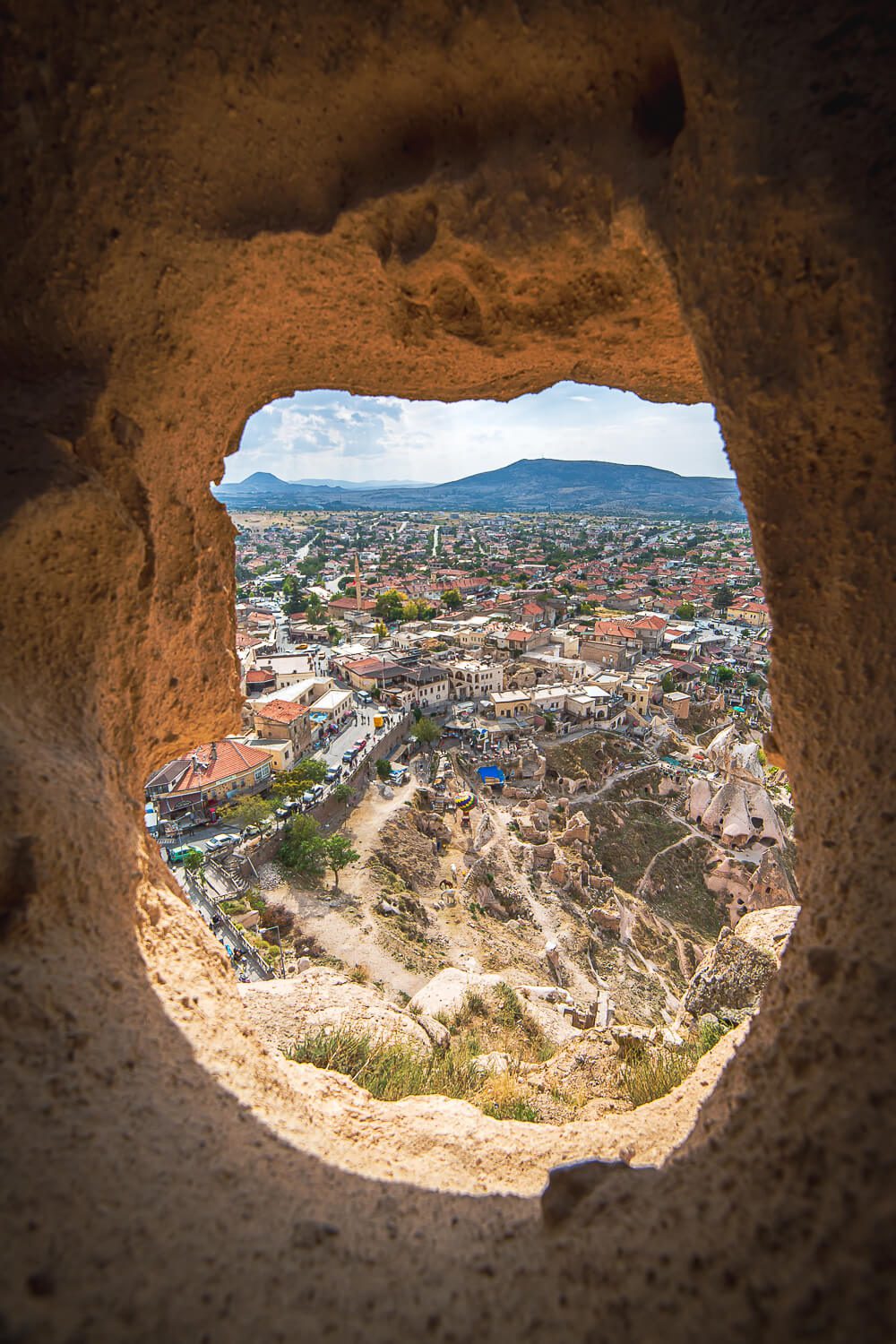 We entered the castle and paid a nice man 50 TL (about $2.60). The path leads you inside the castle to a large, open courtyard that was filled with a bunch of artwork to admire. This castle was very roomy especially compared to the Ortahisar Castle.
Once we emerged out of the castle we began a short trek up a series of stairs to make it to the top. It took maybe 10 minutes to reach the top, the stairs were gradual and were wide enough for two people to walk up and down at the same time.
At the top we were greeted with sweeping views of Pigeon Valley. It was pretty spacious at the top considering its a tall, stone structure. We snapped a few photos, did a bit of filming and were bummed that we didn't bring our drone with us as we saw someone flying one at the top.
After we admired the views we headed down to explore around the castle. There were several different paths to wander and explore this area of Pigeon Valley. This, in my opinion was the coolest part. It was filled with cave dwellings, super cool looking hoodoos and rock formations.
We walked about 5 minutes down a dirt path and found a perfect opening to sit inside a rock and fly the drone. I even climbed inside a cave dwelling which you can see pictured above. Like I mentioned earlier, this was the perfect ending to an awesome day of exploring so don't visit Cappadocia without checking out the Uchisar Castle.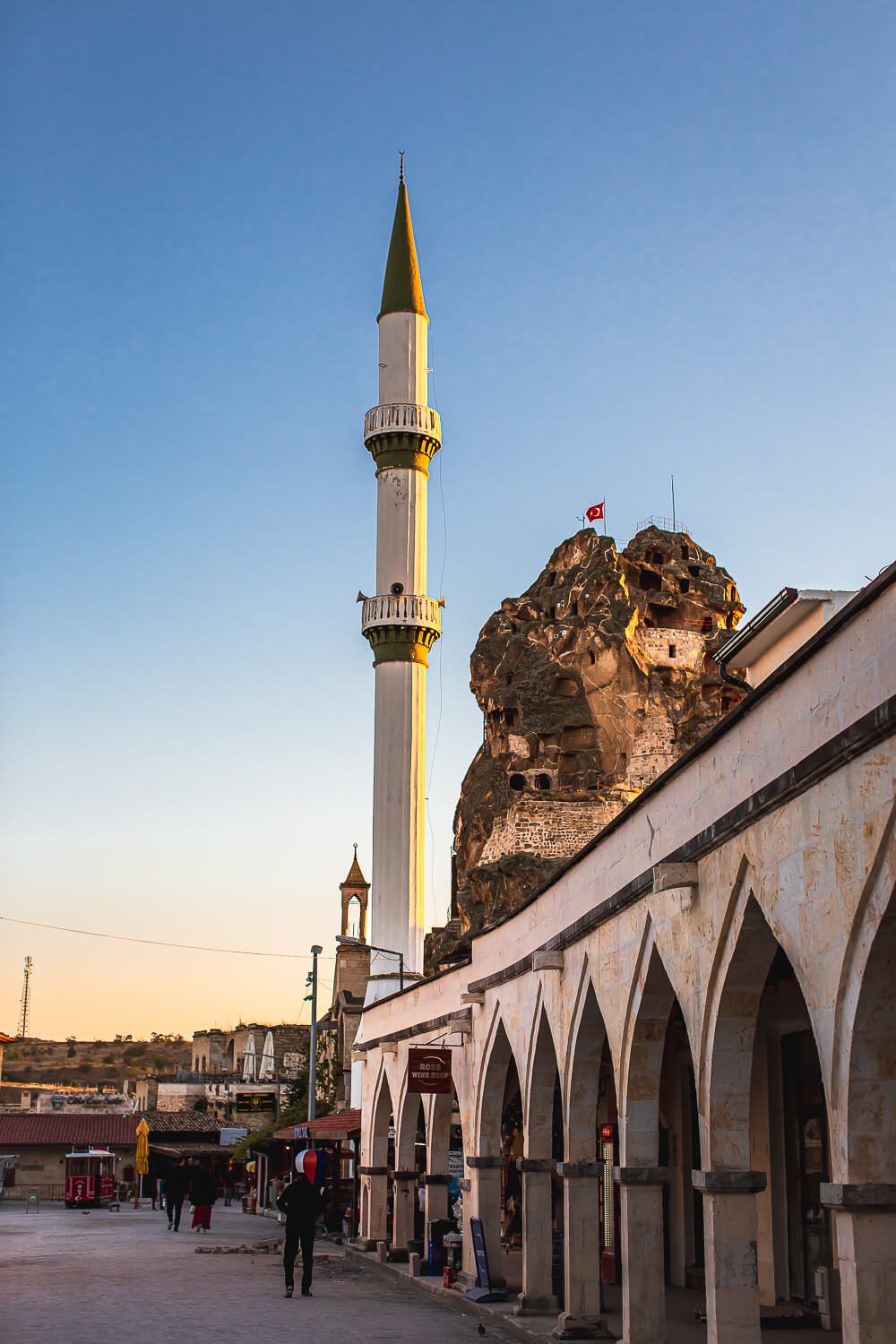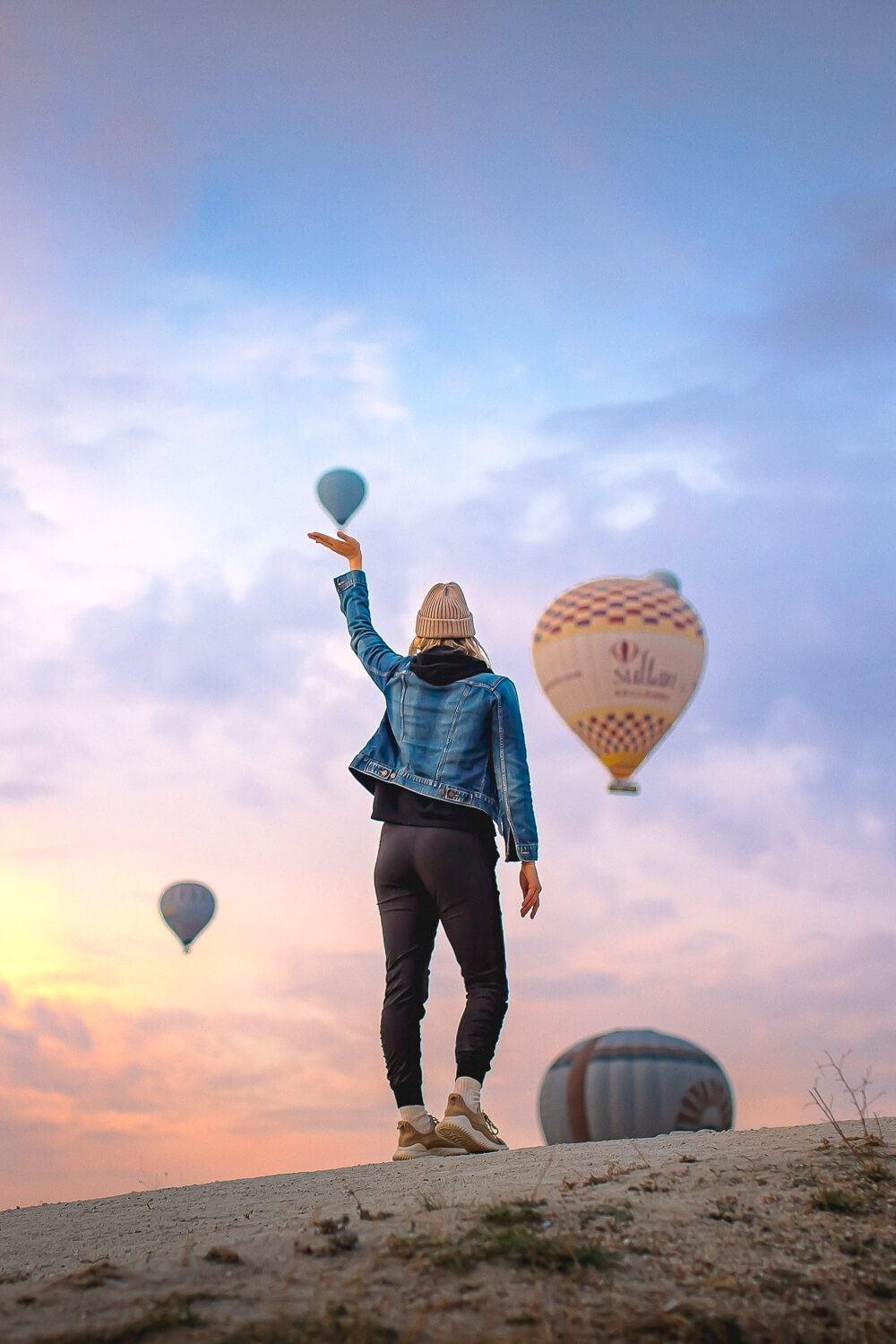 Other Nearby Things to do in Cappadocia
There are a ton of things to do in Cappadocia including a hot air balloon flight at sunrise and explore an underground city. Here is a list of other things to do in the area. Click on the blue links below for a more detailed guide of each activity.
Kaymalki Underground City
Pigeon Valley
Fairy Chimneys in Pasabag Valley
Lovers Point
Red Valley

Underground

City

of

Der

ink

uy

u

Rose Valley
Love Valley
Devrent Valley (Imagination Valley)
Cavusin Castle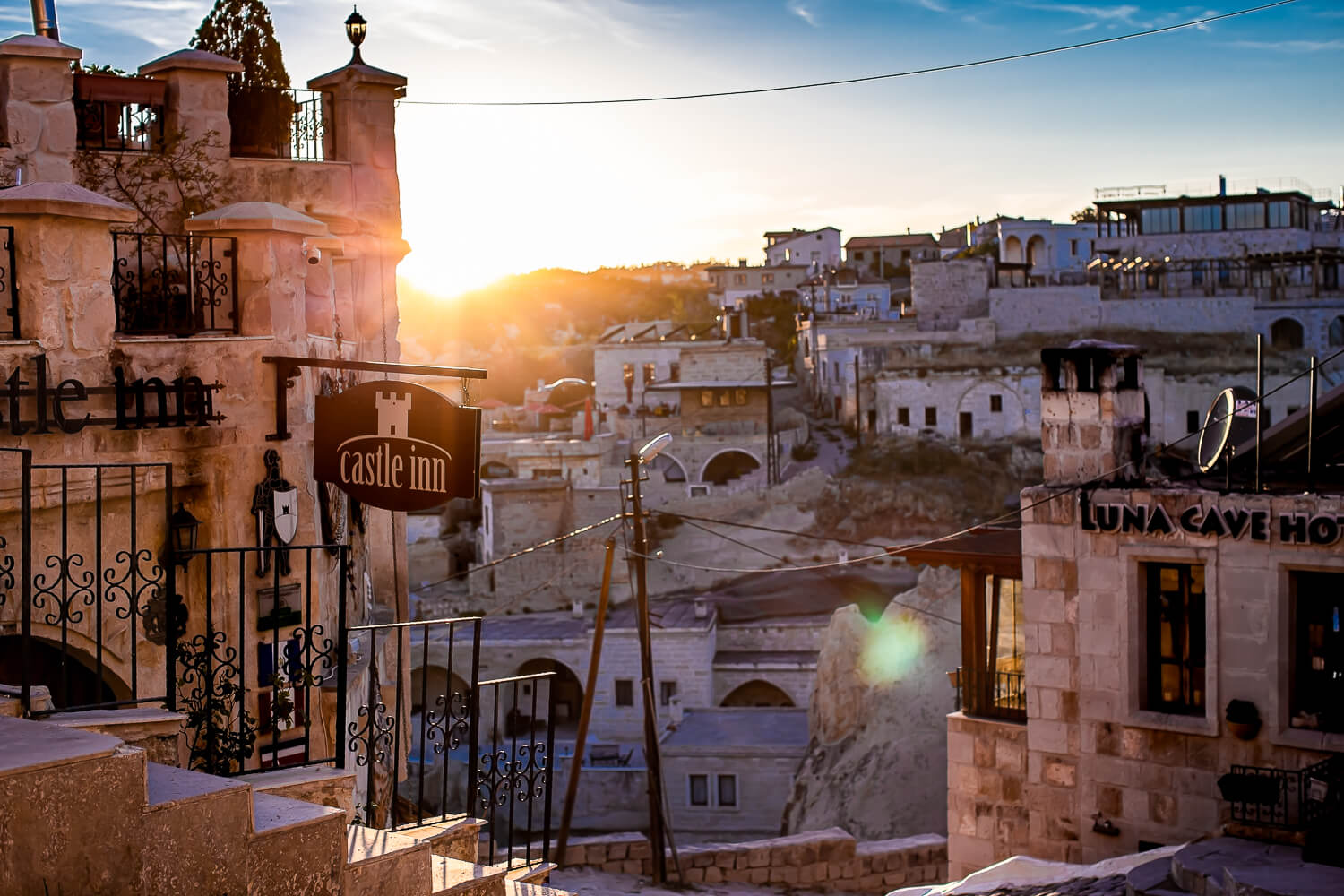 Uchisar is one the best towns to stay in Cappadocia because Uchisar offers some of the best views for watching the balloons in flight at sunrise. Uchisar has some nicer accommodations and feels a bit more intimate than Goreme town.
Staying in Uchisar would be an excellent option for you if you are looking for a a romantic getaway with your loved one or just want a little more of an upscale, secluded stay with excellent perks.
Karlık Cave Suite – Stunning terrace that offers prime location for balloon watching and one of the best cave hotels in Cappadocia.

Agros – Once a monastery turned into a cave hotel, this is where to stay in Uchisar for luxurious digs that overlook the ancient city of Uchisar and Uchisar Castle.

My Story Cave Hotel – A budget friendly option in Uchisar with great amenities such as a gym, pool and spa.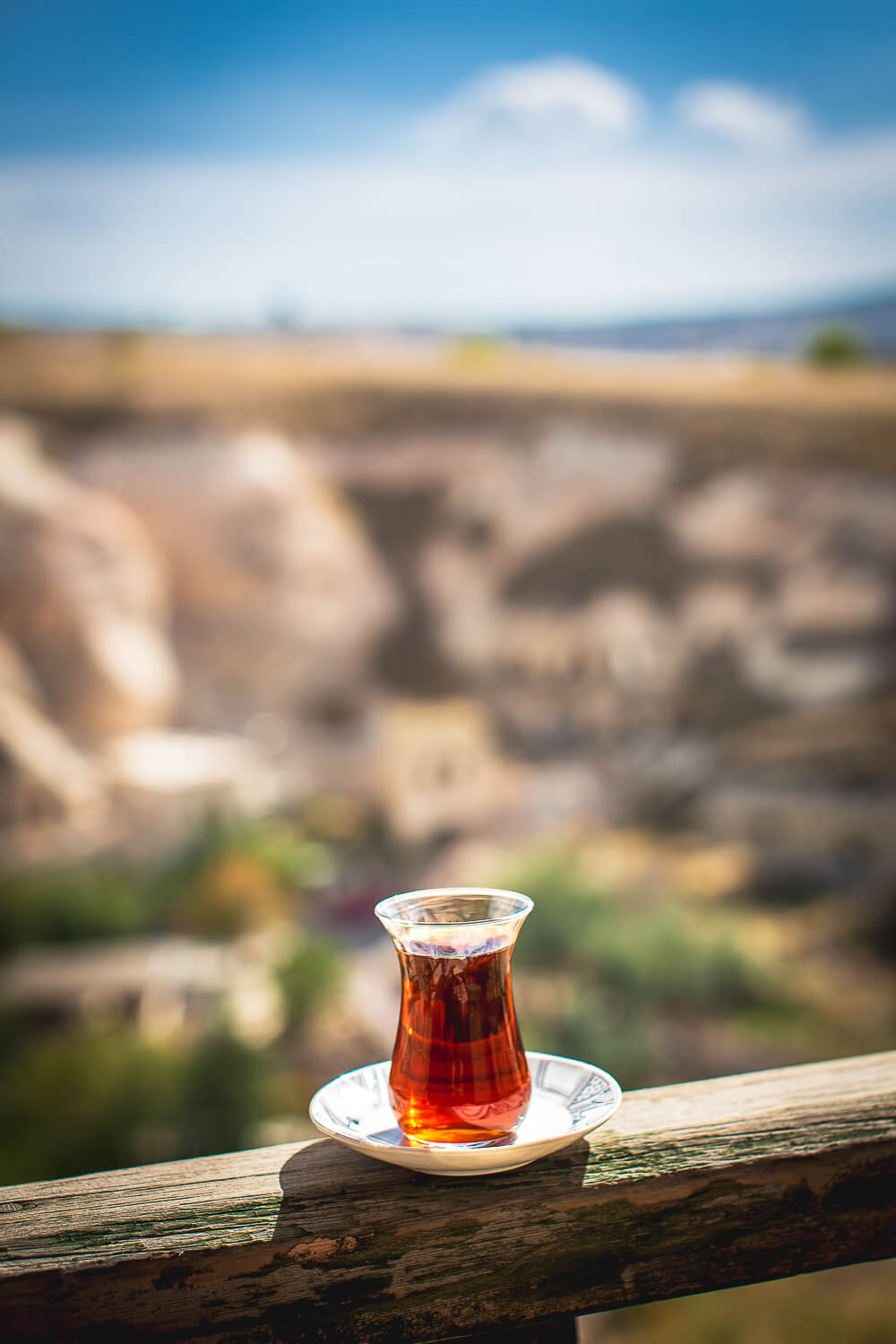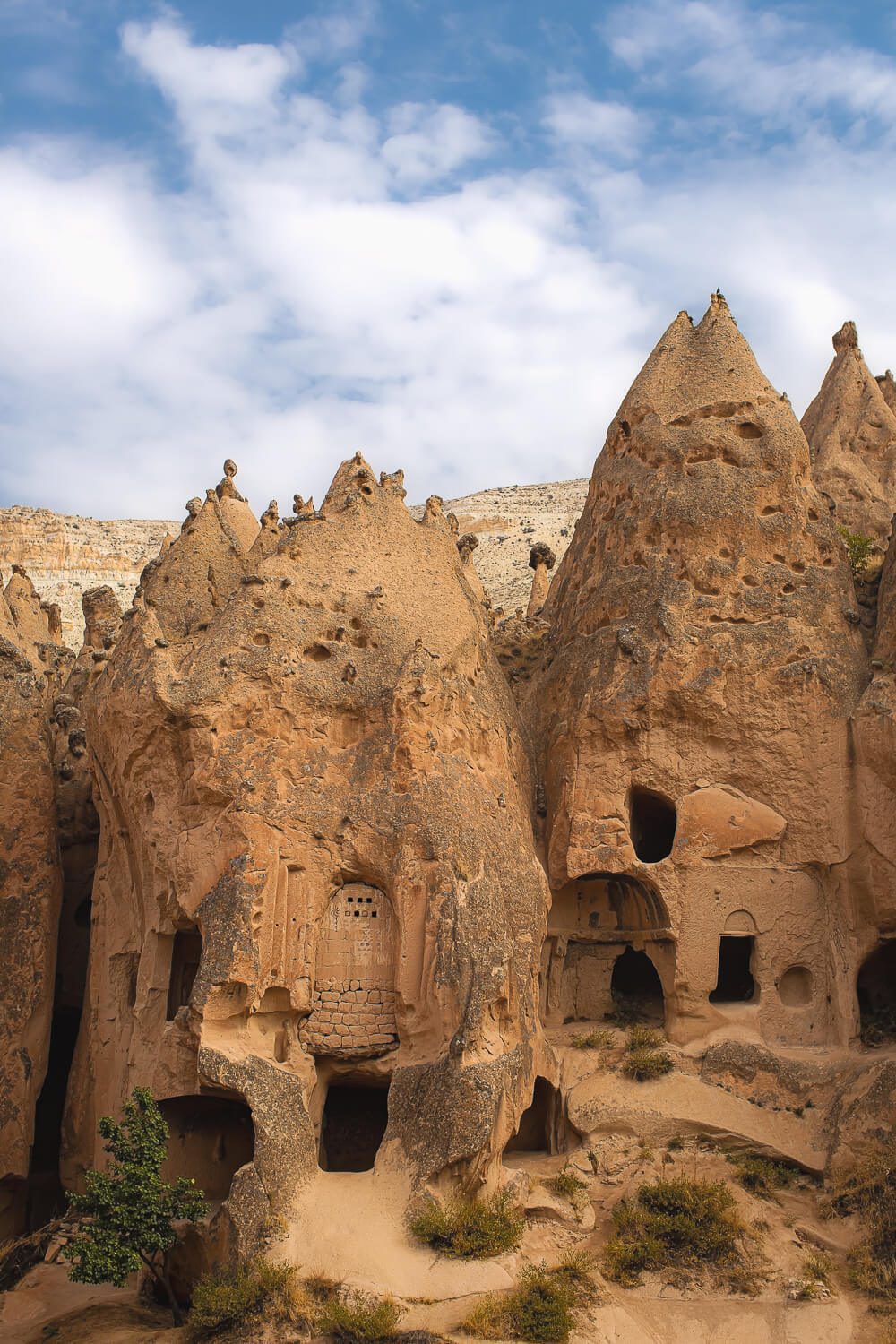 How to Get Around Cappadocia
The easiest way to get around Cappadocia is renting a car. Renting a car is extremely affordable in Turkey and roads are well maintained, making it very easy to navigate and get around. Joe and I rented a car for the full week we were in Cappadocia and loved every minute of it.
If you're not into the responsibility of renting a car, booking tours will be your next best option. Tours are reasonably priced and will take you to all the best things to do in Cappadocia. Plus they'll pick you up and drop you off at your hotel and who doesn't enjoy that.
Turkey Travel Tips
📍Plan your Trip

🗺 How long to travel Turkey?  2 Weeks to hit the highlights, 4 Weeks to really immerce yourself.

🛂 Visas: Get your E-Visa

☔️ Best Time to Visit:  April, May, September and October are the best months to travel Turkey.

💰 Average Daily Budget: Expect to pay 30-50 USD's a day for basic accommodations, sit down meals at a cafe and entrance fees.

⛺️ Turkey accommodation Guides

🪂 Highlights

Exploring Ephesus
Pergamon Ruins
Antalya

🧳 What to Pack: What to Pack for Türkiye

🎥 Watch our Turkey Series on YouTube

📧 Get on my Email list to see what I'm up to and all the best travel content!
Enjoy this Post?!?! Pin in for Later ↓