Vang Vieng, Laos Travel Guide
After spending over a month in Laos last summer, I figured a Vang Vieng travel guide was in order. Vang Vieng was the most memorable time I had when I visited this land locked Southeast Asian country.
Situated between Thailand, Vietnam, Cambodia, Myanmar, and China this country often gets skipped while traveling throughout this area.
Vang Vieng has the wow factor and was one of my favorite places to visit in Laos. The town is jaw droppingly beautiful. Tall dramatic limestone cliffs jut into the sky as the Nam Song river cuts through the town.
Once a popular backpacker party destination, Vang Vieng today has rebranded itself and is now a popular destination for outdoor adventures including tubing, hiking and rock climbing.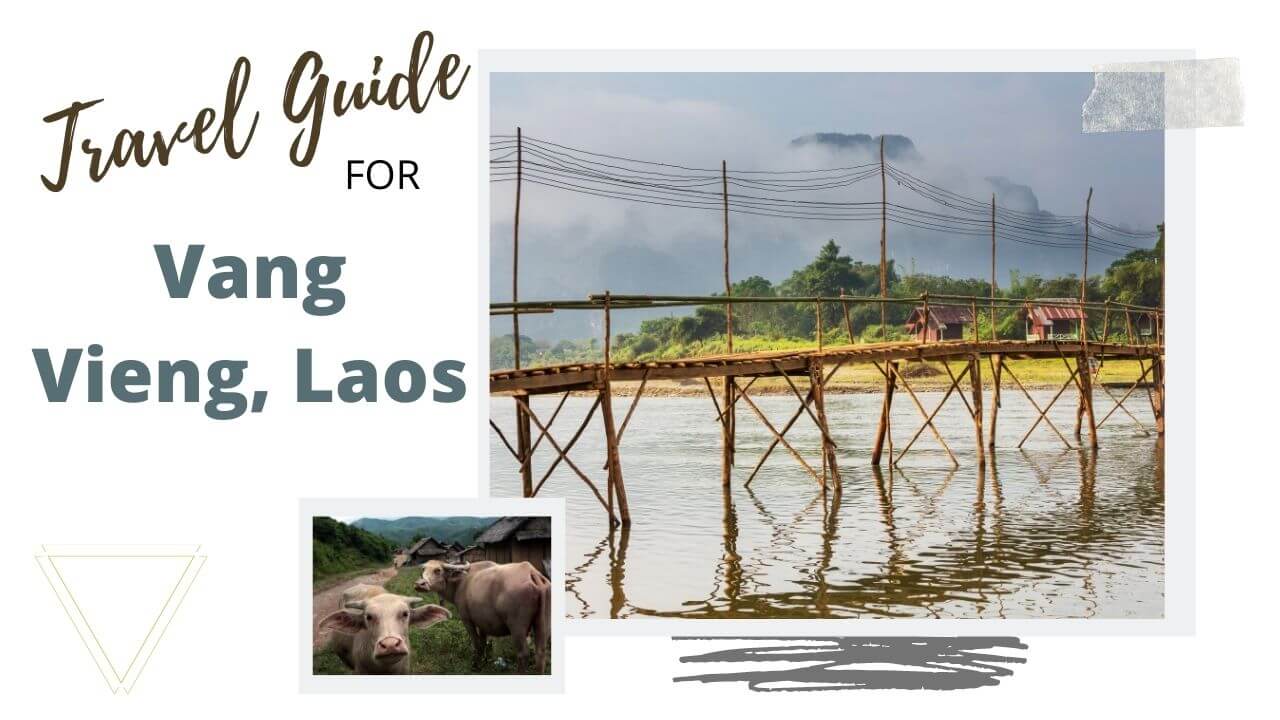 For full transparency, I have sprinkled some affiliate links in this post.  As an Amazon Associate I earn from qualifying purchases that gives me a small commission at no extra cost to you if you decided to make a purchase.  As always, I would never recommend a product or service that I didn't truely believe in.  All proceeds go to keep Jess traveling and coffee ☕️.  I thank you in advance.
Vang Vieng is located in the middle of Laos so getting here takes some time and forethought. There is a small airport in the middle of the town that you can fly into (most expensive) but most people arrive by bus.
How to get to Vang Vieng from Vientiane?
Buses Vientiane to Vang Vieng takes 3-4 hours.
How to get to Vang Vieng from Luang Prabang?
Buses from Luang Prabang to Vang Vieng take 4-6 hours.
The buses pick you up from your hotel and drop you off at the Vang Vieng bus station in the middle of town. Roads aren't the best as most are unpaved and full of pot holes. But hey it gets you to your destination right?
How to go from Vang Vieng to Luang Prabang?
There are multiple buses that run Vang Vieng to Luang Prabang if you're starting from Southern Laos and and working your way up North.
How to go from Vang Vieng to Vientiane?
The Vang Vieng to Vientiane bus takes 4 hours and costs $9.
How to go from Vang Vieng to Pakse?
Thre is a Vang Vieng to Pakse bus that we took overnight. It was about an 8 hour bumpy, ride and cost around $12 USD's.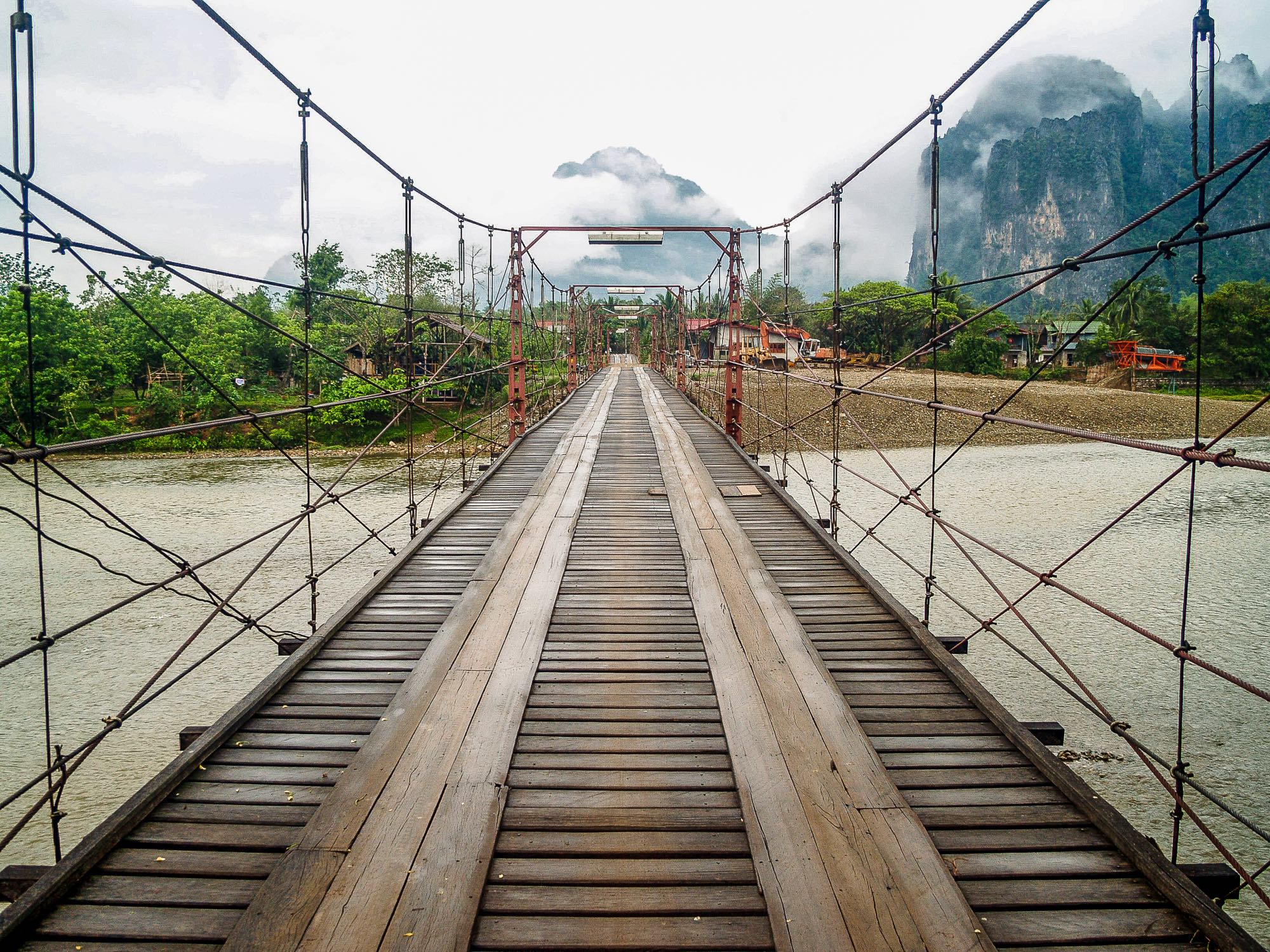 Rainy season is during the summer months May through September. This means that it pours rain every day for at least a couple hours. This makes the sidewalks very muddy as they are roughly paved.
November to February are nice months to travel but will cold at night in the mountains.
March and April are the warmest months.
Average Daily Cost to Travel Vang Vieng
At the time of writing this when I was here the conversion rate was about 8,000 KIP to 1 USD. U.S. Dollars were also widely accepted.
Dorm bed around 40,000 KIP
Basic double bed with a fan 100,000 KIP
Nicer private room with A/C 150,000 KIP
Tubing 60,000 KIP
Blue Lagoon 10,000 KIP
Joint 30,000 KIP
Bag of weed 300,000
Fruit shake 10,000 -15,000 KIP
Big beer Lao 15,000 KIP
Street food baguette sandwich 15,000 KIP
Sit down meal chicken curry & rice 40,000 KIP
Cocktails 40,000 KIP
Happy pizza (yes you read the right) 110,000 KIP
This being said its obviously is more expensive if you like to party. Vang Vieng is a party town.
It has been cracked down a bit in the past couple years and the party scene isn't as rambunctious as it used to be but if you are looking for it, you'll find it.
There are a few bars in town where you can order basically anything you want. Ask for the Vang Vieng "happy menu".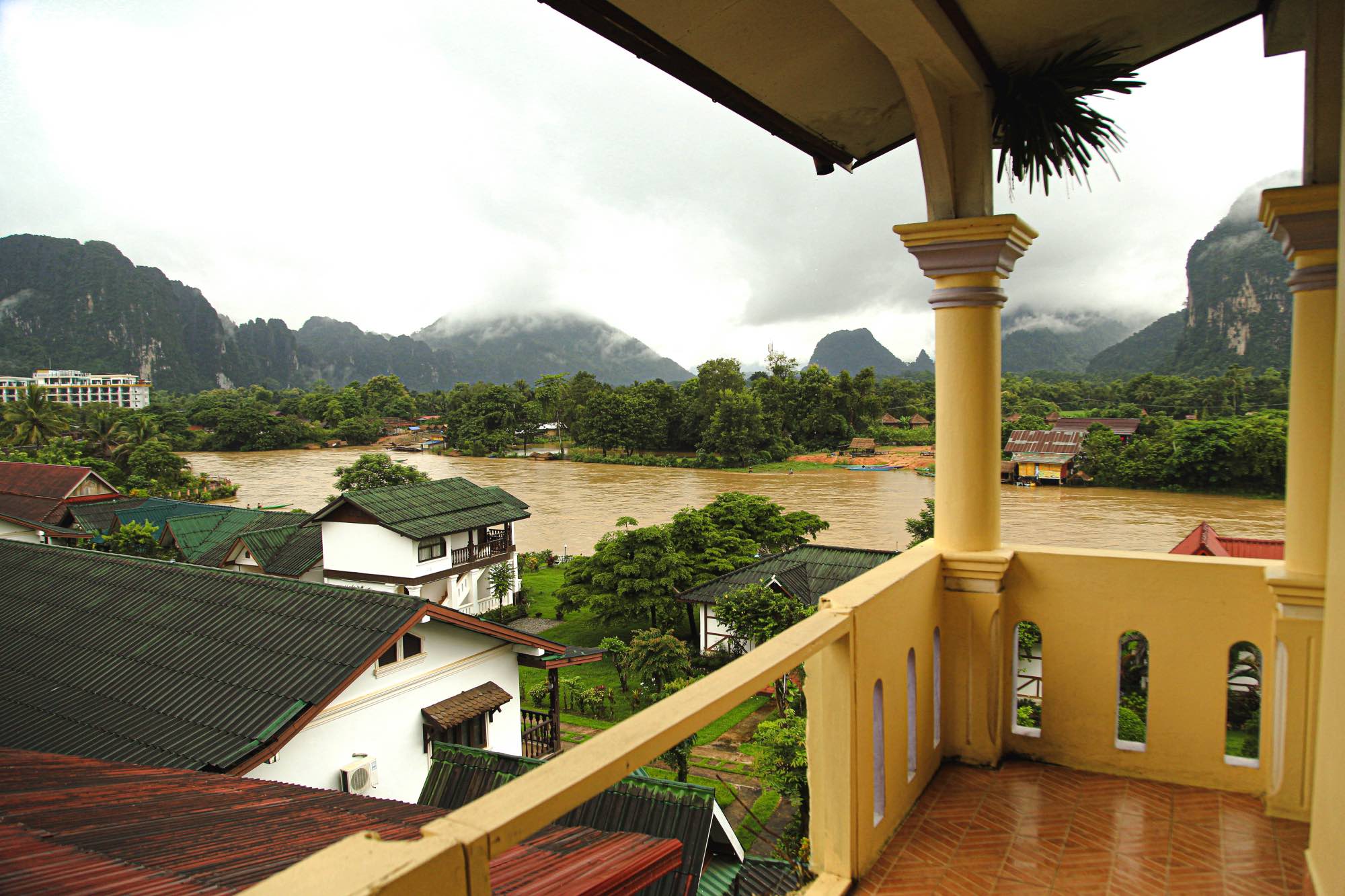 Where to Stay in vang vieng
We stayed at the Riverside Boutique Resort Vang Vieng and loved it. I spent a whole day lounging at the pool and enjoying the spa. A great hotel in Vang Vieng.
For a larger and more in depth guide of Vang Vieng hotels and where to stay in Vang Vieng ↓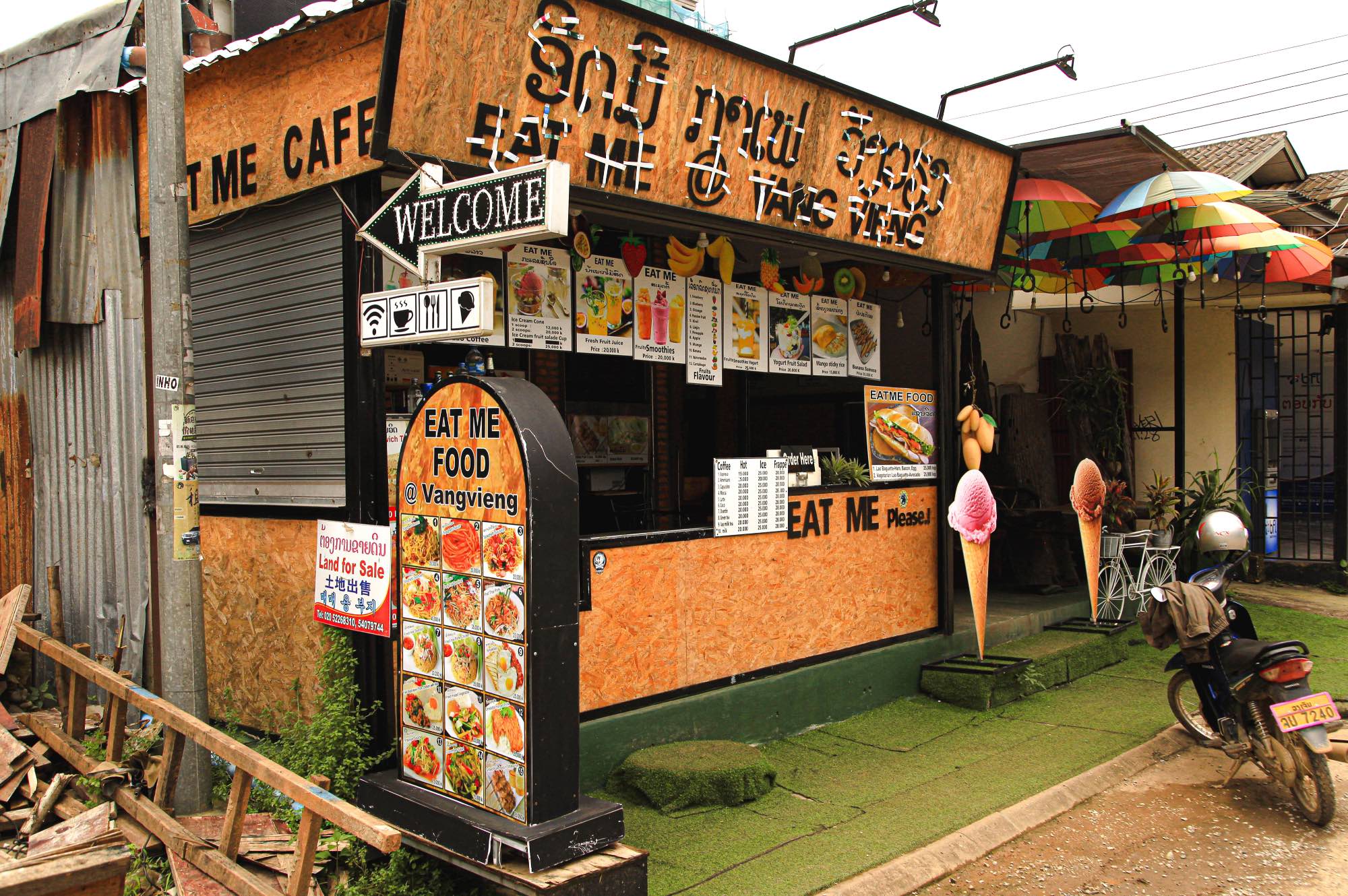 Where to Eat in Vang Vieng
Vieng Vang is a small town but there are a few good options for when it comes to food. My favorite restaurants in this town are Nazim Indian. We also really enjoyed Pizza Luka and the Space Bar Vang Vieng.
If you're looking for Vang Vieng nightlife and more places to eat ↓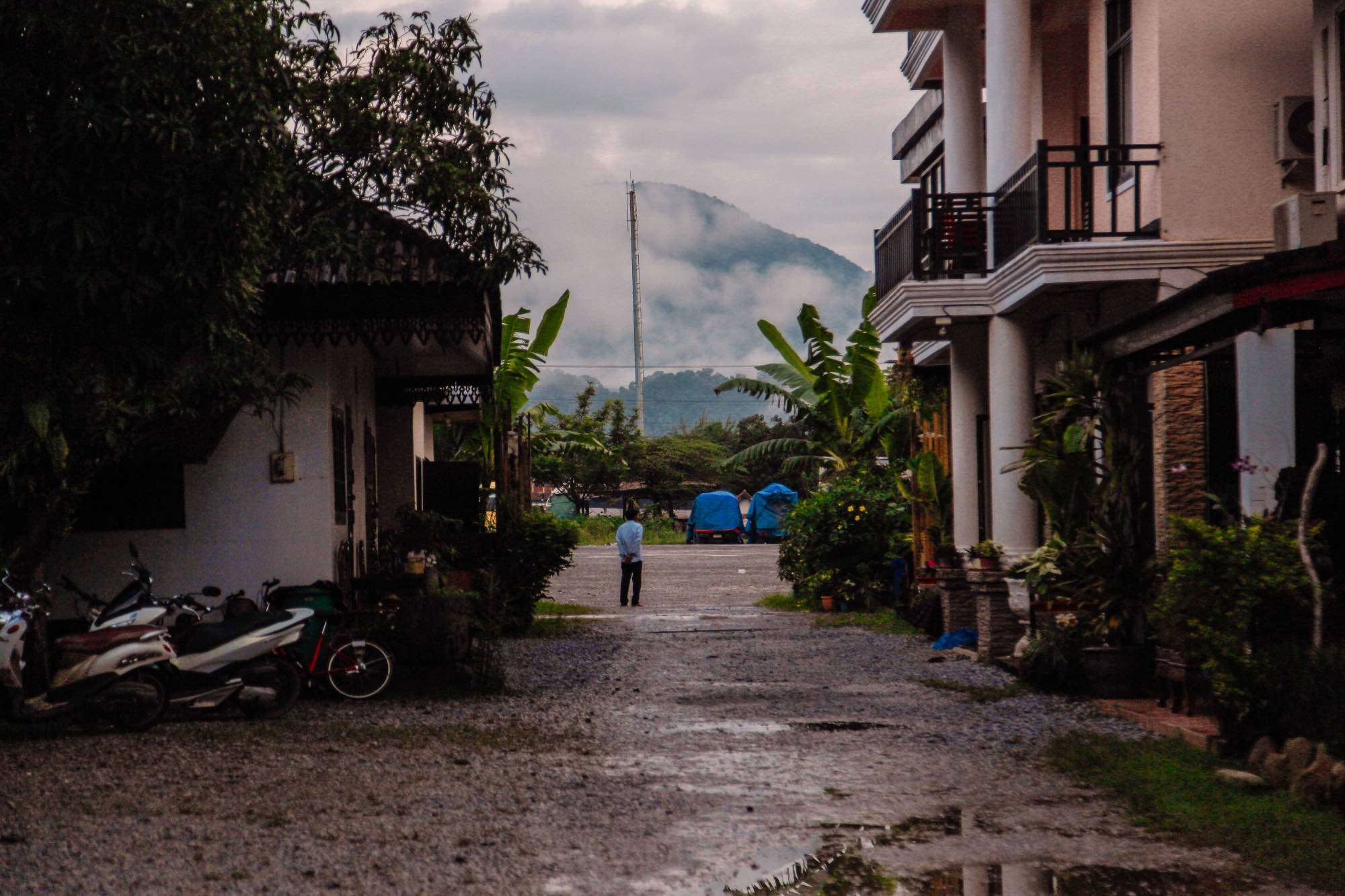 This is the main reason that backpackers flock here. This attraction used to be a giant 'rager' at all times. You rent a tube, get dropped off a couple miles north of town.
You will then float down the Nam Song River getting lassoed in by people so you can come to there bar along the river and drink.
Rope swings and slides used to dot the riverbanks but these have claimed a few lives over the years and have since been taken down.
Now only a few bars line the Vang Vieng river. Although its not the large production that it once was its still a highlights of most peoples trip to Vang Vieng.
You'll see many shops where you can rent a "dune buggy" and explore the area around Vang Vieng. Theres a 24 kilometer loop that has 4 different viewpoints to stop at and go for a hike.
I traveled here during rainy season so being on 4 wheels and romping through the mud made this activity much more enjoyable. I haven't played in the mud like that since I was a child and it was liberating.
It cost 400,000 to 600,000 KIP to rent the buggy. Choose quality over quantity, you'll be glad you it. It also costs 5,000 KIP per person to go to each different viewpoint. Most of the viewpoints require you to hike up to which leads me to our next topic.
I was looking forward to this when I was planning to travel here. Traveling here during rainy season made this adventure particularly difficult.
The Vang Vieng viewpoint(s) that I mentioned earlier are reached by climbing up the fairly steep limestone mountains. It rained every day of the week that we were here and this made the trails very muddy.
If hiking is a top priority make sure you come here during dry season.
This beautiful lagoon is a great place to go swimming. It has a rope swing that hangs over the water.
It's reached about 5 miles outside of town and is paired with the Phu Kham Cave . It's a short steep climb to get to the entrance of the cave. It cost 10,000 KIP to enter.
The most enjoyable cave is Pho Thao. The cave is full of stalagmites and stalactites and you can explore it for over a mile.
There will be times that you'll be in water up to chest deep so make sure you wear clothes that will be comfortable in the water. A dry bag is necessary to keep your belongings dry.
Rock Climbing in Vang Vieng
Vang Vieng is a popular destination for rock climbers. There are several tour companies that will take you out for half day and day climbs.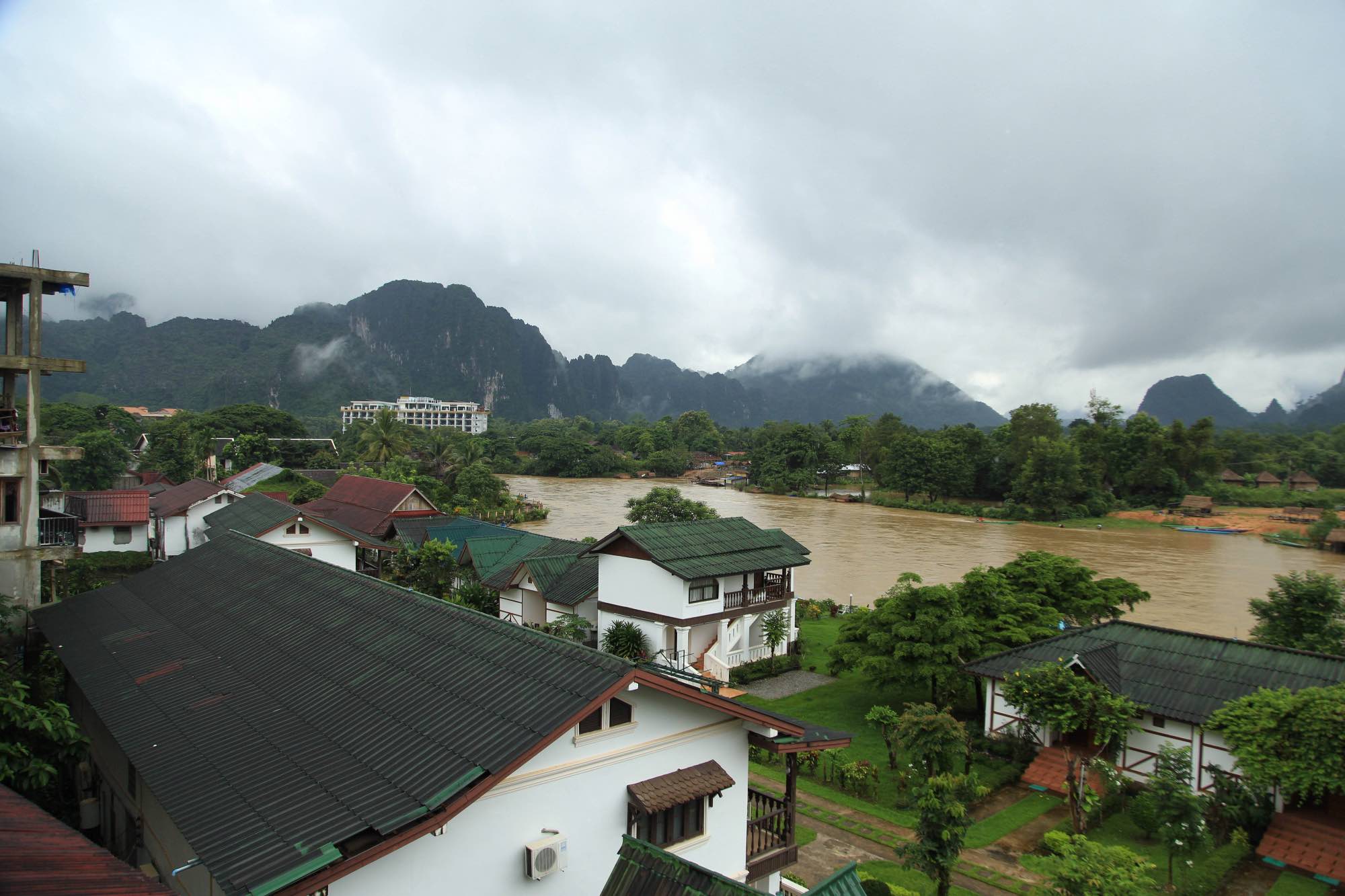 vang vieng travel guide survival tips
Prepare to be muddy the whole time especially if you travel here during rainy season.

I recommend traveling here during dry season.
It's a party town, don't try to fight it.

4 days will give you enough time to see everything, get your party on, and escape with

your dignity.
More Laos Travel Resources Below ↓
Enjoy this Post?!?! Pin in for Later ↓