I have had the pleasure of visiting Angkor Wat on 3 separate occasions and this quote sums exactly how I feel every time I visit Angkor Wat, at peace.
"If you are depressed, you're living in the past. If you are anxious you're living in the future. If you are at peace, you're living in the present."
– Lao Tzu
I'm exactly where I need to be at that exact moment. Angkor Wat is a magical place and one of my favorite places on Earth and located in one of my favorite coutries, Cambodia,
I think everybody should be visiting Angkor Wat at least once in their life to experience its magic . If you only have 1 day visiting Angkor Wat (which is NOT enough time) here is what you should do and how you should do it to get the most out of your day.
VISA: A Visa is required by most countries to enter Cambodia. You can get an E-Visa here before you go or get one on arrival. I always get one on arrival, it cost $20 and there are ATM's that dispense USD at the borders.
Purchase World Nomad's Travel Insurance. Safety is very important to me so I always have travel insurance when I travel, you should too.
READ The Ultimate Guide to Cambodia
ANGKOR WAT DRESS CODE: You must dress conservatively which means knees and shoulders covered on both men and women. Siem Reap has a hot tropical climate so I carry a sarong or wrap skirt that I can throw on when I am entering the temples and easily take off when I am not inside the grounds.
In order to enter Angkor Wat you must buy a 'Angkor Pass'. This will allow you to visit the temples and sites throughout the Angkor Wat Temple Complex. Passes must by purchased at the Angkor Wat ticket office at the main entrance on the road to Angkor Wat.
There are 1 day, 3 day and 7 day passes available and must be used on consecutive days. The cost for the Angkor Wat ticket are as followed. The Angkor Wat price is quoted in USD.
1 Day Pass – $37

3 Day Pass – $62

7 Day Pass – $72
Exploring Angkor Wat & Surrounding Temples
Visiting Angkor Wat and it's surrounding temples is a highlight of many peoples "travel" careers. I know it is one of my favorite memories.
The best way to see Angkor Wat is by hiring a tuk tuk to drive you around to all the temples throughout the day. You can hire a driver all day for $30-40. Splurge on the $40 as most are knowledgeable and knows how to beat the crowds. It will become your own private guided Angkor Wat tour.
Okay, get an early start and wake to to experience sunrise over Angkor Wat. Yes it's touristy and Yes it's crowded and Yes it's totally worth it!
No matter how crowded Angkor Wat sunrise is, it IS a breathtakingly beautiful sight. If you stay long enough, you'll be able to get a shot without people in it. The photo pictured above was taken with my iPhone 5 back in 2016!
Once you've got your sunrise shots, instead of going inside to explore Angkor Wat Temple, have your tuk tuk drive you to Ta Prohm or as most people know it, the Tomb Raider temple.
This is a very popular temple because of the movie and for good reason. Trees are over grown around the temple ruins and the sight instantly transforms you into a bad ass like Indiana Jones or Lara Croft.
So when everybody you rose with for sunrise is at Angkor Thom (typically the next stop on the 'typical' route), you are at Ta Prohm exploring these ruins and avoiding all the crowds.
Next temple you'll go to is Tak Keo. This is the tallest temple standing over 70 feet tall. Stairs are steep and narrow but the views are worth it.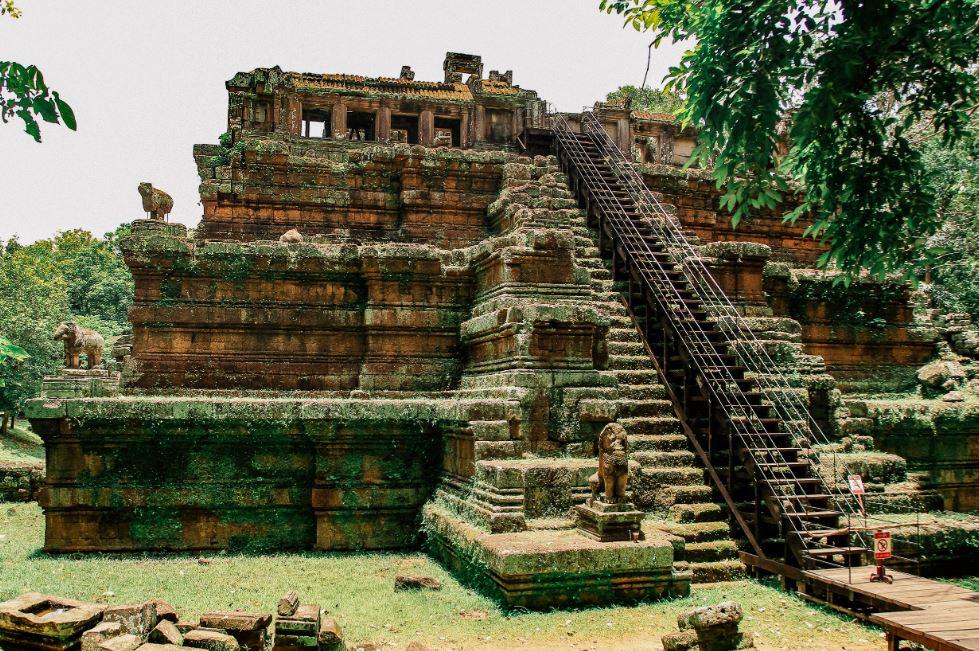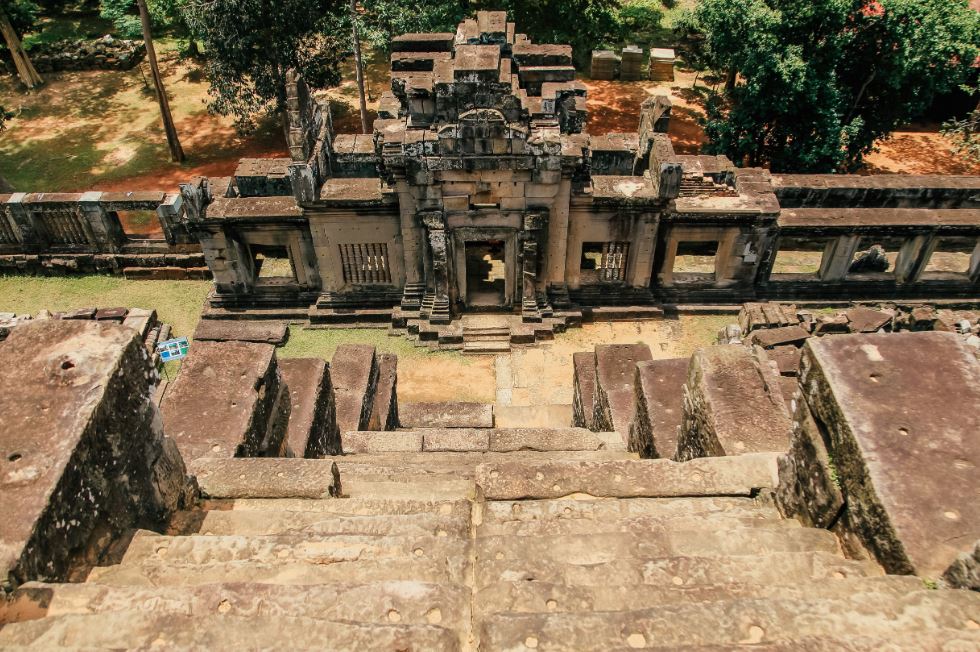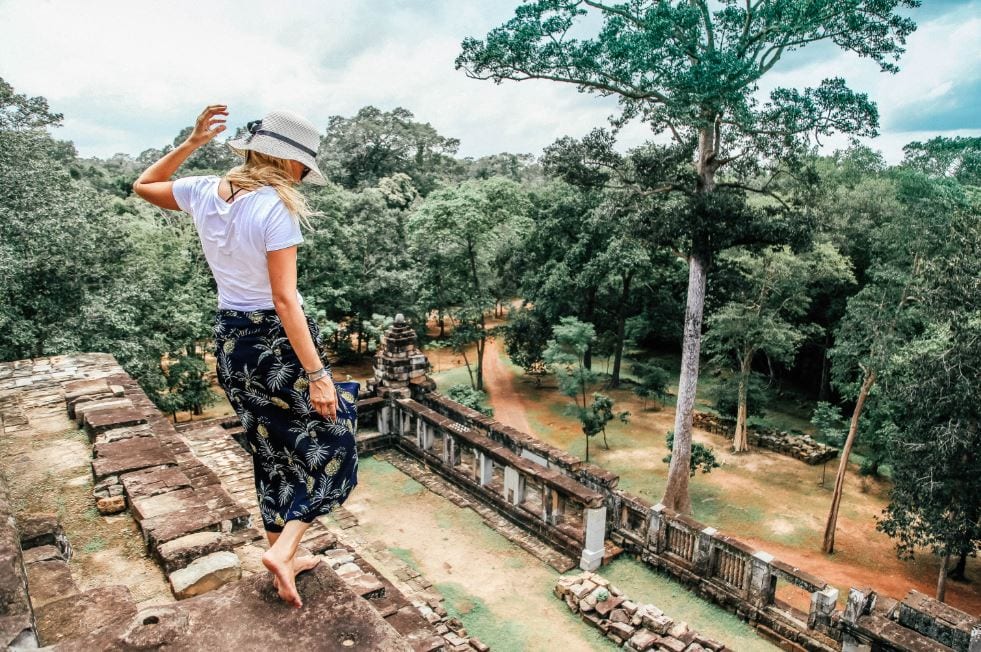 After you'll go to Preach Khan a small temple close to the side of the road. Quick and easy to explore.
Onward to Angkor Thom the largest complex of Khmer ruins. Angkor Thom contains the iconic Bayon Temple with hundreds of faces covering the pillars. Make sure keep a look out for the face that you can get up close and personal with. It's located on the top level.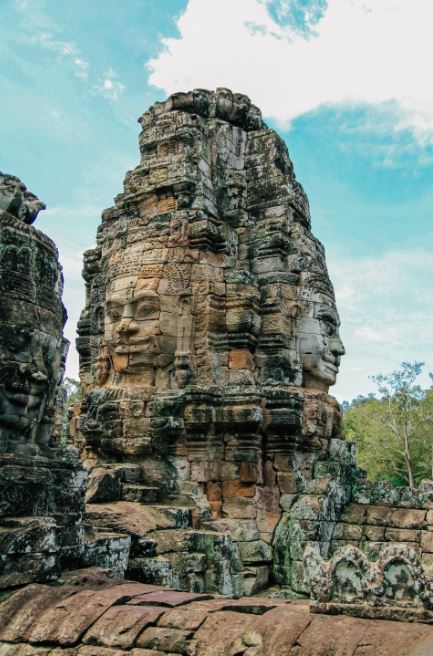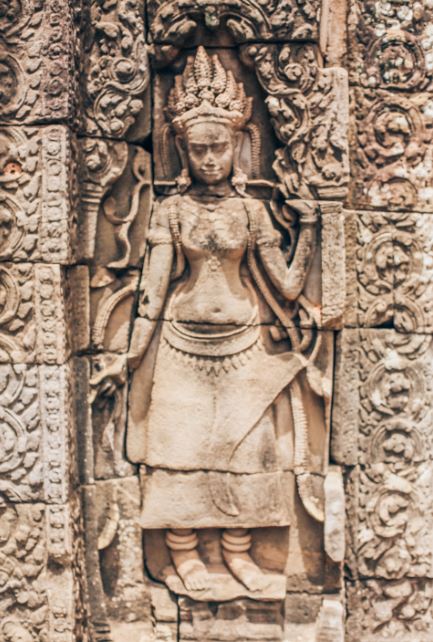 After Bayon, continue across the street and follow the path through the woods that will take you to the elephant terraces. Hardly anyone goes there so that's always a plus. Don't forget to stop at the South Gate of Angkor Thom when you are leaving as it's one of the most instagramable spots in Cambodia.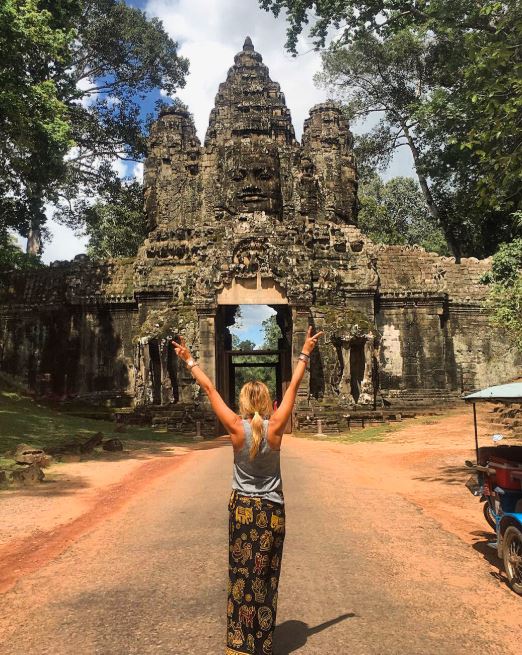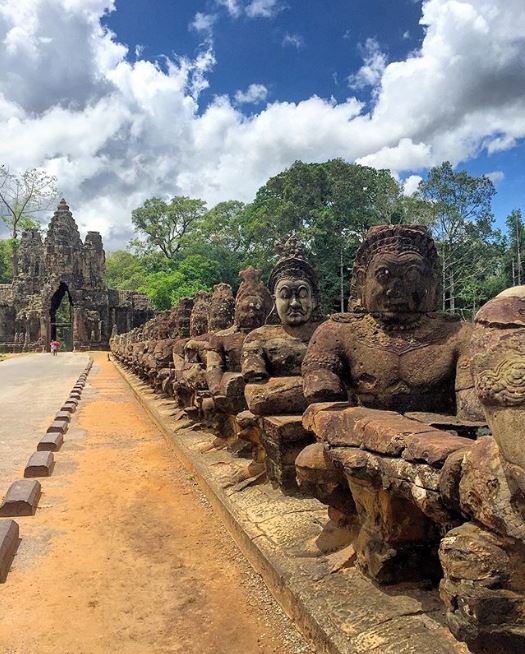 Finally, since you've taken the backwards route and saved the best for last… visiting Angkor Wat. The most famous complex of all. Crowds should be thinned out by now cause it's the hottest part of the day and it will probably look like it's about to rain in an hour especially if you're traveling here during monsoon season.
Take your time and explore every nook that Angkor Wat has to offer. Imagine what it looked like when it was most thriving and how powerful that it used to be and still is. My favorite part are the south side walls.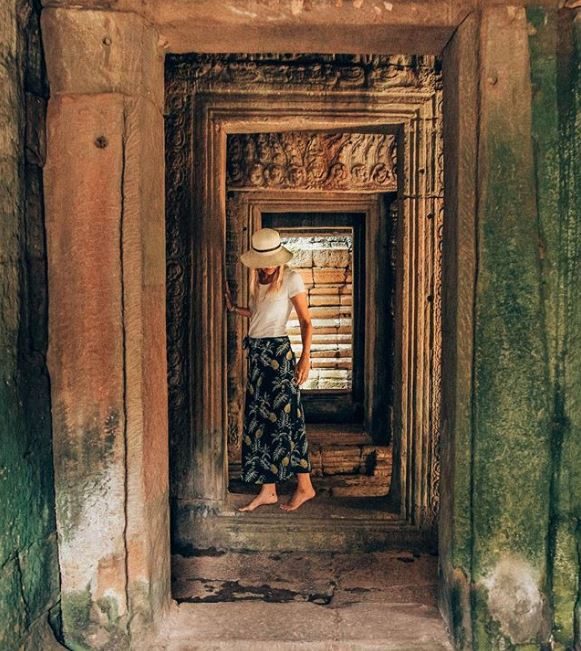 More Temples to Check Out While Visiting Angkor Wat
If you still want to squeeze more temples in, head back out with your tuk tuk to explore a few of the outer temples that get missed more often than not. Prae Roup is a good one for sunset, Near Pean is a small temple is surrounded by a lake, or Ta Som which has a tree overgrown on the east entrance.
Where to Eat when Visiting Angkor Wat
Since you're not far from Siem Reap head back to town to grab a late lunch/early dinner. Try Easy Speaking located on pub street. They serve a bomb breakfast from 7-12.
They also offer Cambodian barbecue where you choose your meats and sauces. and Cambodian favorites. A full page of desserts and a drink menu to match. It's a bit more expensive than most but your paying for the location and vibes. Perfect place to people watch and enjoy the all day happy hour.
Or Khmer Taste, they have a large menu with classic Khmer food along w some western dishes if you're craving some comfort food. Staff is friendly and efficient, prices are cheap, food is on point and a great atmosphere. Try the Amok with fish tossed in lemon grass, noni, basil served in a banana leaf.
If you're craving Mexican food check out Viva. Locataed just off Pub Street. Try the new chimichanga complete with french fries inside. Best Mexican food is Siem Reap. And icing on the cake is that they have cloth napkins!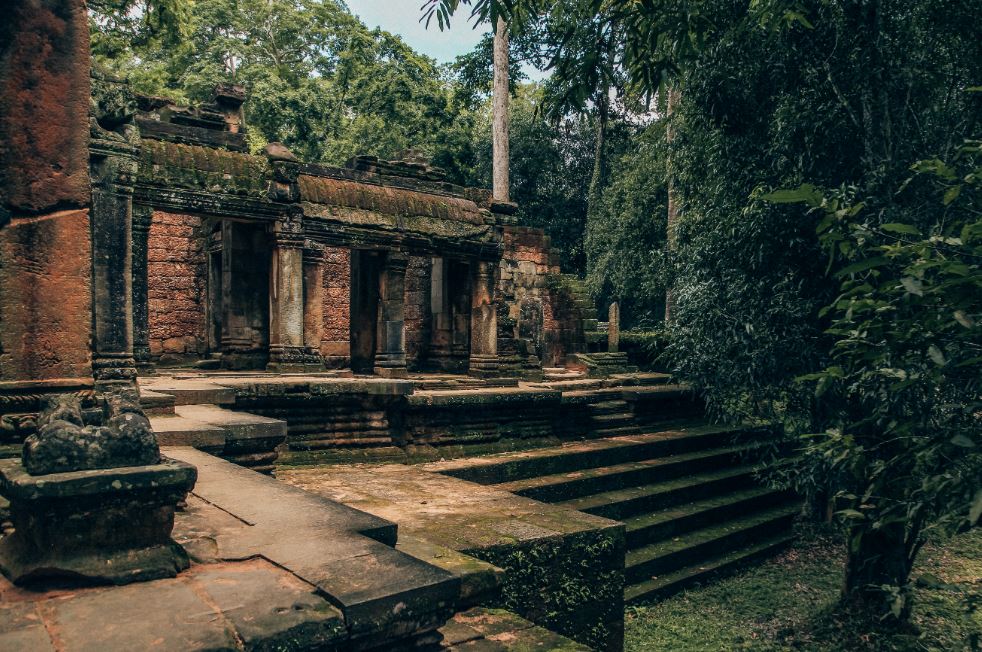 If you don't already know, Cambodia is one of my favorite countries. Every time I visit Siem Reap Joe and I make sure we stay at Saem Siem Reap Hotel at least for a night during our stay. We LOVE this hotel. Budget luxury at its finest.
Located only 15 minutes from the Angkor Temples and 5 minutes from pub street via tuk tuk this hotel has the perfection location for luxury and relaxation. The breakfast buffet offering anything everyday should be reason enough to stay here if the amazing pool doesn't sell you first. By far one of the best pools in Siem Reap.
It's a hidden gem. The staff who are polite and proper only add to the elegance of the hotel. Prices are very affordable and you will not be disappointed. We stayed in a pool level suite for only $39 a night. #Goals!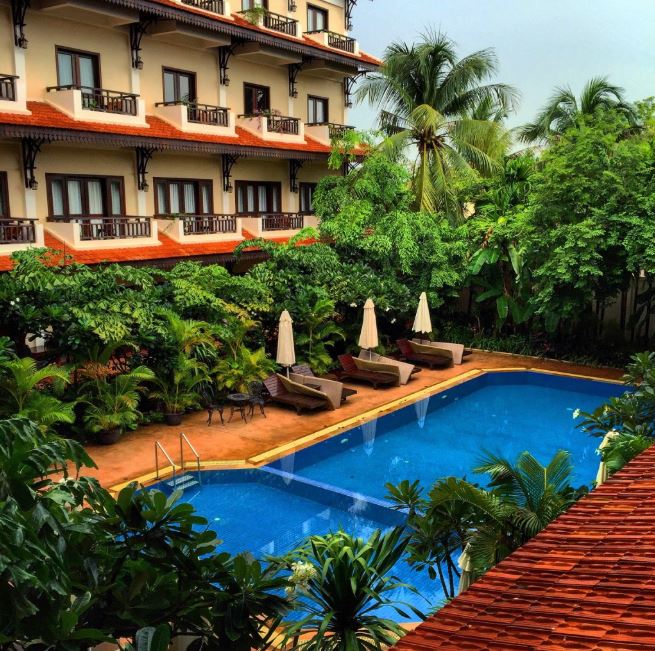 Hands down Seriously one of my favorite hotels, I stay here every time I visit Siem Reap!
Siem Reap does not have a shortage of hotels so finding one that suits your needs will not be a problem. For a bigger selection of hotels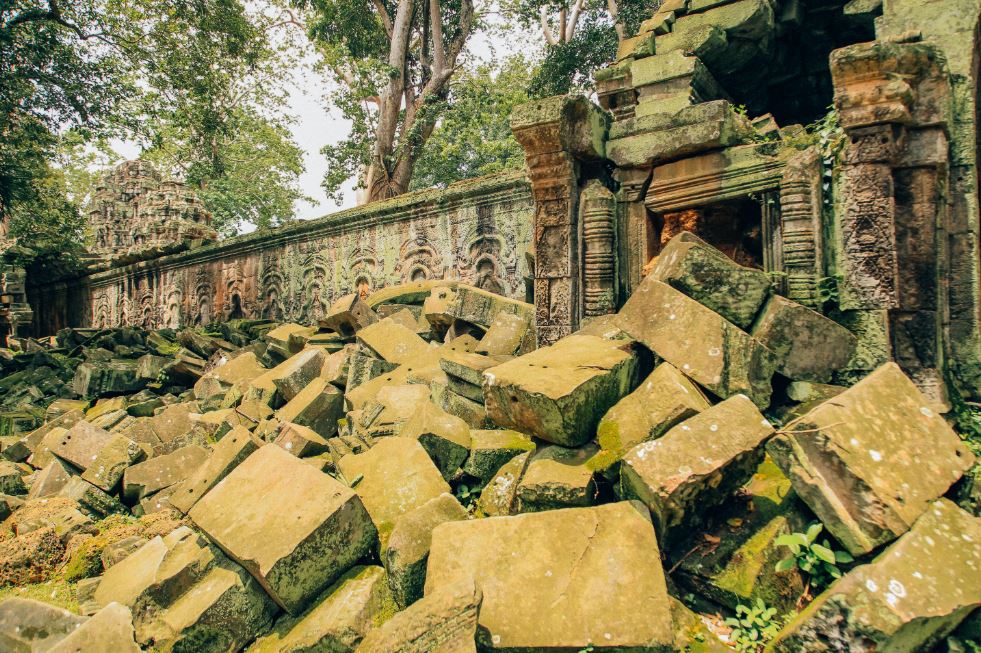 Tips While Traveling through Angkor Wat
To visit the Temples you must have your knees and shoulders covered. Bring an appropriate dress or buy a sarong to where over your shorts.

ATMS

are widely available throughout Siem Reap.
More Cambodia Travel Resources Below ↓
Enjoy this Post?!?! Pin in for Later ↓