If you are visiting Pamukkale, Turkey chances are the number one reason you're here is to explore the Travetine Pools aka the Pamukkale Cotton Castle.
These natural thermal pools are one of the most stunning natural wonders in Turkey. Imagine terraced pools filled milky, light blue waters amidst a chalky white background. It's pretty dreamy.
Located in western Türkiye, Joe and I had to pleasure to experience the cotton castle in Pamukkale in October, which is considered the shoulder season for Turkey. In this post I'll go over a few tips to know before you visit the Pamukkale pools and let you know what to expect.
For full transparency, I have sprinkled some affiliate links in this post.  As an Amazon Associate I earn from qualifying purchases that gives me a small commission at no extra cost to you if you decided to make a purchase.  As always, I would never recommend a product or service that I didn't truely believe in.  All proceeds go to keep Jess traveling and coffee ☕️.  I thank you in advance.
Would you rather see exactly what it's like? Check out the travel vlogs we filmed our three days in Pamukkale.
What is the Pamukkale Cotton Castle?
You may think that the cotton castle got its name because of how it looks. Well, you'd be right because Pamukkale actually means "cotton castle" in Turkish. The name refers to the shimmering, white limestone that the Pamukkale cotton castle is made up of.
The travertine pools or shall we say Turkey hot springs are made of a sedimentary rock deposited by mineral water from the hot springs. This rock is known as travertine.
This natural site consists of 17 terraced hot springs with temperatures ranging from 35 °C (95 °F) to 100 °C (212 °F). The travertine pools have been drawing in travelers for centuries. Dating back to the time between the 8th century BC and the 6th century AD.
The site became a healing centre where doctors used the hot thermal springs as a treatment for their patients.
In 1988 Pamukkale Cotton Castle and Hierapolis were declared a UNESCO World Heritage Site.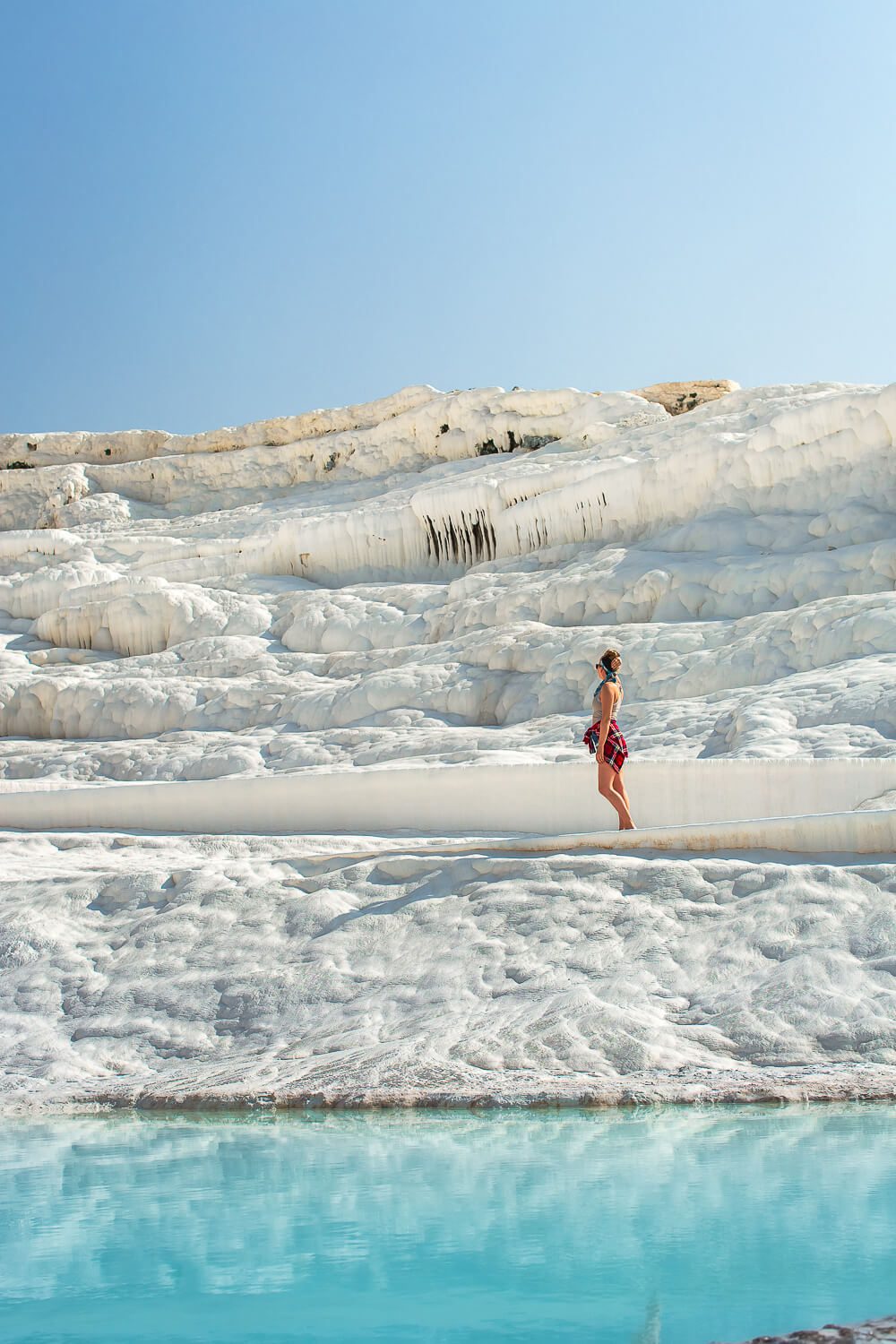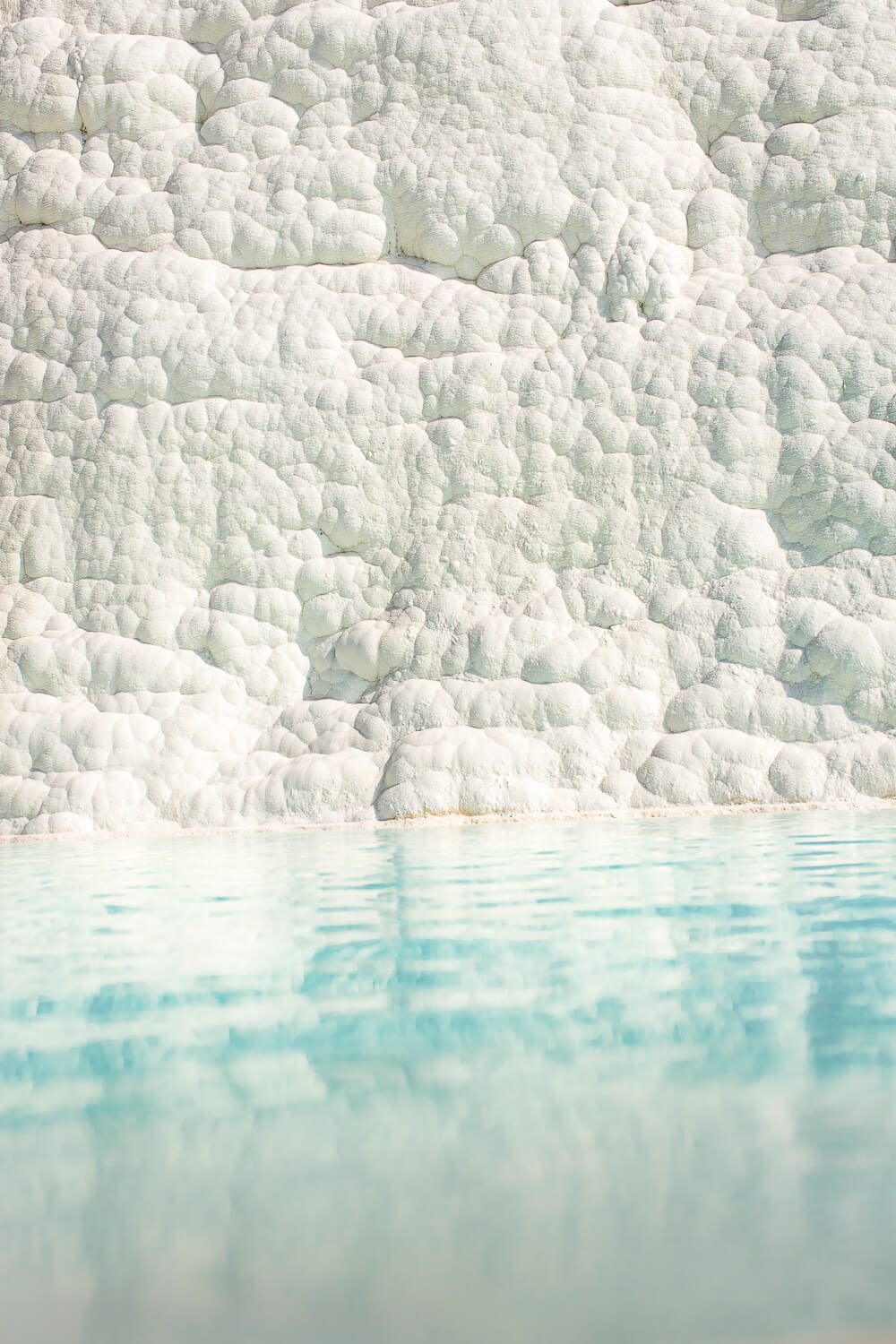 What to Expect at Cotton Castle Pamukkale
Pamukkale Cotton Castle Opening Hours: Gates to the Pamukkale pools open at 8 am and closes at 7 pm. There are two entrances at the cotton castle Turkey – the North Gate and the South Gate.
If you want to avoid the crowds, start at the South gate and work your way up. Tour busses drop off visitors from the North entrance starting at around 9-930.
If you want to experience the Pamukkale thermal pools with fewer people, it is imperative that you get here when the gates open. Better yet, stay the night in Pamukkale so you can wake up and walk to the entrance at opening time.
Entrance fee is 200 Lira plus 75 Lira if you want an audio guide. The audio guide would be useful and interesting when you explore Hierapolis after the thermal pools. The entrance ticket includes the travertine pools and the ruins of Hierapolis. Entry to swim in the Cleopatra Pools costa extra.
Once at the Turkey travertine pools, your shoes must be removed before you enter. At first glance, you may assume that the white rocks will be slippery but it's the exact opposite. The chalkiness of the rock actually makes the ground quite grippy with your feet.
The Cotton Castle is stunning, the name represents itself well as it looks exactly like a Cotton Castle. There are 17 pools that cascade down into each other. As you make your way up, the closer you get, the more crowded it becomes.
You can swim in the Pamukkale pools so make sure you don't forget your bathing suit.
It takes about 45 minutes to walk from the South gate to the North gate. There are several food vendors and shops once you reach the top. There's also vendors renting giant, feather wings for the "customary" instagram photo – if you're into that.
From here you can start to explore the ancient city of Hierapolis. Hierapolis is one of the best things to do in Pamukkale besides the travetines of course. Here's a quick idea of what you'll get to see in Hierapolis.
Hierapolis Theater
Temple of Apollo
Pamukkale Antique Pool
Hierapolis Museum
Ruins of the Church of the Sepulchre of St. Phillip
Necropolis Tombs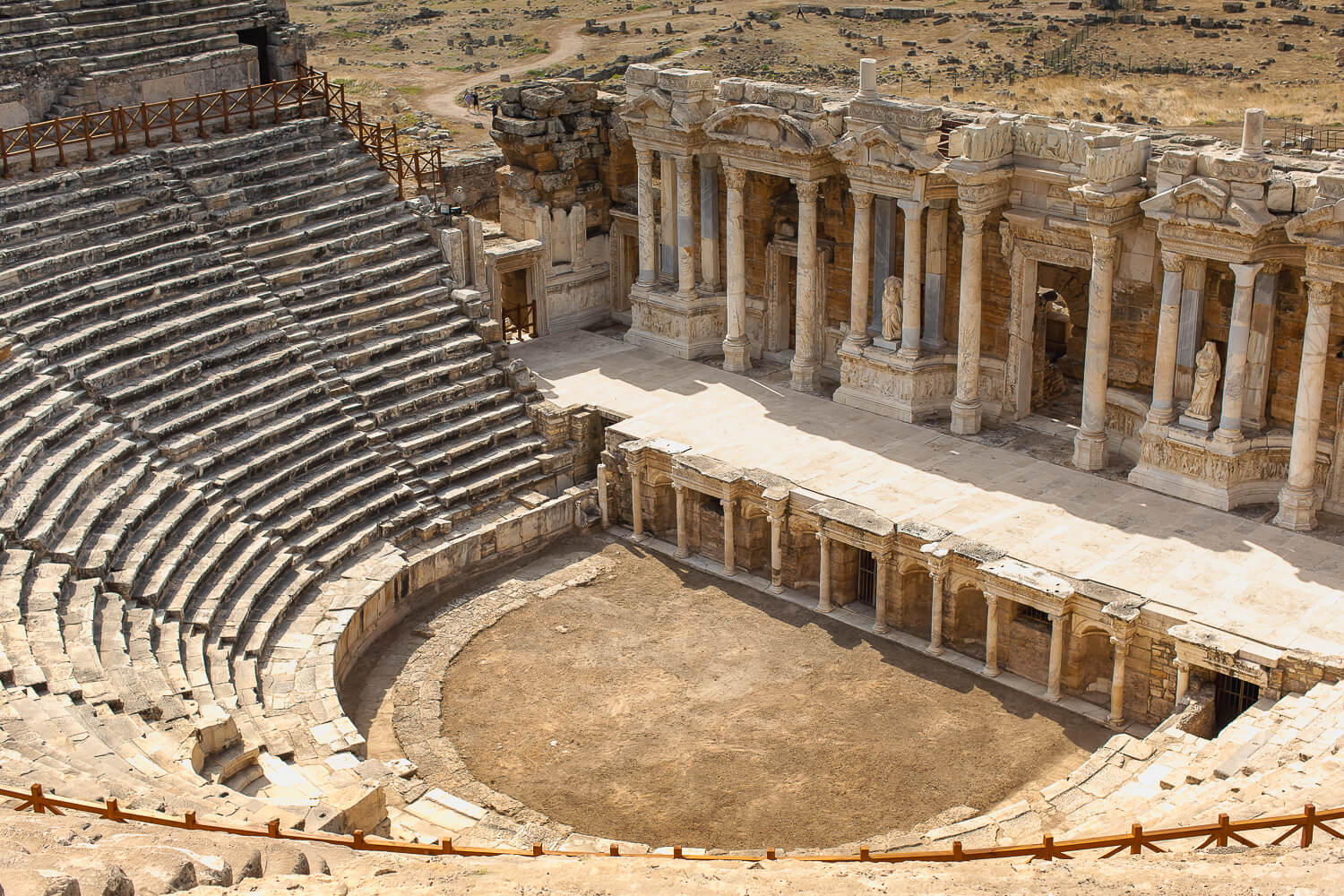 Pamukkale Cotton Castle Tours
If you don't have enough time to visit Pamukkale Cotton Castle independently then you'll want to visit Pamukkale on a tour. Here are some highly rated tours to check out.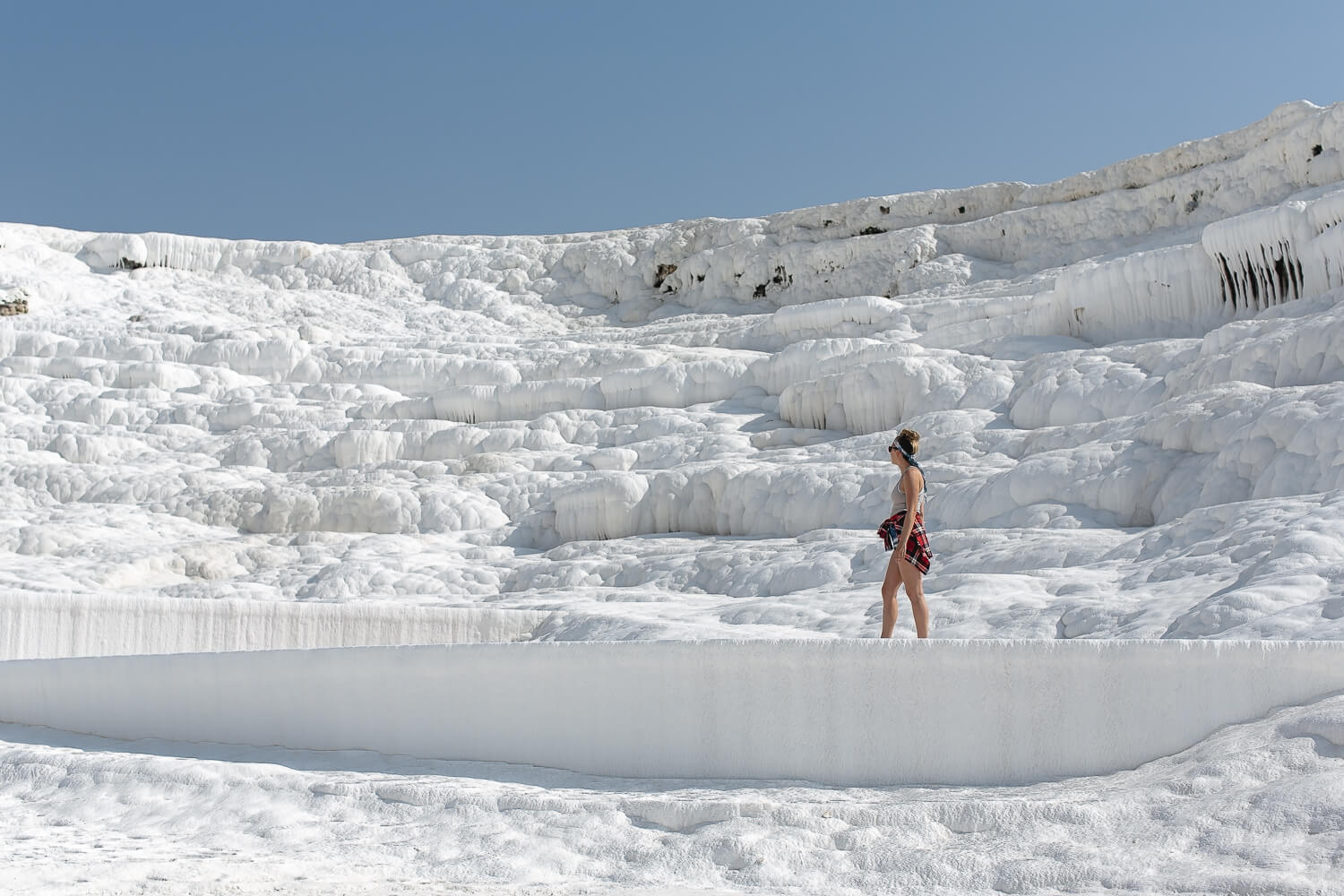 Tips to Visit the Cotton Castle
Pamukkale Turkey
Gates open at 8 am and close at 7 pm. Come early or late to avoid large tour groups.
Stay over night in Pamukkale to avoid crowds as most people come to Pamukkale on a day trip from Izmir.
Don't forget the sunscreen, it's hot.
It costs extra to swim in the Antique Pools.
You can visit Pamukkale and Hierapolis in half a day.

Bring a swimsuit and small towel to dry off with.
Wear slip on slip off shoes.
Other Things to do in Pamukkale
Visit Hierapolis.
Eat at the White House.
Where to Stay in Pamukkale
There are a handful of hotels in Pamukkale to choose from if you plan to stay the night.
Budget Hotels in Pamukkale
Ozbay Hotel – Budget hotel located a stones throw away from the travertine thermal pools. Great value for your money.
Mid Range Places to Stay in Pamukkale
Venus Hotel – A family run hotel with a gardened courtyard, swimming pool and Turkish breakfast.
Luxury Hotel in Pamukkale
Pamukkale Whiteheaven Suite Hotel – Located centrally in Pamukkale about 500 meters from the South entrance of the thermal pools. This hotel comes with a tasty breakfast and a pool.
There are a three different ways to get to Pamukkale. By car, bus or plane.
The easiest and quickest way to get to Pamukkale is to fly. The closest airport to Pamukkale is Denizli, which has direct flights several times a day from both of Istanbuls airports.
The cheapest option is taking the bus. From Istanbul it's a grueling 11 hours to Pamukkale. From Cappadocia to Pamukkale its 12 hours overnight and there are no lay down seats. From Izmir to Pamukkale its about a 4-5 hour journey.
We made the mistake of taking the bus from Cappadocia to Pamukkale. You can watch the journey here.
Renting a car in Turkey is the most convenient option. Joe and I rented a car twice while we traveled through Turkey and those days were always our favorite because we had more freedom.
Turkey Travel Tips
📍Plan your Trip

🗺 How long to travel Turkey?  2 Weeks to hit the highlights, 4 Weeks to really immerce yourself.

🛂 Visas: Get your E-Visa

☔️ Best Time to Visit:  April, May, September and October are the best months to travel Turkey.

💰 Average Daily Budget: Expect to pay 30-50 USD's a day for basic accommodations, sit down meals at a cafe and entrance fees.

⛺️ Turkey accommodation Guides

🪂 Highlights

Exploring Ephesus
Pergamon Ruins
Antalya

🧳 What to Pack: What to Pack for Türkiye

🎥 Watch our Turkey Series on YouTube

📧 Get on my Email list to see what I'm up to and all the best travel content!
Have you been to the Pamukkale Cotton Castle? Let me know in the comments below!
Enjoy this Post?!?! Pin in for Later ↓