One of the best things to do in Hana is go cliff jumping and swimming at the Waioka Pond. The Waioka Pond is most commonly referred to as Venus Pool is a stunning tide pool in East Maui.
Located in a lush tropical valley surrounded by rugged volcanic hills, you can take a dip in the natural pond to cool off from the warm Hawaiian sun. Better yet, jump into the pond. Cliff jumps range in heights of 10 up to 40ish feet, so this activity on Maui is geared towards the thrill seekers.
In this article, I'll go over all over the information you need to know about exploring Waioka Pond, tips to know before you go and list other awesome things to do nearby the Venus Pool. At the end of the post, I'll link some useful guides that will aid in your trip to Maui. I've lived here for over 12 years just so you know you're getting all the best tips from a local.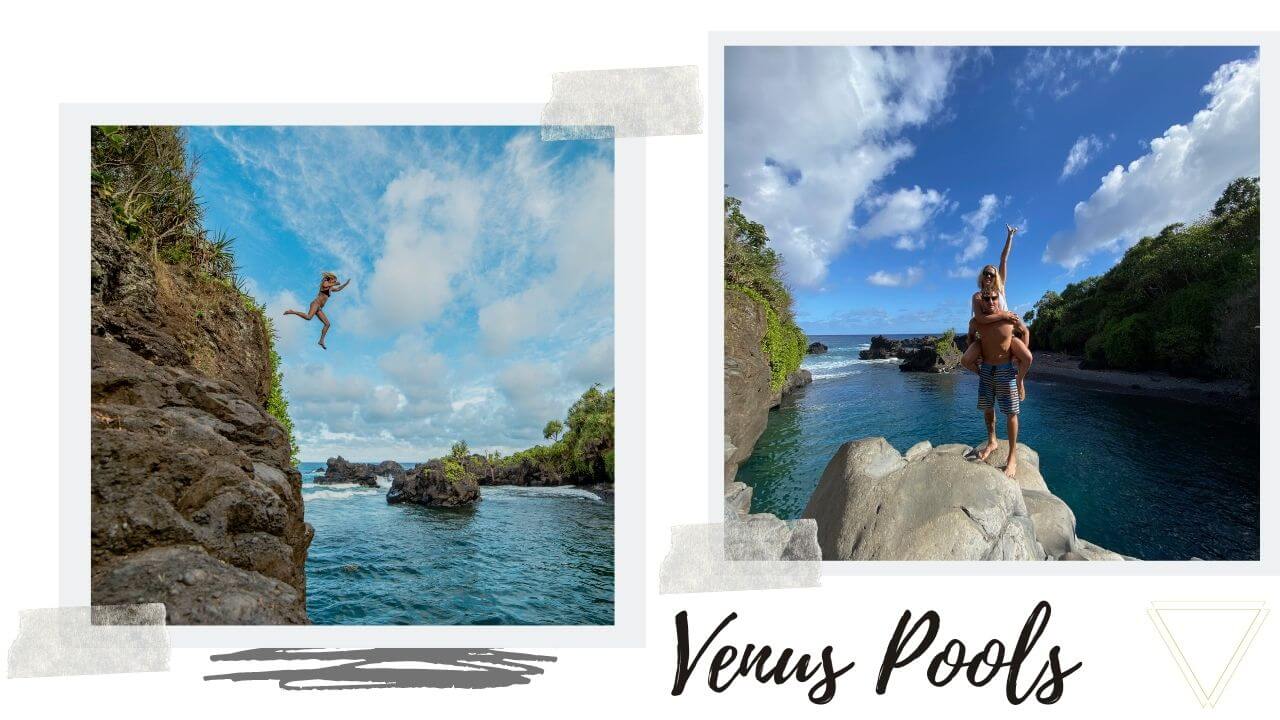 For full transparency, I have sprinkled some affiliate links in this post.  As an Amazon Associate I earn from qualifying purchases that gives me a small commission at no extra cost to you if you decided to make a purchase.  As always, I would never recommend a product or service that I didn't truely believe in.  All proceeds go to keep Jess traveling and coffee ☕️.  I thank you in advance.
The term Waioaoaka, which appears on old maps of the region and, according to one translation, means "open mouth of fresh water," is thought to have been shortened to become Waioka.
Waioka Pond are natural tide pools formed by a combination of wave action and wind erosion. Over time, the waves and wind have carved out a series of shallow pools, coves and inlets in the bedrock of the coastline.
You can find these natural tide pools all along the coast of Maui and in my opinion Venus Pool is the best. I say this because, the Waioka pond is deeper than most making it easier for swimming.
Two, the pond is quite large as well, plus there's an ample size rock/pebble beach separating the pool from the ocean. Basically the pond is tucked behind the cobble stoned beach. This provides for a relatively smooth swimming area. When you are swimming around you can see the waves crashing against the shore.
Waioka Pond is also a great place to go cliff jumping in Maui. There are several rocks that you can launch off of ranging in different heights. The highest being upwards of 30 feet! You could easily spend an entire afternoon here which is one of the reasons I always suggest staying a night or two in Hana.
How to Get to Waioka Pond (Venus Pool)
The Venus Pool is located in a remote area of Maui. There are two ways to reach Waioka Pond – driving the road to Hana, one of the most popular things to do in Maui, or get off-the-beaten path by driving the backside road to Hana.
If you are driving the road to Hana, Venus Pools are located after the town of Hana at mile marker 48. If you are driving the backside road to Hana, you'll reach the tide pools a lot quicker than the previous mentioned route.
Chances are, you'll probably see a handful of other cars parked along the side of the road. There's no parking lot or the sort so make sure you are pulled as far off the side of road as possible, do not park where there is no parking signs or block people's drive ways.
📍 Travel Tip: Kapu means keep out. It's not uncommon to see this word on signs posted in the area.
Once you have parked, you'll see a fenced field. Wind through the gate and follow the path through the field to the woods. After a short 5 minute hike you will reach the Venus Pools.
Once you hit the tree line, there are several foot trails down to the pond. You should not try to reach the pond if you are not used to scrambling, climbing and off-trail hiking. Especially after a rain as the trail can get very muddy and one slip or misstep can cause serious injury.
Here's where the problem comes in with access to the Waioka Pond. Technically, the existing access trail is on Hana Ranch property, while the pond, coastline, and stream are on State property. All I'm going to say is use your best judgment and if you are told not to enter their property, abide by their rules.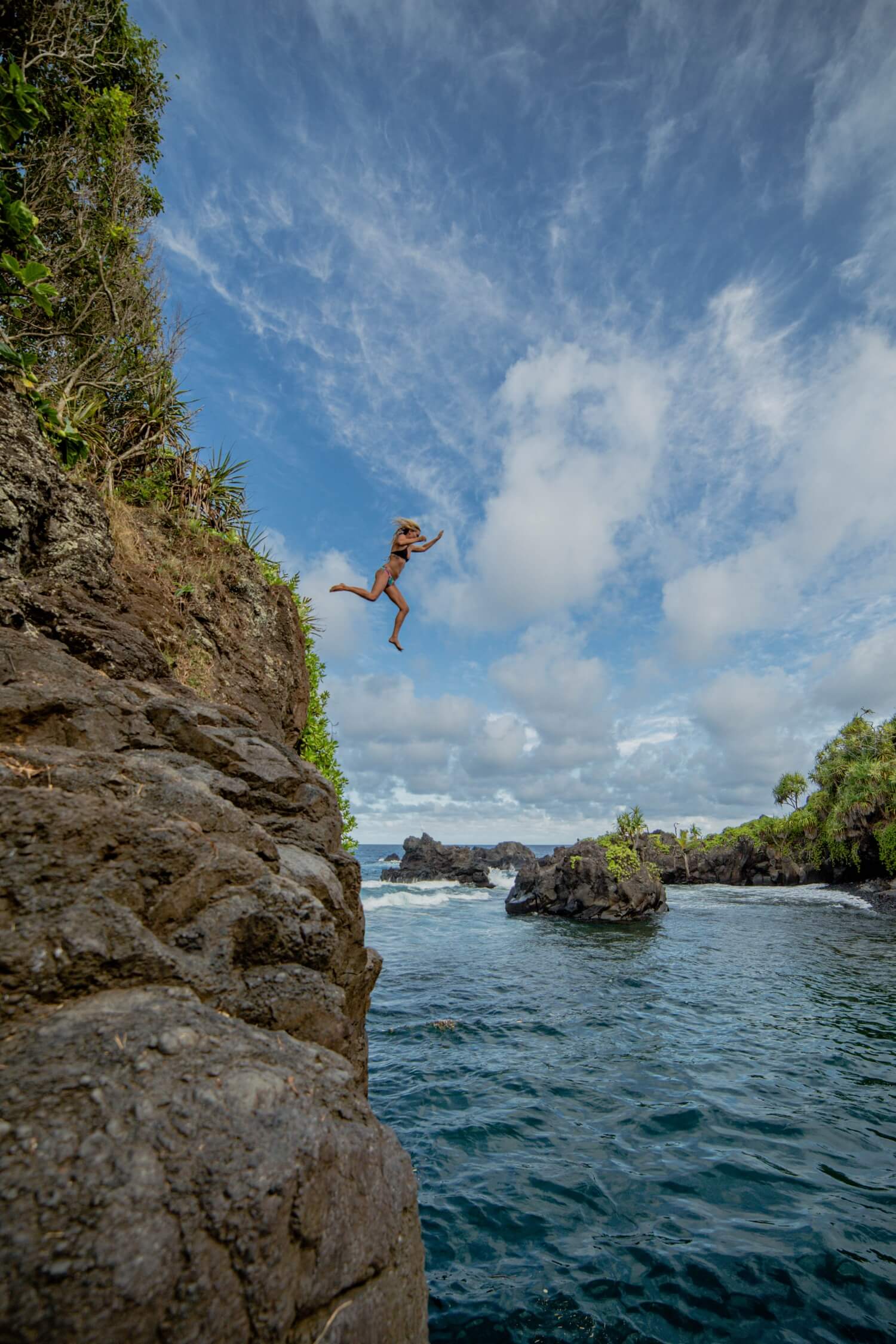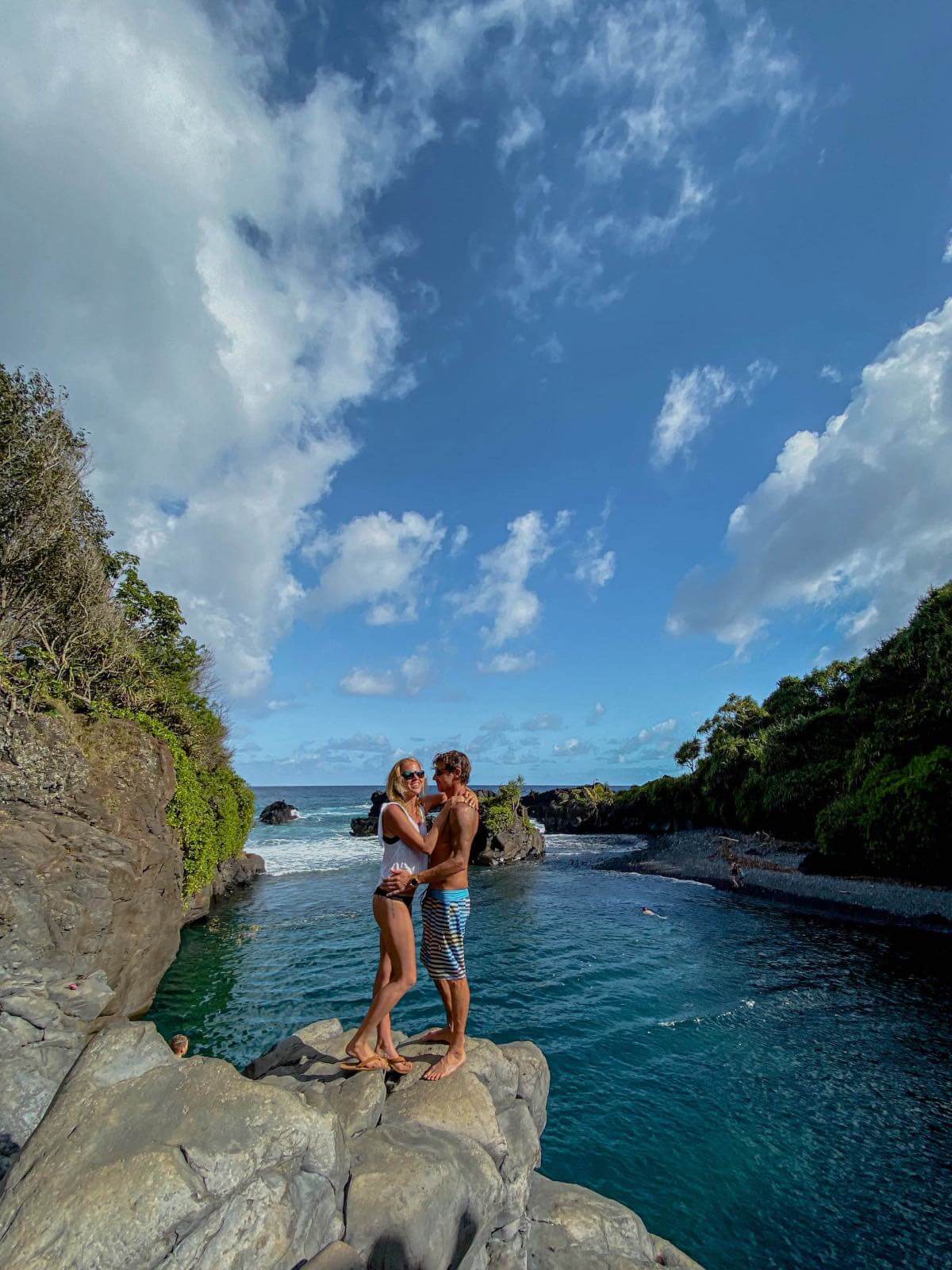 When to Visit the Venus Pool
If you plan to visit this top thing to in Hana in the afternoon expect crowds and no parking. It's best to visit this Maui attraction in the early afternoon around 11 or 12.
The best way to do this is by staying a night or 2 in Hana. This gives you one full day to drive the road to Hana without having to turn right around and rush back to your hotel.
Then the next day you have the day to explore all the fun things to do in Hana properly which includes cliff jumping and swimming at Venus pool. This helps you beat the afternoon crowds of the road to Hana day trippers and you can enjoy another Hana activity like hiking the Pipiwai Trail inside Kipahulu National Park, exploring Waianapanapa State Park or relaxing at one of Hana's pristine beaches.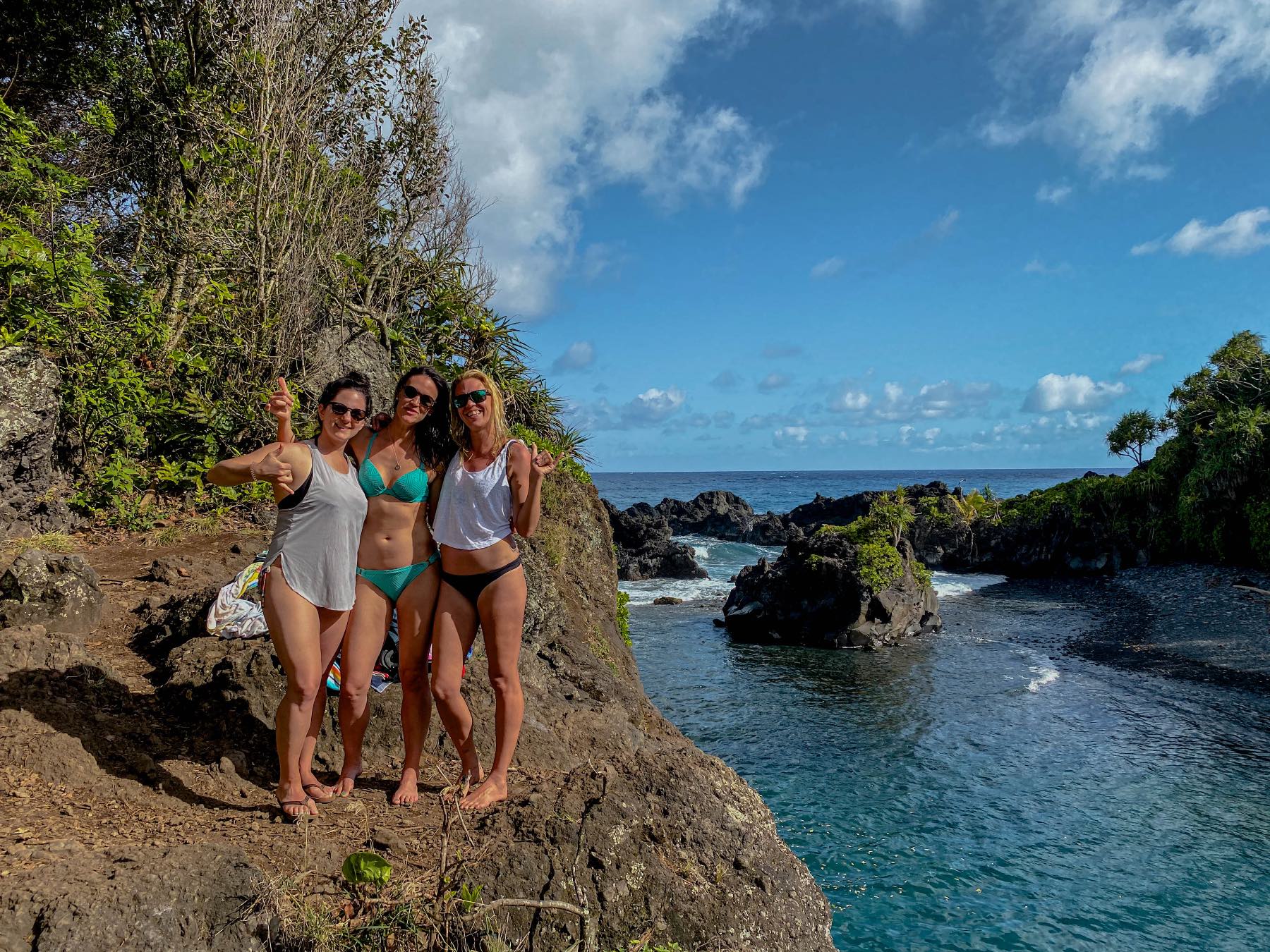 Tips for Exploring Waioka Pond
I can't write a post about Venus Pools and not talk about safety. Maui is one of the most beautiful islands in the world and its tropical climate can also make it a prime location for flash floods. You do not want to be at the Waioka Pond if a flash flood occurs.
Flash Floods occur when a large amount of rain falls in a short period of time, usually within 6 hours or less. The high amount of rainfall causes the water to flow quickly, creating a dangerous situation.
Flash floods can occur in Maui during rainy season, usually between October and April. Flash floods can cause serious damage and in extreme cases, lives. So it is important to be aware of the potential for flash floods at Venus Pool and take the necessary precautions.
Ability. As I mentioned earlier, having experience in scrambling big boulders, climbing up slippery rocks and off-trail hiking is highly recommended before going to this area. Don't attempt this during rains, trails can get muddy and one slip could cause serious injury.
Private Lands: The path through the field to the pond is private land. Don't block any nearby driveways or jut out into the road when parking.
Check for submerged rocks before throwing yourself off the cliff into the pools. Go for a scouting swim.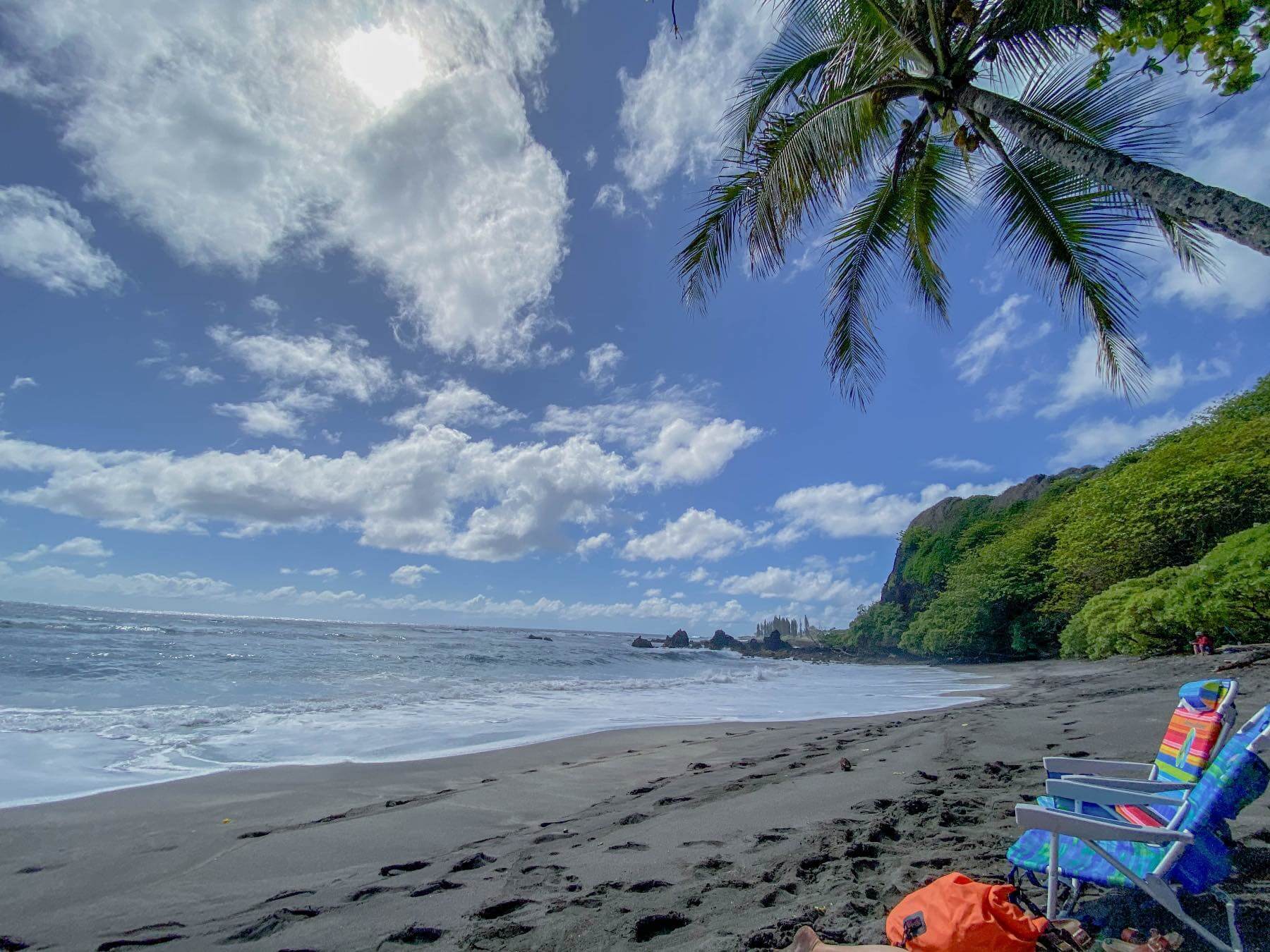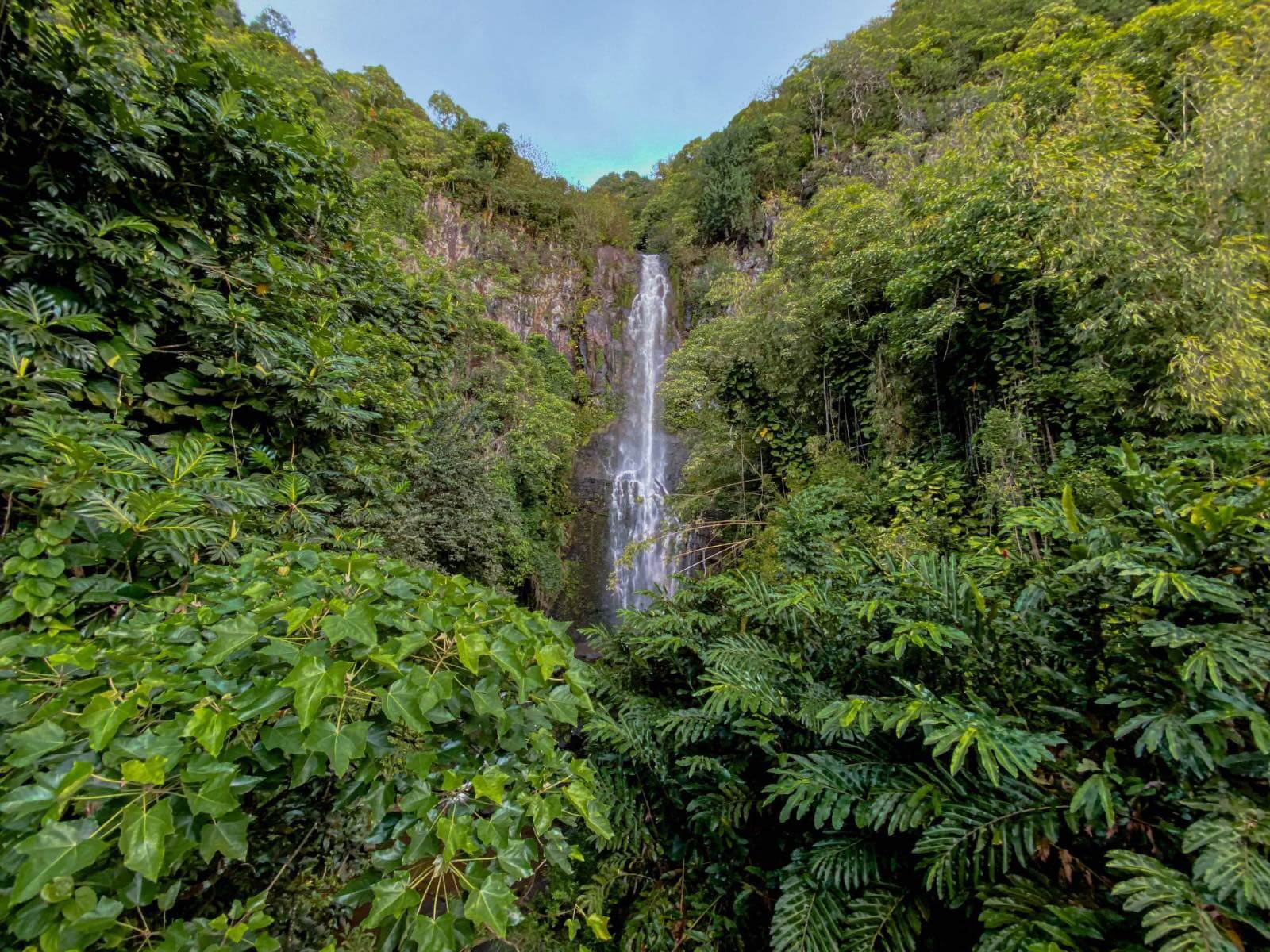 Other Things to do in Hana
Hana is a magical slice of paradise. There are several other things to do in Hana which I'll list below. If you want more details about a specific activity, just click on one of the blue links.
Hike the

Pipiwai Trail

to the 400 foot Waimoku Falls.

Seven Sacred Pools located inside Haleakala National Park.

Waianapanapa State Park – Maui's iconic black sand beach.
Hamoa Beach – A beautiful black sand beach.
Koki Beach – Good for surfing when there is waves.
Red Sand Beach
Hana Cultural Center
Wailua Falls – a stunning road side waterfall.
Have you been to the Waioka Pond? What was your experience?
Enjoy this Post?!?! Pin in for Later ↓