Looking for places to eat in Hana, Maui might be more of a task than you realize. Hana, Hawaii is a magical slice of paradise located on the eastern side of the island of Maui. Part of Hana's magic is seclusion in paradise. What Hana excels in adventure it lacks in food options.
You'll be tired after the long journey to Hana whether you went the original way along the road to Hana or drove the back way to Hana. And with awesome things to do like explore Haleakala National Park, cliff jump at Venus Pools or be in awe in Waianapanapa State Park you'll work up an appetite.
That's why I put together a list of Hana Maui restaurants so you can spend your time exploring hidden waterfalls (one of the best things to do in Maui on a budget) and less time deciding where to eat in Hana or should I say when to eat.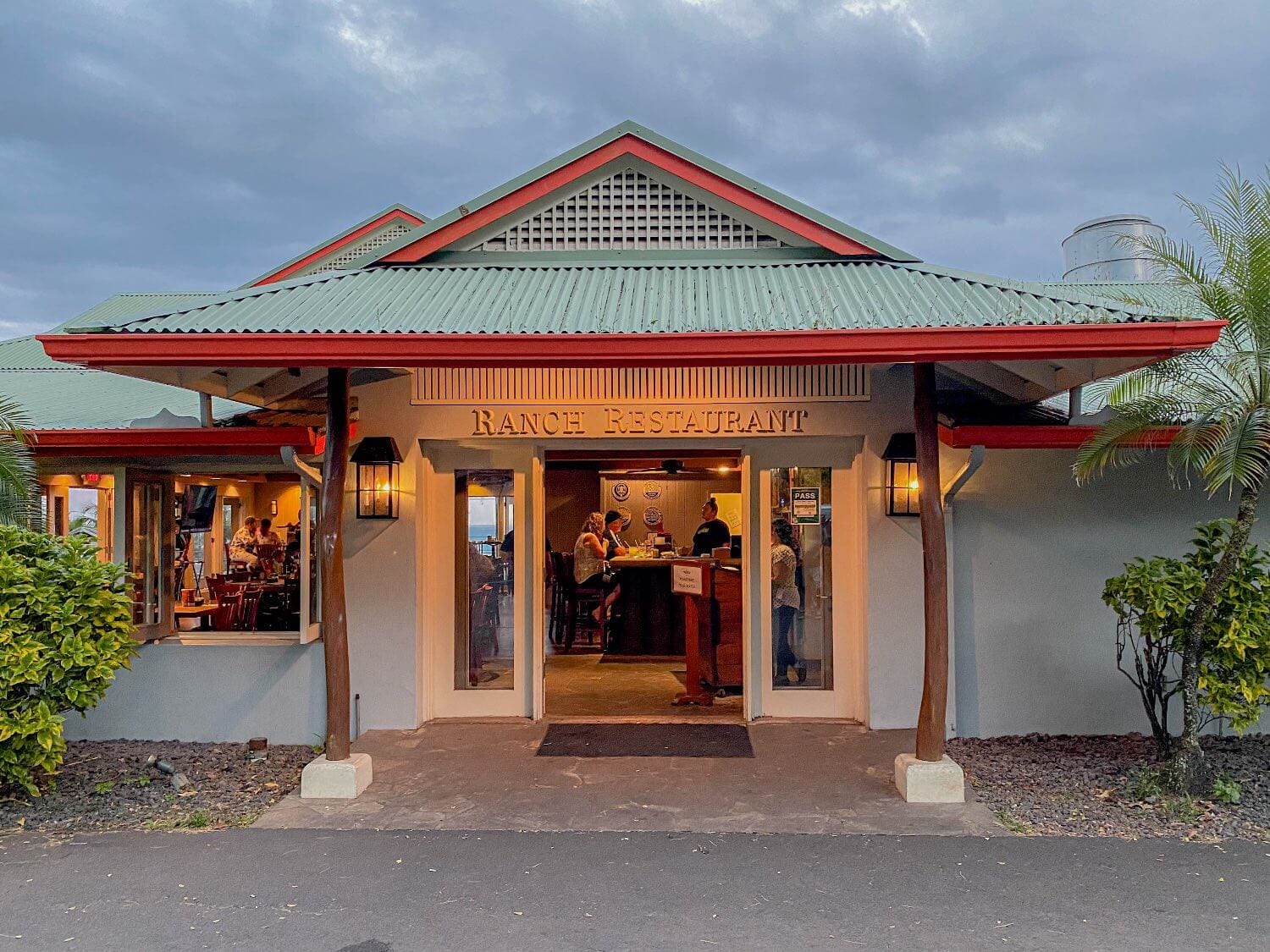 There are not a lot of options when it comes to restaurants in Hana. Perched on the mauka (mountain) you'll find Hana Ranch restaurant. Open daily from 5-9. They serve American and Hawaiian style food with items like the cobb salad, kalibe ribs and fish tacos. Portions sizing aren't small, perfect after a day of hiking and exploring.
If you're looking for early morning breakfast or coffee the small cafe connected to the
Hana Ranch restaurant opens every day at 6:30 am. They offer breakfast items such as local saimin and breakfast sandwiches.
On the weekends from 9 am -1 pm the restaurant offers light breakfast and lunch inside the restaurant.
The Preserve Kitchen & Bar at the Hana Hotel is the most fine dining you're going to get in Hana. The beautiful open air restaurant is open seven days a week for breakfast, lunch and dinner. Live music is also played at various times throughout the day. Relax in luxury.
If the last place you thought to find delicious Thai food would be in Hana, well then you thought wrong. Thai Food by Pranee ↓is technically not a Hana Maui restaurant and more of a food truck it has plenty of seating and as much as you're going to get in remote Hana.
The food here is delicious and you can't beat the price point. I eat here every time I come to Hana. The last time I ate here we got 5 entrees totaling $65. Now that's a steal especially in Hawaii!
Hours and days vary so it's best to call ahead (808) 264-9942 but assume they're open daily 10:30 am – 5 pm (pending that they don't run out of items.)
*Pro tip never park underneath a mango tree, those sweet things have an evil side and can take out a windshield. → and replacing a windshield isn't so cheap!
There are a handful of food trucks located down the hill and across the street from the Hana Ranch Restaurant. Stand in line, get your grindz, find a picnic table and enjoy.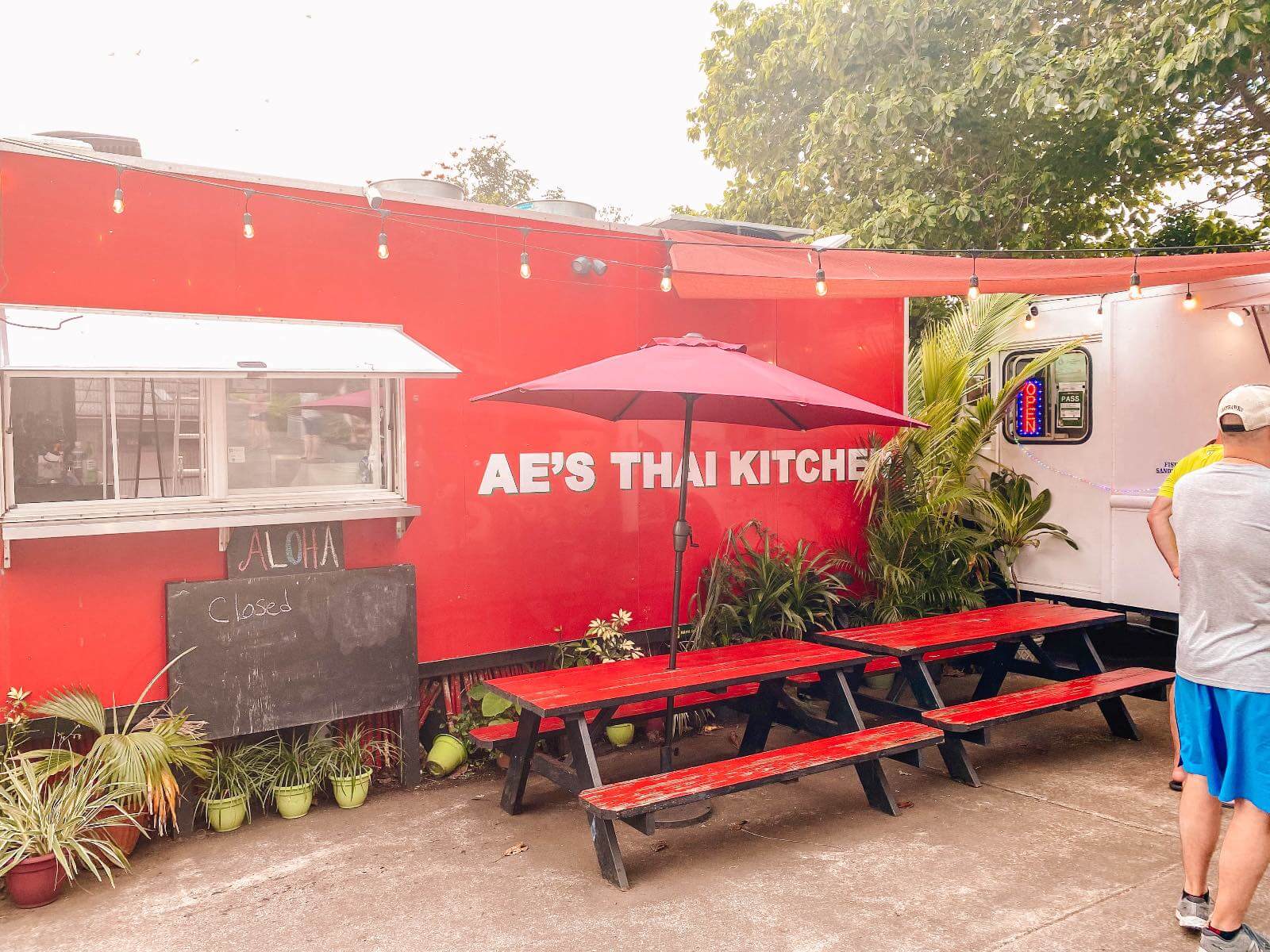 Ae's Thai Kitchen has 2 trucks. The red one sells Thai food. The white food truck offers fish sandwiches, burgers and even have a tasty vegan beyond burger option. It's open daily from 10 -730 pm. This will be one of the latest food truck options that you'll find in Hana.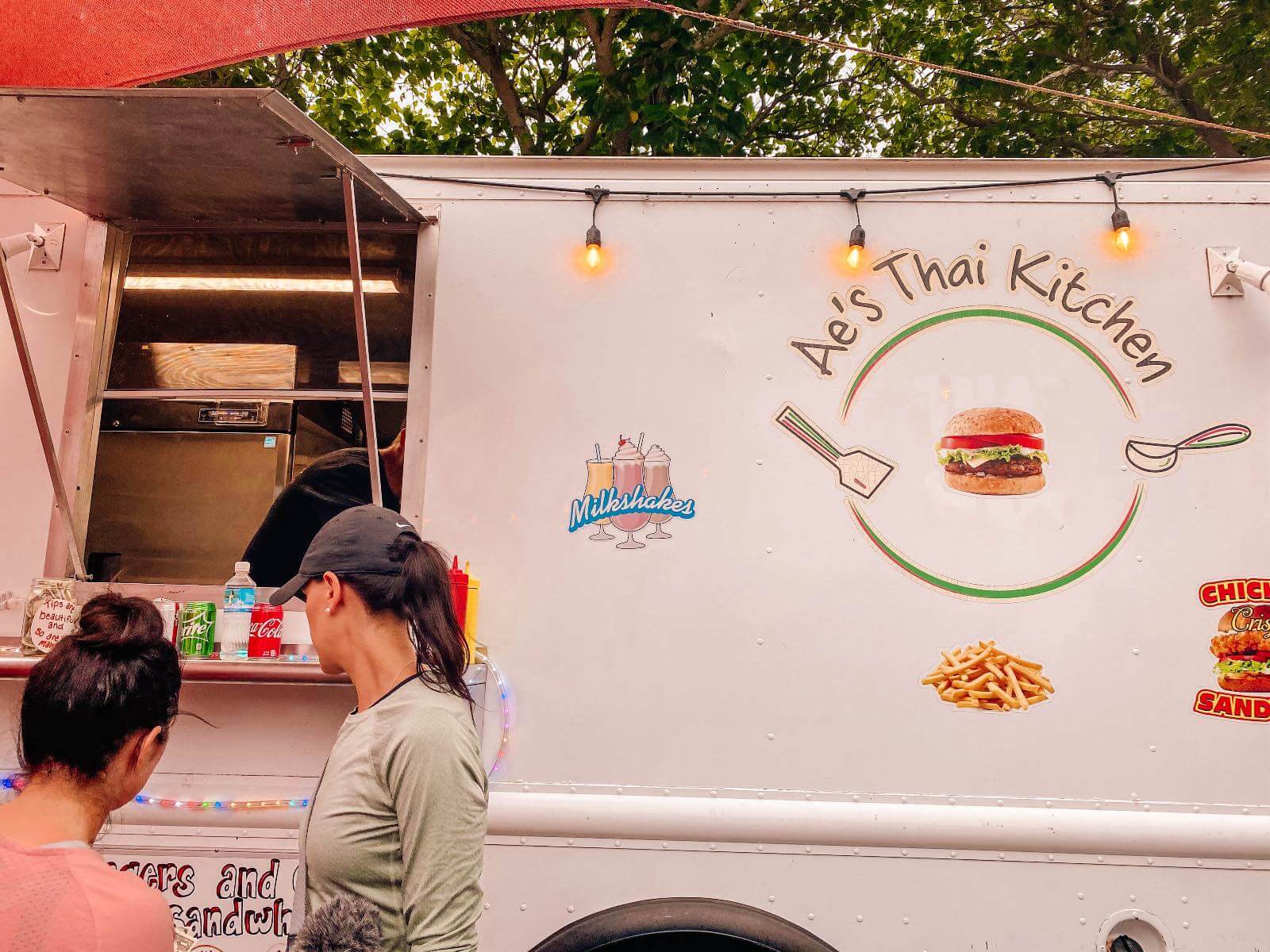 The Surfing Burro is also an option to grab a laterish meal in town. The hours are 8-730 pm daily. They offer a variety of burritos, quesadillas and tacos. This is also a great place to grab coffee and a breakfast burrito in the morning if you're already staying on this side.
We had stopped here on our last morning in Hana and grabbed coffee and a breakfast burrito. It was delicious and the owner running the food truck made the experience that much better. Professional, friendly, timely, and tasty. What more could you ask for?!?!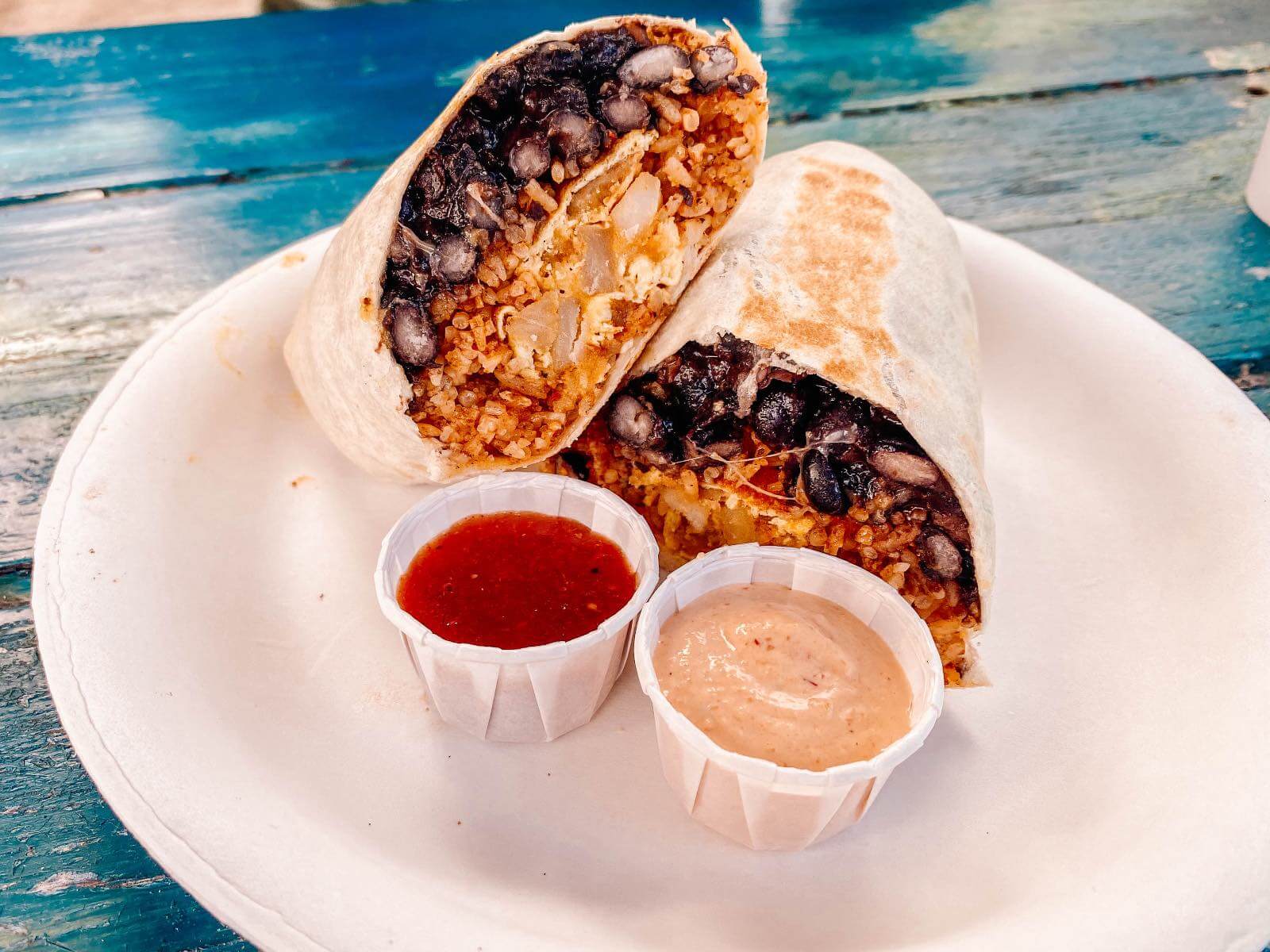 In the same area there is an Ethiopian food truck but this was also closed when I was here.
Before you hit the group of food trucks past the gas station there is a new place to eat in Hana called Tony's Place that serves up burgers and comfort food.
Another group of food trucks located on the road to Hana can be found past the gas station on the right. You can't miss it there will be signs for Tita's Cafe advertising coffee at 5:30 am. Tita's Cafe is a cute spot to grab coffee if you've stayed the night in Hana. They offer drip and fancy coffees alike.
Next to Tita's are a couple more food trucks. All of them open at different times but they all close around the same time at 4 pm.
Da Fish Shack opens daily at 10 am offering must try items like fish & chips, tacos and coconut shrimp.
Troys Plate Lunch is open on the weekends and serves you guessed it plate lunches. Usually chicken or pork with a side of rice.
A little farther down the road you'll come across Braddah Hutts BBQ Grill. If you're looking for a standard Hawaiian plate lunch then you've found it. Plan on eating on some folding chairs. The macaroni salad and of course BBQ chicken is out of this world. Open Monday through Friday 1030 – 3 pm. Closed on the weekends.
If you're hanging out in Koki Beach park for the day then lunch at Huli Huli Chicken is a no brainer. Classic Hawaiian comfort food. Open daily 11 am to 6 pm.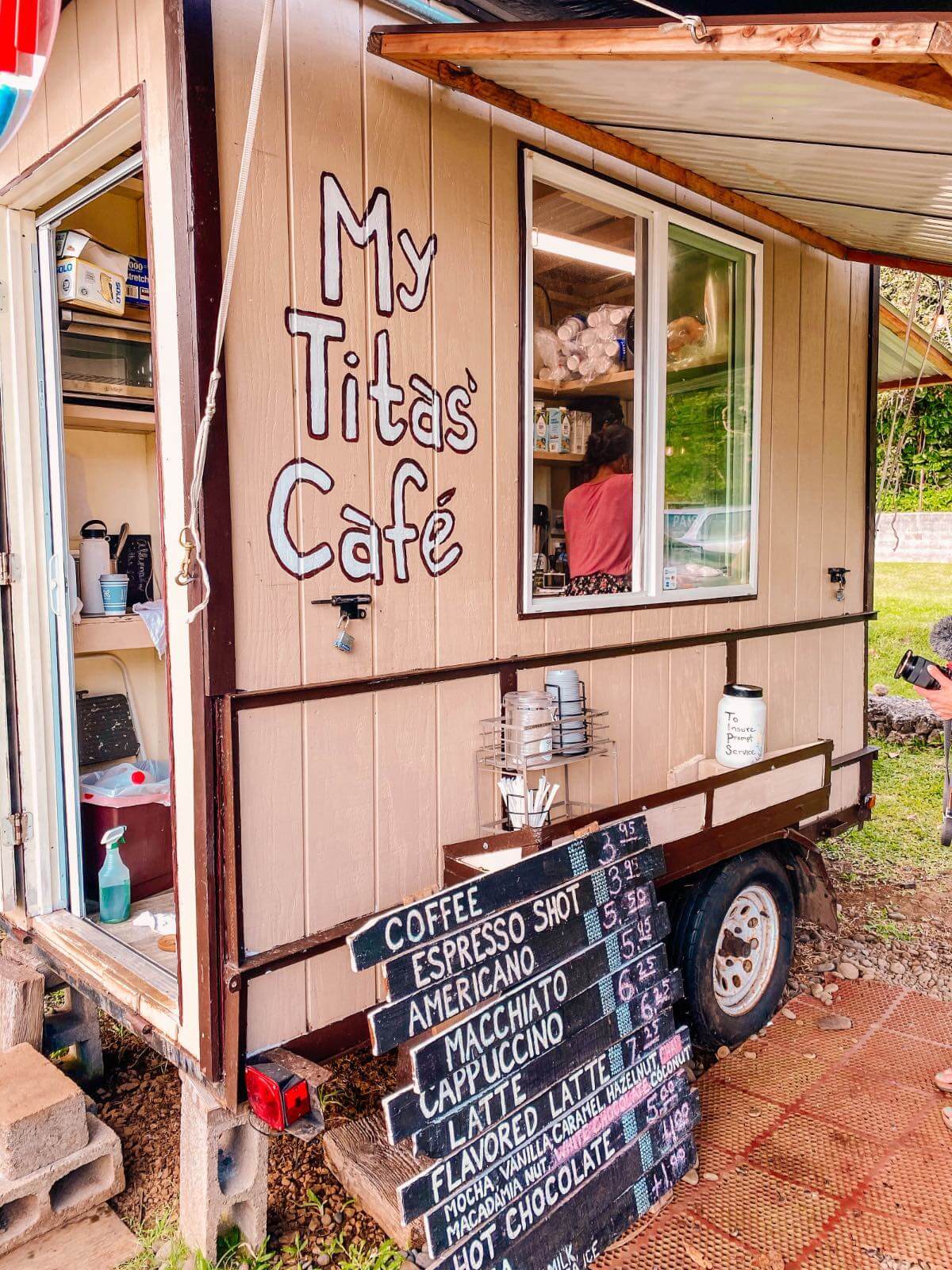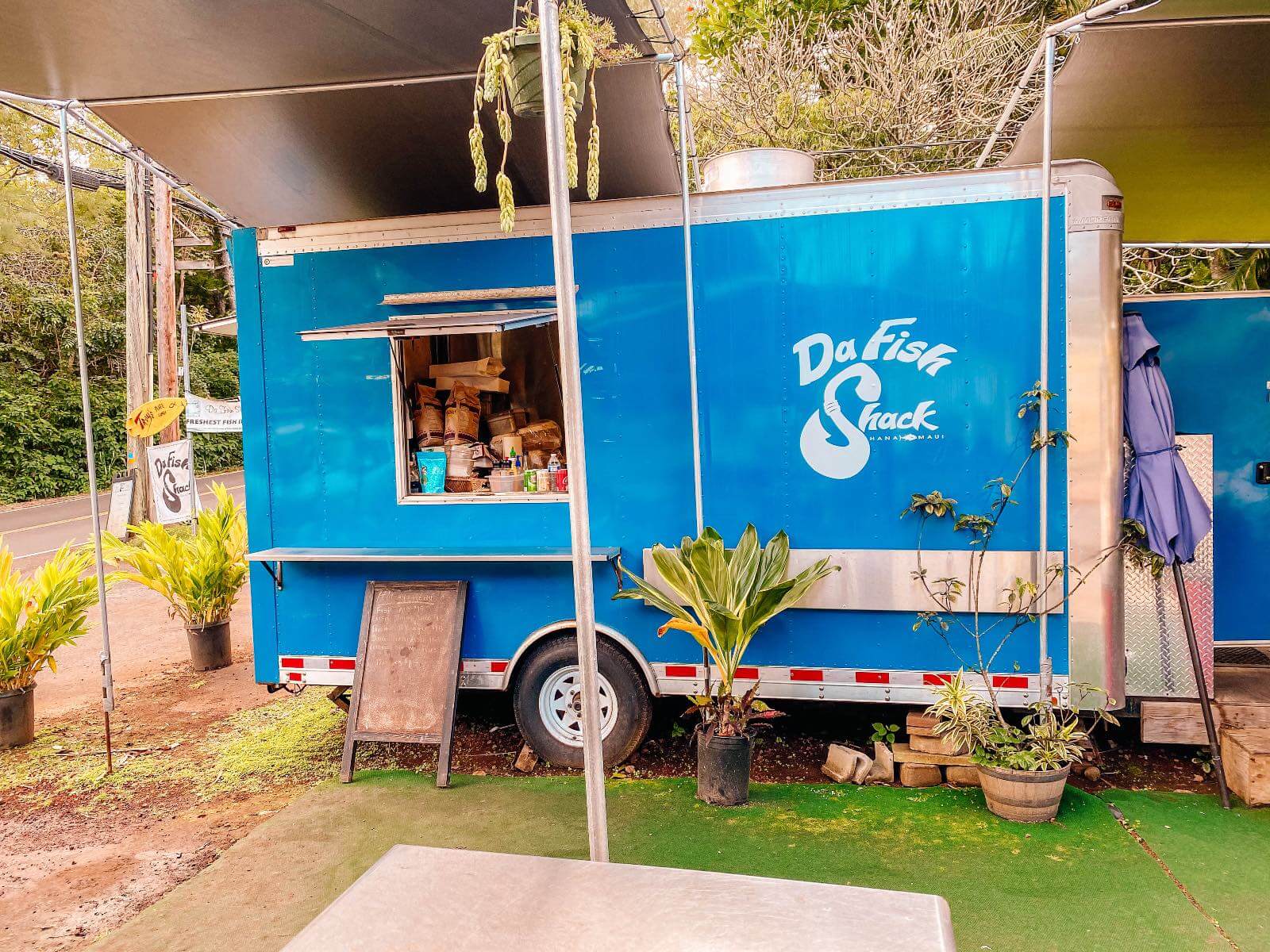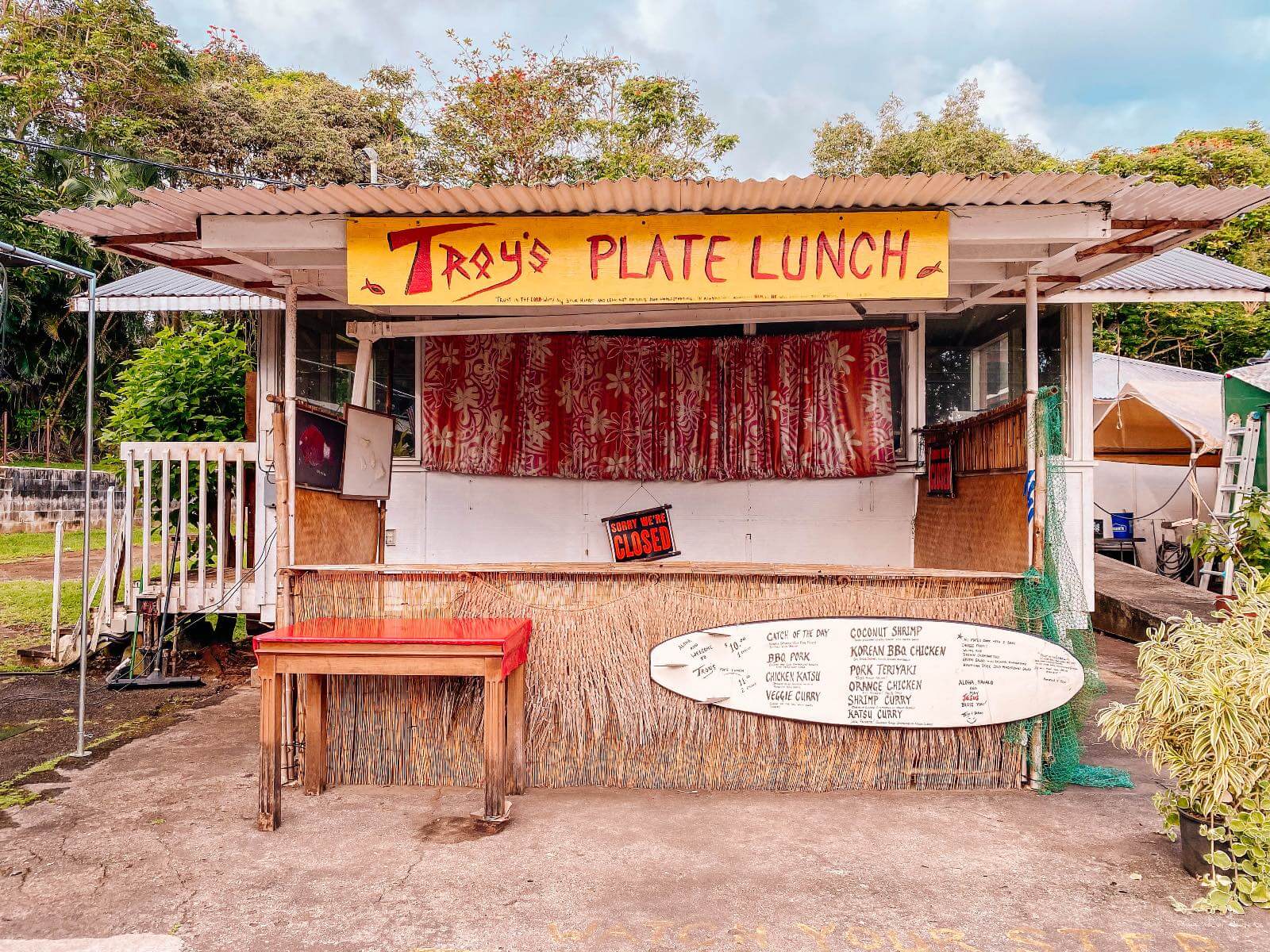 If you're looking for something fresh, light and local hit up Hana Fresh. Located on the right side of the road in the Hana Health parking lot just before you hit Hana town. Support local and grab a healthy lunch, including smoothies and açaí bowls. Open Monday through Saturday form 11 am to 3 pm.
The Hana Gas station is open every day til 8 pm except Sundays as they shut down early at 6 pm. This is one of the only places to fill up for gas in Hana so plan accordingly.
If you're camping and forgot some supplies or want to grab some snacks for a hike you have only a couple options. Hasegawa General Store sells basic items and supplies. Open daily from 7 to 7.
Another option to grab groceries is the Hana Ranch Store. This is located right next to the Hana Ranch Restaurant. They sell booze, basic pharmacy items and of course groceries.
The Bamboo Hale at Hana Farms is located on the road to Hana before you reach Hana Town. The open air restaurant is open daily, Sunday-Thursday 11:30 – 3:30 and 11:30 – 8 pm on Fridays and Saturdays.
The menu consists of wood fire pizzas and fresh salads made with local greens from Hana Farms.
There will be a string of food trucks/ cafes on your left hand side before you reach Hana that you can't miss called the Nihiku Marketplace.
Nahiku cafe sells coffee, smoothies and a few snacks. There's a small gift shop, Nahiku Gallery. Island chef which has items like fresh caught Hana fish and coconut shrimp. And you can never go wrong with the island style taco joint where the kalua pig tacos are my favorite.
If you're looking for a local Hawaiian food then opt for Lu'au's. There is also a pizza and burger joint.
Okay well I think that sums it up. Yes I know there's not many Hana restaurants, but you don't travel to Hana for the food. You travel to Hana for the adventure and figure the food out as you go.
Headed to Maui? Hana guides below ↓
Enjoy this Post?!?! Pin in for Later ↓