Xochimilco is one of the best things to do in Mexico City and a must do when visiting this vibrant, electric metropolis. I had the pleasure of experiencing Xochimilco on my birthday and it was a great way to kick off the year.
In this article, I'll go over my personal experience, let you in on all the details you need to know before visiting Xochimilco and provide you with any useful tips that will ensure a great visit.
For full transparency, I have sprinkled some affiliate links in this post.  As an Amazon Associate I earn from qualifying purchases that gives me a small commission at no extra cost to you if you decided to make a purchase.  As always, I would never recommend a product or service that I didn't truely believe in.  All proceeds go to keep Jess traveling and coffee ☕️.  I thank you in advance.
Xochimilco in Nahuatl Aztec language means 'where the flowers grow', which is very appropriate for all the flower gardens you'll float by in your gondola. I mean Xochimilco is famous for its chinampas or floating gardens after all.
Xochimilco was designated a UNESCO World Heritage site in 1987. Located in southern Mexico City, the famous canals are the last remnants of a vast water transport system built by the Aztecs. Colorful gondolas flank the canal ways and offer visitors a chance to float the waterways and enjoy the floating fiesta.
The weekends tend to get more rowdy, but you can always expect a festive atmosphere. Boats selling tacos, pulque (a home made type liquor fermented from agave plants) and micheladas will cruise by where you can pick and choose what you'd like to purchase.
Plus mariachi bands will tac onto your boat and sing you a few songs in exchange for some pesos. It's a pretty cool experience that I wouldn't miss on your visit to CDMX.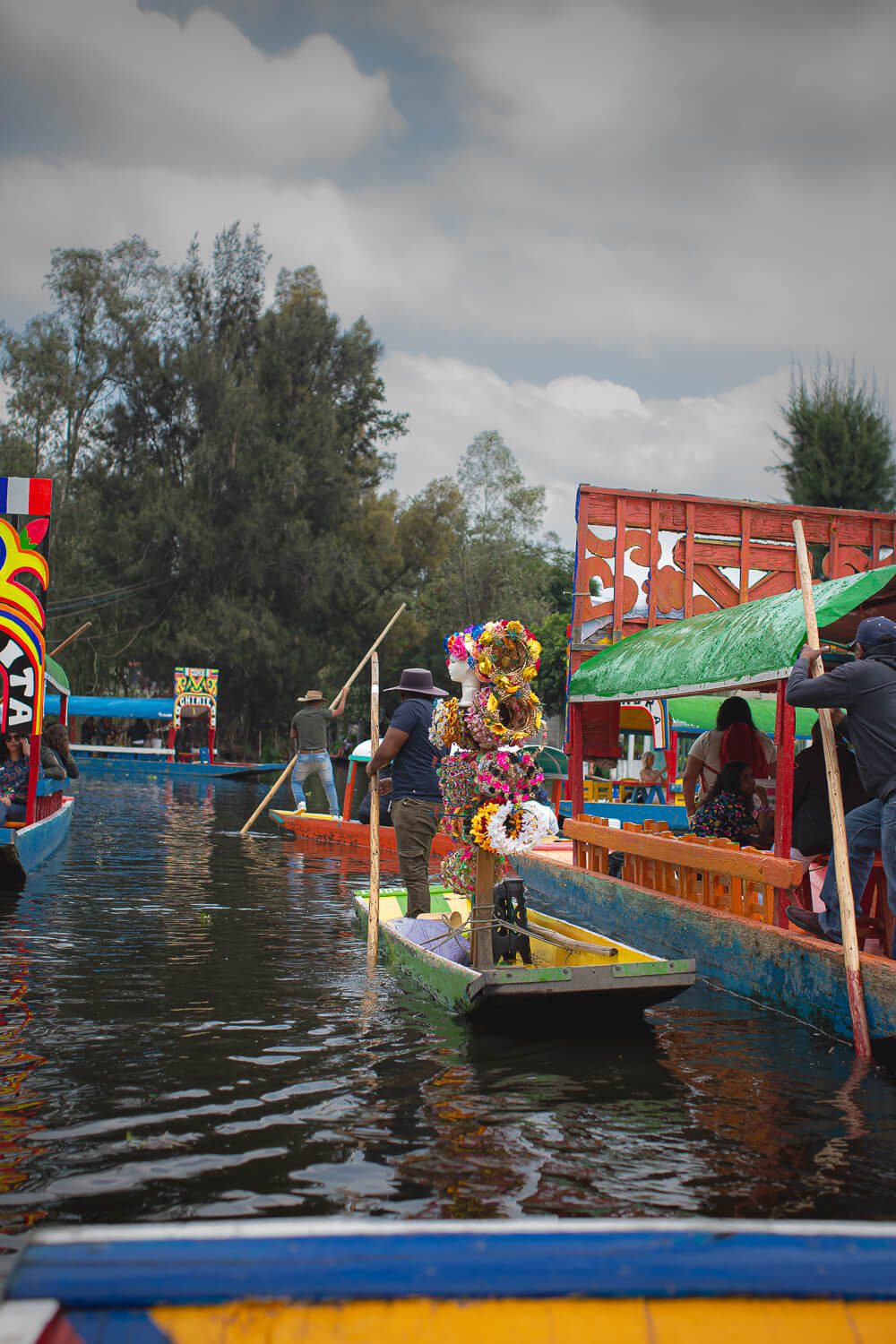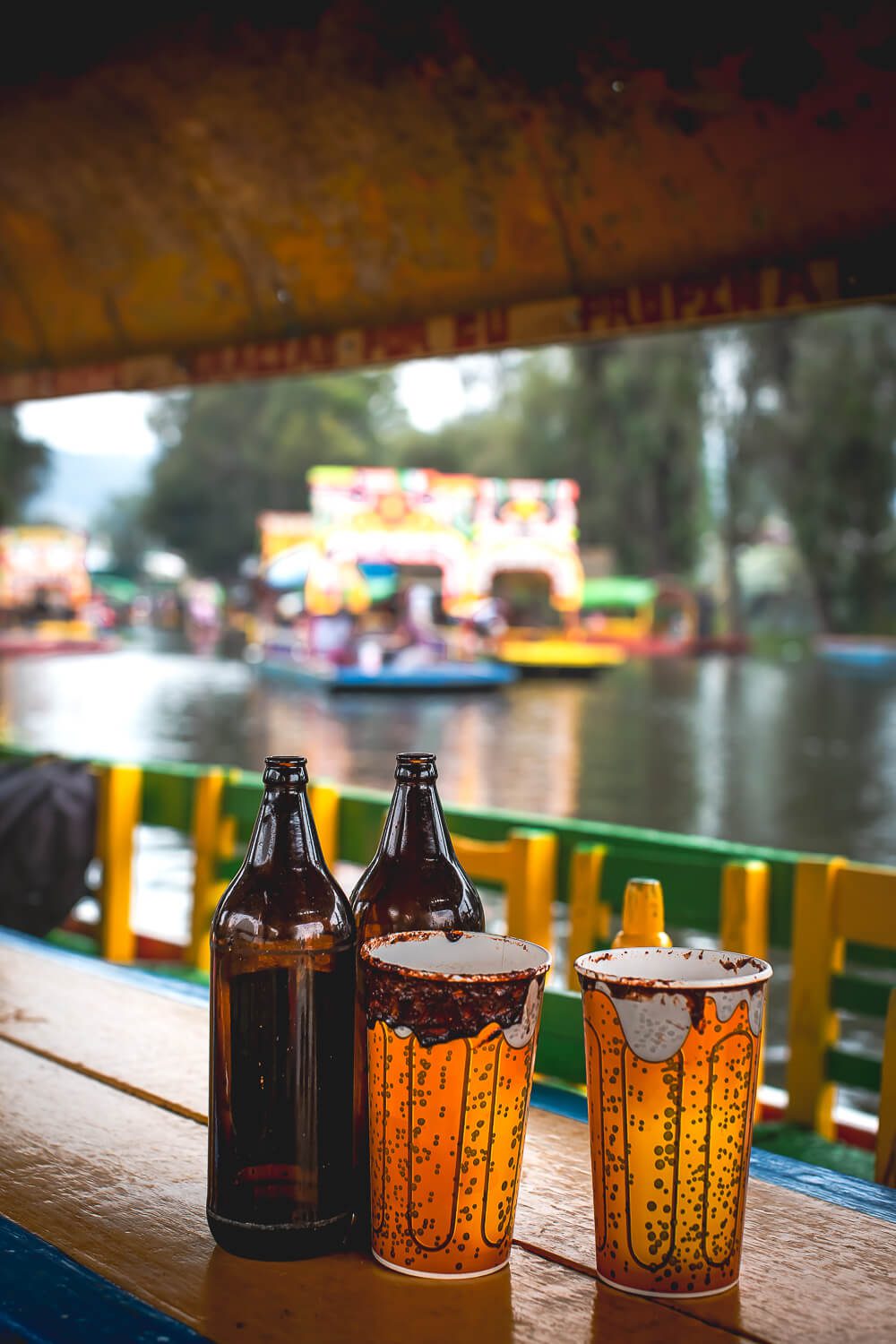 My Review of Xochimilco CDMX
We flew to Mexico City on a whim with no plans. Our only intentions were to have a fun week celebrating my birthday as we were essentially killing time until we boarded a flight to Amsterdam. I'll save those dramatic details for another post but hey things could be worse when you have to "kill time" in Mexico City.
If you follow me on Instagram or You Tube or have read any of my other blogs, you'd know that I am a sucker for good, efficient public transportation. We intended on taking the metro to Xochimilco but it was under construction. Thankfully Mexico is big on Uber so we hopped in a car and 45 minutes later we arrived at the floating fiesta.
We got to the Mexico City canals around noon on a Monday and the place was dead. We were thrown off a bit as we heard the place can get kinda rambunctious especially on the weekends – also twelve in the afternoon isn't exactly early.
There are a few ways you can ride a colorful gondola. You can share the boat with strangers so essentially you're buying a seat or you can shell out a little bit more cash and hire a private boat.
Since it was my birthday and we were basically the only ones there at the time, we opted for a private boat. We paid 1500 pesos for 3 hours for 2 people. That equates to about $75 USD. Looking back I think this was a bit much and it would have been more fun with a bigger group of people so paying for a seat on a shared boat would be the way to go.
The gondola 'driver' will take you up the canals past beautiful Xochimilco floating gardens, giving you a sense of olden times. Our boat guide tried to take us to a few stops like an Axolotl farm – ya you know the friendly looking, smiling salamanders. We opted out as we didn't want to pay to see a pet farm.
Smaller Xochimilco boats selling souvenirs, Mexican grinds, michelada's and pulque will float by so make sure you bring some cash to indulge in a few items. We got a few micheladas costing 50 pesos a piece and the drink was massive.
In case you're wondering, a michelada is a Mexican drink made with beer, lime juice, spices, and chili peppers served with a salt-rimmed glass. Ours was rimmed with agave and dipped in a form of old bay. It was mighty delicious.
We also got food as we wanted the full experience. Our Xochimilco food consisted of mole and carne asada tacos which came with rice, beans and several sauces. It wasn't the tastiest meal we've had in Mexico City nor the cheapest but the setting was above par.
All in all we spent 500 pesos on lunch/dinner which is about $25 USD and that is very expensive. I would bring snacks or plan on eating before or after visiting Xochimilco.
Finally to top off our experience we snagged a floating vendor selling pulque because we had to try it just once. Pulque is an alcoholic beverage made from the fermented sap of the maguey plant. It has a thick consistency and looks sorta like egg nog.
Pulque wasn't my favorite, it was a bit sour and too thick for my taste. It costs 150 pesos for a small glass.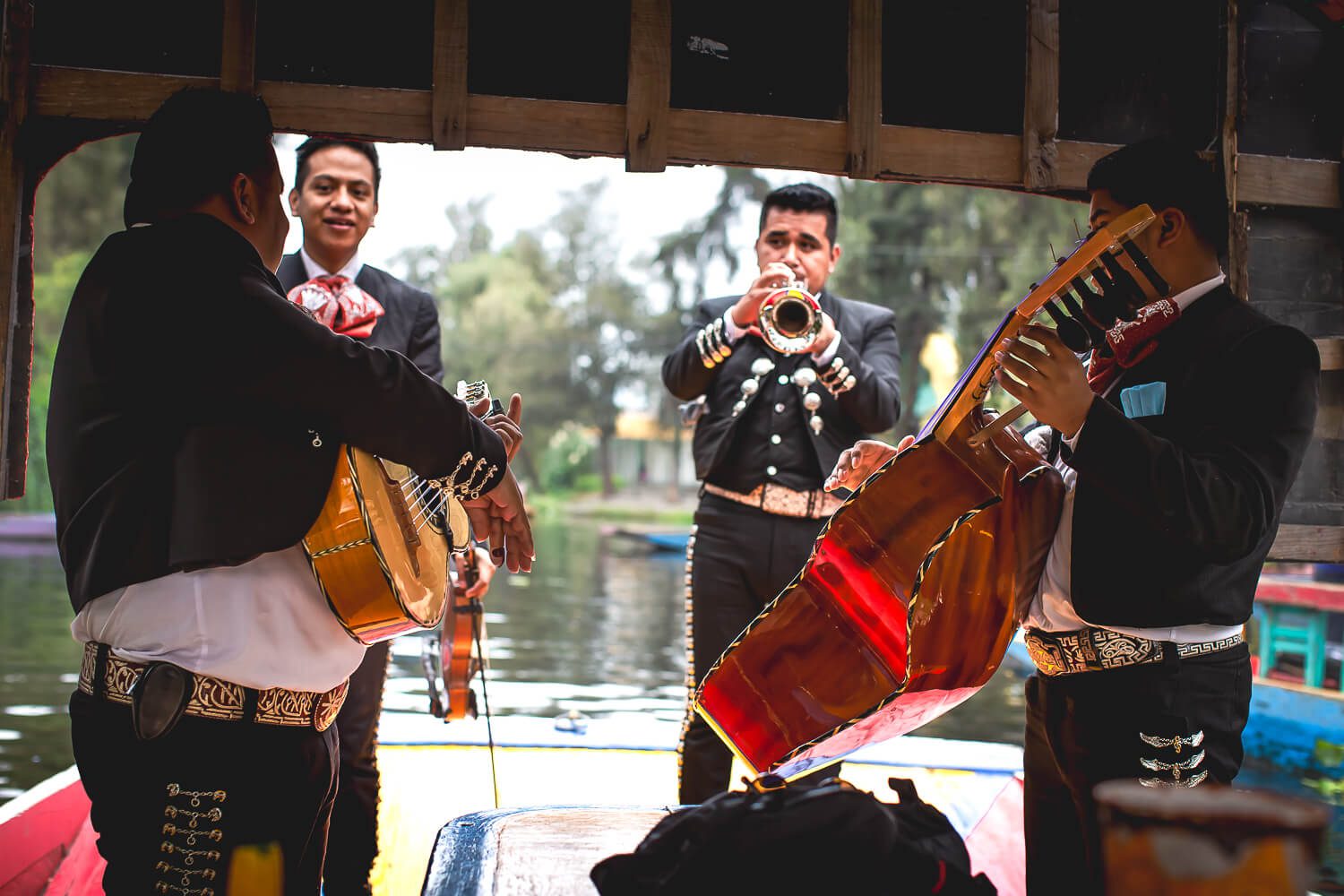 Let us not forget about the mariachi bands! It's not everyday that a mariachi band sings you happy birthday as your floating down Mexico City canals. We paid a band 150 pesos to sing us a few songs including Feliz Cumpleanos.
Xochimilco Cost for 2 people
Private Gondola – 1500 Pesos
2 Meals – 500 Pesos
2 Micheladas – 100 Pesos
2 Pulques – 300 Pesos
Mariachi Band Tunes – 150 Pesos
1 Birthday Crown – 50 Pesos
Uber ride to and from the City Centre – 400 Pesos
Total 3000 Pesos or $150 USD for 2 people.
First, let me start off by saying I'm a terrible haggler. After all these years of travel and no matter how many times I practice, I still feel really uncomfortable haggling. The way I see it, 'it's like what's a few bucks' but then again it's the principle. Most of the time, I know I'm getting ripped off but when it's in a foreign language, it's a lot harder to stand up for yourself.
If you want a livelier atmosphere, your best bet is to hop on a shared boat. Not only will this be a lot cheaper, but it's a fun experience to share with more people. We saw several packed boats float by and the party vibe was a lot more alive than on our boat of three including the driver.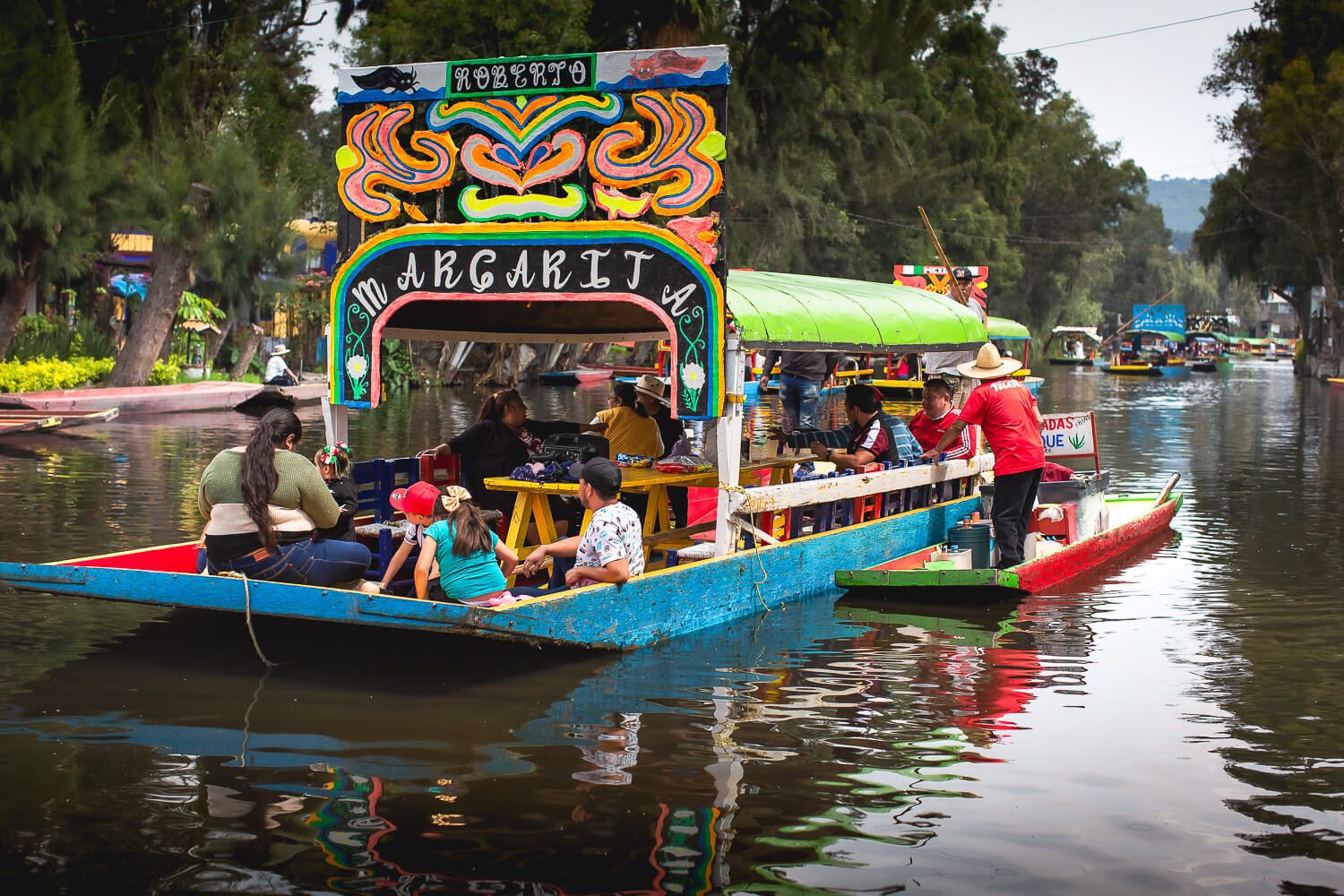 Final Thoughts on Xochimilco, Mexico City
Visiting Xochimilco was a highlight of my time spent in Mexico City. The atmosphere, history and beauty made it worth it. If I were to do it again, I'd opt for a shared boat or go with a bigger group of friends, eat before the gondola ride and take public transportation to cut down on some unnecessary costs.
If you are short on time, booking a tour that includes Xochimilco would be the best bang for your buck and for your time. Either way, if you are spending more than a few days in Mexico City, a day to experience this cultural booze cruise should be apart of your itinerary.
Here are a few tours to check out:
There are two ways to get to Xochimilco in Mexico City. The easiest and quickest way is to catch an uber or a cab and have them drive you directly to Xochimilco. An uber takes about 45 minutes and costs around $12.
The other way to get to Xochimilco is via public transportation. Take the metro to Tasquena, which is the end of the blue line or line 2. From there, you'll have to transfer to the train. Just follow the signs for Tren Ligero. This is also the last stop on the train line which takes you to Xochimilco.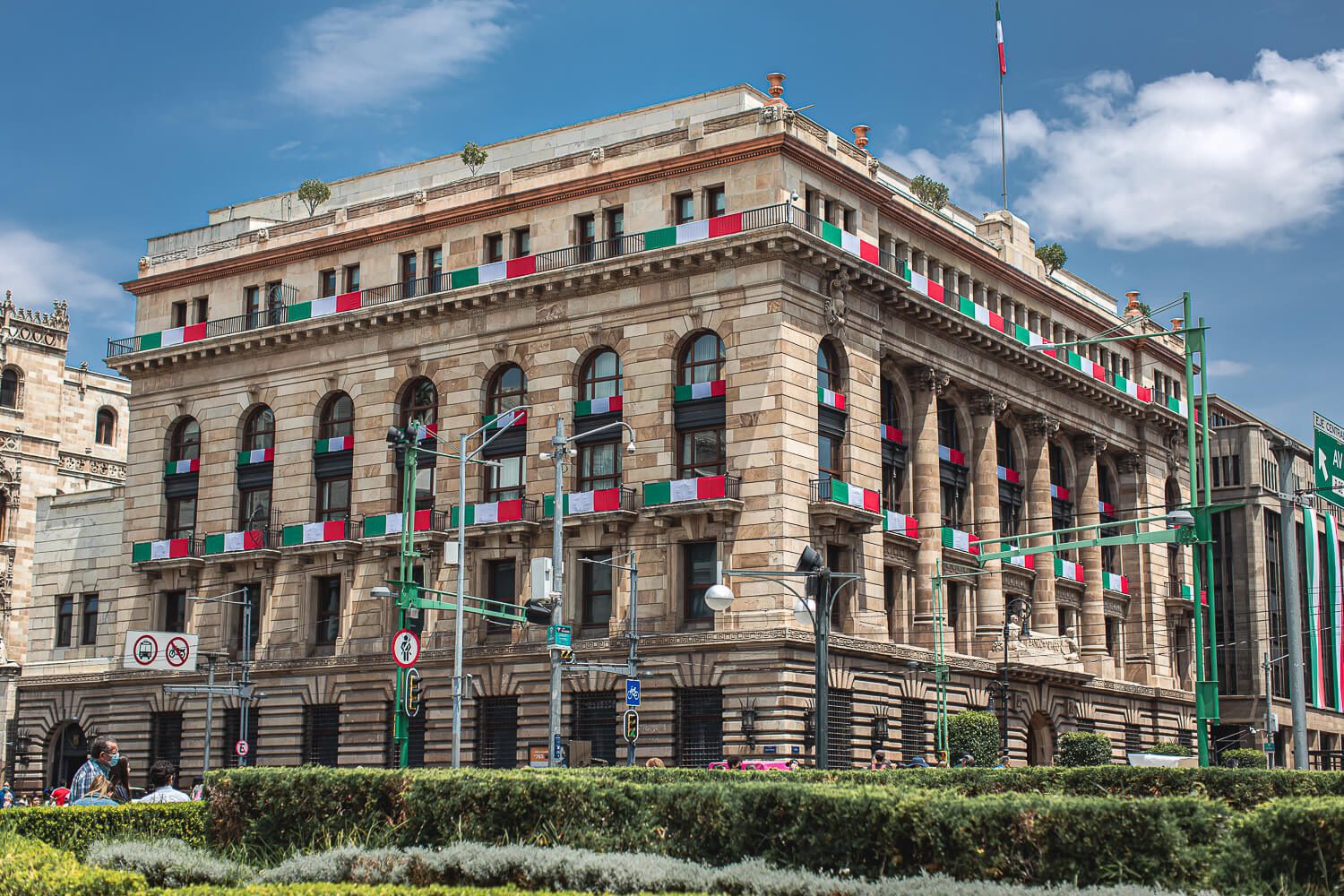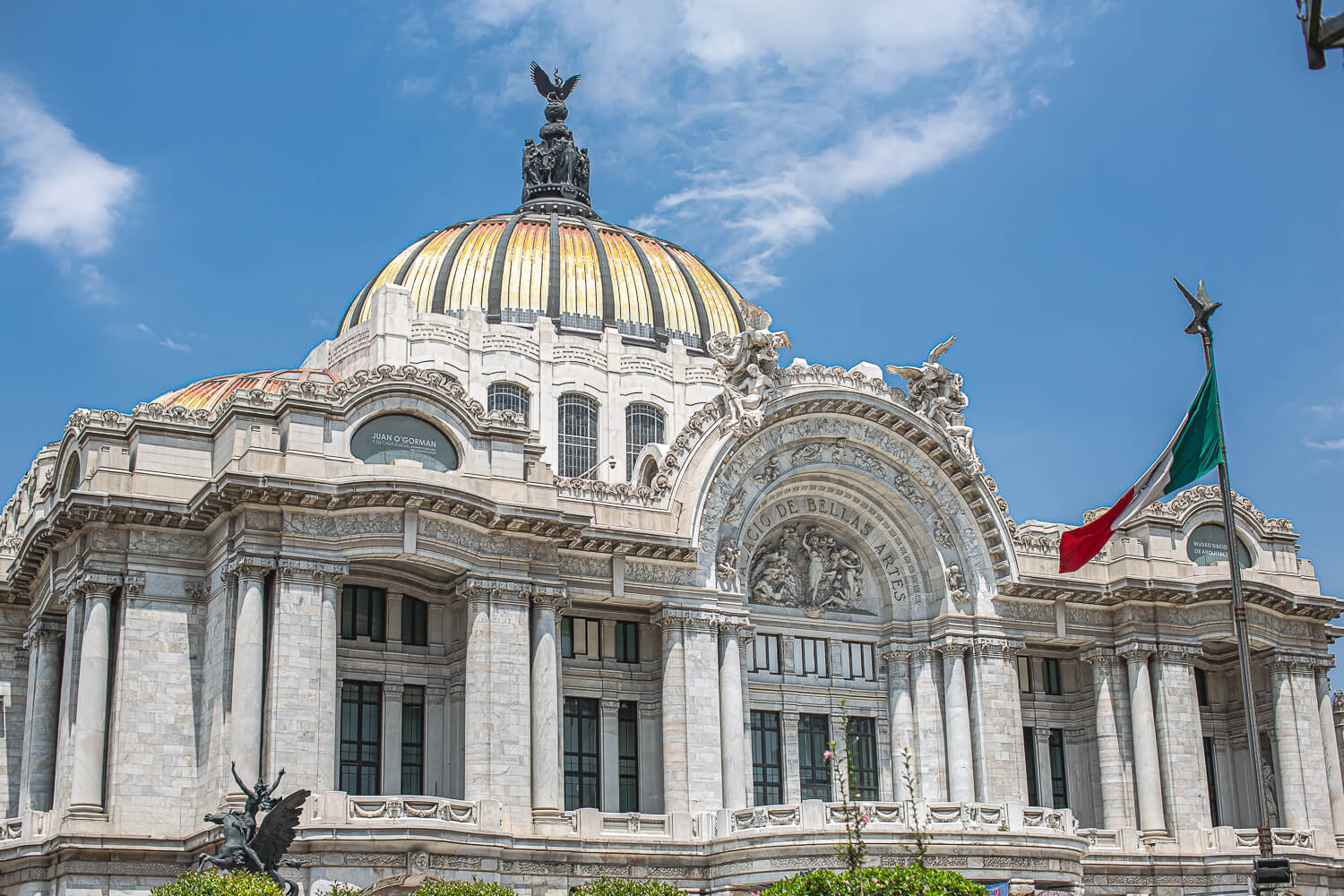 Other Things to do in Mexico City
Visit the Zocalo – the heart of the Centro Historic neighborhood.
Marvel at the National Palace
Visit a museum – Placacio de Bellas Artes. Anthropology Museum, Museo Frida Kahlo – take your pick there are over 150 to choose from.
Watch a Lucha Libre Match.
Day trip to the impressive Teotihuacan.
Eat street food – Tacos, Tacos and more Tacos.
Get a birds eye view at the Torre Latinoamericana Observation Deck.
Traveling Mexico? Check out these guides for inspiration and help on planning your travels!
Enjoy this Post?!?! Pin in for Later ↓