On my most recent trip to Costa Rica, I was looking for an untouched, off-the-beaten path paradise. I finally found it in Zancudo Costa Rica. Spending 3 days in Zancudo I felt like I had taken a step back in time.
Costa Rica is an exotic country in Central America that attracts visitors from all over the world. Filled with lush waterfalls, rainforests and wildlife there's many reasons to visit this tropical nation. Not only is it exotic and tropical but the people are nice and it's easy to get to.
But if you are looking to experience paradise in the slow lane, then a trip to Zancudo, Costa Rica is a must. Read on to find out all about living life in Zancudo in the eyes of a Tico.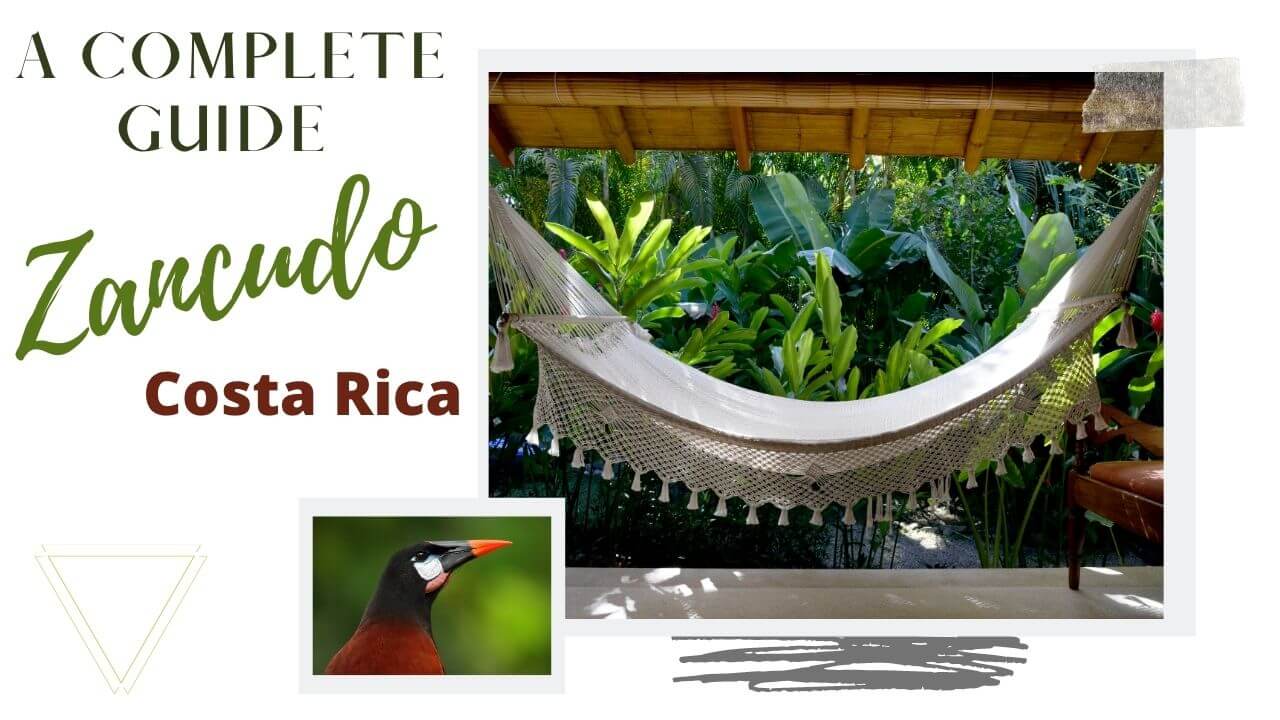 For full transparency, I have sprinkled some affiliate links in this post.  As an Amazon Associate I earn from qualifying purchases that gives me a small commission at no extra cost to you if you decided to make a purchase.  As always, I would never recommend a product or service that I didn't truely believe in.  All proceeds go to keep Jess traveling and coffee ☕️.  I thank you in advance.
Before you Travel to Costa Rica
Visa: A visa isn't needed for most countries before you visit
Language: Learn your basic Spanish before arriving, it will go a long way
Tipping: Learn about the tipping in Costa Rica etiquette here
Pack: Pack for warm weather and make sure to bring a rain jacket.
about zancudo, costa rica
Zancudu, Costa Rica is located on the southern pacific coast, roughly 15 km south of Golfito in the Puntarenas province. It lies on a long and narrow peninsula at the mouth of the Rio Colorado. With a population of about 450 people, Zancudo is a place to come to relax and reconnect with yourself or someone.
A less popular destination compared to the rest of Costa Rica, there's something about this untouched paradise and laid back atmosphere that draws unique people from all over the globe.
Golfito, Costa Rica is the nearest accessible town that you'll have to connect through before getting to Zancudo if you're traveling south from San Jose.
If you are coming from Panama you won't have to go through Golfito as Zancudo is only an hour away from the Panama border.
Golfito has a small airport that services domestic flights on Sansa Airlines to and from San Jose. Once you've arrived in Golfito, there are 2 options to get to Zancudo.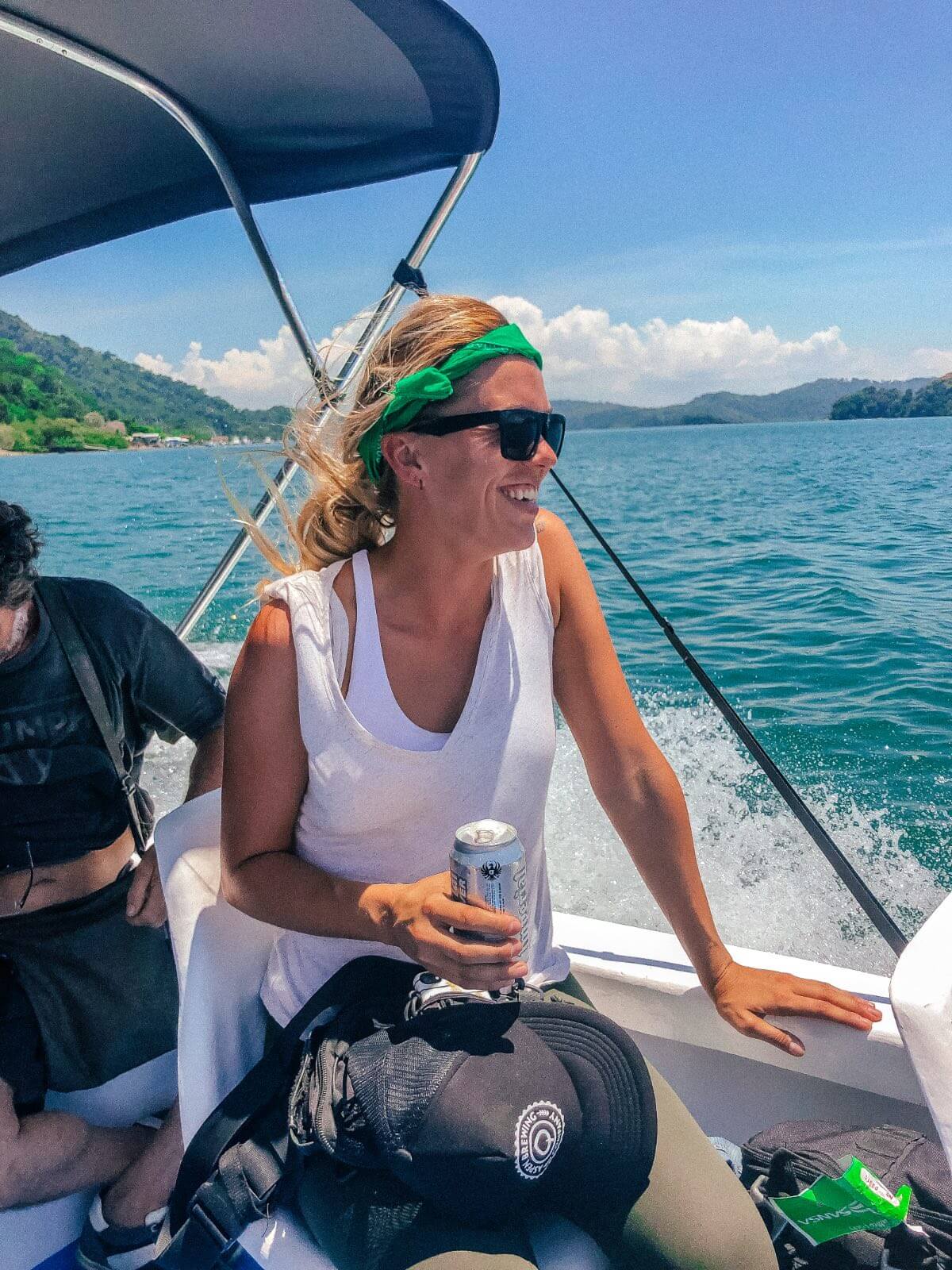 OPTION 1 ↑
Boat – There is a boat that you can catch from the docks that costs $3 USD one way with a man named CoCo. The boat leaves Golfito for Zancudo around 11 am give or take, don't worry there is a bar by the docks and a grocery store where you can grab a beer while you wait.
*Leaving Zancudo to Golfito is 7 am. To get to the docks you can take a taxi.
There is also an option to rent a private boat that will pick you up at your desired time. However it is a bit more expensive running you at $60 one way. If you are traveling in a larger group this could be cost effective. The boat ride takes about 30 minutes.
OPTION 2
Bus– There is also a bus service that runs from Golfito to Zancudo, the roads aren't paved and its very bumpy, dusty, and hot. Tickets will run you about $2 one way and takes about 1-1.5 hours. (From Zancudo the bus leaves at 6 am.)
OPTION 3
Taxi – Take a taxi to the doorstep of where you're staying in Zancudo. Prepare to pay an arm and a leg though as taxis in costa rica aren't terribly cheap.
Things to Do in Zancudo, Costa Rica
You won't find much in town but a couple convenient stores, a handful of restaurants, and locally run 'cabinas'. Again, people usually find themselves in Zancudo to take life in the slow lane for a bit. But life here isn't painfully slow as there are a few things to see and do.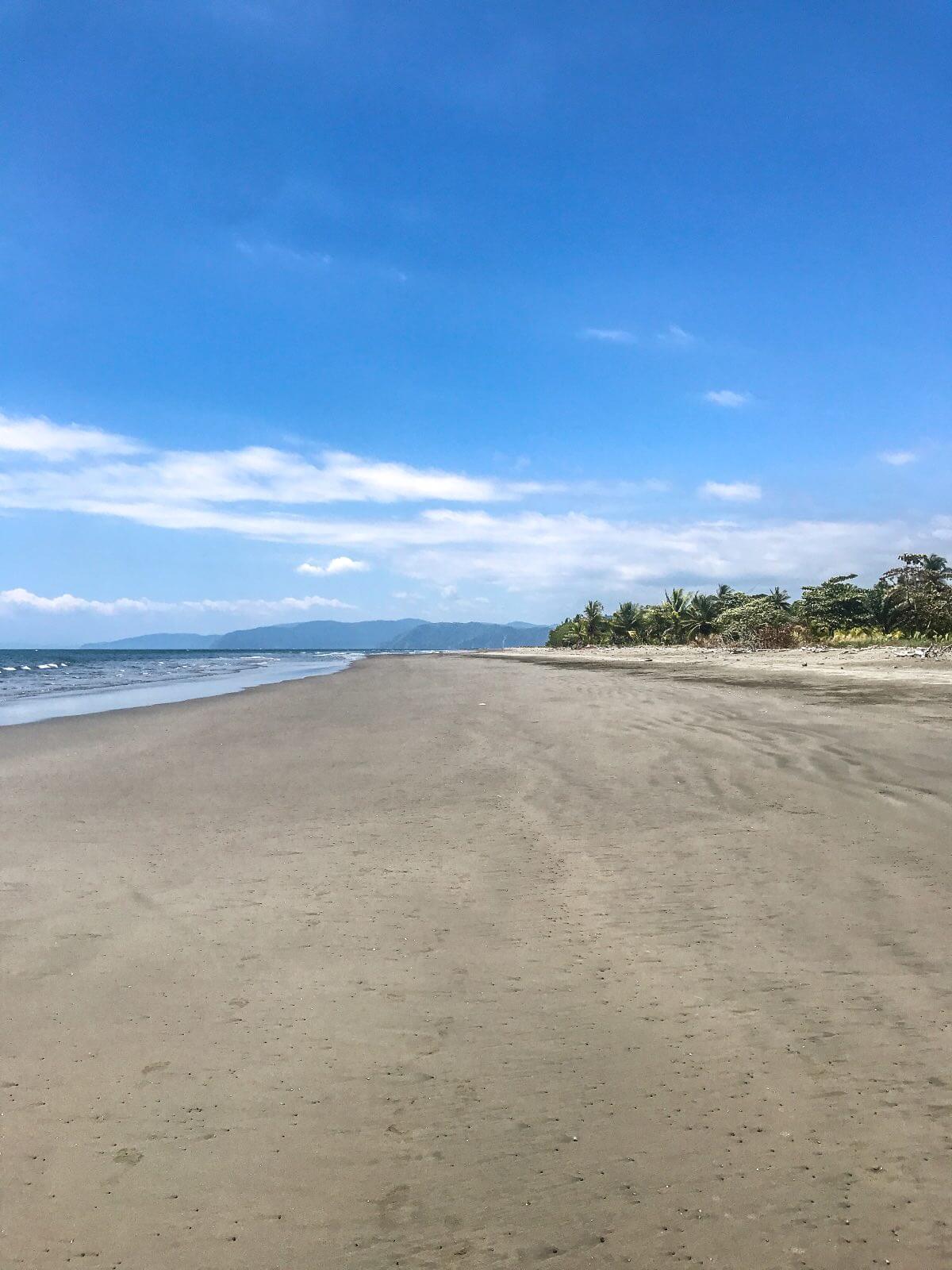 The biggest draw to Zancudo has the be the 9 mile long, black sand beach. Scattered with drift wood and backed by palm trees, you could walk for miles along the shore line and not run into another person.
You almost feel guilty that you have the whole beach to yourself. But if you're looking to get rid of some of your tan lines, Playa Zancudo might be the place for you.
The north part of the beach is excellent for swimming and snorkeling as it has calm waters. The southern half of the beach has bigger waves where you can boogie board and/or surf.
If you're a fisherman, you'll find some World Class Fishing right at your fingertips. The east side of town are mangrove swamps which attract lots of marine life.
You can fish offshore and onshore and expect to catch all types of fish like Marlin, Sailfish, Tuna, Snappers, Bluefish, several different types of Jack fish, Groupers, Mackerel, Barracuda and much more.
As I mentioned before the east side of town are several large mangrove swamps which are home and sanctuaries to thousands of aquatic bird species, a variety of different fish, and even crocodiles.
There are also sloths, monkeys, iguanas and many other land species that live in the area like snakes, so keep you eyes peeled and you'll be sure to spot some of them.
One way to explore the mangroves is to kayak through them seeing the exotic flora, birds, and wildlife up close. Remember that there are dangerous animals though so paddle with caution.
Whether you want to ride up in the mountains, through the jungle or along the empty black sand beach, horseback riding is a unique way to explore Zancudo.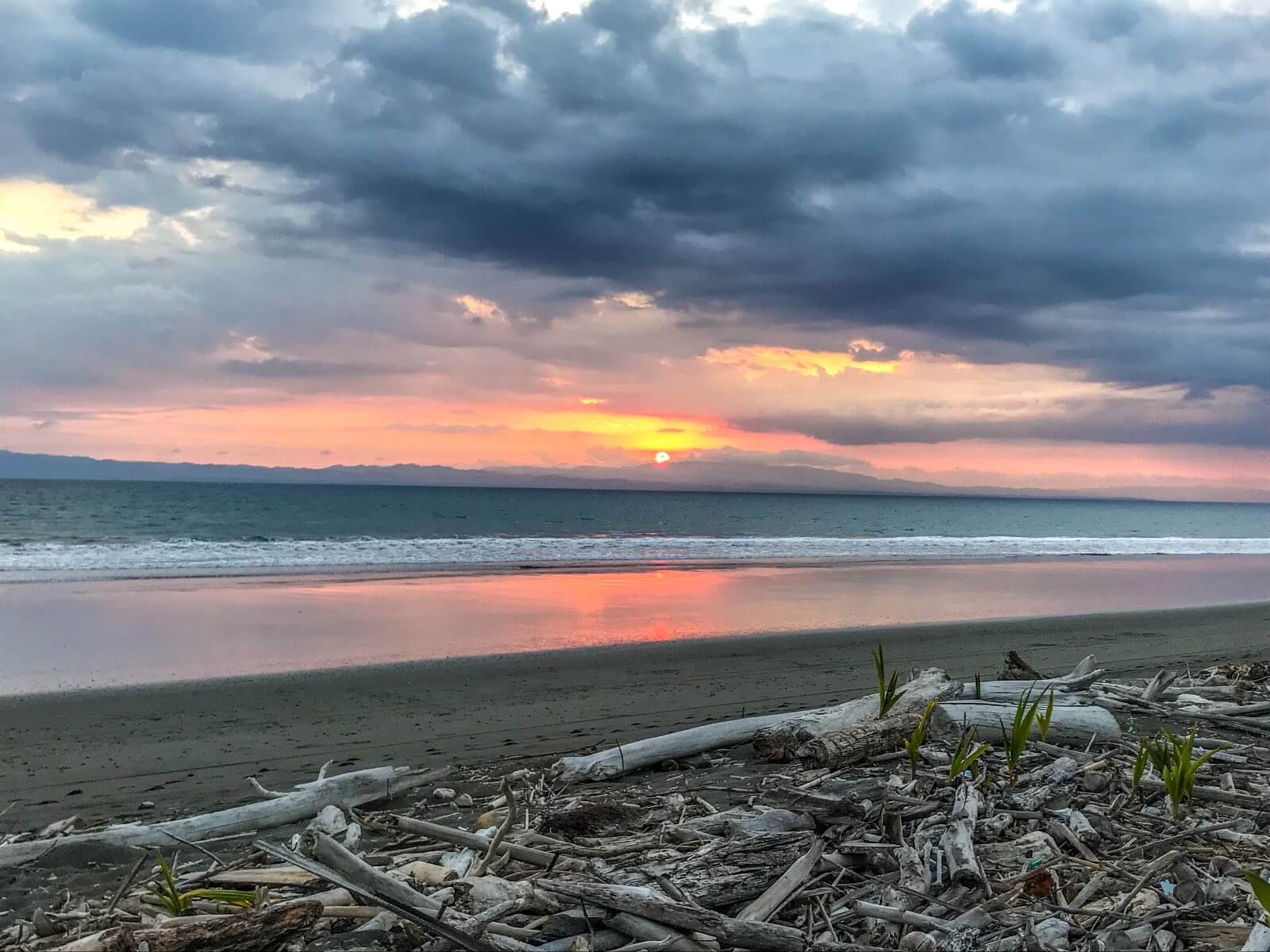 No trip to Zancudo, Costa Rica would be complete without watching the sun sink beneath the oceans surface. The after glow lasts long after the sun has set and becomes more fiery red, orange or pink depending on how many clouds are in the sky. Sunsets never get old and you can never see too many, so do yourself a favor and catch the sunset every night you are here.
nearby zancudo, costa rica
Pavones is considered to be the longest warm water left in the world and its located in Zancudo Costa Rica! Many people want to surf Pavones but so few make it to this remote part of the country. It's worth the trek if you want to get barreled all day and not have to wait in a line up!
Most of the hikes are guided. You'll get to see and learn about lots of wildlife, chase waterfalls, and get a workout in while you're on vacation so you can indulge on more pina colodas.
where to eat in zancudo costa rica
Lo Cochito– Fun atmosphere and the best bar/restaurant in Zancudo if you ask me. Every item on the menu is tasty and good sized portions.
Must try Items:The Nachos and the Ceviche! There's darts, a pool table, and even karaoke some nights. Opened Thursdays-Sundays.
The owner Carlos and his right hand women Sue are personal friends of mine and make the experience there more memorable, so make sure you say hi to them when you're there!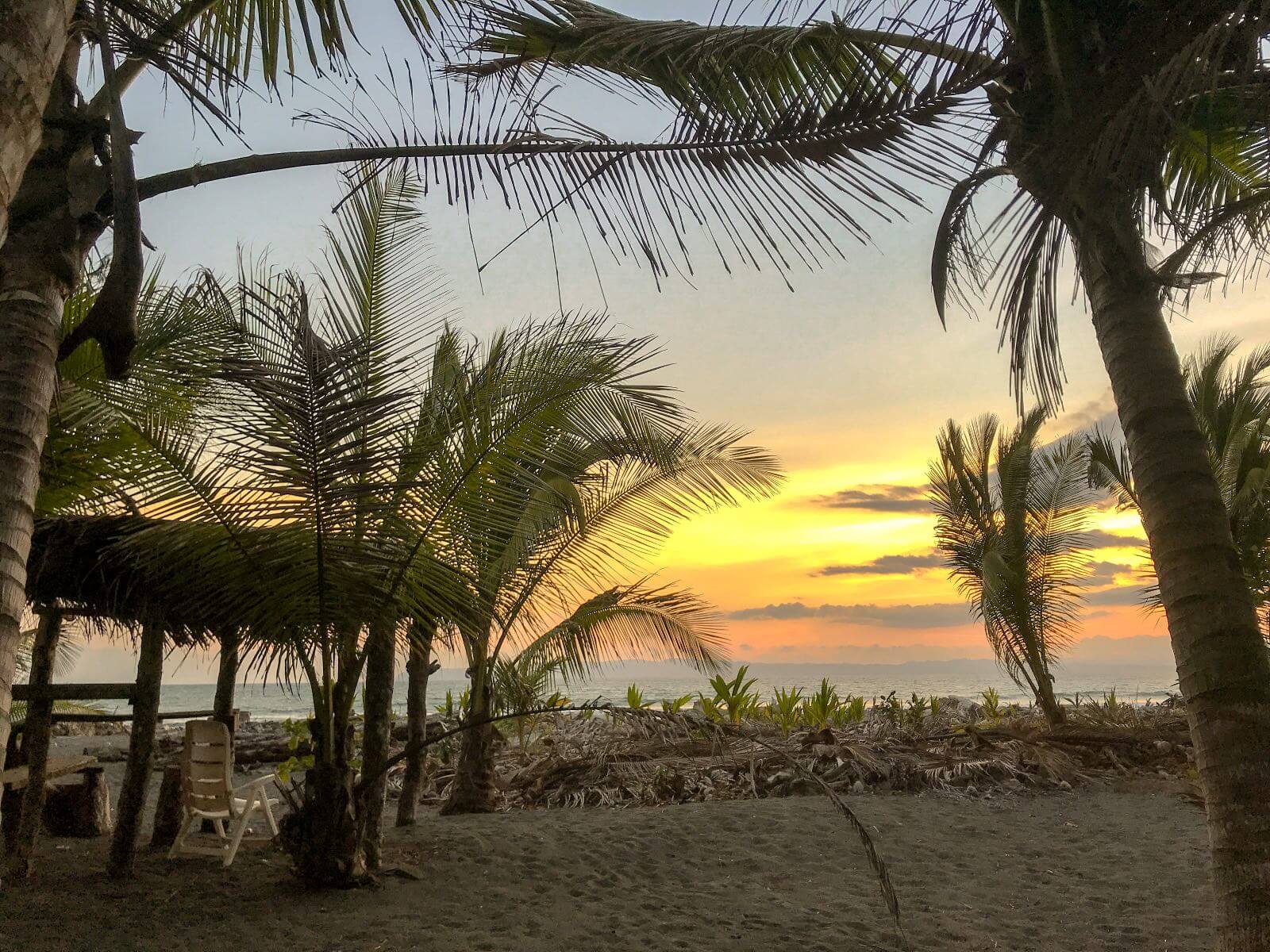 The Frith Estate is a small beachfront cabin in Playa Zancudo. This stay is steps away from the beach where there's surf, fishing and amazing sunsets over Osa Peninsula. The ocean breeze makes the nights comfortable and there is a basic stove and fridge if you want to catch and cook your own dinners.
There are surfboards, bicycles and ATV's for rent making it easy to explore this slice off paradise. There's also Wifi. You can't go wrong with this stay at $40 a night for a beach front location.
Tropical, romantic beach cabin
This beautiful beach house has it all. Steps away from the beach, air conditioning and can sleep up to 8 people. This is a perfect stay for a couple, a family or a group of friends.
This place offers luxury for the small, off the grid town of Zancudo. These include a heated outdoor shower, full kitchen, a luxurious bathroom and hammocks to laze on under the covered porch. Enjoy this stay and melt your stress away.
If you came to Zancudo, Costa Rica to surf Pavones, the 2nd longest left break in the world then this is the stay for you. Located a couple miles from this infamous break and several other surf spots are within walking distance.
The bungalow comes with all the amenities you could want including filtered water, air conditioning, hot water, washer/dryer, full kitchen and a badass balcony.
Located right on the beach, each cabina (or cabin) is equipped with WIFI and has a seating area including some hammocks which are perfect for watching the sunset. They also provide free use of bicycles, paddle boards, and various other water toys.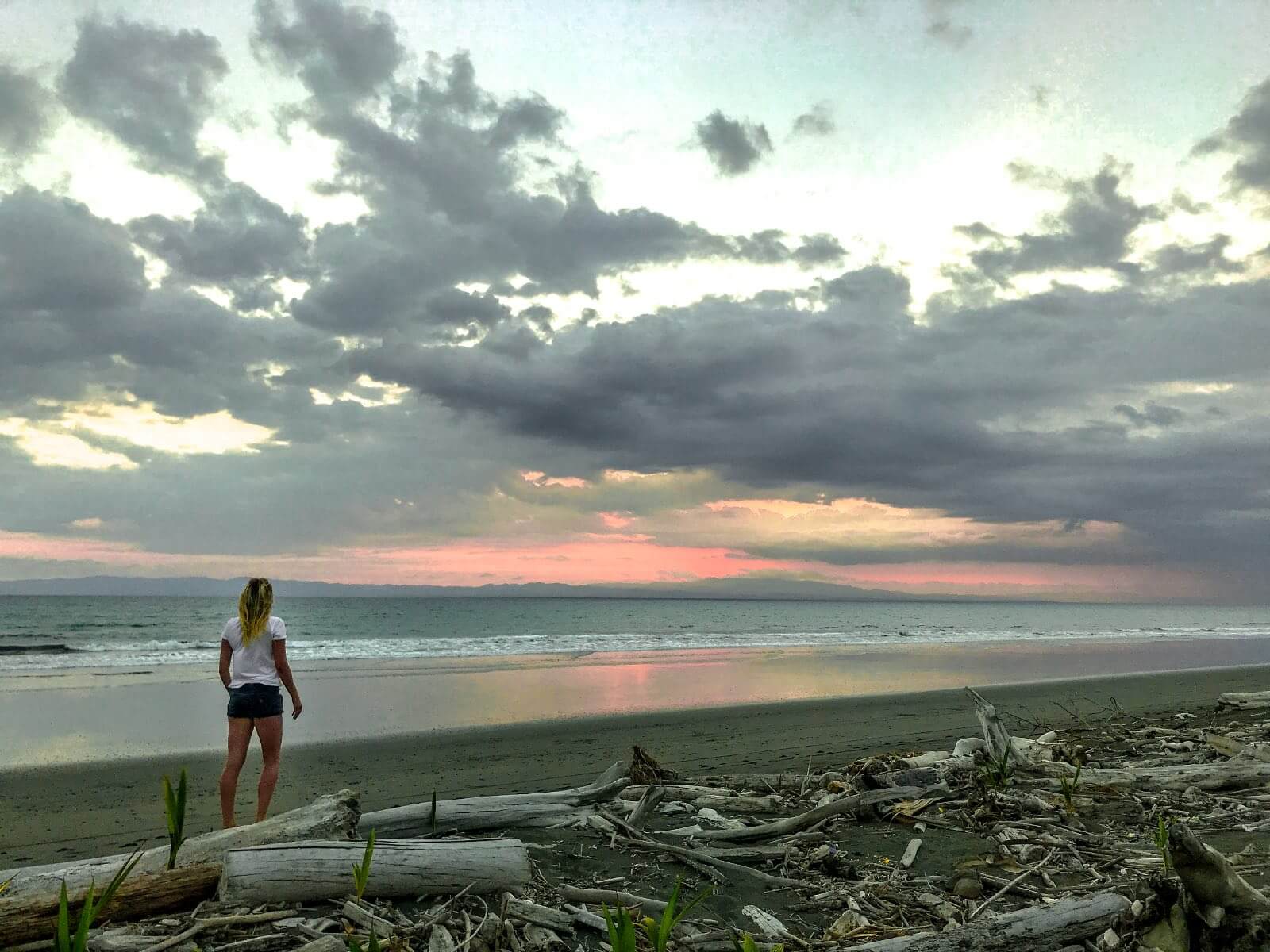 Before you Go to Zancudo, Costa Rica
Cash is King! USD's are accepted everywhere so if you plan accordingly you won't have to deal with money exchanges.
I always choose safe over sorry and I never travel without World Nomad's Travel Insurance. You can never be too prepared.
LANGUAGE: Spanish is the official language. Know your basics in the language to be able to get around, I ran into a couple drivers that didn't speak English.
Bring sunscreen and bug spray. You'll use it the whole time you explore Zancudo, Costa Rica.
There is no pharmacy in Zancudo, closest one is in Golfito or Laurel
Bring bug spray as there are lots of bugs in Costa Rica
No ATM's but most places accept credit card
A/C isn't super common
If you're walking at night use a flashlight to see where you're walking so you don't stumble onto a snake
It gets very hot in the summer months, desert like hot especially in the month of March
You can use USD's widely but you'll get Colones back as change
No gas stations but you can purchase milk jugs full of gas from the grocery store
Sunscreen is a must!
Tap water is safe to drink!
Costa Rica Travel Guides Below ↓
Enjoy this Post?!?! Pin in for Later ↓