One of the best things to do in Cappadocia is to visit the Zelve Open Air Museum. This Cappadocia attraction is similar to the Goreme open air museum but far less crowded so it feels a bit off-the-beaten path.
After spending a month traveling around Western and Central Turkey, Cappadocia remains the highlight of my trip. It's one of those destinations that may seem overrated in social media but it's everything that you want it to be and more.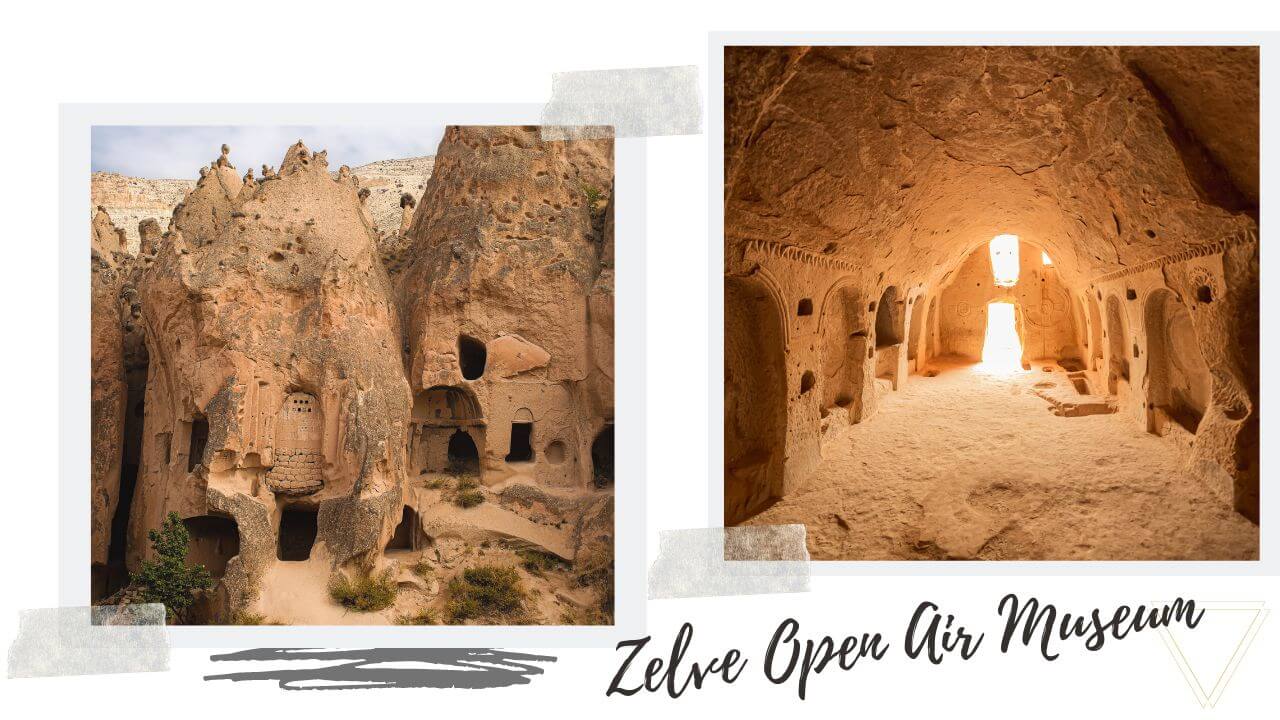 For full transparency, I have sprinkled some affiliate links in this post.  As an Amazon Associate I earn from qualifying purchases that gives me a small commission at no extra cost to you if you decided to make a purchase.  As always, I would never recommend a product or service that I didn't truely believe in.  All proceeds go to keep Jess traveling and coffee ☕️.  I thank you in advance.
The Zelve Open Air Museum is located between Ürgüp and Avanos, Turkey, on the way to Devrent Canyon. The site consists of the Zelve Monastery which is a Byzantine-era monastery that was carved into the rock in pre-iconoclastic times.
Rather see what the Zelve Open Air Museum is like? Check out this travel vlog that we filmed during our time in Cappadocia.
Zelve Open Air Museum Entrance Fee
If you bought the museum pass (400 TLR), the Zelve is apart of the pass. If not it is 65 Turkish Lira to enter the facility.
If you visit the Zelve on a tour you won't have to worry about parking but if you were like us and visited independently, parking cost 8 Lira. Not bad considering that's about .50 cents.
Tip: No drones, gimbles or tripods are allowed inside the Zelve Open Air Museum.
Tours that Include the Zelve Museum
If you are short on time or just prefer to go on guided tours, there are a few tours you can book online that stop at the Zelve Open Air Museum as well as other top places in Cappadocia. All tours are reasonably priced and worth a look.
My Review of the Zelve Open Air Museum
We arrived at the Zelle Open Air Museum at 11 am. There were only 2 large tour buses when we arrived. In comparison to the Goreme Open Air Museum, the Zelve Open Air Museum felt empty.
As soon as you walk in to your left your greeted with a series of large cave dwellings. It felt like a scene straight out of Star Wars. Some of these dwellings are churches and some are said to date back to the 10th century.
When Christianity was emerging in the area, it wasn't accepted so people would come to these churches carved into the rock to practice their faith in secret. I find this so fascinating as according to Wikipedia 99.8% of the Turkish population is Muslim.
Tip: No video or photographs are allowed to be taken inside the churches.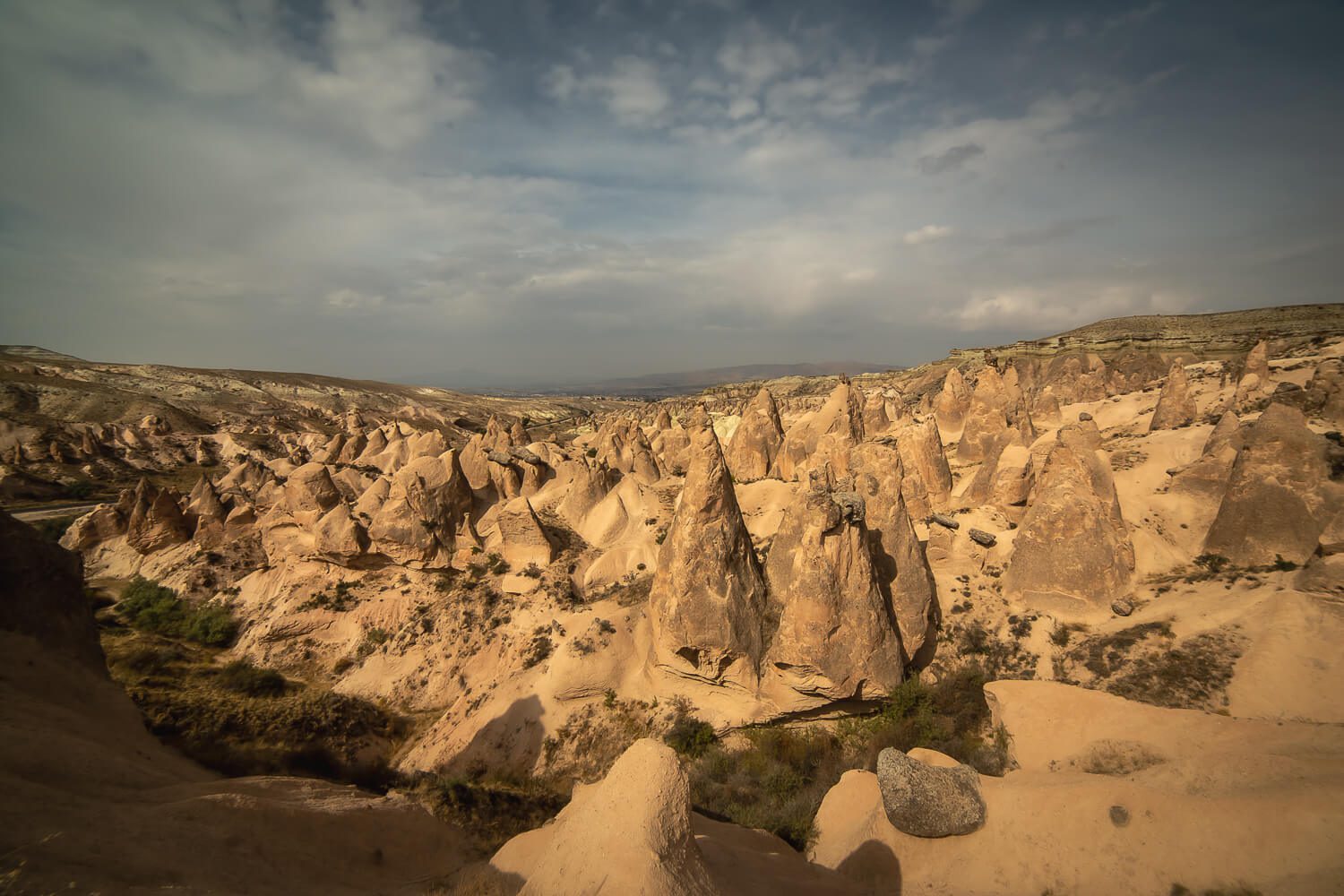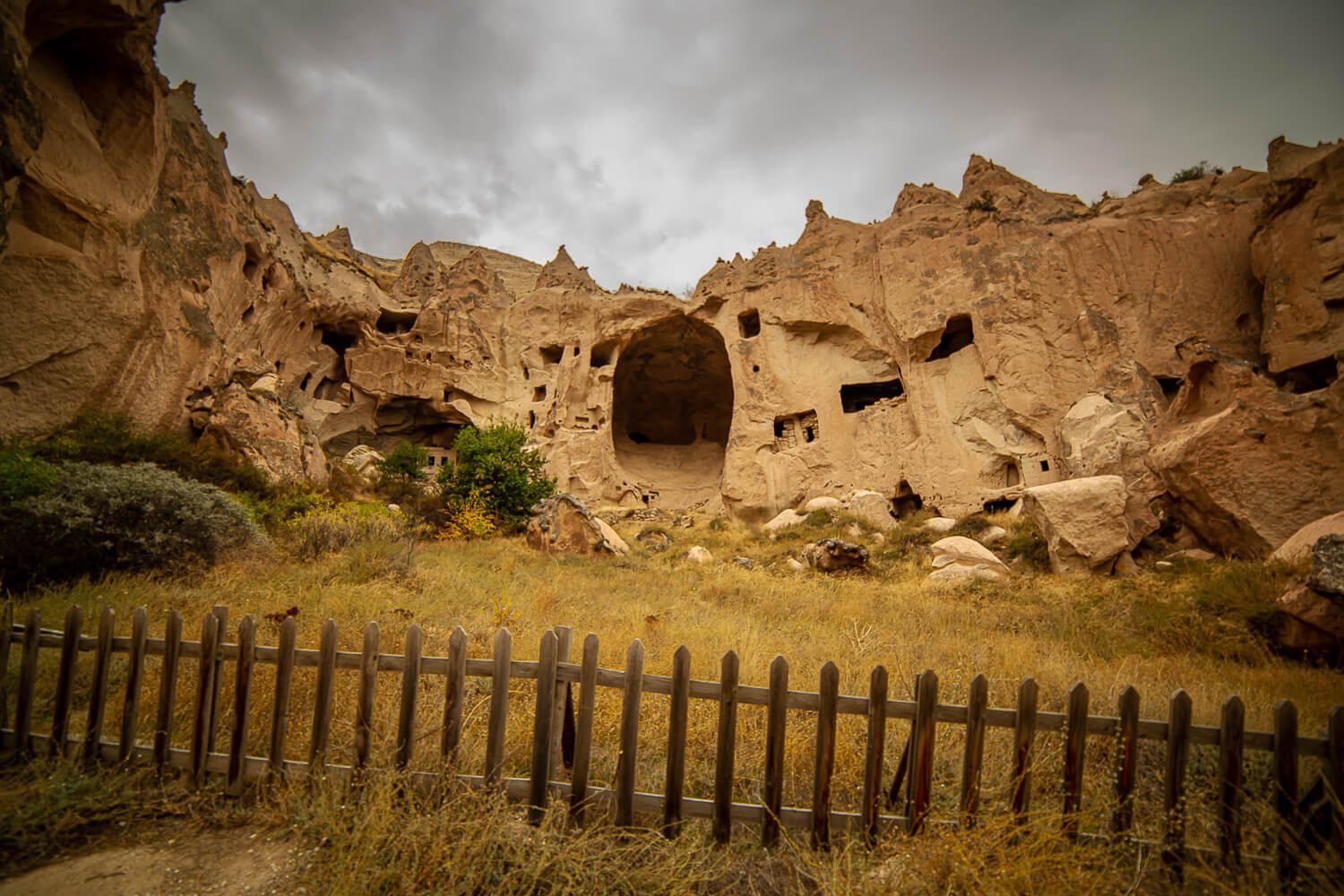 Besides the cave churches, there is a wheat mill and winery. There are a few plaques written in English explaining the process and locations.
It takes about 15 minutes to wander the path through the monasteries, winery and mill. To the right is Zelve Valley. There is a well maintained and built walkway that takes you around the valley to different cave dwellings and monasteries. There's also worn dry river beds that you can wonder if you enjoy getting off the beaten path.
I personally enjoyed this Cappadocia open air museum better than the popular and crowded Goreme Open Air Museum – there was more freedom to roam. Although the audio guide that is available at the Goreme Open air Museum is a nice perk and that wasn't an option here.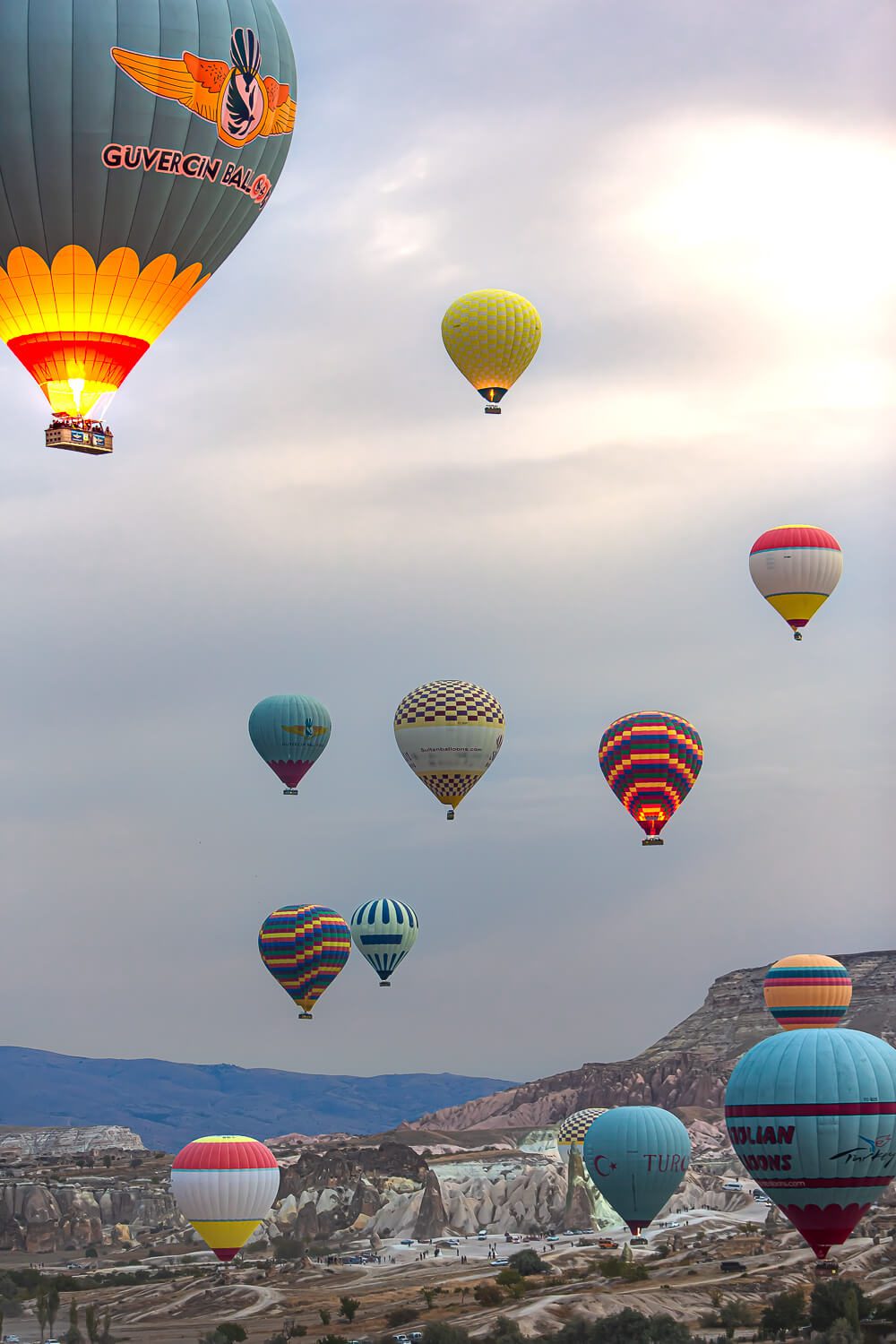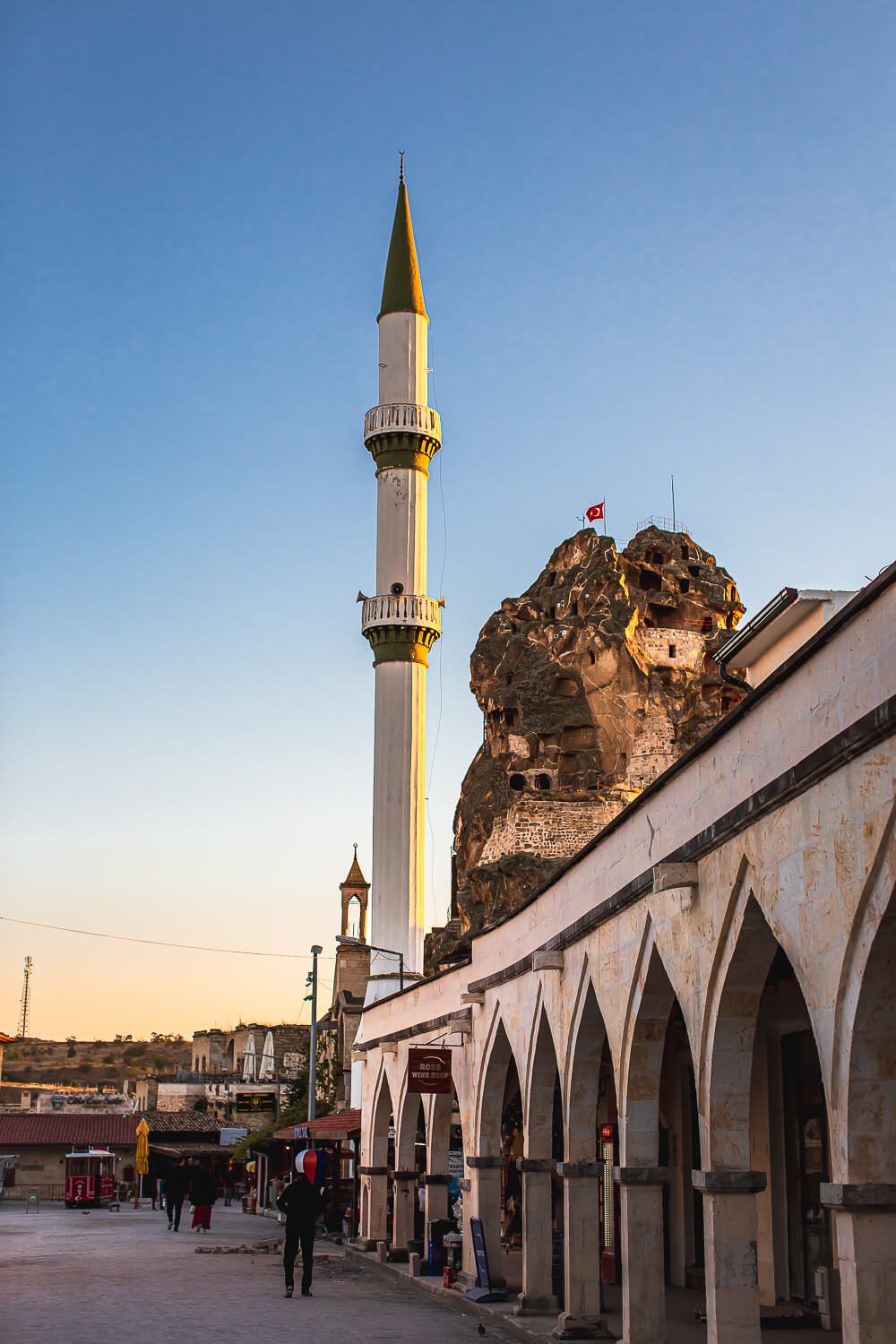 Things to do Nearby the Zelve Open Air Museum
I spent a week in the Cappadocia region and wished I could have stayed for weeks longer. Here is a list of other things to do in Cappadocia. Click on the blue links below for a more detailed guide of each activity.
Devrent Valley
Pasabag Valley
Rose Valley
Red Valley
Sunset at Lovers Hill
Derinkuyu Underground City
Cavusin Castle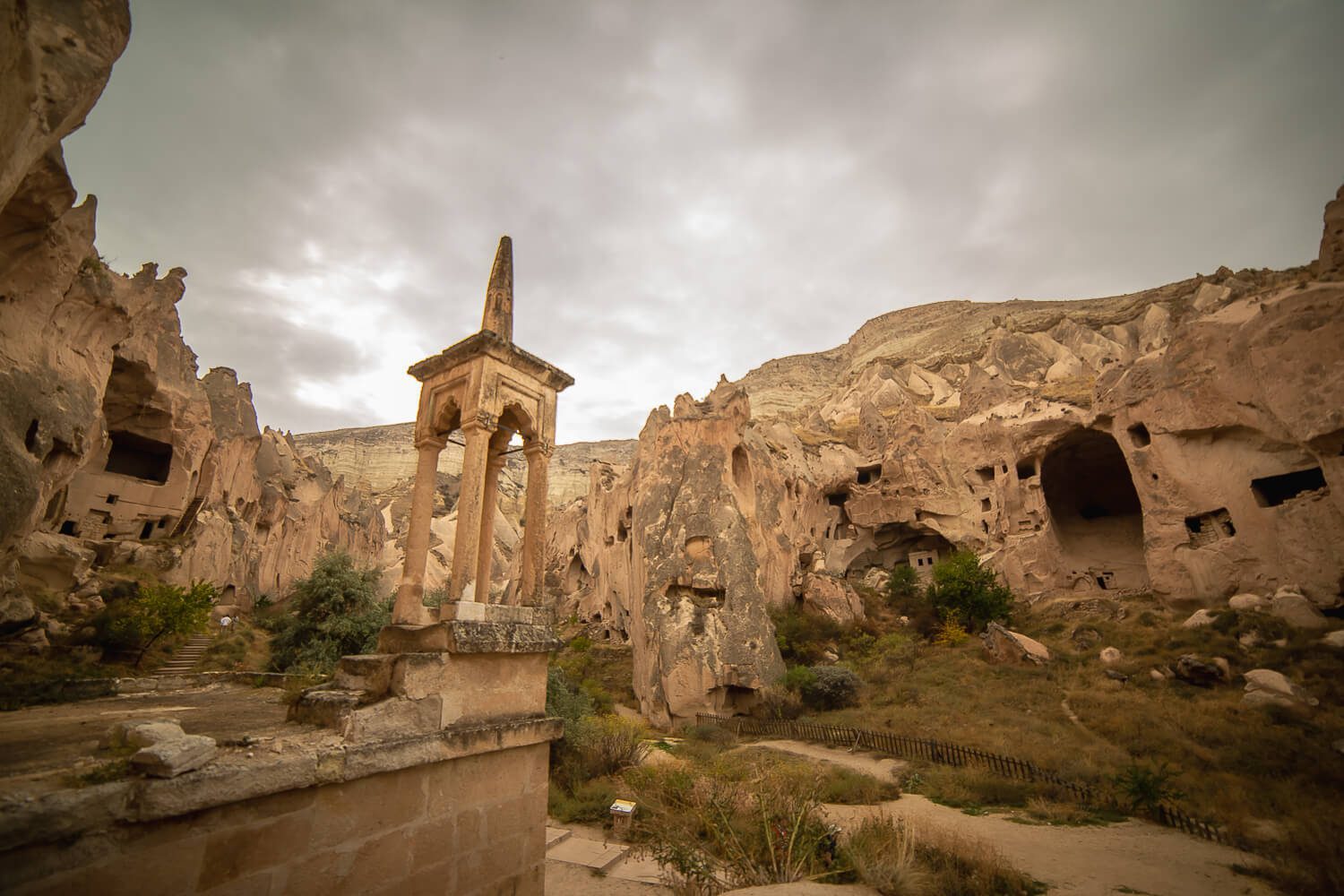 Where to Stay in Cappadocia
There isn't a shortage of places to stay in Cappadocia. Most people opt for staying in a swanky cave hotel but there are Cappadocia accommodations for every budget.
These are the top picks of places to stay in Cappadocia but check out the accommodation guides below for more ideas on where to stay.
Cheap Hotels in Cappadocia
Crazy Horse Hotel – Awesome place to stay if you are traveling Cappadocia on a budget and plan on renting your own transportation. This budget hotel is located in Ortahisar about 7 minutes from the main town of Goreme. Owners are amazing, rooms provide all the amenities you could need for a pleasant stay.
Mid Range Places to Stay in Cappadocia
Seki Cave Suites – Private, spacious, fantastic views of the balloons and all the amenities you could want like Turkish bath's and free breakfast.
Luxury Hotels in Cappadocia
Aza Cave – Located in Goreme, this hotel has an outdoor swimming pool, garden, bar, restaurant, and lounge perfect for balloon watching and pictures.
How to Get Around Cappadocia
The easiest way to get around Cappadocia is renting a car. Renting a car is extremely affordable in Turkey and roads are well maintained, making it very easy to navigate and get around. Joe and I rented a car for the full week we were in Cappadocia and loved every minute of it.
If you're not into the responsibility of renting a car, booking tours will be your next best option. Tours are reasonably priced and will take you to all the best things to do in Cappadocia. Plus they'll pick you up and drop you off at your hotel and who doesn't enjoy that.
Turkey Travel Tips
📍Plan your Trip

🗺 How long to travel Turkey?  2 Weeks to hit the highlights, 4 Weeks to really immerce yourself.

🛂 Visas: Get your E-Visa

☔️ Best Time to Visit:  April, May, September and October are the best months to travel Turkey.

💰 Average Daily Budget: Expect to pay 30-50 USD's a day for basic accommodations, sit down meals at a cafe and entrance fees.

⛺️ Turkey accommodation Guides

🪂 Highlights

Exploring Ephesus
Pergamon Ruins
Antalya

🧳 What to Pack: What to Pack for Türkiye

🎥 Watch our Turkey Series on YouTube

📧 Get on my Email list to see what I'm up to and all the best travel content!
Enjoy this Post?!?! Pin in for Later ↓