Towering limestone rock formations, crystal clear turquoise waters, idyllic white sand beaches, and picture perfect sunsets are all ways to describe El Nido. El Nido is located on Palawan in the Philippines. The best way to experience El Nido is by taking El Nido tours via boat.
I spent a week here taking tours everyday and let me tell you they did not disappoint! Each tour costs around $20 per person and you get to spend the day on and in the water. Thats a win win in my book.
There are 4 El Nido island hopping tours that you have the option to take, A, B, C, or D. All tours leave at 8 am and arrive back in El Nido town around 4 pm so you have a full, fun day of exploring on the water.
Travel Tip: If you are looking for more of an adventure take an overnight boat trip to Busuanga Island or Coron, more islands part of the Palawan Provence.
For full transparency, I have sprinkled some affiliate links in this post.  As an Amazon Associate I earn from qualifying purchases that gives me a small commission at no extra cost to you if you decided to make a purchase.  As always, I would never recommend a product or service that I didn't truely believe in.  All proceeds go to keep Jess traveling and coffee ☕️.  I thank you in advance.
Tour A El Nido is one of the most popular tours in El Nido. This tour will stop at Small Lagoon, Big Lagoon, Secret Lagoon, Shimizu Island and Seven Commando Beach.You will discover beautiful lagoons, beaches and snorkeling spots where you can swim, snorkel, and/or kayak. Price for Tour A is P1200 ($22 USD) and includes a lunch buffet on the beach, water, a snorkel and a mask.
This was my favorite and best tour in El Nido because I really enjoyed renting a kayak and exploring Small Lagoon. As a bonus there are locals selling beers for $.50 out of their kayaks and they come right up to you! Your own personal floating bar!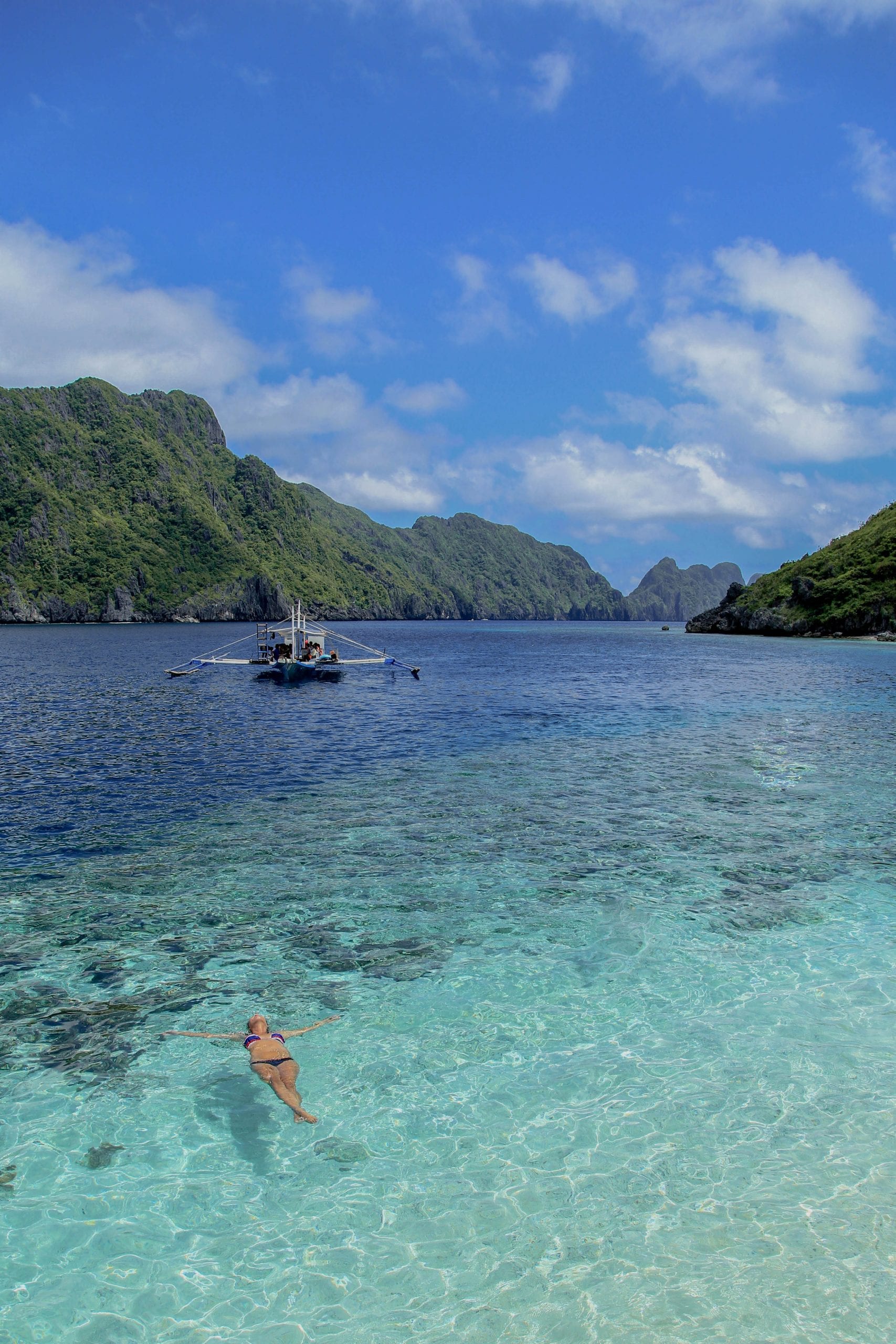 Tour B El Nido takes you to do some snorkeling, enjoy white sand beaches, and you get to visit a cave and discover a very unique sandbar in the middle of the sea. This tour stops at Snake Island, Pinagbuyutan Island, Entalula Beach, Cudugnon Cave, and also a snorkeling sight.
This tour is perfect if your looking to do more island hopping than snorkeling and swimming.
Price for Tour B is P1300 ($24 USD) and includes a lunch buffet on the beach, water, a snorkel and a mask.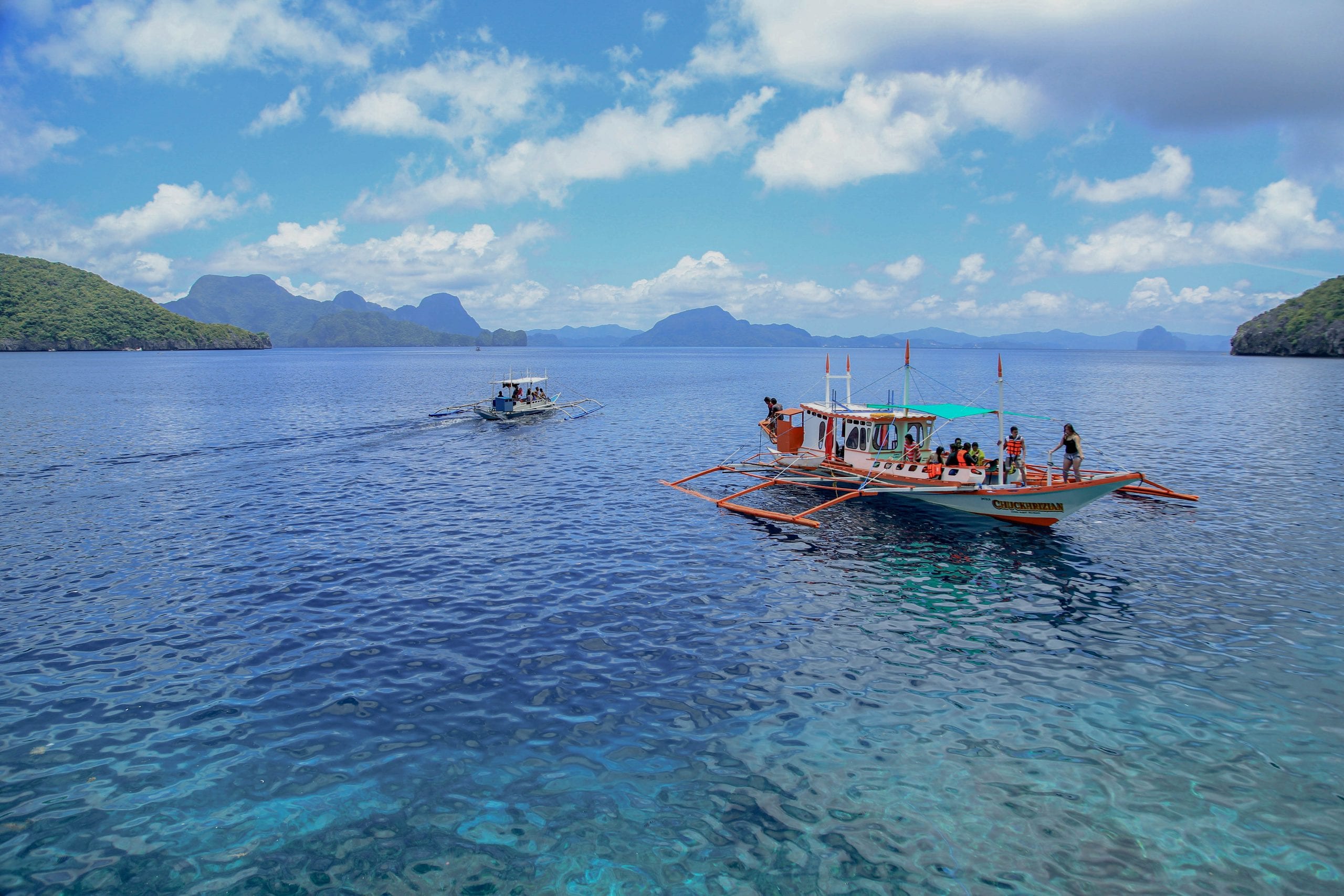 Tour C El Nido is probably the most popular of all the El Nido tours. This tour will take you on a journey to explore beautiful islands, beaches and snorkeling spots.
On this tour you will stop at Helicopter Island, Matinloc Shrine, Secret Beach, Star Beach, and Hidden Beach.
If you only have time for one tour many people choose to tour El Nido on this tour because it stops at one of the most famous islands of the Bacuit archipelago, Dilumacad island! But its commonly know as Helicopter Island because of its shape – although, some think it looks more like a camel, a dolphin or even a dinosaur. I personally thought it looked like a chicken drumstick.
Price for Tour C is P1400 ($26 USD) and includes a lunch buffet on the beach, water, a snorkel and a mask.
Tour D El Nido will take you to see some of the most beautiful beaches in Palawan. You will have the time to relax on the white sands and/or snorkel around and admire the colorful coral and exotic fish species.
The beaches that you stop at on this tour are Ipil Beach, Cadlao Lagoon, Paradise Beach, Pasandigan Beach, Natnat Beach, and Bukal Beach.
This tour is perfect if you're looking to spend some time on exotic beaches and take it easy in between snorkels. Price for Tour D is P1200 ($22 USD) and includes a lunch buffet on the beach, water, a snorkel and a mask.
*Note these tour has options of "counter-the-clock" and "reverse order" for a El Nido private tour, which are designed to allow you to avoid the crowds during your island hopping day and they do cost extra. Can we say insta worthy?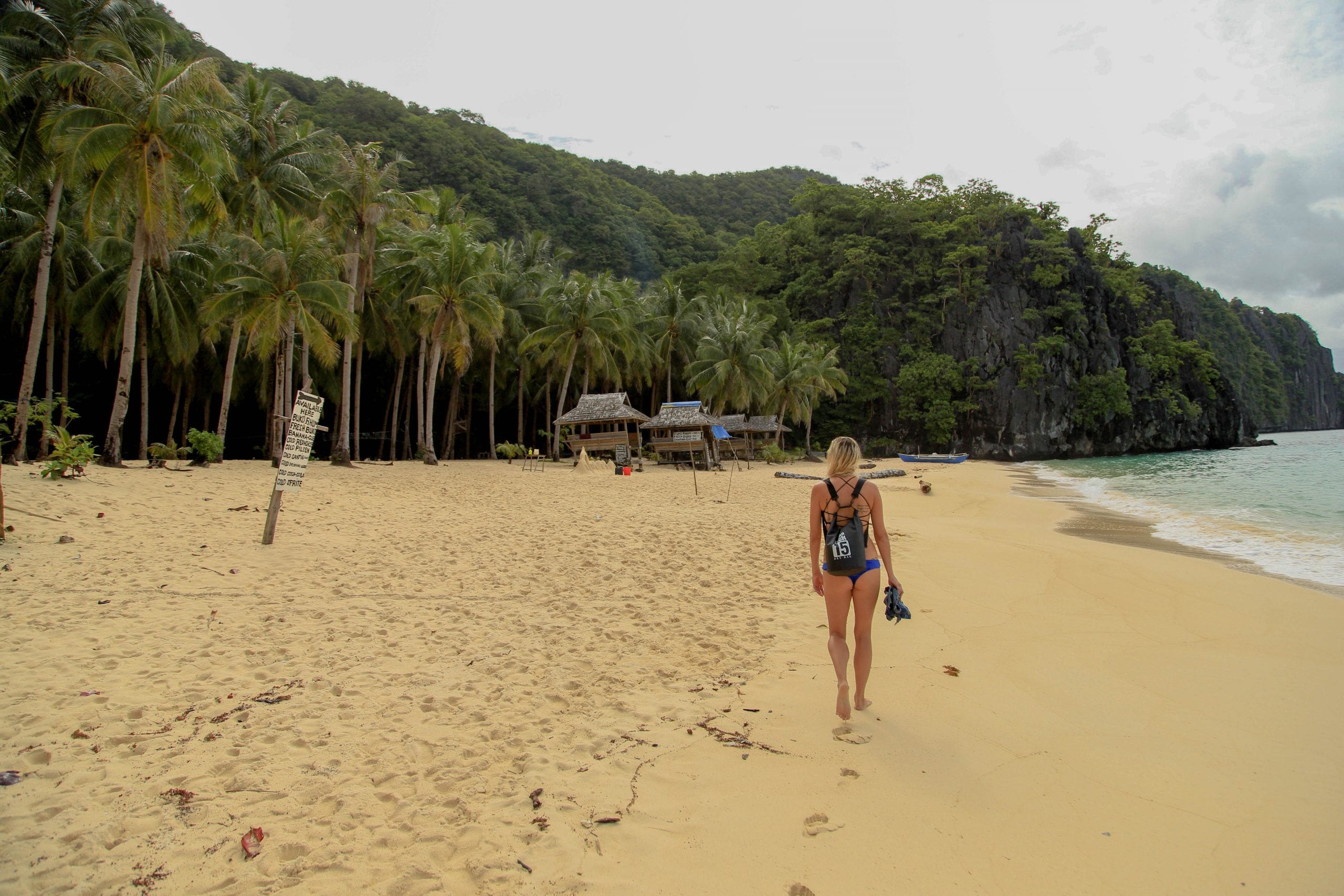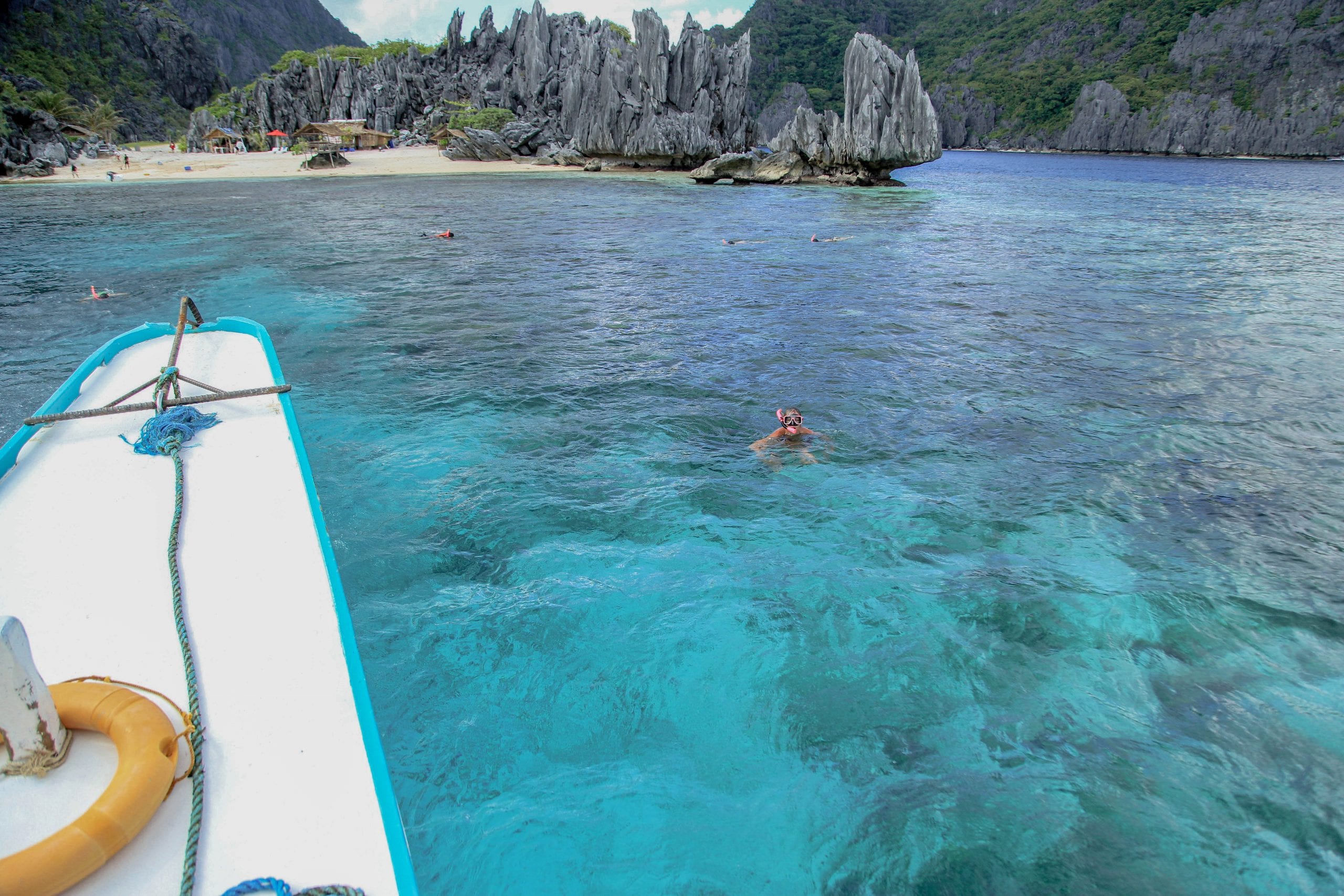 → Make sure you ask how many people are on the tour already cause the boats are small and it can get crowded quick. We would always ask and decide which tour to do based on the lowest number of people.
→ Bring lots of sunscreen as it gets hot real quick and the sun is relentless.
→ No need to bring your own beer, there will be men on kayaks rowing buy with a selection of beer, rum and water to buy. And its cheap, like .50 cents a beer!
rather do an El Nido private tour ↓
Enjoy this Post?!?! Pin in for Later ↓