If you are looking for some tasty food in Thailand, then you're in luck because there are so many delicious Koh Phi Phi restaurants that choosing only 10 is difficult.
I've been grateful enough to have visited the Phi Phi Islands on three separate occasions. Once in 2008, once in 2016 and again at the end of 2022. Overtime, Koh Phi Phi has started to rebrand its reputation from crazy party island to a laid back, family getaway.
Don't get me wrong, this is still a backpacker haven, the vibe was just more relaxed and the town itself seemed to have gotten a face lift. The shops and restaurants in the Phi Phi Islands were more inviting and had more of a boutique feel. Live music happens every night all around town.
No matter if you are visiting the Phi Phi Islands for a romantic stay, looking to party the night away or have your kids in tow, make sure you try these 7 tasty Phi Phi restaurants.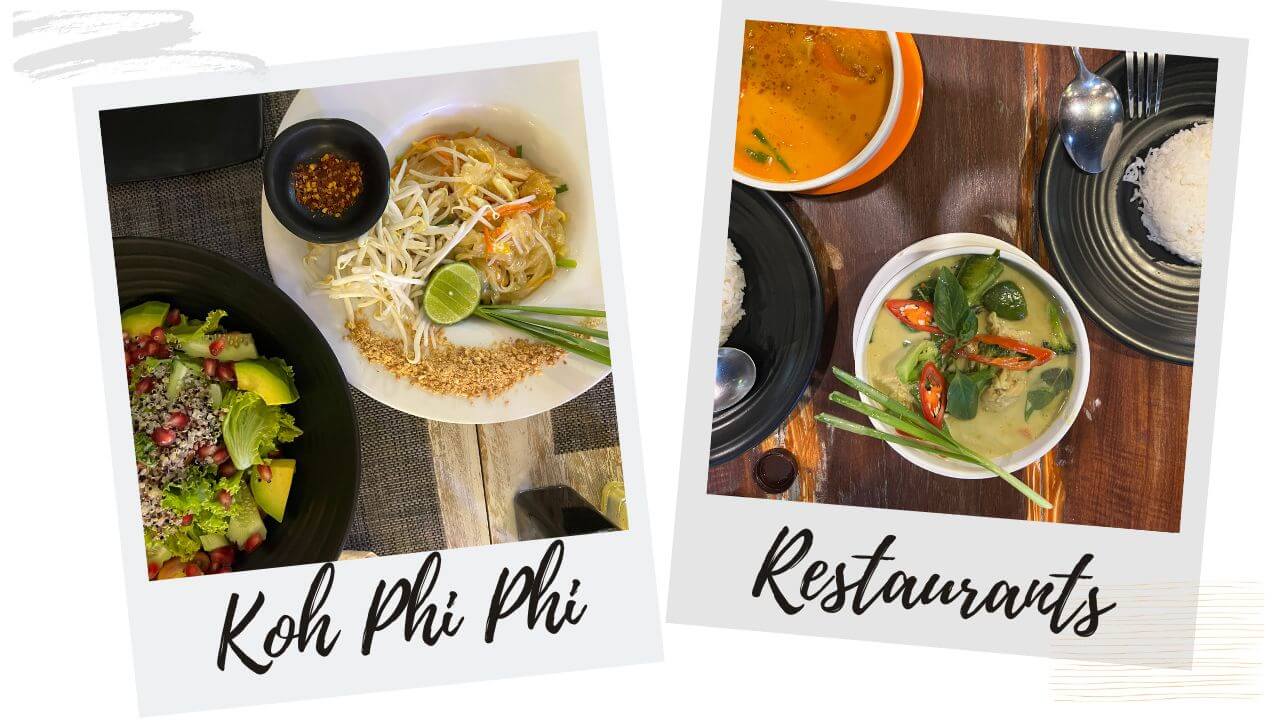 For full transparency, I have sprinkled some affiliate links in this post.  As an Amazon Associate I earn from qualifying purchases that gives me a small commission at no extra cost to you if you decided to make a purchase.  As always, I would never recommend a product or service that I didn't truely believe in.  All proceeds go to keep Jess traveling and coffee ☕️.  I thank you in advance.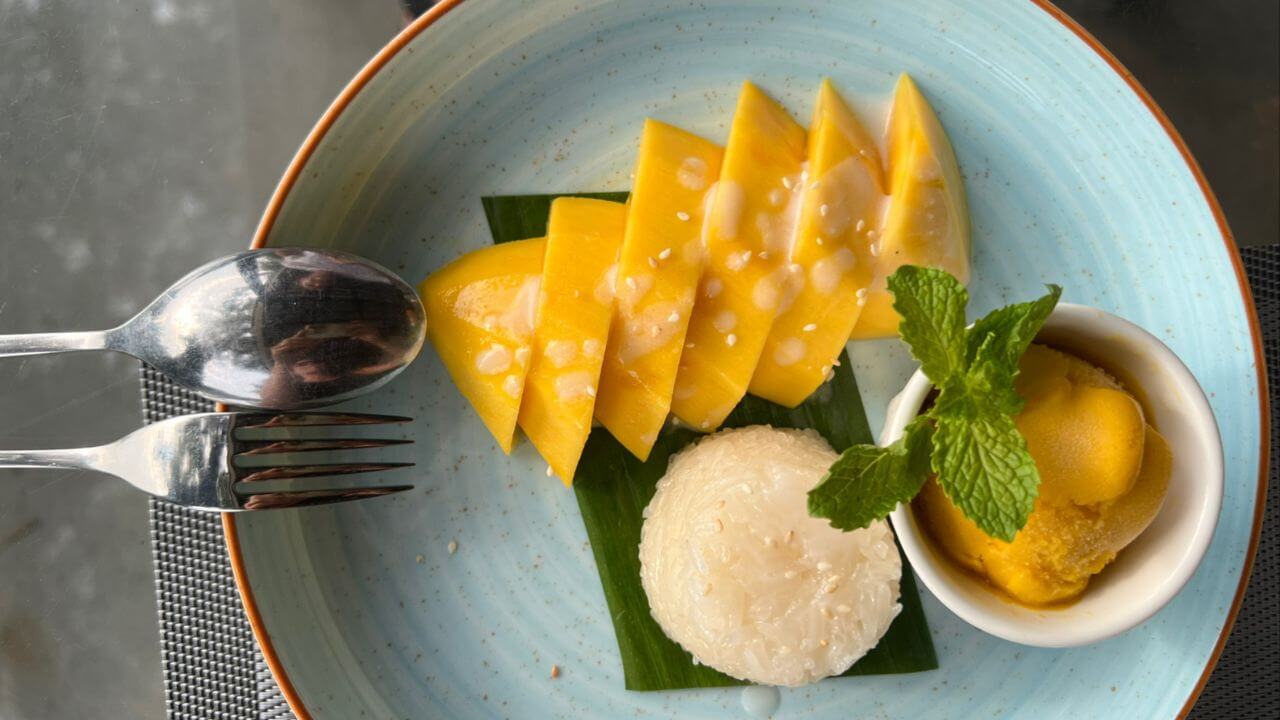 Som Tam – Spicy Green Papaya Salad

Pad Thai – Thai Style Fried Noodles

Gaeng Keow Wan – Green Curry

Tom Kha Gai – Chicken in Coconut Soup

Tom Kha Kai – Thai Chicken Coconut Soup

Tom Yum Goong – Spicy Shrimp Soup

Khao Pad – Thai Fried Rice
Kao Niew Ma Muang – Mango and Sticky Rice
7 Must Try Koh Phi Phi Restaurants
After spending over two weeks in Koh Phi Phi because I made a huge travel error and left our ATM card in the machine (our only source of cash), I had plenty of time to test out all the Koh Phi Phi restaurants on the list.
I have personally ate at all these restaurants so I wanted to write a post to help my fellow traveler out. These are 7 must eat restaurants in Koh Phi Phi.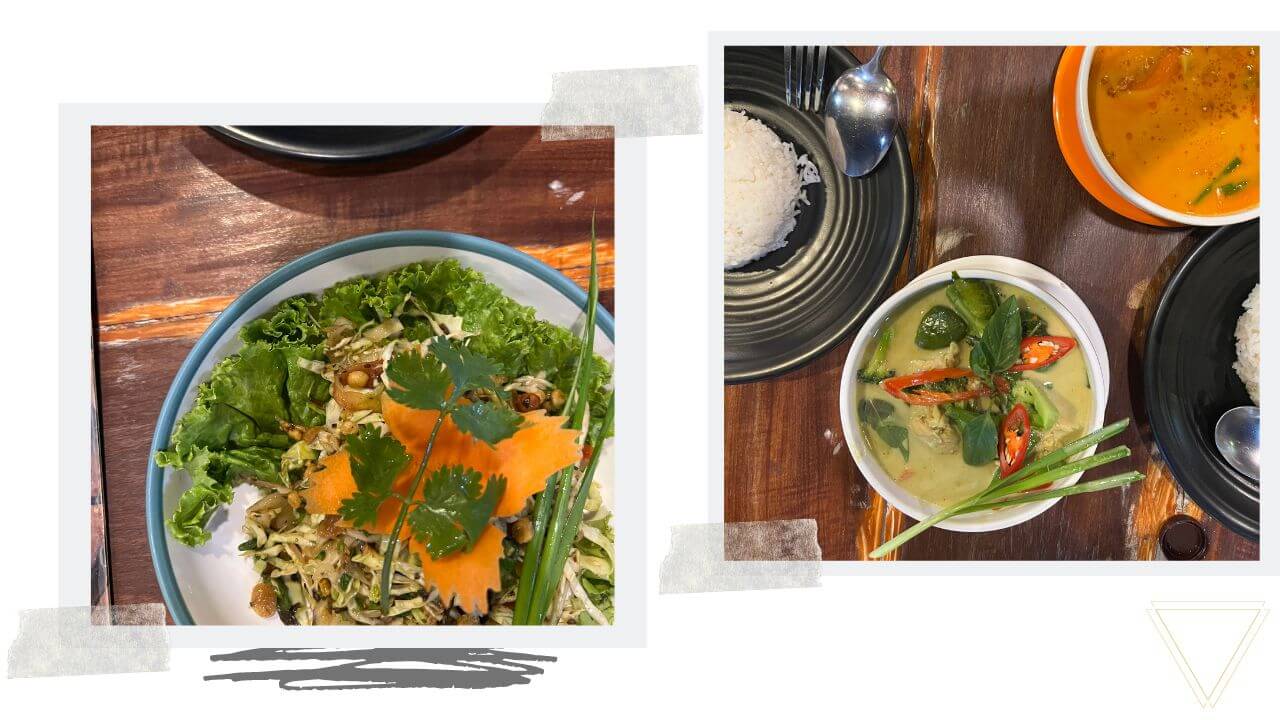 The Pirates House is located on the pier side of the island, this place may be my favorite place to eat in the Phi Phi Islands. The menu is composed of a mix of Indian and Thai food.
Everything looked so good, it was hard to choose a plate. We went with the Spicy Burmese Salad as a starter and it was fresh, tasty with just enough spice. The best appetizer to start our meal off in the right direction.
For main courses, Joe got the green curry and I got the veggie massaman (peanut style curry). Out of this world good! Every vegetable was cooked perfectly, savory sauce and nicely cooked rice.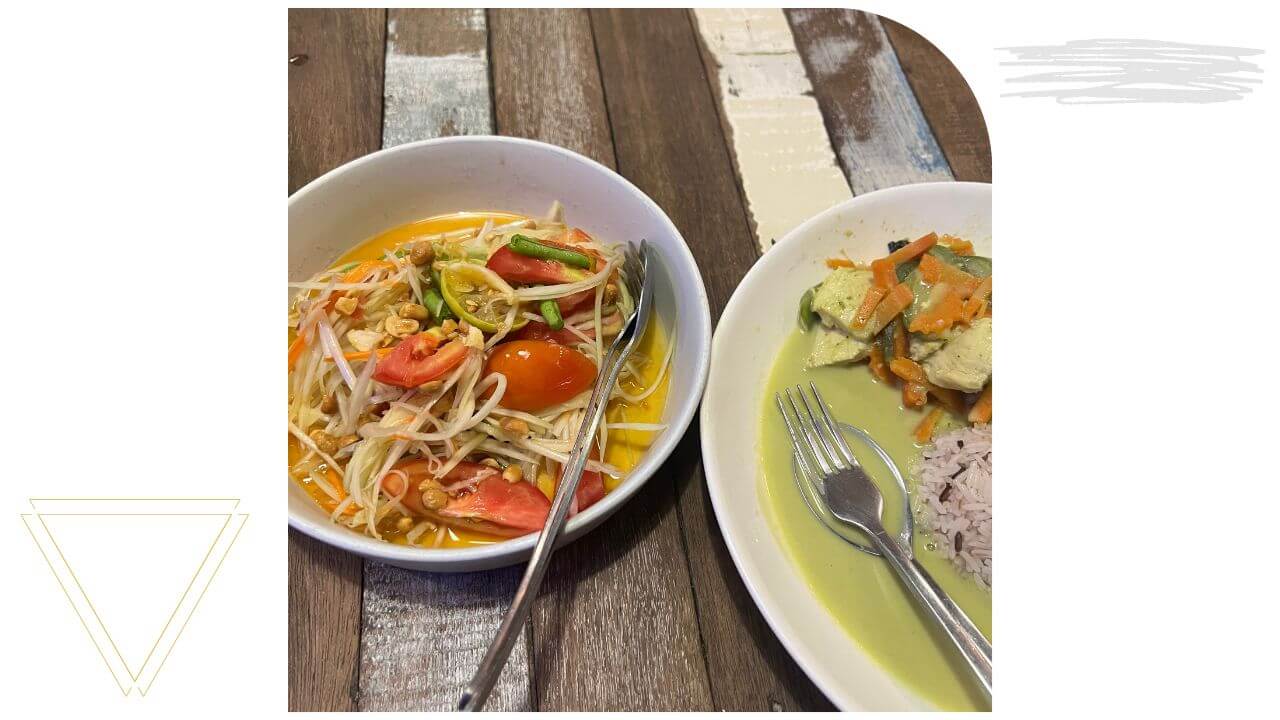 The Basil Bistro had half the size menu compared to most Koh Phi Phi restaurants, so you just know the food is going to be good. We spent 460 baht including an appetizer, beer, two entrees and tip which is about 12 USD.
The Som Tam Salad is another fan favorite. The salad consists of papaya, carrots, peanuts, tomatoes, green beans and lime. So good! I order it everytime I see it on the menu. Best part, it only costs 100 baht.
Next up, we got the usual massaman curry and green curry. Are you depicting a pattern here? The rice even came in the shape of a heart – adorable.
Joe thought his dish wasn't that spicy for a spicy green curry but I throughly enjoyed my meal. The spice factory is never a make or break quality for me.
The ambience is inviting and there are only 6 tables inside so come early if you want a seat. Located on a side street about a 5 minute walk from the pier.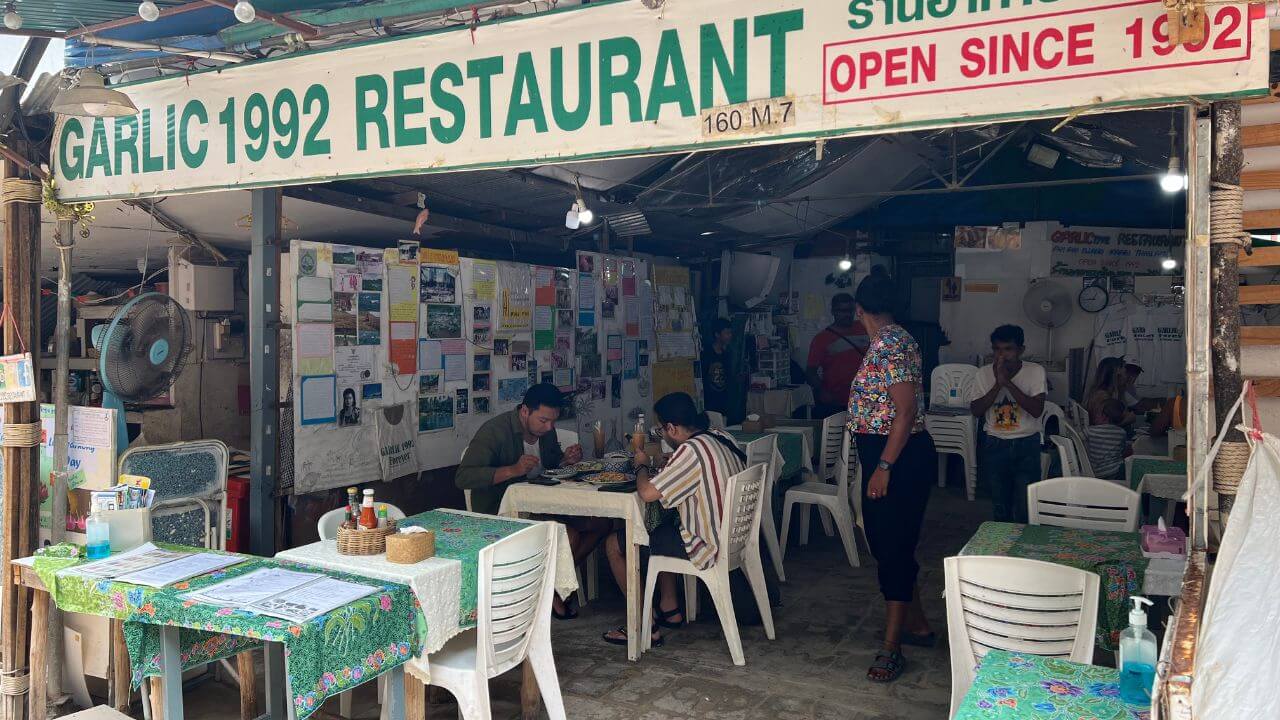 If your idea of a delicious meal involves plastic stools, then look no further than Garlic 1992. This old school Koh Phi Phi restaurant has been around since 1992.
This could easily be the best restaurant in Koh Phi Phi. The menu is pretty big featuring local Thai food, breakfast as well as international dishes. You can't go wrong with any of the curry dishes or the fried chicken.
This place is packed on a regular basis so come early to avoid the line. Bring cash as no credit cards are accepted.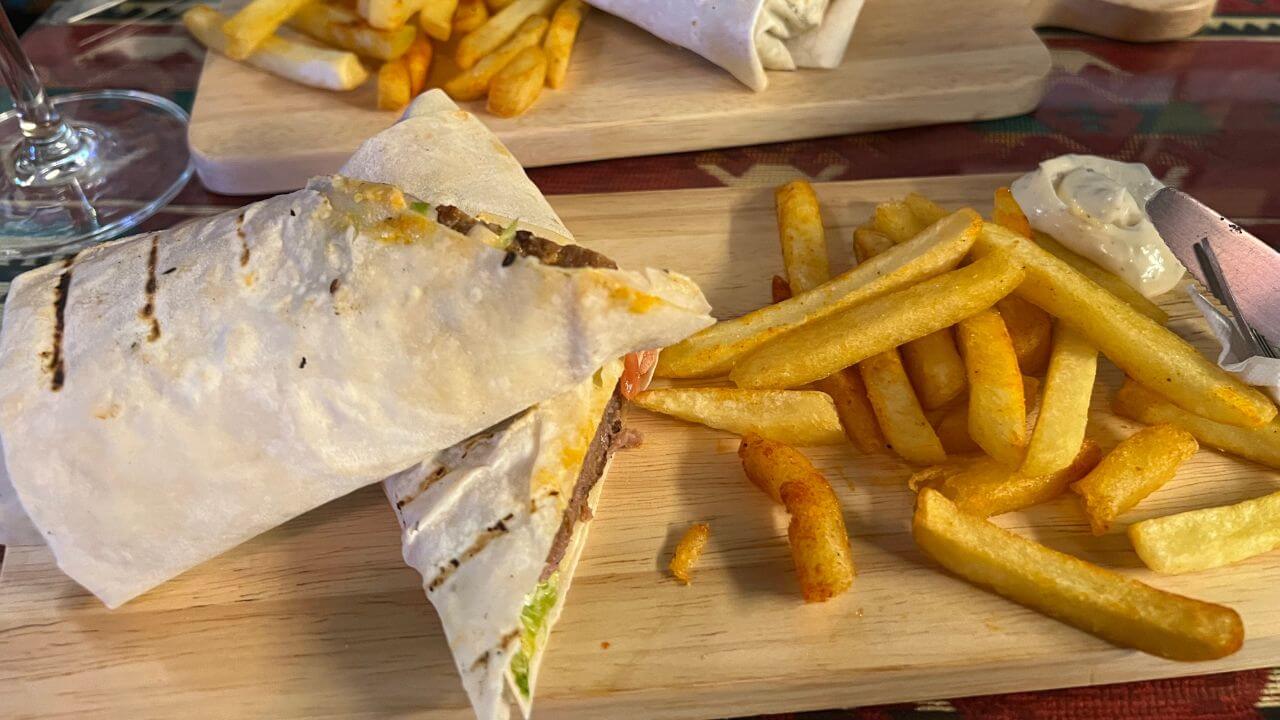 Maybe we were having withdrawals because we flew into the Phi Phi Islands from Istanbul, Turkey. This was the first stop on our month long trip through Southern Thailand. We stopped at EFE a Mediterranean cuisine fast food joint and ordered a doner kebab.
It was so good! Juicy, full of meat, lots of veggies and a soft, warm pita. The restaurant is decorated with motivating signs and has 18 small stools.
We stopped after hours of watching fire knife dancing on our first night. Just as we got our doner, it started dumping down rain! So naturally we ordered another one and waited out the heavy rains. Going for 130 Baht ($3 USD), it's a hard deal not to pass up.
The owner is Turkish because he understood us when we said Teskkürler – thank you in Turkish. This is the best place to eat in Koh Phi Phi for late night munchies.
Two days later we discovered another EFE but more of a restaurant. The menu was larger and had full Turkish dinner items like kebabs. This phi phi restaurant also takes credit card unlike the smaller shop mentioned earlier that only accepts cash.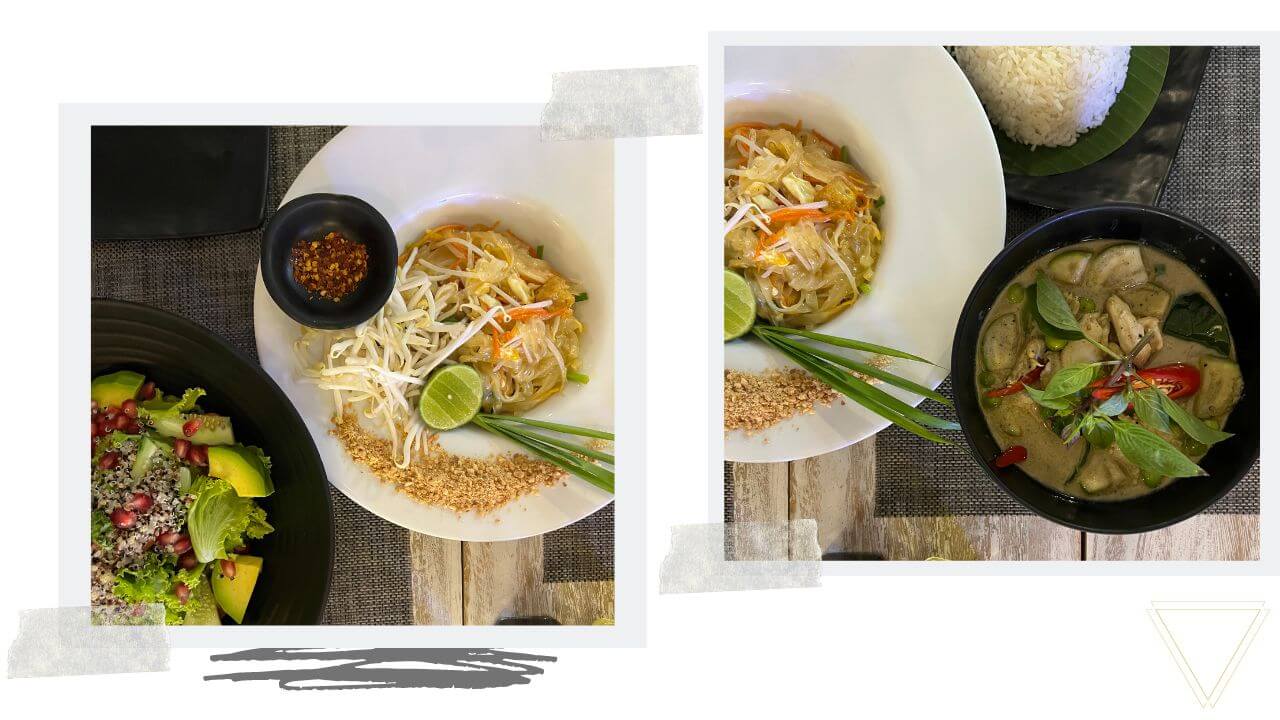 This Koh Phi Phi restaurant will catch your eye right away. With a bright, inviting location Acqua Restaurant has white wood stained tables and chairs set with wine bottles.
We finally strayed from our usual dishes and got Pad Thai. It was exactly what we wanted. Perfectly cooked rice noodles, crispy cabbage along with a upscale presentation. The menu consists of salads and tasty Thai food. Credit cards accepted.
The Clover House was the first place we ate on our last trip. After traveling over 40 hours from Türkiye to the Phi Phi Islands, we were sweaty, dirty and exhausted. Having not booked a place yet, we sat at the Clover House to figure out where to stay in the Phi Phi Islands.
We ordered the Green Curry Tom Kha Gai. It was the perfect amount of spice with great flavor. The place is small and the prices are some of the best you'll find in the Phi Phi Islands.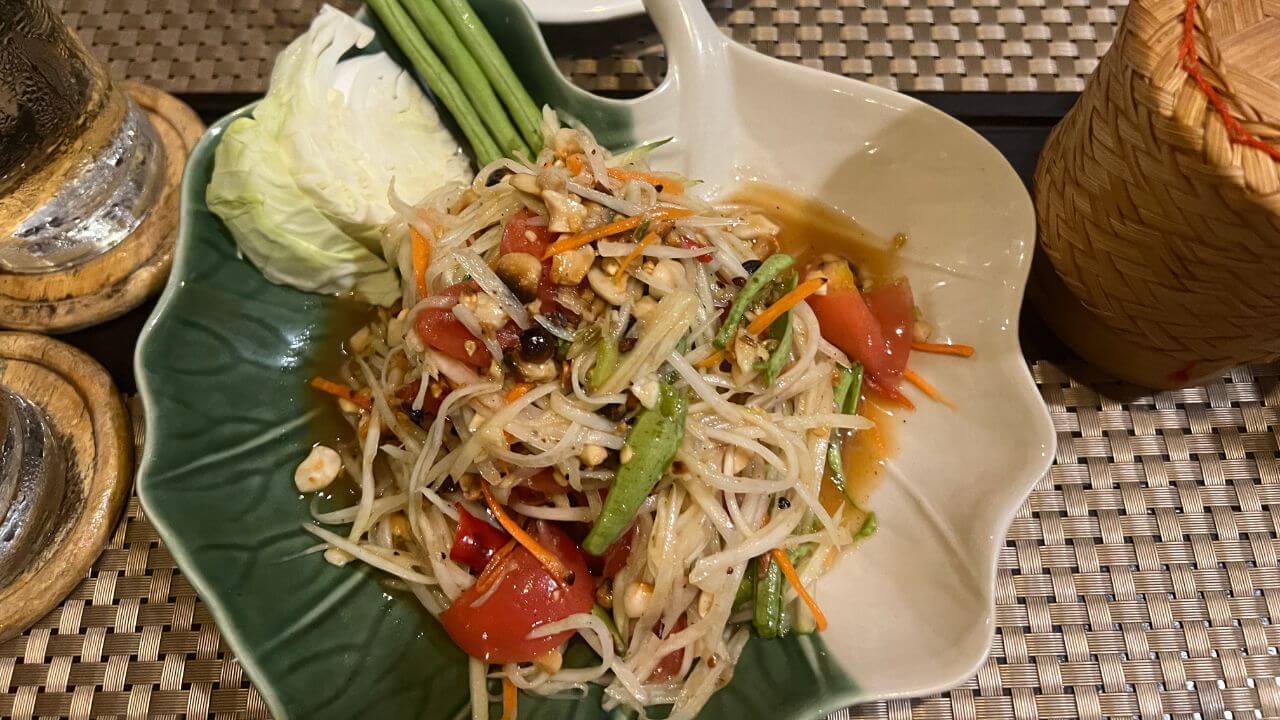 Anna's Restaurant is a cute spot that serves Indo-European & Thai food. Owned by a British husband and Thai wife which explains the menu.
Theres plenty of tables inside and the food is prepared exactly how you want it. Now I can't speak for the Indo-European cuisine but the Thai food was so good!
The Tom Sam salad is exceptional and is served with sticky rice. It was the perfect amount of spice and the owner even brought us out a small side of chopped peppers to increase the spice level if needed.
Naturally main courses were a green curry and I tried the chili crème. Joe loved the curry, perfect amount of spice making it extremely flavorful. And it was creamy. The veggies inside my dish were prepped with care as they were the perfect bite size.
We were the first ones to arrive at 5:45 and by the time we were leaving around 7 the whole place was full. Having to remove your shoes before entering the restaurant was a nice touch.
I couldn't write a must eat Koh Phi Phi restaurants post without including some of the best places to go for some Phi Phi Island Nightlife. The last time Joe and I were in the Phi Phi Islands we went to Slinky's every single night to watch the fire knife dancers.
The are lots of bars to be able to experience the true Phi Phi Islands nightlife. Not only is the nightlife in the phi phi islands electric but lots of restaurants have live music nightly. These are the best bars in Koh Phi Phi worth checking out.
Slinky's – Fire shows and shirtless Thai men.
Dublin Irish Pub – Pool table and draft beer.
Kong Siam – Live band.
The Beach Bar
Freedom Bar
Carlitos Bar – Fire show and live music.
Do you have any other favorite Koh Phi Phi restaurants? Let me know if the comments and as always thanks for reading.
Krabi Province Guides below ↓
Enjoy this Post?!?! Pin in for Later ↓