You can't visit Southern Thailand and not ride in a Thai Longtail Boat. It's an iconic symbol of the islands of Thailand and one of the best ways to explore this part of the country.
After our Phi Phi Islands ATM card fiasco, we spent our last three days on the mainland in Ao Nang. On our third and final day in the islands we finally hired a private Longtail Boat Tour. This is by far one of the best things to do in Ao Nang and Krabi.
In this post I'll go over the stops of the Four Islands Tour Krabi, what to expect and let you in on any useful tips to know before you go.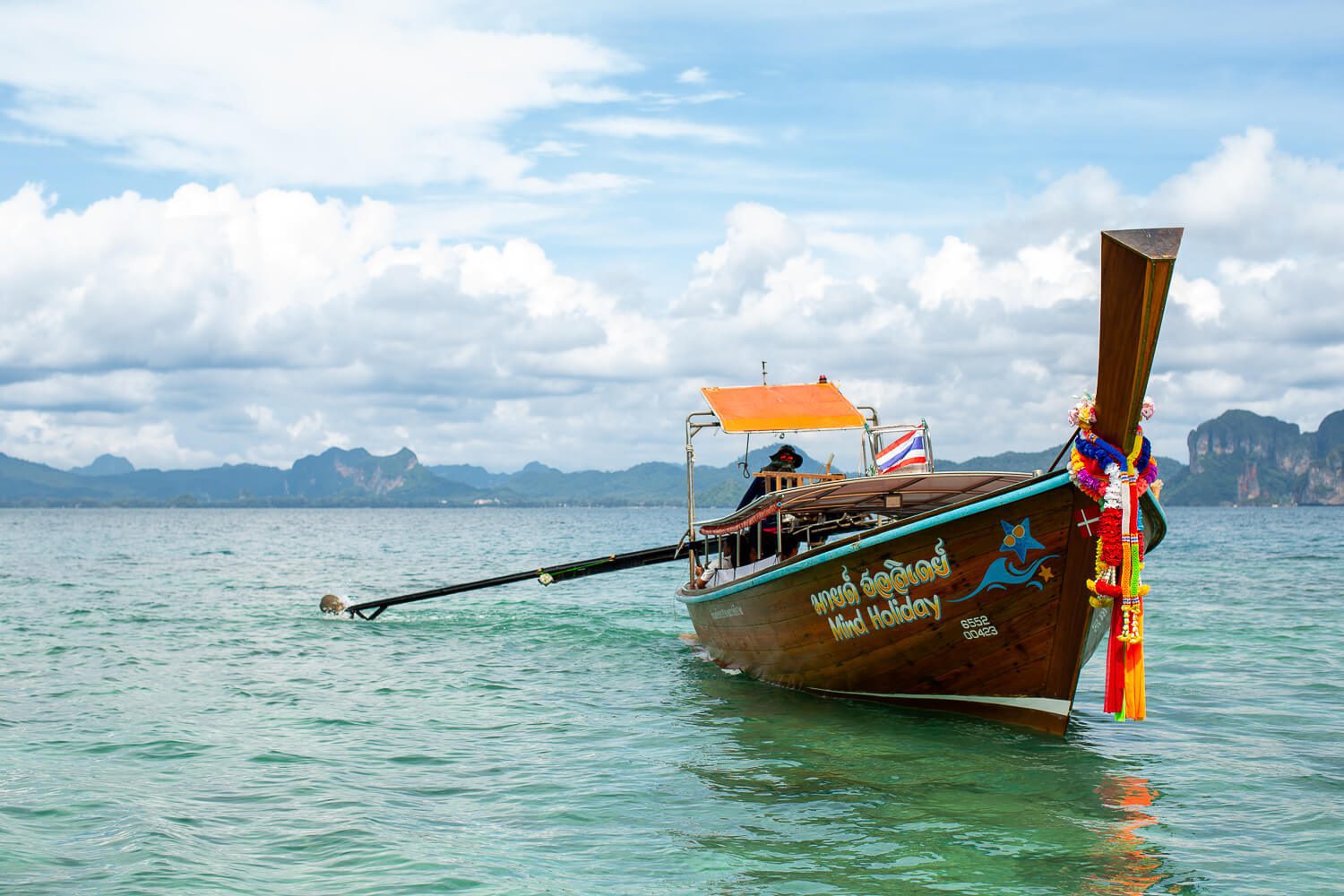 For full transparency, I have sprinkled some affiliate links in this post.  As an Amazon Associate I earn from qualifying purchases that gives me a small commission at no extra cost to you if you decided to make a purchase.  As always, I would never recommend a product or service that I didn't truely believe in.  All proceeds go to keep Jess traveling and coffee ☕️.  I thank you in advance.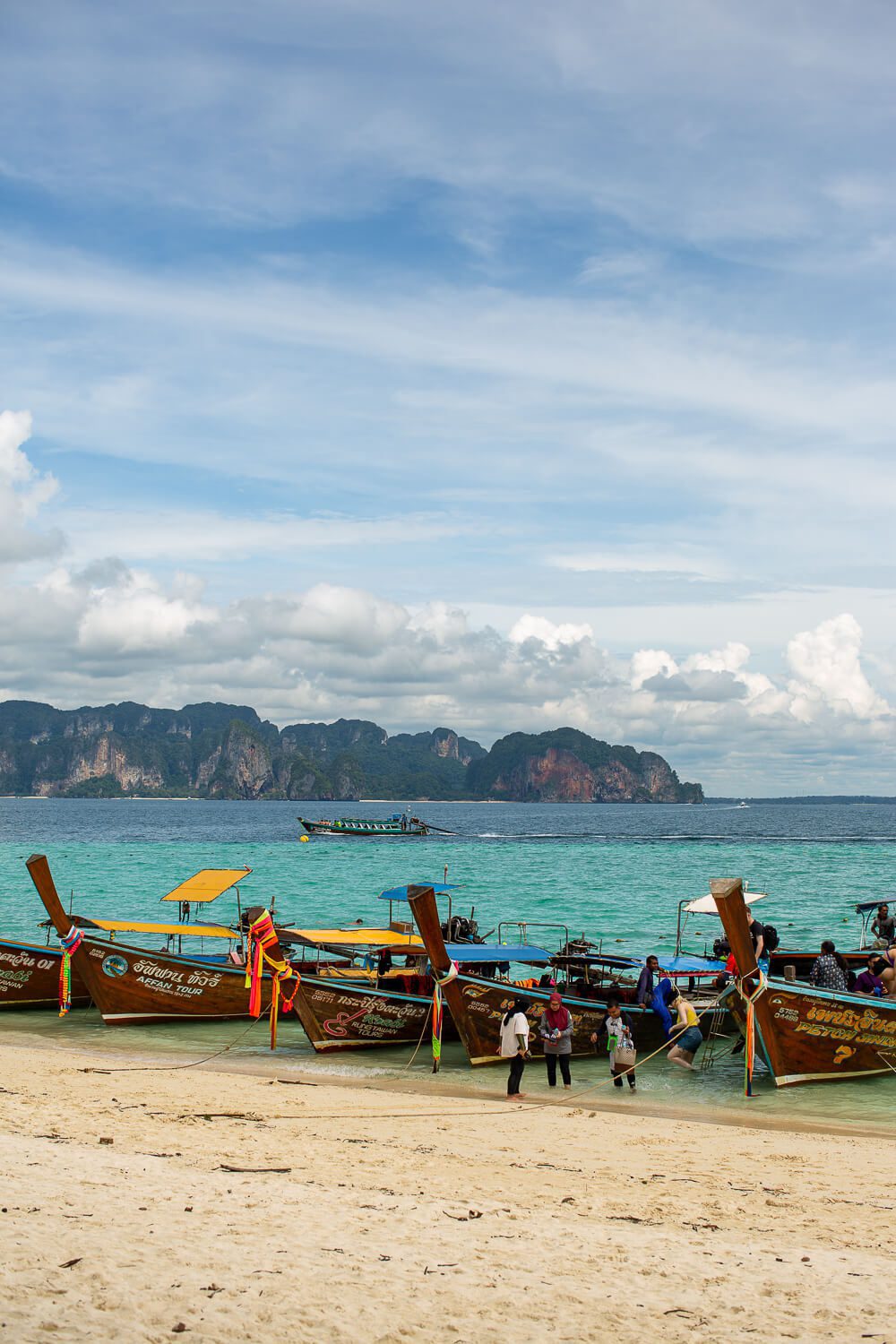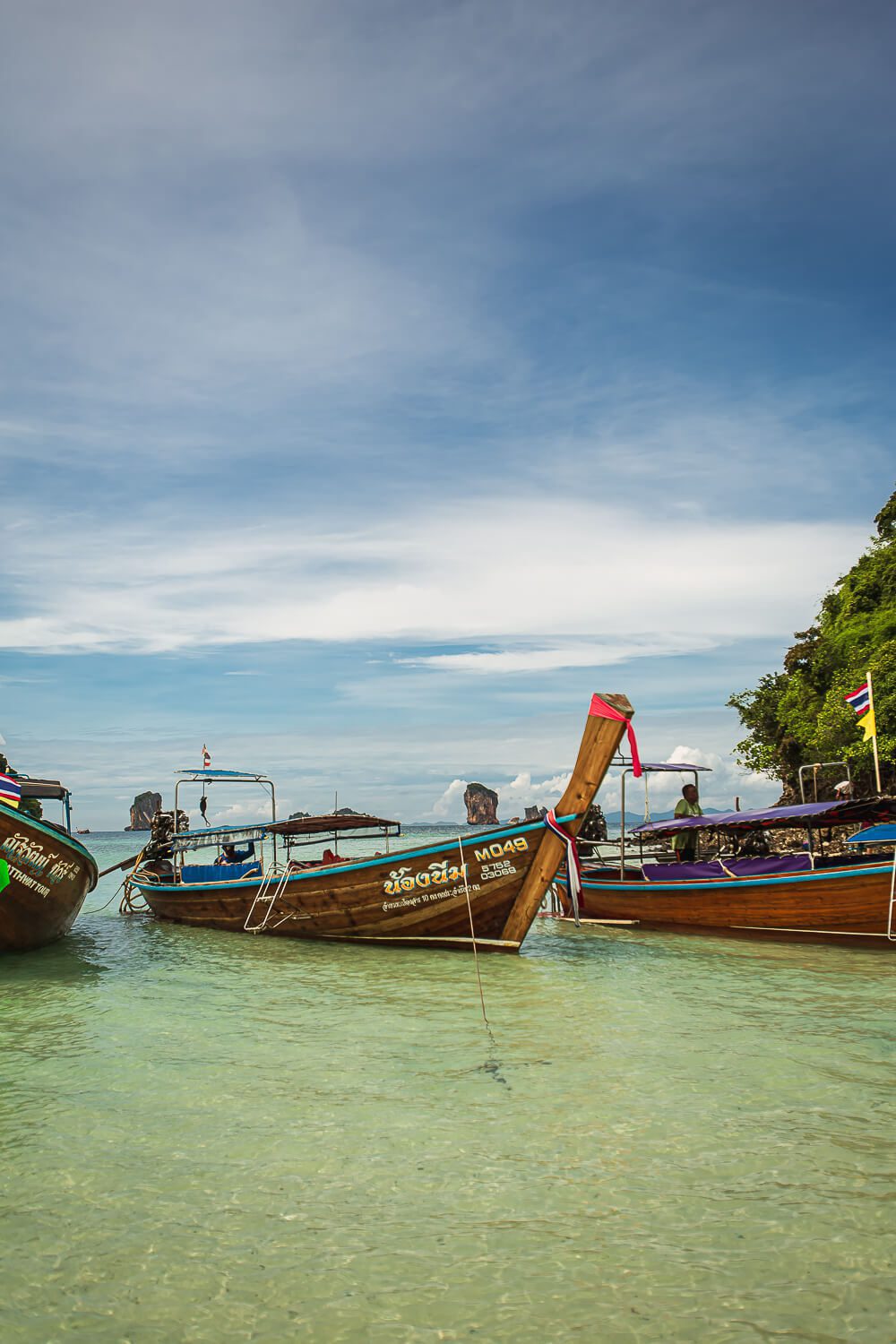 A longtail boat is designed to sit low in the water and have a flat bottom, ideal for beaching on the sand, or driving narrow canals. The longtail boats in Thailand are wide making it pretty stable. The high bow in the front allows the boat to handle rough waterss relatively well and the engine sits high at the stern.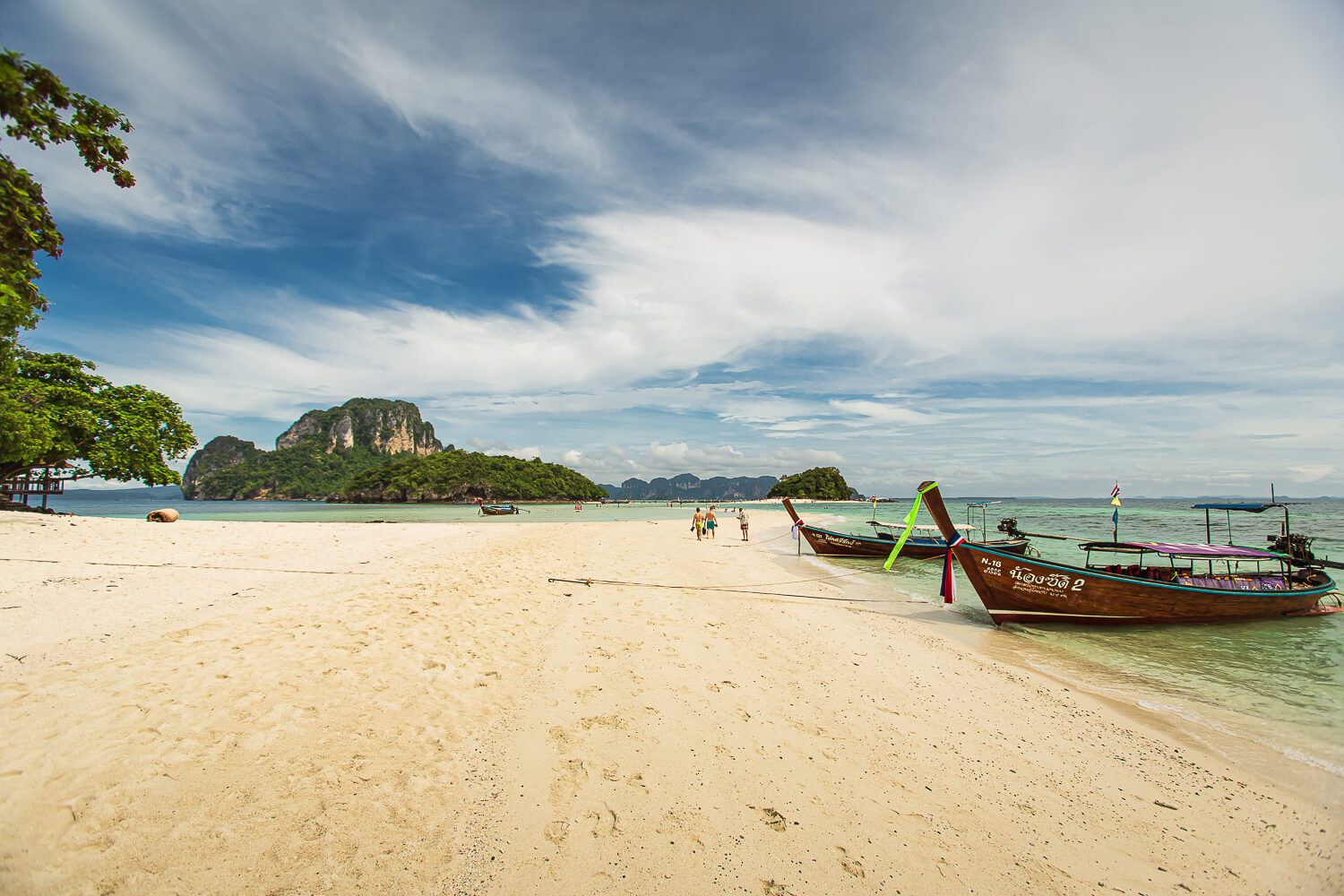 The main tour visitors embark on when they visit Ao Nang or Krabi is the Four Islands Tour. This tour takes you island hopping to a variety of islands that include Thale Waek, Tub Island Koh Poda, Chicken Island, Koh Tub, and Koh Mor. It also stops at the beautiful Phra Nang Cave Beach at Railay.
We booked a boat the day before for a 6 hour private tour leaving at 10 am and returning at 4 pm. Our first stop on our Four Islands Longtail Boat Thailand Tour was Thale Waek.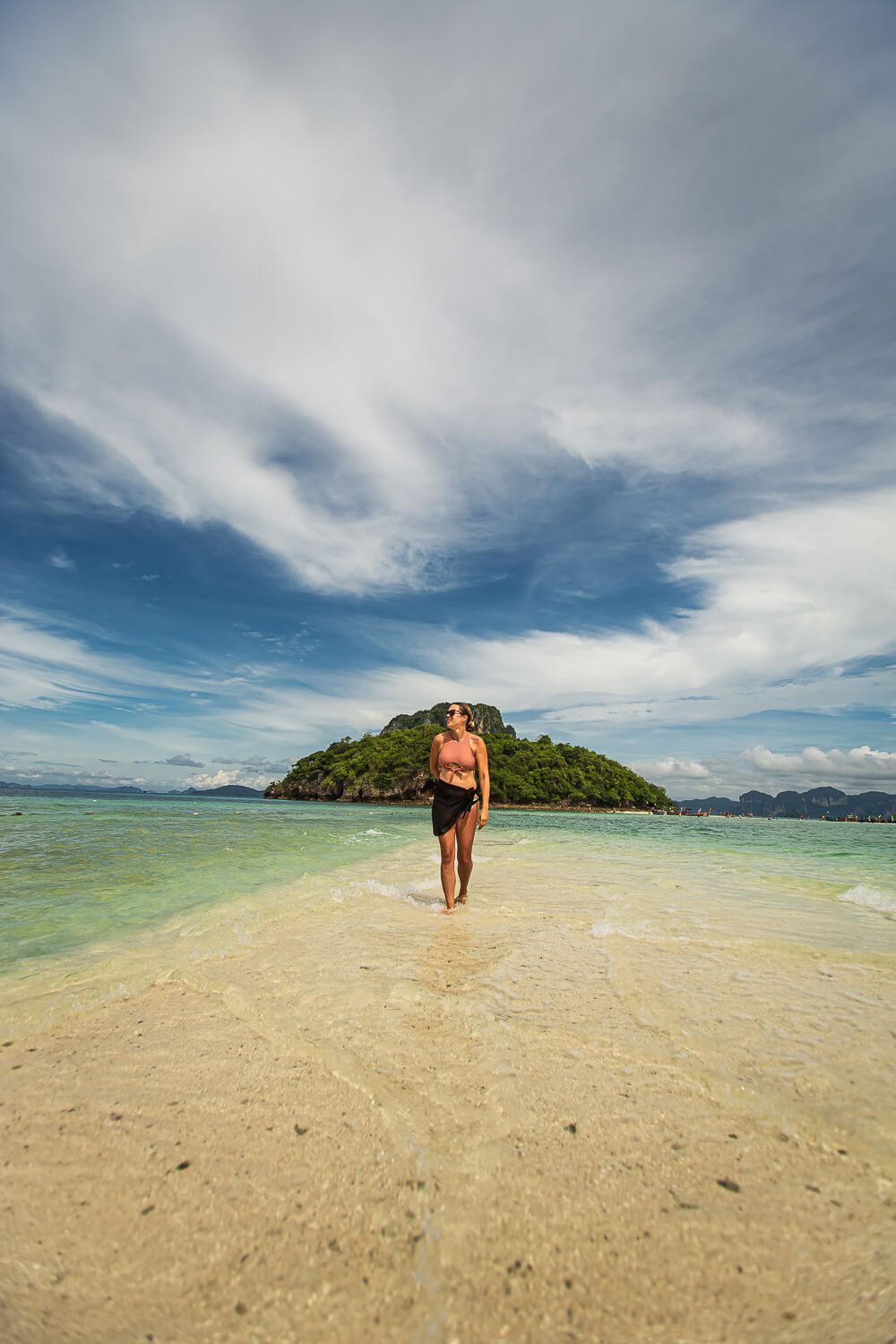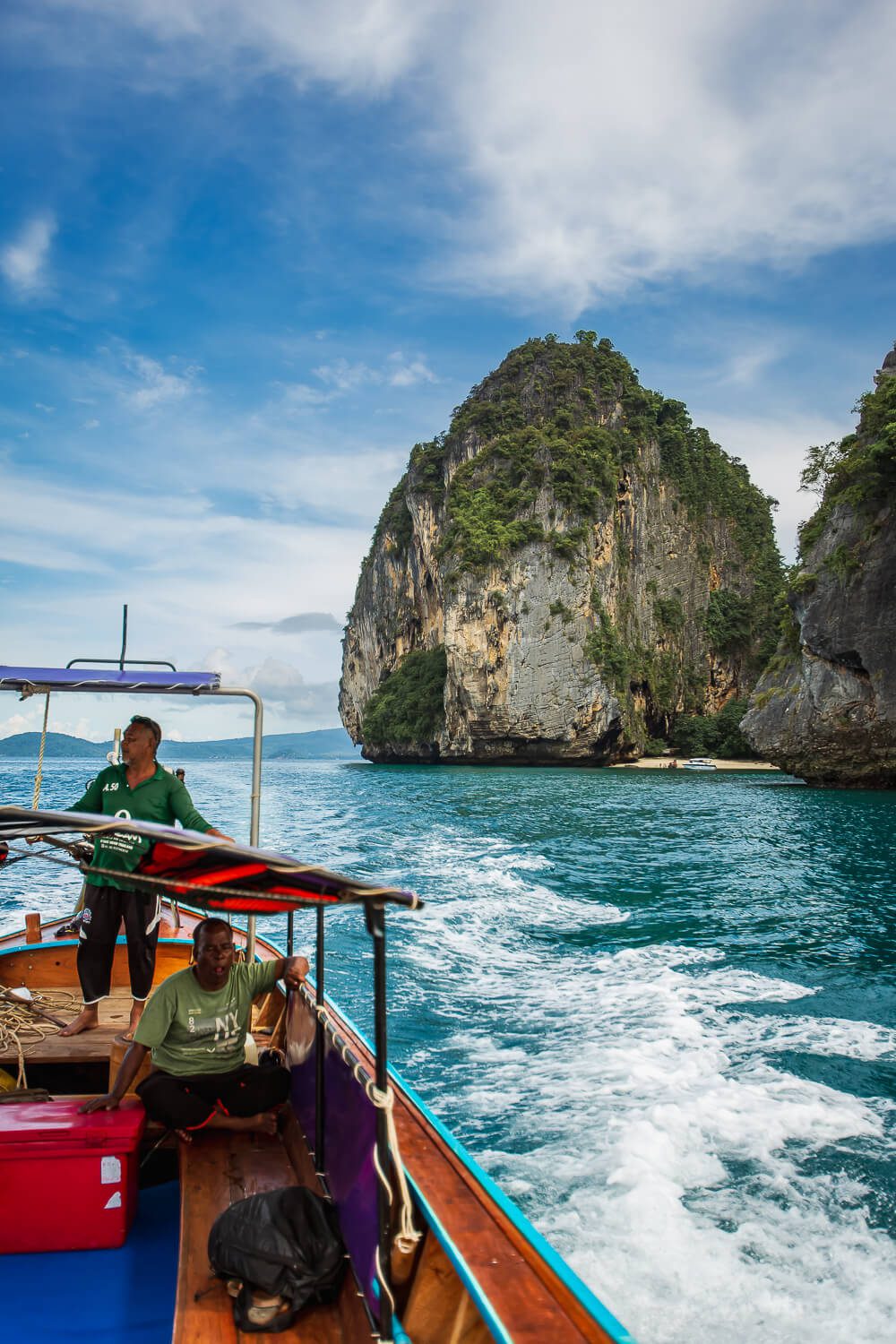 Thale Waek translated in Thai means separated sea, which is exactly what you'll get when you visit this site on a Four Islands Tour Krabi. This is called the Koh Dam group after its two large members, Koh Dam Hok and Koh Dam Kwan.
This place is right out of a post card. Idyllic white sand, soaring rock formations and lush jungle surrounded by crystal clear blue waters. Most tours will take you here at low tide when the water level is so low that you can walk across the sand bar to the other island.
It was pretty crowded when we arrived at 10:30. The main island was packed so we waded across the waist deep inlet to the other island which had no one on it.
Travel Tip: Most 4 island tours will not include the 200 baht Hat Nopparat Thara National Park fee in the total price.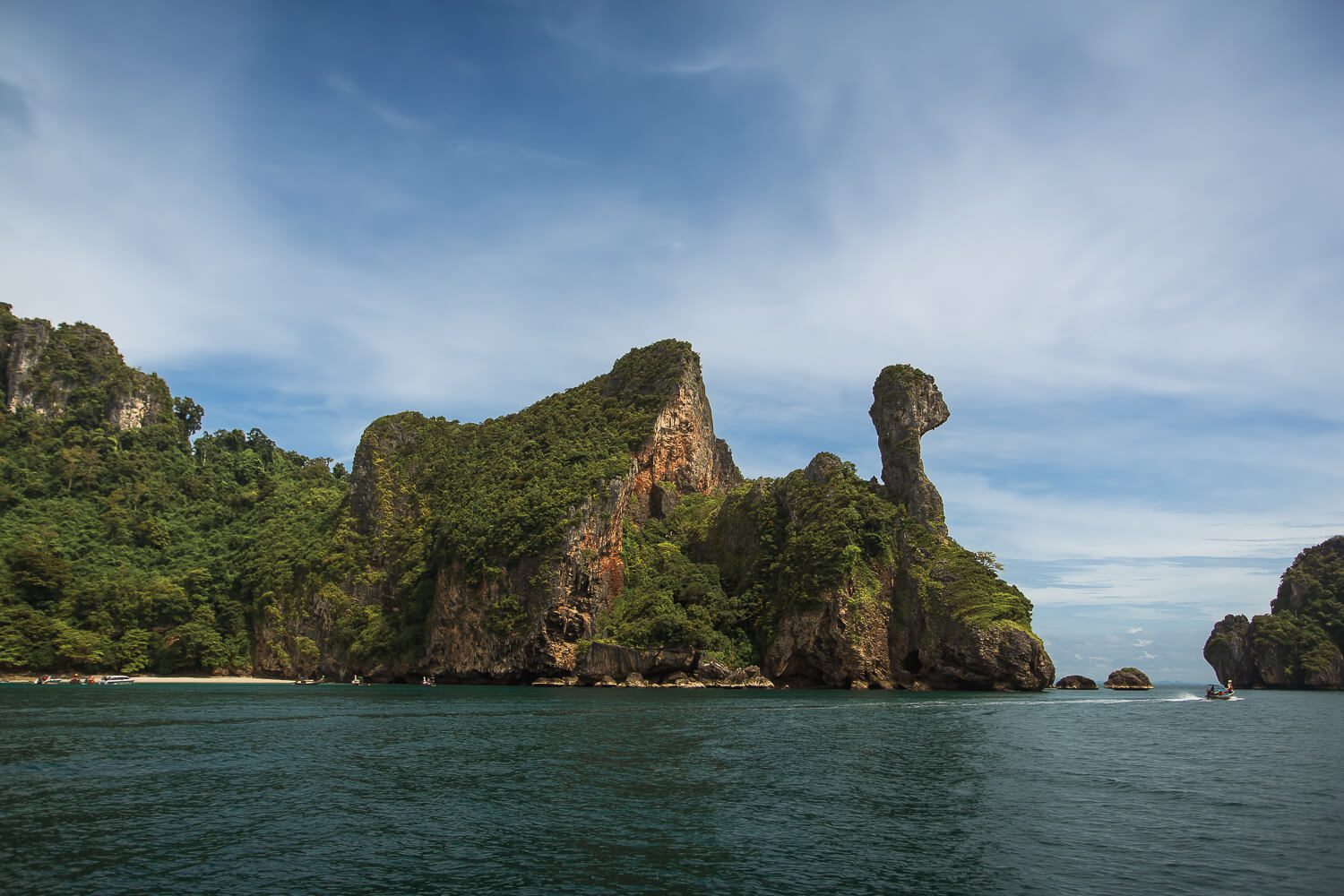 Next up on the Four Islands Tour Krabi is appropriately named Chicken Island. Here we went for a snorkel and admired the tall limestone karsts shooting out of the water. There's a white sand beach you can swim to if that's what you fancy.
If you take a group 4 Islands Tour Krabi, you'll get to enjoy a Thai-style buffet lunch on the island of Poda. Koh Poda is the largest of the Islands on the tour. Since we were on a private longtail boat Thailand tour we utilized the time we would have been eating lunch for a photo op on our longtail boat. There are squatty potty restrooms facilities on Koh Poda.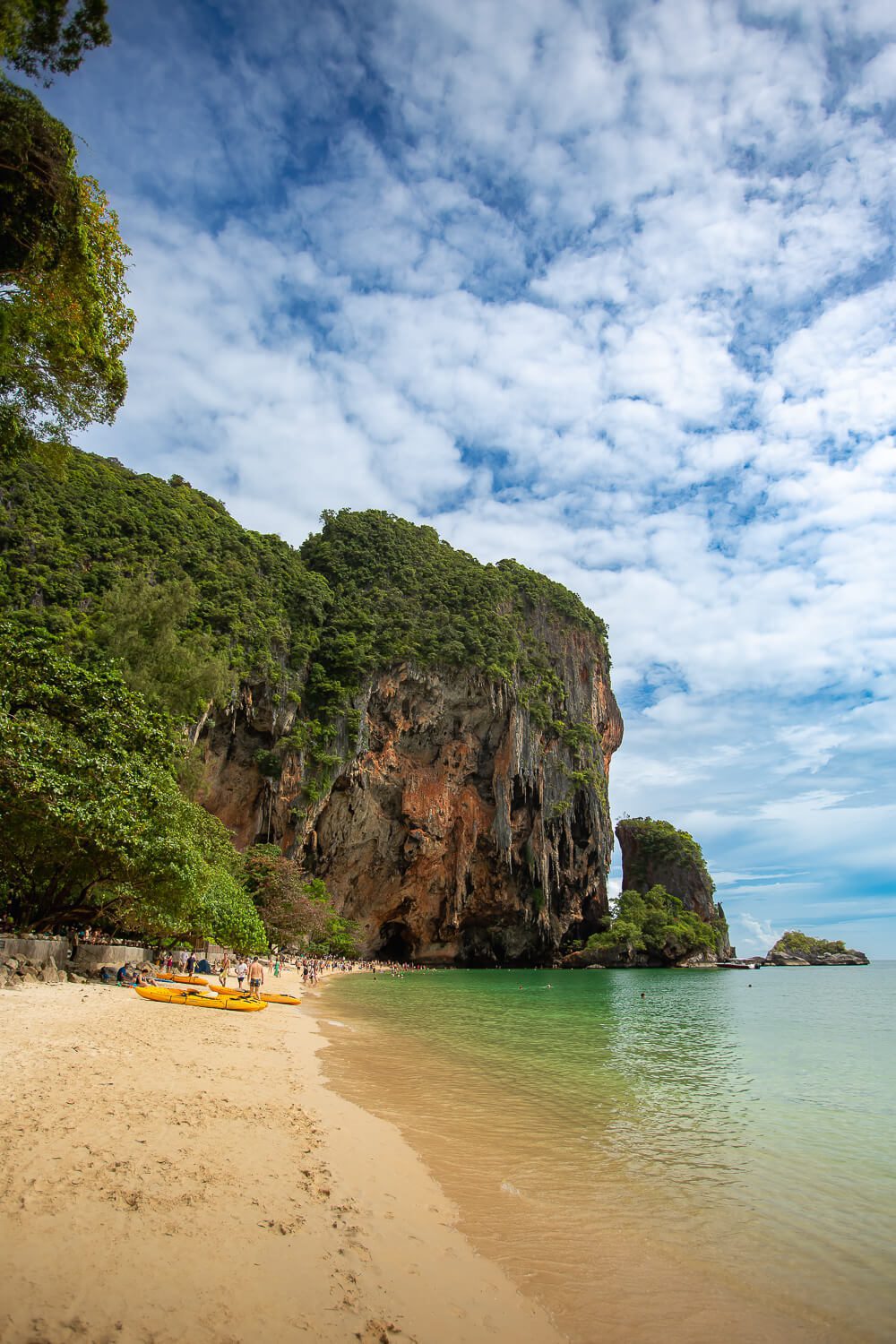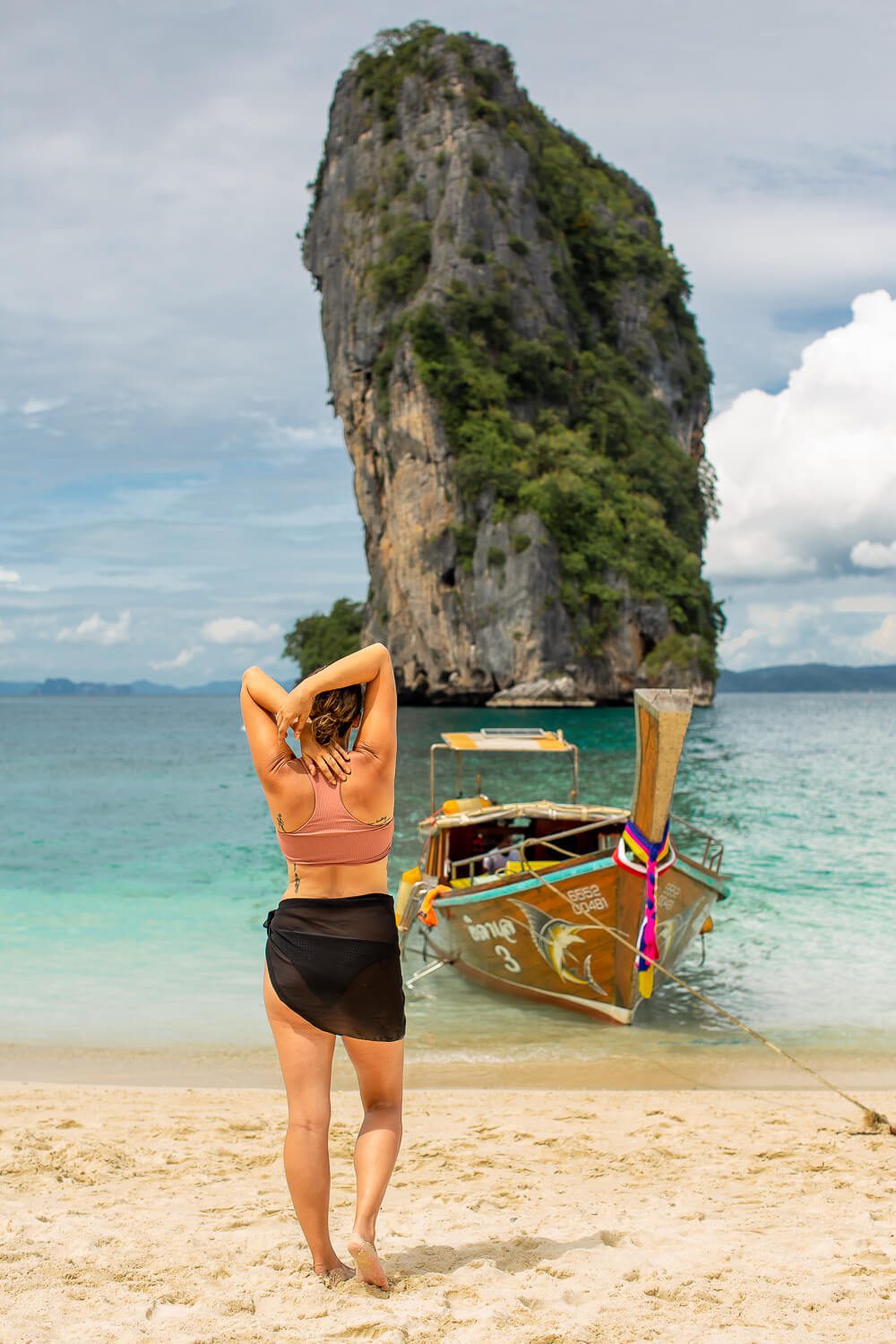 Lastly our longtail boat took us to Railay. Let's just say the best stop on the 4 islands tour was saved for last. You've probably seen photos of Railay beach plastered all over instagram.
Surrounded by tall limestone mountains, although technically apart of the mainland, the mountains are so steep that it's isolated from the rest of the mainland and can only be reached via boat.
Railay is full of small shops, restaurants and boasts some of Thailands most beautiful beaches – Phranang Cave Beach or Phranang Cave Bay. We had several hours to explore Railay and it was the perfect ending to an awesome day.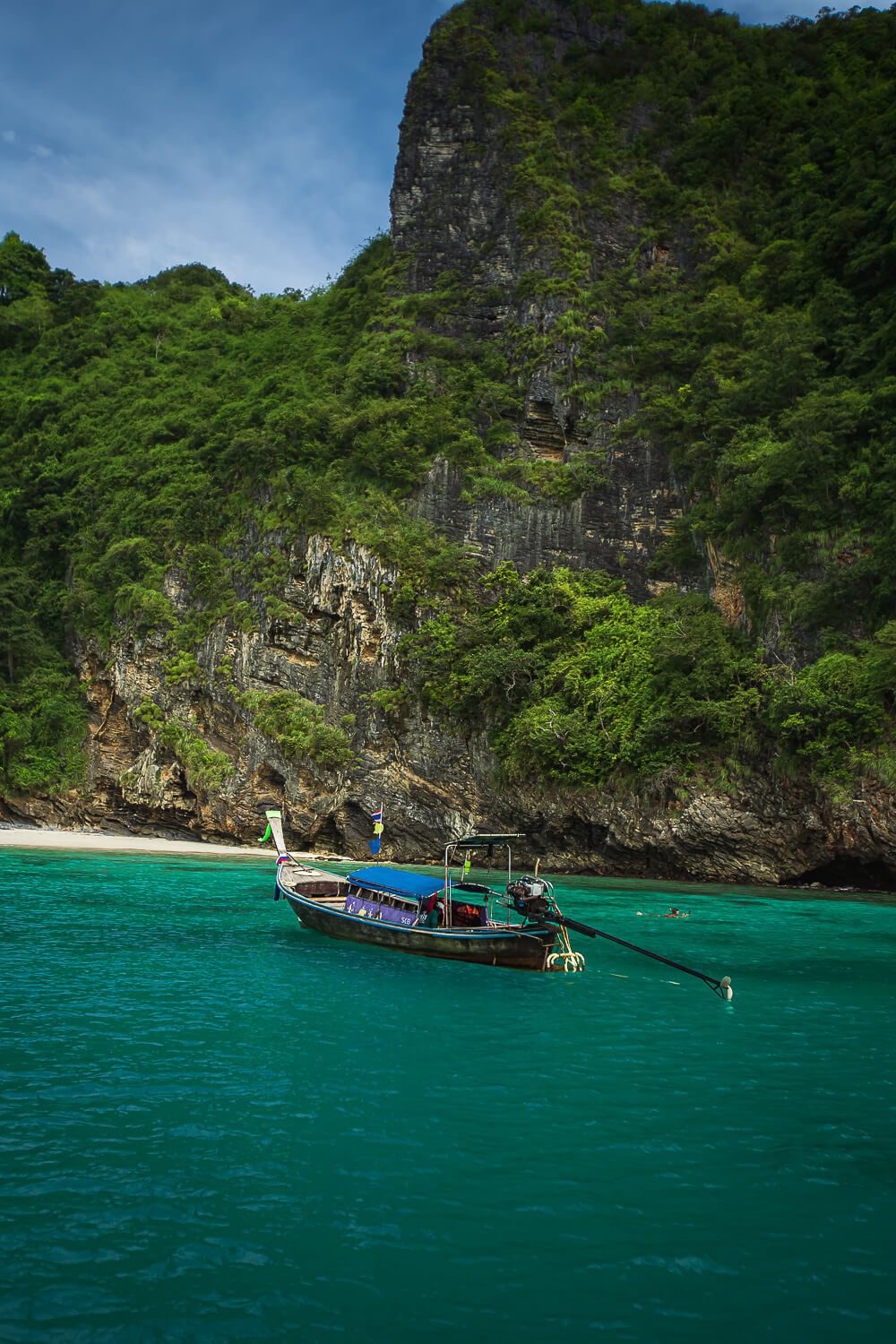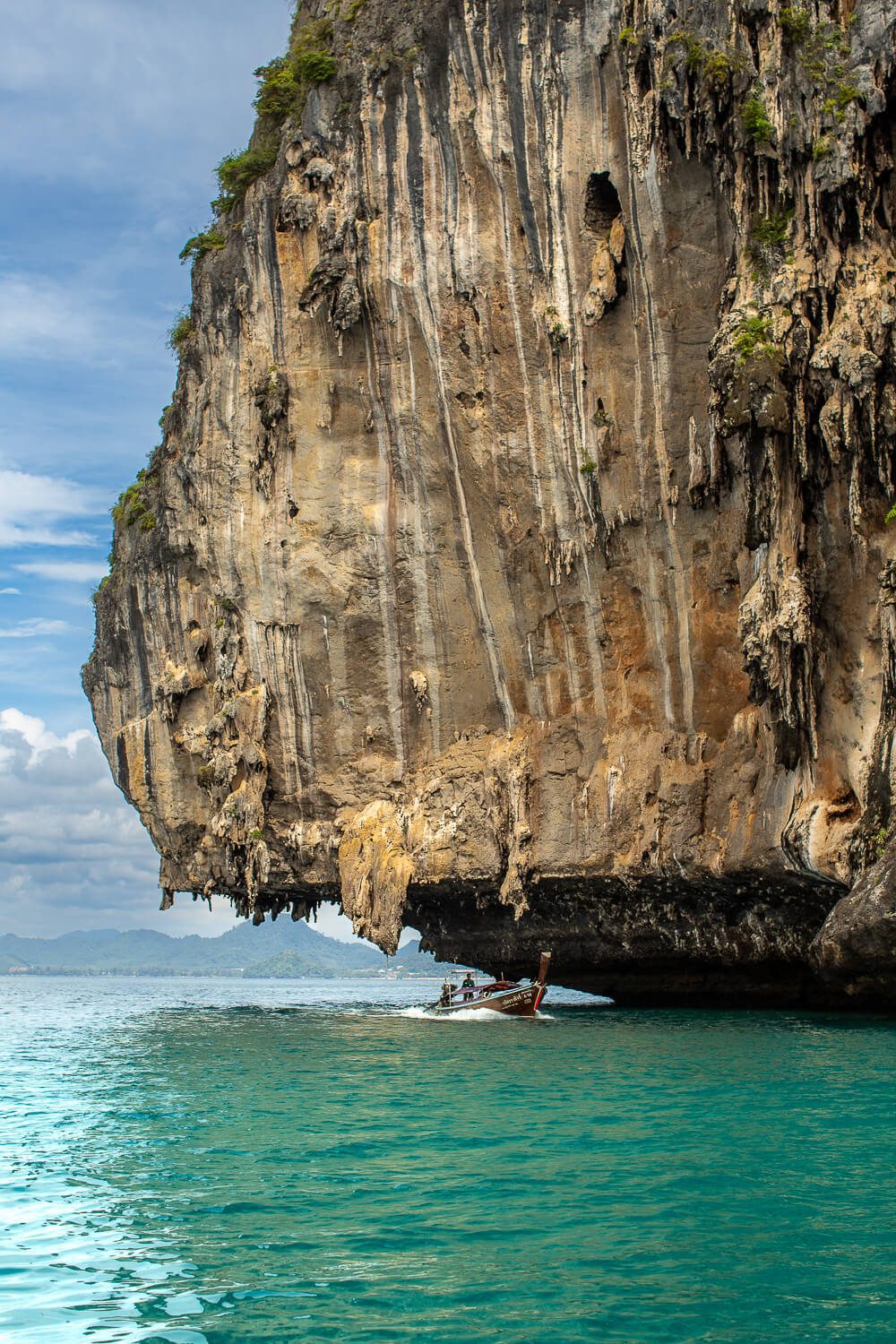 In conclusion, I would not visit Krabi without hopping on a Four Islands Tour. Our guides Maey and Mauo were awesome and happy. We paid 1700 baht ($48 USD) for a private tour and it was well worth the money. If you opt for a group tour, expect to pay $25-30.
4 Islands Tour Krabi Tips & Useful Information
No drones allowed to fly inside the national park.
Bring snacks and beer if you opt for a private four islands tour.
200 baht National Park entrance fee.
Sunscreen, sunscreen, sunscreen. (Read Next: Best Reef Safe Sunscreens for your Face).
1700 Baht for 6 hours on a private longtail boat Thailand tour.
They provide snorkel masks.
Classic stops include Thale Waek, Koh Poda, Chicken Island, Koh Tub, Koh Mor and Railay beach.
If you are strict on time and/or traveling in the high season, book your tour in advance. If you have more flexibility in your travel schedule, book a tour in person when you arrive in Ao Nang or Krabi.
These are the top rated four island tours.
More Thailand Inspiration ↓
Enjoy this Post?!?! Pin in for Later ↓