There are plenty of things to do in Railay Beach that a visit to this dreamy destination is a must when exploring Southern Thailand. Railay Beach is a stunning destination for any traveler. With its soft white sandy beaches, turquoise waters and dramatic limestone cliffs, it's no wonder why Railay Beach is one of the most popular tourist spots in the country.
Railay Beach is a great place to base yourself so you can explore Railay and the surrounding areas. This includes Krabi town, Ao Nang, Koh Lanta, the iconic Phi Phi Islands, Koh Lipe and many more places.
In this article. I'll go over what to do in Railay Beach as well as give any essential and helpful information to help plan your travels through Thailand. Okay, let's get to the good stuff, these are 12 awesome things to do in Railay Beach, Thailand.
📍 Check out these Krabi Province Travel Guides for more inspiration:
For full transparency, I have sprinkled some affiliate links in this post.  As an Amazon Associate I earn from qualifying purchases that gives me a small commission at no extra cost to you if you decided to make a purchase.  As always, I would never recommend a product or service that I didn't truely believe in.  All proceeds go to keep Jess traveling and coffee ☕️.  I thank you in advance.
Soak up the Sun at Railay Beach
Hike to the Railay Viewpoint & Lagoon
Phra Nang Beach & the Princess Cave
Tham Pranangnai Cave
Kayaking
Adventure to Ton Sai Beach
Catch Sunset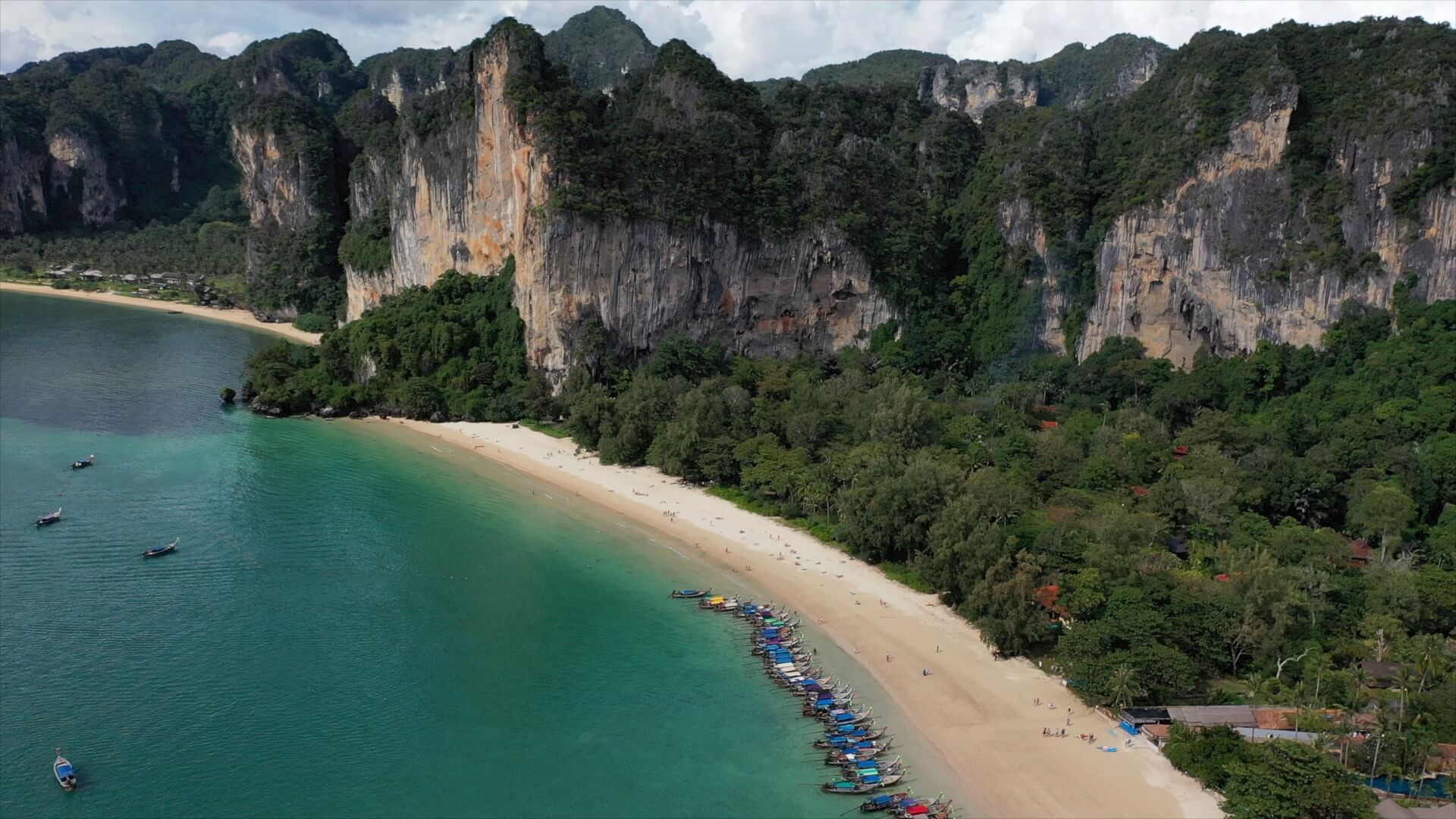 Soak up the Sun at Railay Beach
Railay is an idyllic location for anyone looking to soak up the sun and lounge at the beach. The area is known for its stunning natural beauty and its white sand beaches which make it the perfect setting for relaxation.
When visiting Railay, visitors can choose from a few beaches to lounge on each offering its own unique experience. Railay East Beach is the perfect spot to soak up some sun in the shade of the tall limestone cliffs, while Railay West Beach is a great place to relax and enjoy some swimming and snorkeling.
Phra Nang Beach is an iconic beach and at the far southern end, you can take a peak at the Princess cave which I will discuss in more detail later on in the post. No matter what beach you choose, you can be sure to find a comfortable spot to relax and enjoy the sound of the waves flowing into the shore.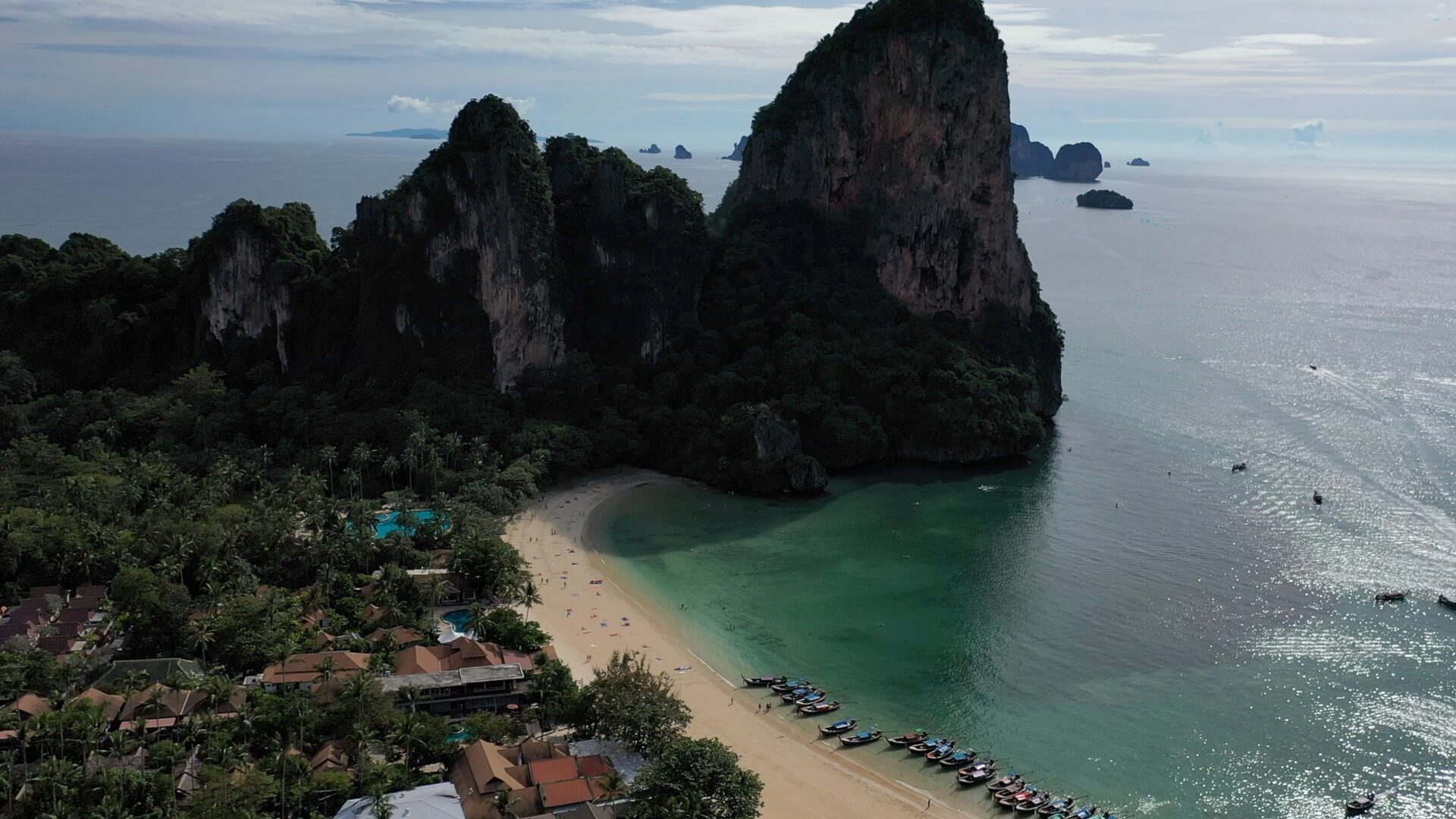 One of the most popular things to do in Railay Beach is to go rock climbing. Railay is known for rock climbing around the world due to its towering limestone cliffs and abundance of challenging climbing routes. Climbing season is year round, though the best time to climb is during the dry season (November to April).
There are plenty of routes to choose from, ranging from beginner routes to multi-pitch climbs. At Railay, you will find a variety of climbing shops that offer rental equipment. If you are not feeling confident enough to climb on your own, there are plenty of tour companies who offer guided services to help you out.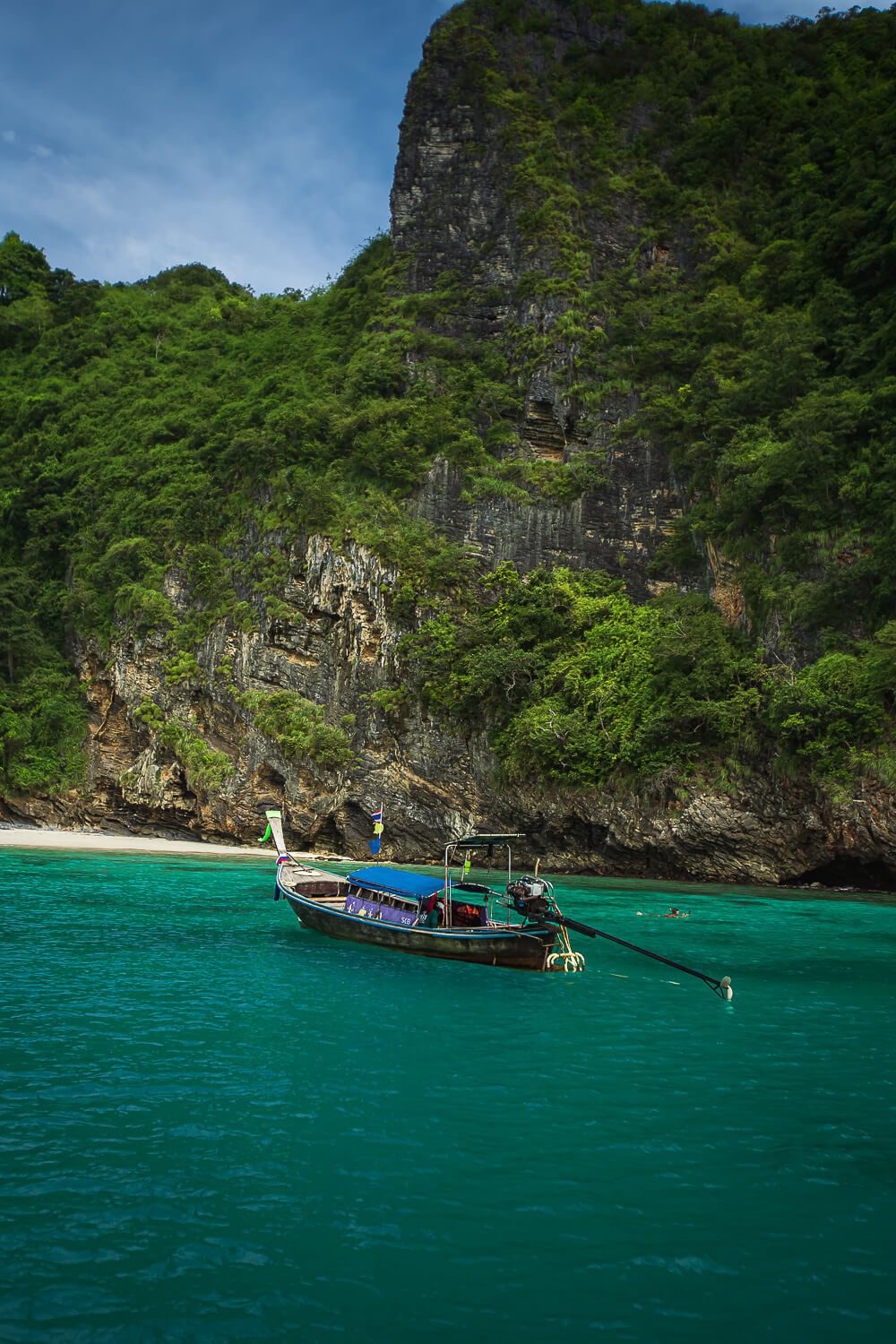 Thailand is famous for its iconic longtail boats and you can't visit Southern Thailand without island hopping on a longtail for the day.
The Four Island Tour takes you to the four most beautiful islands in the area, each offering their own unique landscape and activities. Railay Beach is also commonly apart of this tour so instead of starting in Ao Nang or Krabi, you'll start and end your tour in Railay..
On Hat Nopparat Thara National Park fee you'll have to pay a national park fee of 200 Baht. On appropriately named Chicken Island you'll have time for a snorkel. On Koh Poda, you'll have a Thai-style buffet lunch. We were on a private tour so we utilized the time we would have been eating lunch for a photo op on our longtail boat.
After a day of exploring the islands, you can return to Raialy Beach and relax in one of the beachfront restaurants and bars.
If you are strict on time and/or traveling in the high season, book your tour in advance. If you have more flexibility in your travel schedule, book a tour in person when you arrive in Ao Nang, Krabi or Railay.
These are the top rated four island tours.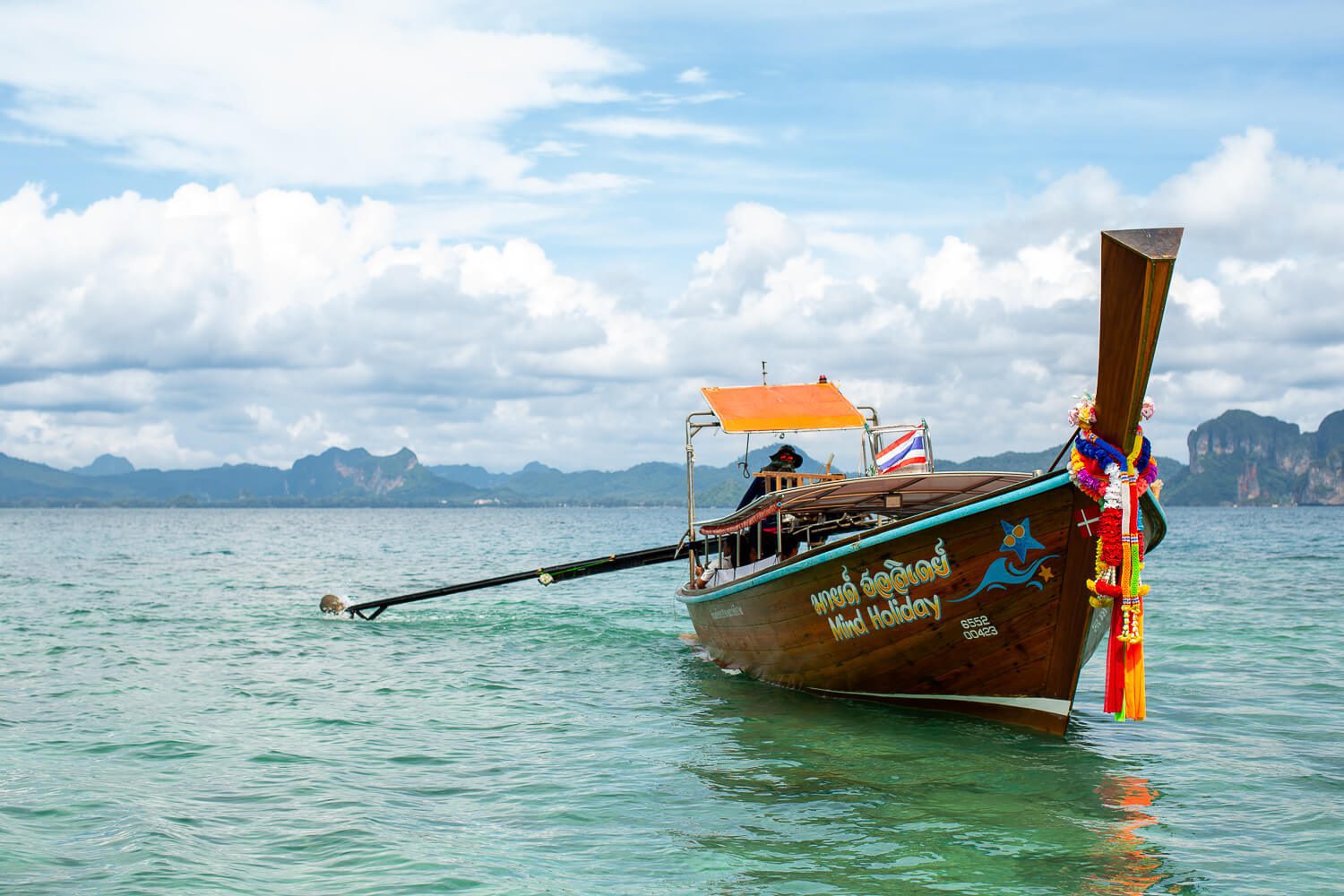 If you'd rather have more privacy a wonderful thing to do in Railay Beach is to rent a private long tail boat for the day. Set against the backdrop of a spectacular limestone karst landscape, this unique ride will offer stunning sights and sounds, creating an atmosphere of complete peace and tranquility.
The long tail boats, or "Ngo" boats as they are known locally, are expertly navigated by a local skipper who has been cruising these waters for generations. A private long tail boat can take you to the four islands I mentioned earlier or just around the calm waters of Railay Bay. Whatever you decide, don't miss out on this Railay Beach activity.
Hike to the Railay Viewpoint & Lagoon
Another thing to do in Railay Beach is to hike to the Railay viewpoint and lagoon. This viewpoint offers some of the most spectacular views in the country. From the viewpoint, you can take in a panoramic view of the stunning limestone cliffs, the emerald green waters of the lagoon and the lush jungles that surround the area.
I did not personally hike to this viewpoint as we were strapped on time but, this Railay Beach activity isn't the most convenient or safe. The second journey of this hike up to the viewpoint is straight up with the aid of a rope. The foot and hand holes aren't in great abundance and chances are its going to be muddy.
We saw the start of this hike upwards which was marked with a sign and we could see the rope. I would not attempt this hike if you can't support your own body weight and/or are afraid of heights.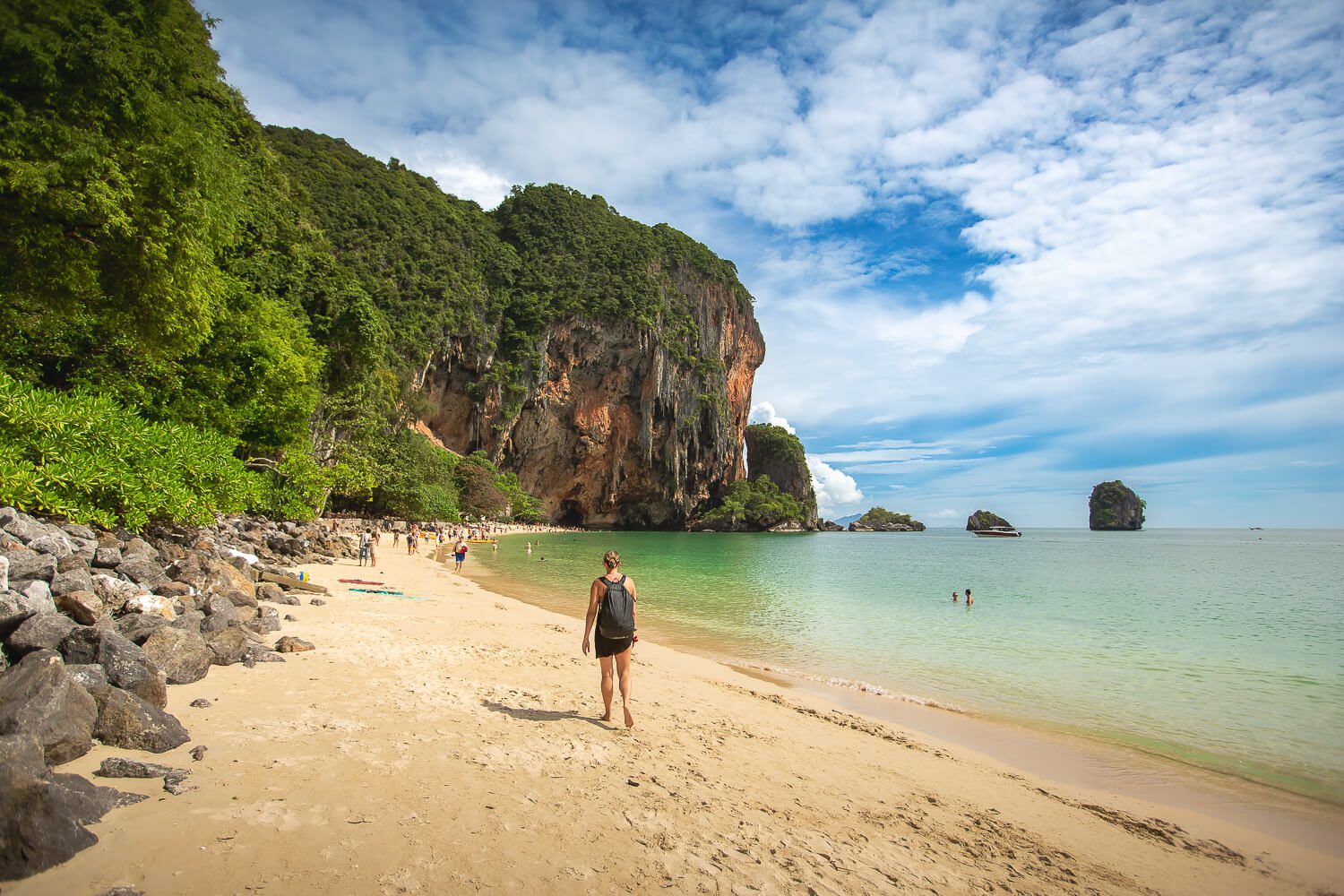 Phra Nang Beach & the Princess Cave
Phra Nang Beach is one of the most popular beaches in Railay, located on the eastern side of the peninsula. It is known for its stunning white and soft sand, surrounded by dramatic limestone cliffs and clear blue waters.
The beach is also famous for Phra Nang Cave or commonly known as Princess Cave, a seaside cave that is believed to be the home of a mythical princess who is said to have lived in the cave. The cave is filled with hundreds a phallic carvings of all different sizes which represents fertility. I mean it's not every day that you can visit a cave full of dicks.
Tham Pranangnai Cave, aka Diamond Cave
Tham Pranangnai Cave also known as the Diamond Cave is an awe-inspiring natural wonder consisiting of dark cave system filled with stalactites and stalagmites. The walls of the cave are covered in sparkling limestone, making it appear to be made of diamonds.
It is believed to have been formed millions of years ago and is a popular attraction in Railay Beach. The cave is accessible by a short walk from the beach or by hiring a long tail boat if you are coming from Ao Nang or Krabi. There are some interesting rock formations inside the cave, including the "Mother and Child" formation that is said to resemble a mother and her baby.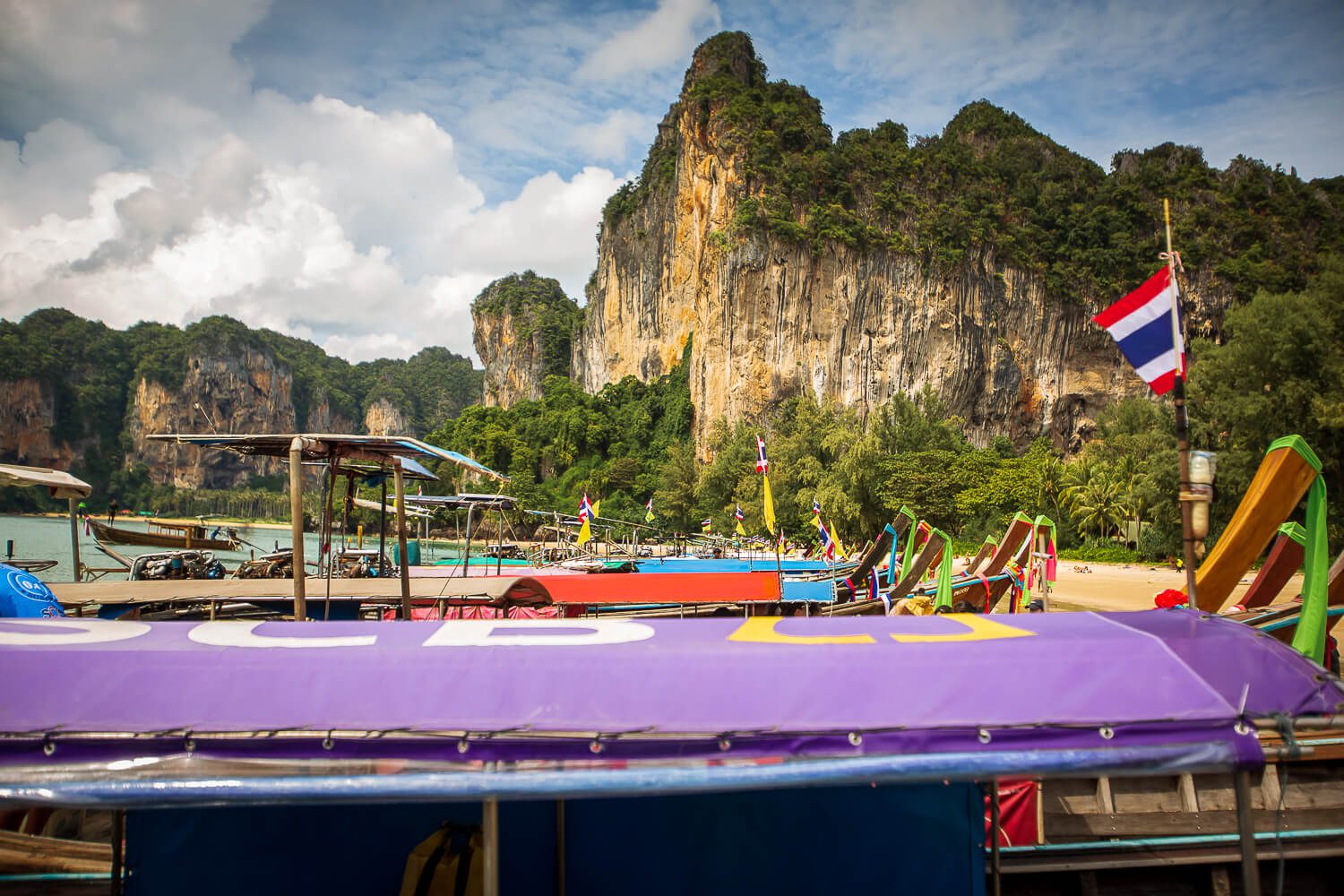 By far one of the most popular things to do in Railay Beach is to go kayaking. The calm waters make it easy for experienced and inexperienced kayakers alike to explore the area.
You can take a leisurely paddle around the beach or venture further out to explore the many coral reefs, sea caves and amazing rock formations that can be see from the water. The scenery is breathtaking, with cliffs towering overhead and the sun reflecting off the crystal clear waters.
There are a handful of local shops where you can rent kayaks and other equipment. Railay Beach is very safe and easy to access making this an easy activity to do on your own.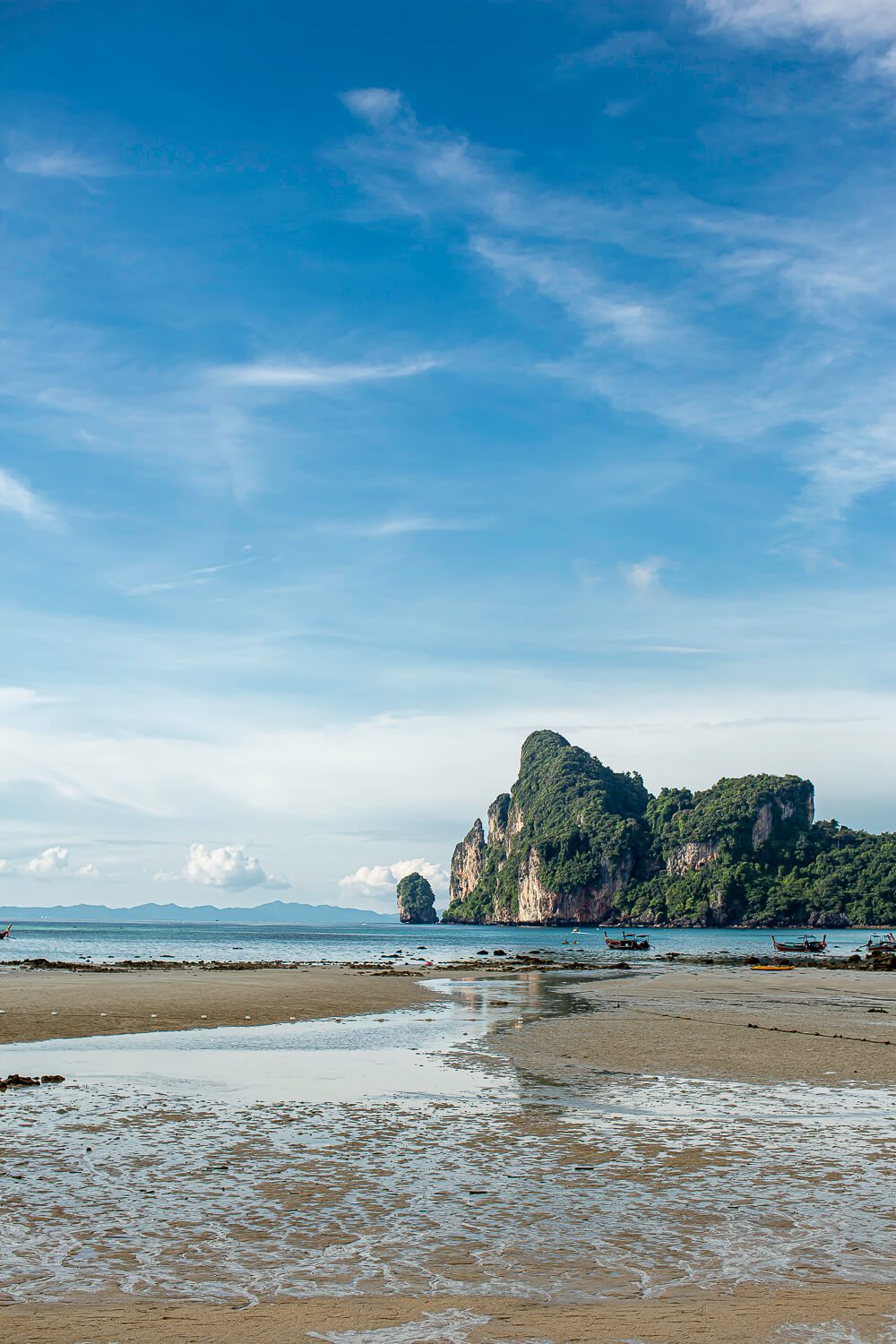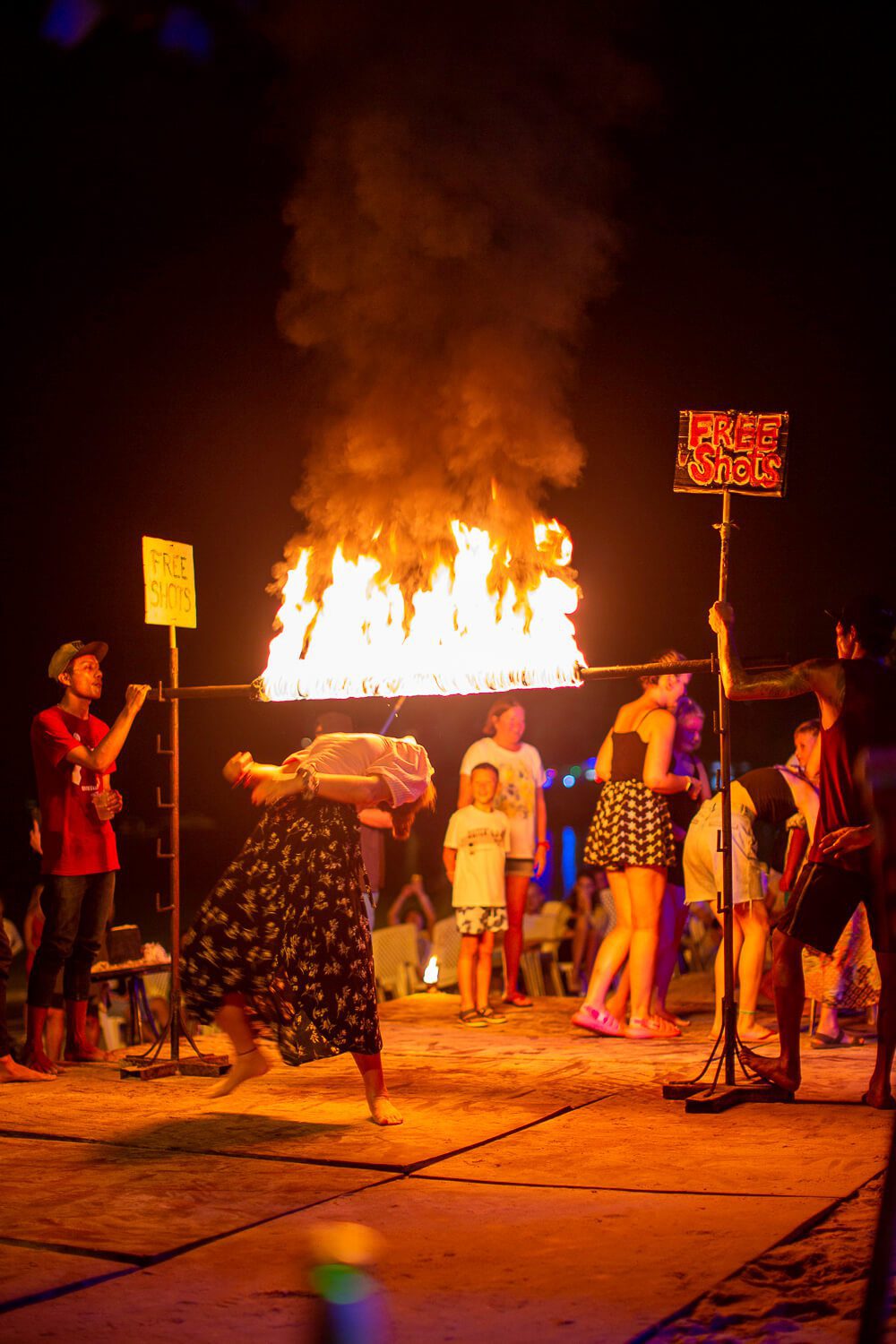 Day Trip to the Phi Phi Islands
If you are spending a few days on Railay Beach you must day trip to the Phi Phi Islands, that is of course if you're not visiting the Phi Phi Islands before or after your visit to Railay. The Phi Phi Islands are a known for its stunning scenery, lush jungles, tranquil beaches and popping night life.
To journey to the Phi Phi Islands is an adventure in itself. By speed boat, the journey takes an hour and you'll get to take in the iconic landscape along the way.
Once on island, you can explore the beaches, visit the iconic Maya Bay, go snorkeling and pay a visit to Monkey Island. With its stunning beauty and laid back atmosphere, the Phi Phi Islands make an awesome day trip. Check out the articles below for more information about visiting the Phi Phi Islands.
Adventure to Tonsai Beach
Tonsai Beach is a popular spot for rock climbing, as there are many steep limestone cliffs and overhanging walls to explore. The best way to get to Tonsai Beach from Railay Beach is by long-tail boat, especially if you have your luggage in tow.
If you are just adventuring to Tonsai Beach for the day, you can get there by foot at low tide. At low tide you can scramble over rocks and walk around the base of the rock face.
At high tide, you can also make it to Tonsai by foot but you'll have to climb the path that goes up and over the rock through the jungle. Whichever way you choose, it's sure to be an adventure.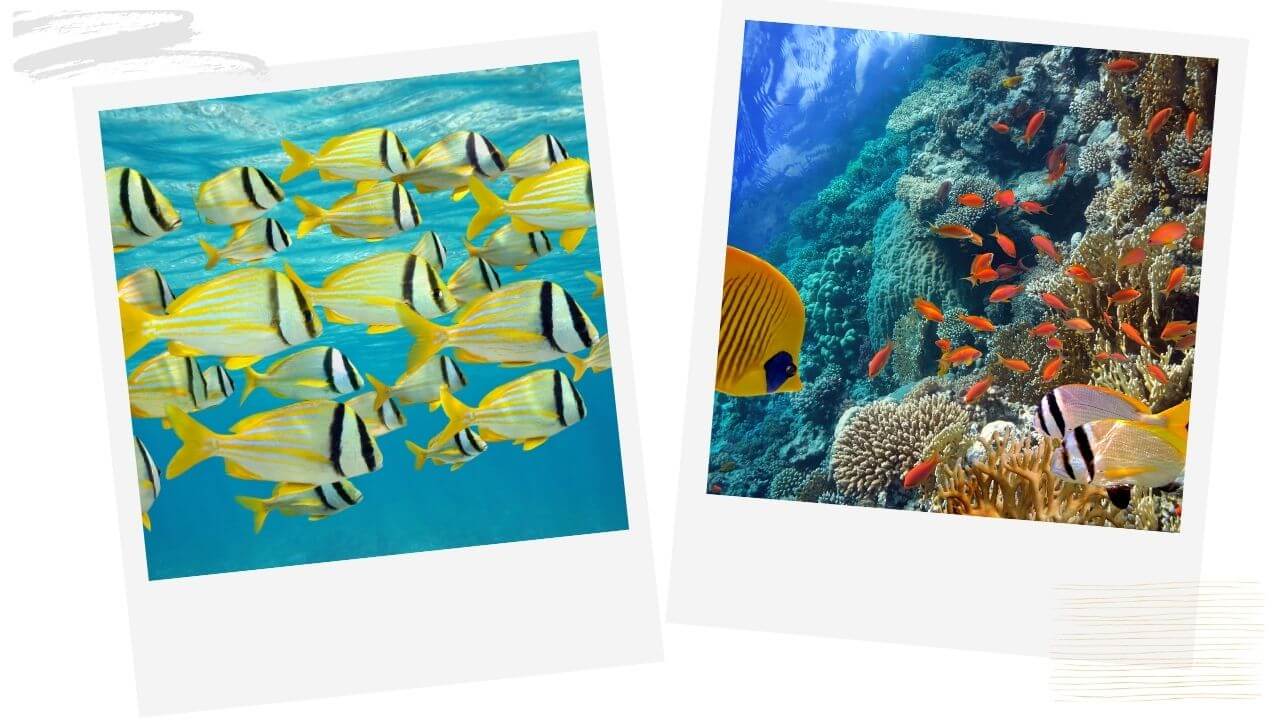 Railay Beach is a paradise for snorkeling enthusiasts. From the abundance of marine life to the vibrant coral reefs, Railay Beach provides the perfect opportunity to explore the underwater world.
The shallow waters provide excellent visibility, making it the ideal place to catch a glimpse of the colorful fish, sea turtles and other marine creatures that inhabit the area.
Thailand has over 1,000 species of tropical fish, so don't forget to charge your Go Pro and put on the underwater housing. For a truly unforgettable experience, opt for a snorkel tour and explore the depths of Railay Beach.
Of course you can't spend time at the beach without catching a sunset or two, this is one of the best things to do in Railay Beach. As the sun slowly sets, the sky turns a deep red and orange hue, the colors reflecting off the crystal clear waters. The sound of the waves crashing against the shore creates a peaceful ambiance that will stay with you forever.
Where to Stay in Railay Beach
Do you have any favorite things to do in Railay Beach? Let me know in the comments below.
Enjoy this Post?!?! Pin in for Later ↓